Guerrilla crowdfunding promotion hacks may be unconventional but may also get you a ton of viral marketing
Unless you're able to land a sweet spot on the local news to promote your crowdfunding campaign, finding backers can be an excruciatingly tough process. You know your campaign is amazing, even your mom has told you so, but no one else really seems to care. Fed up with traditional crowdfunding marketing, campaigns are turning to guerrilla crowdfunding promotion hacks to kickstart their Kickstarters.
We've covered crowdfunding promotion scams on the blog as well as free crowdfunding promotion resources for your campaign. Both of these, and most crowdfunding promotion, is based on traditional marketing techniques. Guerrilla marketing goes one step further with unorthodox and original tricks to make people sit up and notice your crowdfunding campaign.
The guerrilla crowdfunding promotion hacks I've seen range from simply unique to borderline black-hat. While the best guerrilla crowdfunding promotion tricks will be effective simply on their originality, the black-hat techniques may work as well but through deception. I don't generally recommend the black-hat crowdfunding techniques but have included them in the list for you to decide.
Out of the ordinary Guerrilla Crowdfunding Promotion Hacks
The best example of guerrilla crowdfunding promotion hacks comes straight from a campaign example. The campaign for A Red Lipped Rebellion's production of Neil LaBute's, The Shape of Things, went off the beaten path and ended up with huge marketing from the Huffington Post and on the Indiegogo blog.
The owners talked about the campaign as a grassroots effort but a lot of the techniques they used were guerrilla crowdfunding marketing at its best.
1) The campaign asked local supporters to wear the name tags above around town for at least a day leading up to their launch party. The name tags sparked huge interest and drove enthusiasm for the campaign pre-launch.
2) The campaign managers asked bars and other venues if they could write on their drink coasters, writing things like "Kiss this," or "Truth is entirely and absolutely a matter of style," and included the website address. It took a little time to visit all the establishments and write out the notes but it was entirely free and lead to some great local interest. The first and second techniques here helped to pack one of the launch parties when the campaign played bartenders at a local place.
3) Another great idea for guerrilla marketing ads are those that don't look like ads at all. Advertisers like Jack Daniels and other labels have started trying this approach lately, things like sidewalk graffiti or posters that feature the product but don't look like traditional advertising. It still carries the name recognition of the brand but walks the thin line between art and commercial.
Notice that a lot of guerrilla crowdfunding promotion is locally-based. That doesn't mean it's not extremely effective for an online campaign. Your strongest community of backers is always going to be those that have met you personally and those with a personal connection to the campaign. Building huge local support for a campaign through guerrilla marketing will spill into your online efforts as your core local supporters share across their social networks.
Black Hat Crowdfunding Promotion Hacks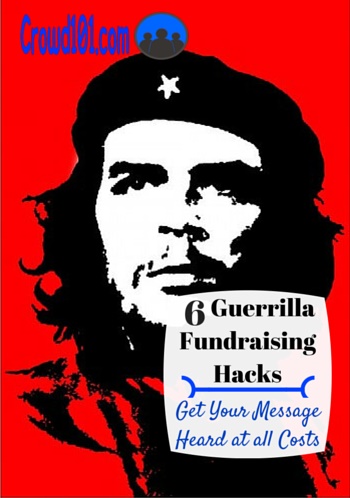 Not all guerrilla crowdfunding promotion hacks are as innocent as the techniques above. As a blogger, I talk with a lot of other bloggers and crowdfunders about what they are doing to promote their websites or campaigns. Some are ingenious while others border on deceptive and black-hat hacks.
4) One blogger I know regularly leaves reviews on social review sites like TripAdvisor and Trivago. He'll leave a few sentences about the hotel or resort and then lead into a pitch about his blog and include the website address. I'm not sure how effective it is at getting visitors back to his blog but he swears by it. For guerrilla crowdfunding promotion, you'll want to target review sites that are related to your campaign or product.
5) Another technique I've seen was from a campaign last year, where the crowdfunders left posts on social media networks and a link back to their campaign. The problem was, the post was about something completely different and readers were under the impression they were clicking through to something else. I'm not sure how effective it was and it probably peeved off a lot of people clicking through the link.
6) Reviewing a campaign earlier this year uncovered another black-hat crowdfunding strategy. The campaign owners were paying people in their network to donate to the campaign. This was done in the hope that a quick boost of backers would get the campaign noticed by Kickstarter's algorithm and get it featured on the site. Kickstarter and most other platforms do not allow you to pledge to your own campaign but don't say much about paying others to pledge.
I would generally stick to the grassroots guerrilla crowdfunding promotion hacks rather than spend much time on the black-hat hacks. Black-hat crowdfunding is going to take just as much time to set up and the effectiveness is questionable. Using local guerrilla crowdfunding marketing just a month or two ahead of your campaign launch can build a huge base of supporters that will help you extend your reach online.
We cover traditional and not-so-traditional marketing for crowdfunding campaigns in several chapters of Step-by-Step Crowdfunding. Don't leave your campaign up to chance, get the complete process for raising money from the crowd whether for small business or fundraising. Read the reviews for Step-by-Step Crowdfunding and see how it's helped other campaigns beat their funding goal.
Your turn, what guerrilla crowdfunding promotion hacks or marketing ideas have you used? How has it helped increase your reach and build enthusiasm for your campaign?