Xero accounting software can handle your small business accounting, inventory and taxes in one manageable solution
I've been keeping some form of small business records since 2003, first starting with just small freelance gigs and transitioning to a full-time side hustler in 2013. It's been a long road and one of the biggest problems has always been keeping the books straight.
I'm an old-school Excel guy from my days as an equity analyst. Most of my job was developing spreadsheet-based models of a company's financial statements to forecast profitability and the stock price.
So I always kept my own business accounts on simple spreadsheets. I had a few tabs including sales, expenses, invoices and upcoming bills that I linked together. I was happy with it but the time it took to manage started to get out of hand as my business grew.
When I finally decided to check out an out-of-the-box accounting solution, I was amazed at the time it saved me. I cut the time it took to balance my books in half within the first month.
I was more than happy.
But it turns out, I still wasn't using my time as efficiently as possible. I still had to input business activity on several pages and my accounting software wasn't truly all-in-one. I had one provider for payments, another for reconciling with bank accounts and yet another provider for inventory management.
There's now a true all-in-one accounting solution that can do all that and more…and I'm excited about how much time it's going to save.
Simplifying Small Business Accounting with Xero
Xero was founded in 2006 in New Zealand but quickly expanded globally as one of the most comprehensive suites of accounting solutions. The company now counts more than 1,400 employees in 20 offices and 862,000 subscribers to the platform.
Xero isn't just small business bookkeeping for individuals. The company has partnered with 16,000+ accounting and bookkeeping firms to create tools and extend small office services to clients. The platform provides accounting tools anyone can use, regardless of your accounting experience or industry.
Try Xero free for 30-days. Click here and use promo code XERO30 for a 30% discount
The list of features available on the platform is impressive and includes some you won't find in other small business accounting solutions.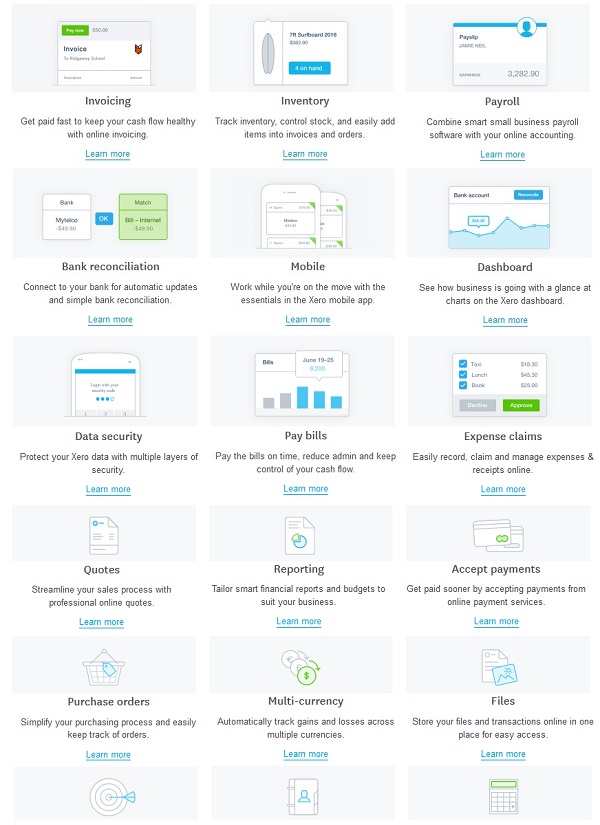 One of the best features of Xero accounting solution is the update cycle in the software. I've been using and watching different all-in-one accounting solutions for a while. Few accounting software providers update their programs more than every few years.
Xero updated and added new features to its software more than 50 times in 2016 and has already updated/added four features in 2017. That kind of commitment to improvement is what makes Xero one of the best all-in-one accounting solution providers around.
How Xero Accounting Software Works
Pricing for the Xero all-in-one accounting software is less expensive than other software providers and your first six months are discounted. I like that the company offers three tiered levels to make the software more affordable for smaller businesses that might not need as much invoice and transaction activity.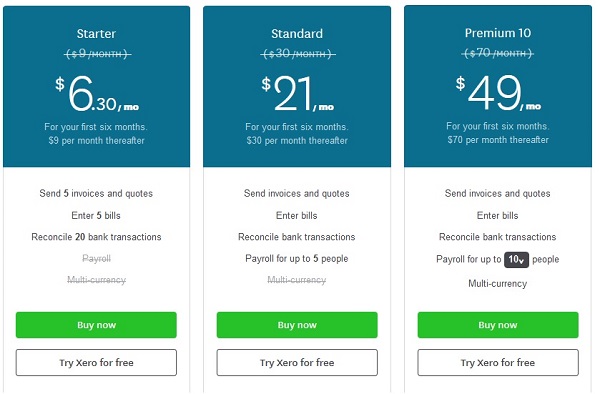 Whereas other accounting software providers separate their pricing levels on features, the starter plan on Xero includes all the basic features. You will only be able to send five invoices and reconcile 20 bank transactions but you'll have access to all the great features including performance reports and a customizable dashboard.
Xero can be a little more complicated to set up compared to other accounting solutions because it goes to more depth in reporting. The platform can import from most of the other accounting software providers including QuickBooks but you may need to enter additional information that wasn't tracked previously.
Xero displays across seven functional categories with the dashboard showing a snapshot of everything. You can also click through for detail in account, payroll, reports, advisor, contacts and settings. You'll spend most of your time in the Accounts tab, working with your business activity.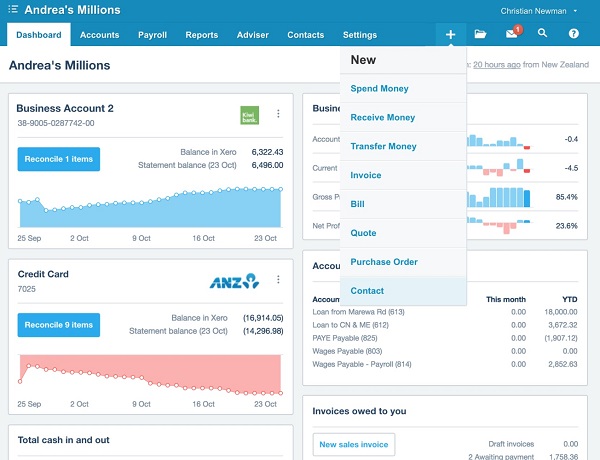 The accounting software is extremely easy to use and the transaction forms can be customized, adding and deleting fields as well as adding personalization. You can schedule invoices or set it to repeat and send you a reminder when it's time to bill a customer.
One feature that small businesses with employees will love is the two-factor authentication for some transactions. You'll be able to see a history of changes on each transaction, potentially catching any fraud before it gets too far.
Beyond the additional transaction features, Xero also includes more detailed inventory tracking compared to competitors. This will be a welcome change for many small business owners, especially those selling multiple products on Amazon.
Click for a special six-month discount on any Xero pricing level
Xero all-in-one accounting software is a step above other small business providers but it does it at a lower price. The software includes additional features you won't find elsewhere and is constantly being upgraded or improved. If you are currently using another accounting solution, try Xero free for 30 days to see how much time it saves you.