While you can do all your crowdfunding campaign marketing with almost no budget at all, should you?
Even established multi-national charities have to spend money on expenses and marketing. The American Red Cross is one of the most efficient organizations but still spends about 8% of its total contributions on expenses and campaign marketing. Other charities spend much more but the average seems to be around 15% of contributions to expenses.
For small business, spending on marketing is a given and built into budgets from day one. In fact, marketing is one of the largest expenses for most new businesses.
Building crowdfunding marketing and other expenses into your campaign budget will go a long way to establishing credibility with supporters. No one expects you to do everything for free and it wouldn't be realistic to think you could. Working through how much everything will cost will show supporters that you have taken the time and are serious about the cause.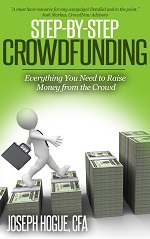 Effective crowdfunding marketing is just one step you'll need to run a successful crowdfunding campaign and raise money. Get all 17 steps from pre-launching your crowd campaign through leveraging your campaign's success to build a community around your cause or brand. Check out Step-by-Step Crowdfunding on Kindle or paperback.
Budgeting crowdfunding campaign marketing does not mean you have to blow thousands to convert people into backers. Most crowdfunding campaign marketing can be done for free and you can build a huge community if you give it a few months. If you don't have a few months to build your crowdfunding community, use some of the resources below to get the best bang for your buck.
Of course, anyone that has launched a campaign knows that there are plenty of crowdfunding consultants ready to take their money. There are some legit services out there but make sure you read my post on crowdfunding promotion scams.
Crowdfunding Marketing Resources for your Campaign
The crowdfunding marketing resources and sites below do not include project fees or fulfillment costs for your campaign. Those mandatory costs need to come out of your budget before deciding how much you can spend on marketing services or applications.
Services can be hired to manage all the resources below or you can manage them yourself. There are a few important things to remember here.
Building a true community will take at least a couple of months and trying to rush it through expensive third-party providers will not necessarily pay off in more backers. Crowdfunding marketing will go a lot further and convert people easier if they already feel some sense of community with your campaign.
Your time is valuable. It may be more cost effective to hire out an expert to manage one or more resources rather than having to learn and do everything yourself. Just make sure you maintain control of the overall crowdfunding marketing and campaign. It's your passion, no one else will work as hard.
We all have our favorite web hangouts and sites so it's best to spread your advertising budget around to several areas rather than focus on one specific website or resource. The starter package for advertising through most resources includes most of the benefit you'll need and will reach your most targeted audience. Resist the urge to buy into larger and more complicated offers even if they only cost a few dollars more.
Part of deciding which crowdfunding marketing resources you need depends on which platform you post your campaign. Check out this Ultimate Guide of Crowdfunding and Fundraising Websites.
Social Media and Crowdfunding Marketing

Facebook is the Holy Grail of social media and may be your best source for crowdfunding marketing. With more than a billion users globally, the site is seemingly universal in some social circles. Unfortunately, you won't be the first to push your campaign through the site and people have grown immune to many requests for support. Rather than run your crowdfunding campaign through your personal profile, set up a separate page to build community. You'll still want to share all the updates through your personal network but your campaign page will help you target your community building around the campaign.
Facebook offers advertising to promote your page and specific posts and the ability to target your advertising to specific groups and geographic areas like the United States. I advertise for clicks to my blogs but do not like advertising for page "likes". There is a whole industry built up around clicking on ads, which will cost you money but not necessarily result in engaged Facebook fans.
In fact, these fake likes may actually hurt your outreach on Facebook. The site only sends out your updates to a sample of your followers. If those followers click on your update, Facebook figures the update is newsworthy and sends it out to more of your network. Those artificially generated likes are less likely to click on updates which may stop those updates from being sent out to more of your network.
Facebook advertising for website clicks will generally cost around $0.30 per click and may be an effective method of crowdfunding marketing. It's best if you can run a small ad campaign before your crowdfunding campaign starts, to see how well the people visiting your pre-launch site convert to enthusiastic supporters. This will help decide if you want to spend more money on Facebook later in your crowdfunding marketing.
Through your campaign's page, you can schedule posts for different times of the day. Take advantage of this feature to constantly connect with followers but you may want to limit the number of posts to two or three per day
Like all social media networks, real community starts with a personal plea. Spamming out a request to all your 'friends' to join your Facebook page will usually be met with disappointing results. Reach out at least with a personal email or preferably with a phone call to your contacts asking them to join your page and regularly share posts.
A successful crowdfunding campaign means reaching out to the real 'crowd' in social media. Updating your message a few times each day on multiple social networks can seem impossible without a good social media management tool like Hootsuite
. The site allows you to link and manage all your social media messaging from one page. You can even reply to comments and schedule messages in advance from the site.
Sign up for a free 30-day trial of Hootsuite Pro.
If your crowdfunding campaign or product is business-related, LinkedIn may be just as important to your efforts as Facebook for crowdfunding marketing. There are more than 300 million users on the business networking site and I've found the groups much easier to use than those on Facebook. The site offers subscription services that allow you greater access to search and messaging. Use the free month offer to try out the site but the free membership is all I have ever really needed.
Make sure to reach out to colleagues for a testimonial on your profile to build social proof in your abilities
Detail your profile with as much information as is relevant and include a professional picture
Even if your crowdfunding campaign is not business related, LinkedIn can help to connect with influencers in different industries
LinkedIn offers the essentials and best practices for marketing on its site
Twitter is probably the most recognized social media tool after Facebook and an easy one to use for your crowdfunding campaign marketing. The site is limited because your tweets can only be up to 140 characters but you'll be surprised at how much traction you can get from each post.
Downloand the Buffer app to schedule up to 10 tweets throughout the day.
Research the number of searches for different hashtags relevant to your campaign through sites like hashtags.org and include one hashtag in each tweet.
Create a list of influencers in your industry and their Twitter @ name. Calling out to influencers or news retweeting users within your tweets will help increase your reach.
Don't just tweet out your own posts. Keep a regular schedule of your own updates and relevant or interesting tweets from others to help build community.
Twitter basics offers a few key points to growing and using your audience
Crowdfunding Marketing through Video

Your crowdfunding campaign marketing video is one of the few places I would say you will definitely want to spend a little money. Unless you have the video equipment and experience, it is usually cheaper to hire out some for these services than to do it all yourself. That doesn't mean you have to spend thousands on a series of quality videos but a budget of a few hundred will go a long way.
Produce a series of short videos at once instead of having to hire services for multiple shoots. You will use your intro video for your main campaign page but the other videos can be uploaded to YouTube for super-charged viral crowdfunding marketing.
Put just as much thought into pre-production writing and rehearsal as you can to save time and money during the video shoot.
If your crowdfunding campaign is focused on the local market, include local backdrops and influencers in your videos.
The Fundrazr blog offers some more detail on video production from pre-production through the editing process.
Crowdfunding Marketing Online Advertising
Online advertising includes a range of resources but can get really expensive. I have found the best success in Google Adwords and press releases. Before you blanket the internet with ads, spend some time thinking about who you really want to come to your website or crowdfunding campaign. Resist the urge to buy keyword advertising for high-volume traffic that may not really be interested in your cause.
Focus on a couple of keywords and set a really small budget first to see how well the advertising leads to traffic and support on your campaign. Make use of the geographic targeting available on the advertising platforms
Press releases can be cost effective and go out to a wide audience but you need to be more strategic than simply spamming out your release. Develop a rapport with key journalists by reading their articles and responding before your release. If they know you by name, they are more likely to recognize your press release when it comes out.
Content is king and can be the most effective online advertising but can also take months to build an audience. If you have the time, i.e. several months before your campaign launch, set up a blog and start writing about the cause around your campaign. This will help set you up as an expert in the field and build your community. This is the best type of free crowdfunding marketing but most campaigns don't leave enough time to use it.
Online Crowdfunding Forums for Crowdfunding Marketing

Forums on websites related to your cause or company may actually fit under social media but the idea is so important and often overlooked that I wanted to call it out separately. Find two or three forums or groups that relate to your campaign and spend a couple of months contributing and getting to know the most active contributors.
Active forum contributors will be your most enthusiastic supporters because they are already interested in the cause
Spending time on forums will help learn the biggest issues and questions people have in your cause or industry. Beyond crowdfunding marketing, this is also going to help you develop your campaign and really address the issues
Offline advertising may be the most cost-effective crowdfunding marketing resource if your cause or business is local in nature. Online social networks have grown so crowded and impersonal in some ways that it is getting increasingly easy to ignore the advertising. Reaching out to people on a face-to-face level may be harder than a few mouse clicks but you'll build community for your campaign much faster. Check out Indiegogo's review of the Red Lipped Rebellion's campaign that raised $5,000 through grassroots crowdfunding promotion.
The biggest shock for most campaigns is the amount of time it takes to build community and support the ongoing interactions with backers. Regular interactions, online and on a personal-level, are the most important facets of a campaign. Taking more than a day to respond to an email or not reaching out regularly risks losing any momentum you've built from other crowdfunding marketing resources.
Getting help on your campaign is another one of the areas where I recommend spending a little money but you need to find someone that is just as passionate about the cause. Instead of hiring out a part-time worker, you might try reaching out to current supporters with a small weekly stipend to help out with crowdfunding marketing and outreach
Build your community through a couple of your most enthusiastic supporters, preferably pre-launch, to get them onboard with a few hours of outreach support each week. In the first week, each of you should focus on a few of the more enthusiastic supporters that will also commit a little time. With this team of outreach specialists, you can start focusing on reaching out for financial support.
The Best Bang for Your Crowdfunding Marketing Buck
A lot of crowdfunding marketing success comes down to the time you are willing and able to spend on the campaign. Planning your resources and campaign at least two- to three-months ahead of the official launch can save you a ton of money because it allows you time to build community within the free resources instead of having to speed up your marketing through paid services.
My own crowdfunding marketing experience has found pretty good results through conservative budgets on the social networks and Google Adwords. If you start a blog or website for your campaign, something to definitely consider if it's going to be an ongoing business or cause, then you'll usually get a few hundred dollars' worth of free advertising credits when you pay for your website.
The idea is not to build a huge following through advertising but to just draw a few targeted people to the website or campaign. It is through this first group of supporters that you will work through to reach others but you'll be able to do it with your community rather than with more advertising dollars. It's about building that community with advertising but then leveraging it for free crowdfunding marketing.
Breaking your crowdfunding campaign into several smaller campaigns will help you test crowdfunding marketing resources on a smaller scale first. Plan on raising seed funding for your cause or idea first and budget a small amount to the most essential crowdfunding marketing resources. You are more likely to be able to hit your target for smaller campaigns and you can use the marketing information in your subsequent campaigns.
For more ideas on how to kickstart your crowdfunding campaign, check out this mega-list resource from 33 experts that offered their #1 tips for how to boost your fundraising ideas and crowd campaigns.
I would love to hear what crowdfunding marketing resources have worked for your campaigns. Send me a note or use the comment section below to share.
Save