Crowdfunding has become a one of the best tools to publish a book. Liam Gibbs shares his experience and tips for self-publishing
We've gotten a lot of questions on this crowdfunding case study on how to publish a book since it ran in February. I touched base with Liam to get some of your questions answered and add some detail on the book publishing process at the end of the post.
The original post was a crowdfunding campaign review for In a Galaxy Far, Far Awry: A Superhero Comedy in Space, Liam Gibbs' campaign to publish his first book. Liam shared the process he used to crowdfund the book and raise CAD 2,834 and beat his crowdfunding goal by 132%.
Episode I: How to publish a book with crowdfunding

Hello, Internet spectators! My name is Liam. I grew up in sunny Ottawa, Canada, where there's a Tim Horton's for every schoolchild and our hockey stick population is about to get the vote. Hockey sticks get better healthcare too.
I've been writing since before I could pronounce the words I was writing. I love it. I never thought I would have the opportunity to publish something until I heard about crowdfunding.
My campaign has a dual purpose. My interests are superhero comics like Spiderman and X-men, science fiction properties like Star Wars and Futurama, and making a spectacle of myself in public. I created a book series: In a Galaxy Far, Far Awry as a fusion of all those interests.
My short-term goal is to unleash only the first train ride, book one, of my series to the sci-fi/comedy/public spectacle–loving public. But what would a first book be without the continuation? My long-term purpose is to bring more attention to the whole series through this first campaign. I know once the first book is released, readers will want—crave—the rest.
Liam is already on the right track with the idea of using his crowdfunding campaign as a marketing tool. We've talked on the blog about how the visitors you get to your campaign can be worth more than the money you raise. Kickstarter alone gets more than 13 million visitors a month and you've got the opportunity to bring those people to your dedicated sales page…for free! Try marketing your small business or cause on another site with that kind of traffic and you will have to dish out some serious money. It costs $450,000 to advertise on Yahoo for one-day, and that is just for a small advertising box! Check out how to benefit from crowdfunding as an outreach tool in our previous post.
What did I do to ready my campaign and publish a book?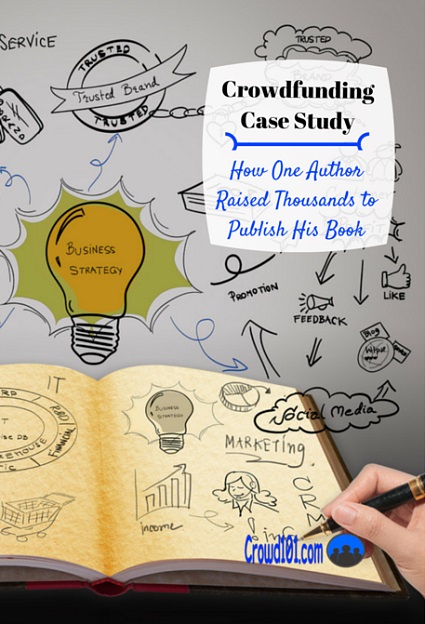 I've known about crowdfunding for years, but I didn't realize the possibility of publishing through it until recently. I saw another author publish through Kickstarter and thought, "Why didn't I think of that?" Bam! The demon in my head was born. Yeeaaahhh. Crowdfunding. Nothing but easy money.
The first thing I learned is it was nothing but hard money.
Step One: Crowdfunding Research–Every–Aspect!
Let me take you through the journey I drunkenly staggered along. I first snagged a crowdfunding book from the library and started wolfing down the pages. (Not literally, but feel free to laugh at the imagery. I am.)
Next, I registered with a crowdfunding forum. It was okay not to have a campaign yet. I was there to pick people's brains, to learn. And people were happy to help. The crowdfunding culture is, above anything else, a we're-all-in-this-together culture. What makes a good campaign? What doesn't? How should I play the game? I got educated. I checked other campaigns similar to mine. Which ones met their goal and which did not.
Liam must have gotten some great advice from the book in starting pre-launch activities early. Too many crowdfund campaigns start from scratch and realize that they've got no momentum. A couple of months while your campaign is live is not enough to reach most crowdfunding goals and pre-launch is absolutely a must. Our Ultimate Guide to Pre-launch Crowdfunding reveals the top tips from eight experts in marketing and crowdfunding.
Not so sure you need to keep quite about your crowdfunding campaign though. Like Liam said, the crowdfunding culture is very helpful and loves to hear about people's projects. I wouldn't push too hard for people to get interested in your idea at this stage but there's really no harm in giving your 30-second elevator pitch. You might just meet someone that shares the same passion and wants to help out.
Step Two: Talk to your crowdfunding audience months–maybe a year–before you even mention crowdfunding!
I got on Twitter and Facebook, started following sci-fi book enthusiasts and comic fans. I mingled, talked about my favorites, swapped ex-girlfriend stories and made friends both in the biz and with consumers. Basically I just got active in social networking. I gained followers with my target audience without even mentioning my campaign yet.
Using social media to spread the work on your crowdfunding campaign is absolutely critical. Everyone thinks there is a 'crowd' waiting for them in crowdfunding but the truth is that you'll still have to do a lot of outreach and marketing. There is no better way to reach a lot of people in a limited time than by getting active on social media.
Planning your daily tweets, shares and messages would be overwhelming without the use of a social media management tool. Websites like Hootsuite
allow you to connect all your social media accounts like Facebook, Twitter and LinkedIn and then schedule all of your activity from one page. On Hootsuite, you can even respond to messages and track how your social media campaign is working to drive traffic to your crowdfunding campaign.
Sign up for a free 30-day trial of Hootsuite Pro.
Step Three: Crowdfunding a book turns into a second job
I spent hours chatting, posting, and sharing everything still without mentioning my crowdfunding campaign at all. I prepared my promotional material. I made business cards, bookmarks, a web site, flyers, a T-shirt, slogans, and video footage. Weekly, I probably spent twenty hours of unpaid work on my campaign and still do.
Everyone I talk to is always amazed at how much time can go into a crowdfunding campaign. It can easily be a second job if you let it but where else can you make your passion a job and raise money for it? Don't get psyched out by the work involved though. Most of the time is spent just meeting new people and talking about the things that interest you. Is that a job or just kind of hanging out and having fun?
Step Four: Start crowdfund marketing when you're ready
When I cultured an online presence, only then did I sneak my crowdfunding idea into my conversations, both online and offline. I signed up at Kickstarter to prepare my written and video material.
I distributed all my promotional material to businesses where I knew my target audience shopped and hung out. But I didn't just drop it off. I conversed with storeowners. I got them as excited about the product as I was, so that they would sell it as well as I would. I remembered each person's name and followed up with a thank-you call. I always had a business card or two on hand.
Even though you are raising money online, some of the best marketing you'll do will be offline and in-person. Online, you may be just one of the more than 7,000 live campaigns on Kickstarter. Offline, you are a living, breathing person with a dream. Making a personal connection with someone, especially someone that shares your interests, will go a long way in bringing them into your crowdfunding community. That kind of connection is worth more than donations because they will actively promote your campaign to their connections as well.
Step Five: Crowdfunding Attack!
Launch day! I had backers prepared for those first few hours. Family, friends, coworkers…houseplants. I explained when I launched that I needed those early backers to bag 30% of my goal in the first few days. This showed strangers my book was worth a look.
It's interesting that Liam brings up 30% because there's actually some pretty strong data relating it to crowdfunding success. Crowdfunding platform Seedrs reports on its blog that once a campaign reaches 30% of its funding goal, the odds of success jump to 90% compared to just a 50% chance across all campaigns. On Kickstarter, crowdfunding campaigns that start with at least 5% of their goal see their odds of success jump from just 15% to 50 percent.
The reason is an idea called social proof, something we talk about quite a bit here on the blog. The 'net is still a pretty uncertain place for a lot of people. They are not just going to come onboard to your crowdfunding campaign without a little convincing. All your promotional material is from you, which is not exactly an impartial source. Seeing that other people trust you enough to support the campaign helps to build this social proof. It works with the amount donated and the number of backers. Even if you've only funded a small percentage of your goal, seeing that hundreds of people have helped you get there is a pretty powerful cue for others.
Step Six: It's not over till it's over.
I'm not in the home stretch yet. My campaign is still running. But I know once my campaign closes, my work still won't be over. I'll still have to fulfill my promises to backers. That much is obvious. But there's more that many crowdfunders don't realize.
I'll only have funded my product. Big deal. My marketing won't be done. Do I want to just survive a campaign…or do I want my product to thrive? Think about it: Marvel Entertainment doesn't stop advertising once they've financed a movie. They go full-tilt even after their product is released. They even put effort into marketing Elektra!
So will I and so should you with your crowdfunding. You've just successfully met your crowdfunding goal, something only about a third of crowdfunders can say. Don't let that success and momentum pass by without using it. After my campaign, I'll still be marketing, giving video updates and schmoozing with my audience.
Some final thoughts,
Don't launch tomorrow if you thought of this just yesterday. I took three months to prepare, and even that wasn't enough. I've heard people prepare for six months, sometimes more for their campaigns. Wiser move. Learn from them; they're the A+ students of crowdfunding.
Do anything and everything before even thinking about a launch date. There's so much prep involved in a campaign that the campaign itself is only a small percentage of your efforts.
Update from Liam: Since the campaign ended in March, the book has been doing tremendously well. I've gotten, of course, offers from online marketing companies in the form of spam. You have to watch out for these, because most will take your money and do very little for you. But in the real world, I've gotten the chance to attend some trade fairs with one coming up this week. I've also had the opportunity to work at a booth in our downtown district to spread awareness about the book and even sell a few copies. And the campaign I ran not only financed the first book of the series but the second as well, both of which are available on Amazon now.
Not only has the campaign helped me publish two books, but it has helped me start a business. This helps me to look into the future and plan for how I'll manage and finance the next installments. I have another crowdfunding campaign on the go starting on October 3rd to finance the third (and hopefully the fourth) campaign, but the plan is for this series to be self-sufficient. And that's where good business sense comes in. The campaign has put me in the position to look at this as a continuing enterprise.
How to Publish a Book Checklist
A lot of the questions we've gotten on the post have been around the process of how to publish a book, whether you're crowdfunding or not. I thought I would include here a handy book publishing checklist from Smashwords along with some notes on different stages in the process.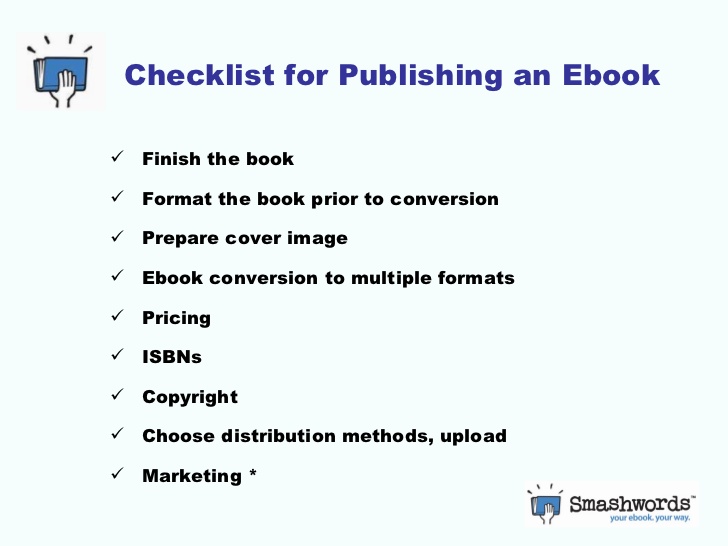 Finishing the book – Finishing your self-published book goes way beyond just writing. This is the part that makes it more than just some words on paper and turns it into a professional piece that people will want to read.
You will want to review and edit the book yourself but you also need others to help with the process. You are just too close to the material and will tend to glance over mistakes. Review and edit it once yourself before asking others to help.
Pass your work on to a few friends and family for another review. This can give you a good idea of readability from the layman's perspective if your reviewer doesn't know much about the subject. You'll also want a few people within the book's topic industry to review it. This is going to serve two purposes. First, experts are going to be able to spot technical mistakes more easily. They are also going to provide testimonials that you can include for the book within the first few pages.
Formatting is how you make the structure of the book fit with requirements for ebook and print publishing. Depending on how people are reading the book, whether print or digital and on which device, may mean you need several versions of your book. Formatting can be learned with a little work but I've found it's easiest to outsource this step. You can find someone with experience formatting that will provide multiple versions, i.e. PDF, ePUB, Word and Mobi, for less than $100 on DesignCrowd.
DesignCrowd is a crowdsourcing platform where you can hire freelancers for a lot of your design and formatting needs. One of the most important of these is your cover image. The cover of your book is hugely important and the first impression you make with potential readers. If your cover isn't compelling, people are just going to scan right past it on Amazon.
Crowdsource unique design ideas from over 150,000 design professionals on DesignCrowd. Start Now!
If you don't have strong experience in graphic design, you should definitely consider outsourcing your book cover. If you're still in doubt, scroll through some of the books available on Amazon. Covers for the highly-ranked books look professional and engaging while other books look like they were made by a five-year old.
Again, I like DesignCrowd for a lot of my outsourcing but have also used 99designs.com
. They are both good outsourcing websites. 99Designs runs on a little different model where you pay a flat-fee and then designers provide their work. DesignCrowd is the more traditional model where you post your job and designers bid on the project.
Pricing is a tough call but fortunately not set in stone. Typical prices for fiction books range from $0.99 to $7.99 with non-fiction books ranging from $2.99 to $9.99 and more. Your strategy for the book will help determine price. If you just looking for outreach and to get your work read, then you'll price it lower. This can be a good strategy to draw people into reading other books or buying other services. If you are just looking to make money off the one book, then you'll price it at the higher end.
I have found that yo-yo pricing works well, especially on sites like Amazon that rank your book according to sales. You may try lowering the price for a week to get more people to buy the book, improving its rank against other books, and then increase the price later.
An ISBN is a unique identifier for your book and needed for some distribution channels like Apple. It's fairly cheap on Bowker.com for batch of 10 ISBNs ($295) though it can be expensive for just one. The identifier doesn't protect your book from copyright issues but it will attach it to your name.
We're going to catch up with Liam during his crowdfunding campaign to publish a book to see how he is marketing it. Launching your book through a crowdfunding campaign goes a long way to getting the word out and getting some free marketing but you'll still need to push a little after the campaign. It's great seeing so many questions about crowdfunding a book. Keep them coming!