Equity crowdfunding investments got a boost from new rules this year and could soon open a secret world of investing to everyone
The World Bank estimates that global crowdfunding could grow to $90 billion by 2025, nearly twice as large as the venture capital industry and roughly nine times the size of the current market. New rules from the Securities & Exchange Commission (SEC) this year help to make that growth possible and investors should get ready to unlock a whole new world of investments.
Only a fraction of the small business investments submitted to venture capital firms and angel investors ever get funding, less than 1% by most estimates. This wasn't a big deal before the financial crisis because entrepreneurs could take out loans through traditional bank lenders.
Six years after the end of the Great Recession and small business lending has yet to rebound. Small business lending has stagnated around $200 billion and the number of new loans per year has nearly halved since 2008.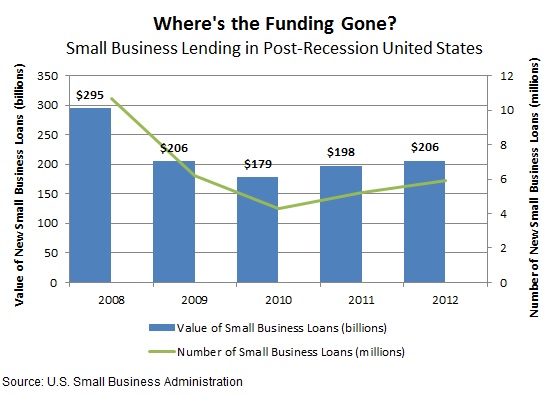 With the passage of Title III of the JOBS Act, enabling anyone to invest in crowdfunding investments, a startup can raise up to $1 million a year.
Equity crowdfunding is a no-brainer for business start-ups. Besides the infusion of capital resources, the entrepreneur creates an army of loyal customers in the equity crowdfunding investors. Since equity crowdfunding is more personal than selling shares in the open market, investors feel a stronger level of buy-in with the company. We covered other advantages to equity crowdfunding for small business, including marketing and distribution benefits, in our series on small business funding.
But will there be a demand for equity crowdfunding investments from investors? Why should investors risk their money on start-ups and early-stage companies?
Equity Crowdfunding Investments Open Investing to Everyone
Until this year, equity crowdfunding investments were only open to accredited investors as defined by the SEC. Unless you had $1 million tucked away in assets or an income of $250,000 or more a year, you were locked out of equity crowdfunding.
That all changed when rules were passed under the Jumpstart Our Business Startups (JOBS) Act to allow anyone into equity crowdfunding investments. Those rules, formally Title III of the Act but called Regulation CF by the industry, allows a company to raise up to $1 million a year from any investor. There are no limits to the number of investors and the cost to regulatory fees and filing is much lower than with other forms of crowdfunding.
But why should investors care about the new rules around equity crowdfunding investments? Because access to this exclusive world of start-up investing could pay off big time.
Consider Peter Thiel's $500,000 investment in Facebook in 2004 as the company's first outside investor. The billionaire's investment was only possible because of his access to deals and status as an accredited investor. Investors like you and I weren't able to invest in Facebook until its IPO in 2012 when Thiel's investment was already worth nearly $1.7 billion.
Granted, not every investment in an early-stage company is going to produce triple-digit returns. Angel investors and venture capital firms diversify their money across hundreds of deals on the hope that a handful will produce winners.
Research by Willamette University of more than 1,200 investments by angel investors over a 15-year period showed an average return of 260% over a four-year investment in any given company. While about 55% of investments end up paying less than the original investment (<1x), about 10% of investments produce returns of five-times or higher.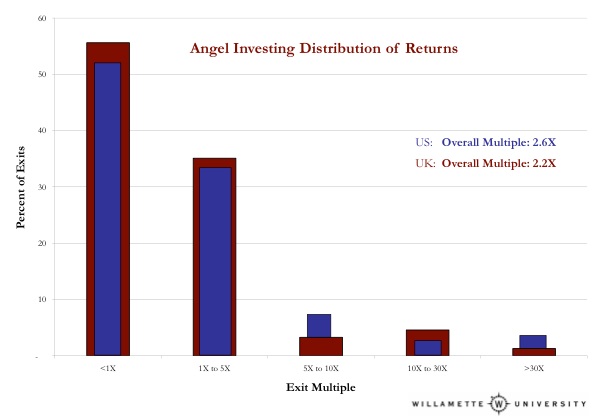 The prohibition of non-accredited investors in equity crowdfunding investment has helped to limit growth in equity crowdfunding and pushed many companies to raise money through rewards-based crowdfunding. Virtual reality company Oculus Rift raised $2.4 million on Kickstarter in 2013, less than a year before Facebook bought the company for $2 billion. Those that backed the project received products as rewards but saw no money in the sale.
If Oculus Rift had raised the money through equity crowdfunding investment, investors could have booked an estimated 14,500% return on their investment.
When equity crowdfunding websites adopt the new rules, likely later this year, there will be plenty of demand from investors. Less than 5% of the households in America qualified under the old rules for equity crowdfunding investment. Passage of the new rules opens that market up to more than 58 million households.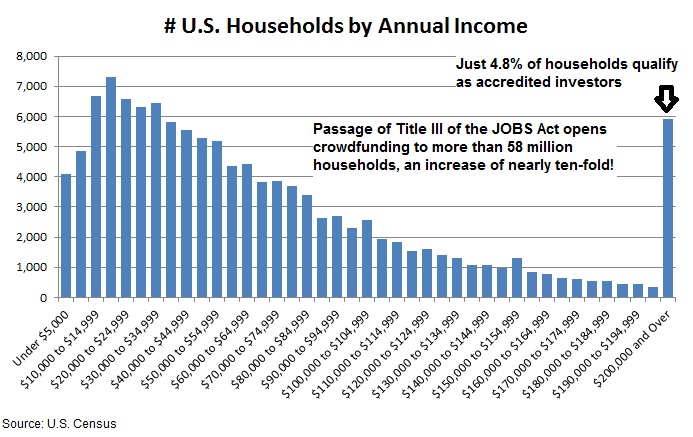 Equity Crowdfunding Investments Offer Other Benefits as Well
Besides the obvious monetary benefits to equity crowdfunding investments, a few other benefits could help propel the market. Opening investment to non-accredited investors could mean a surge of potential funding for small businesses. Small businesses in America make up 64% of new private sector jobs and are nearly half (49%) of private sector employment.
Benefits to the larger economy aside, making an equity crowdfunding investment in a company offers strategic benefits to other companies. Buying an equity crowdfunding stake in a supplier to your company can help lock-in a contract for goods or position for a take-over in the future. Investments in other companies within the supply chain; whether suppliers, buyers or start-ups with new technology relevant to a product are common in the business world and will be just as common in equity crowdfunding investments.
Websites are still working on the new changes to allow equity crowdfunding investment. I highlighted seven websites for new equity crowdfunding investing in a prior post but actual deals on the platforms are still pretty sparse. Talking with a few platform owners the problem seems to be working itself out as more crowdfunding offers come through the pipeline. The Willamette study above found that a portfolio of 50 investments was enough to achieve the average 260% return with a minimum of 12 investments recommended.
While crowdfunding investments promise to add diversification and returns to your overall portfolio, there are a few things to consider before jumping into the new asset. I've linked some important articles to read to better understand the investment.
I'll be starting a premium newsletter with StreetAuthority next month, analyzing crowdfunding investments and highlighting the best deals. I'm excited to see the crowdfunding opportunity finally get released to individual investors and a little anxious to see what kind of deals we'll see. We'll continue to cover how to raise money through crowdfunding here on the blog as well as talking about this new investment opportunity.
Save
Save