Use these crowdfunding investing resources to better understand the investment and find information around the best deals
We've covered crowdfunding investing from start to finish on the blog but I wanted to include one last post to point you in the right direction on additional resources. Most of the resources you'll need to use will revolve around finding data to analyze crowdfunding investing deals but I've included a few other links to government regulations as well.
Don't forget to check out some of the other posts in our equity crowdfunding series. Crowdfunding investing is opening up a whole new asset class for regular investors but it brings with it a new set of risks.
Save time and money with these 10 warning signs to startup investing deals
Learn how to invest like the pros by researching the market for equity crowdfunding deals
How to Manage the four biggest startup investing risks that lose money
Should you invest in equity crowdfunding or stocks?
Don't avoid equity crowdfunding investing just because you don't understand the new investment opportunity. Angel investors and venture capital firms have been enjoying returns of 20% and higher for decades on early-stage investments. Crowdfunding is your opportunity to diversify your stock portfolio and increase returns to better meet your financial goals.
Resources to Understand Investing in Early-Stage Companies
MicroVentures Blog – many of the crowd investing platforms also provide blogs with educational content. While the platforms cannot legally offer investment advice, they can help you understand the basics about startup investing.
Securities & Exchange Commission (SEC) page on regulations around raising money through crowdfunding. This is mostly for companies but can also give investors an idea of what small businesses can and cannot do to attract investors.
SEC Investor Bulletin guide for crowdfunding investors. This bulletin covers some of the government's rules around investing in crowdfunding deals if you are an unaccredited investor. Remember, you are only allowed to invest up to a certain amount each year depending on your income.

Resources for Researching Crowdfunding Investing Deals
Crunchbase offers data on private company fundraising rounds, investors and acquisitions. It's invaluable for finding valuations of companies and acquisitions for your models. Most of the information is free and easily searchable though there is some extra data provided with the Pro subscription.
SBA Business Data and Statistics page is a helpful resource for information about business and economic indicators.
Damodaran Online is one of the best resources I've found for financial data. Provided by Aswath Damodaran at the Stern School of Business at New York University, the database includes metrics on costs, margins and debt for publicly-traded companies. It's one of my favorite resources for comparing management estimates at a startup with the reality of other companies in its industry.
Edgar System Company Search is where you'll find all the public documents of companies with stock or other financial reporting requirements. It helps to know which form number you're looking for but the system is fairly easy to search.

Other Early-Stage Investing Groups
AngelList is an online platform for angel investors and has helped nearly 600 small businesses raise money. Investors cover the costs so there are no fees to start-ups. The site allows entrepreneurs to put their documents together and pitch investors on the platform either to a syndicate of angels or to individuals.
Besides raising money, entrepreneurs can also recruit talent from the site among the investors that have special insight into a particular industry. Your team is one of the most important aspects for small business funding and you absolutely must have a few profile team members with a track record of success.
Angel Capital Association is North America's professional association for angel investors and counts 240 groups and 13,000 angel members. It is not really for start-up entrepreneurs but the resources on the site will give you a perspective into what angel investors look for in funding opportunities. The meet-ups and summits might also provide an opportunity to connect with angel investors in your area. Remember, angel investors tend to invest locally so focus your attention on regional groups.
National Venture Capital Association (NVCA) represents the venture capital industry in the United States. Like angel investors, these firms pool investor money to make early-stage funding in small businesses. The professional association counts 400 members and includes a directory that might help you get started searching for VC firms interested in your industry. Venture firms generally invest in specific industries and make larger funding decisions than do angel groups.
More Books on Investing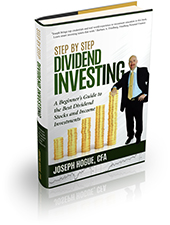 I've spent more than a decade as an investment analyst, working for everyone from regular investors to large venture capital firms. The secret to reaching your investing goals is to diversify your portfolio across different investments like stocks, bonds and startups.
Learn how to put dividend stocks in your portfolio and money in your pocket! This book covers income investments like REITs, MLPs and dividend stocks that have provided strong returns and a regular cash return. Click here to buy Step-by-Step Dividend Investing.
Learn the secret to building an investing strategy that will meet YOUR needs. The first book in the series covers 10 basic rules of investing you must remember to avoid losing money. You'll get the secret to winning the stock market game as well as a step-by-step strategy for buying stocks. Click here to buy Step-by-Step Investing.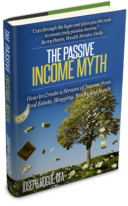 See through the BS and scams in passive income strategies to start building a real source of income today in blogging, real estate, stocks and bonds.
NO fluff, NO theories, and NO sugar coating – just the detailed process on how I put together an income from four sources and make money whether I work or not. Click here to buy The Passive Income Myth
Crowdfunding investing is just getting started as an opportunity for regular investors but we're already seeing some great offers come through and some startups that could be mega-cap companies in the future. Don't limit your investments to low-single digit returns in stocks and bonds.
Crowdfunding investment offers the opportunity to increase your return while also diversifying some of the risk in your portfolio. It's an amazing asset class that only the rich have been able to enjoy for decades. Don't miss your chance.