Intuit has upgraded its QuickBooks Online accounting software, making it a strong resource for keeping your small business organized
I'm an old school Excel guy and have always just kept my own books in a simple spreadsheet. So I was a bit skeptical when a blogger friend told me I needed to review Quickbooks Online accounting software.
I've already got Excel, so why do I need accounting software?
After checking out Quickbooks' new updates, I can now see just how much I needed the software and didn't know it.
What is Quickbooks Accounting Software?
Founded in 1983, Intuit QuickBooks has long been the leader in accounting software for small businesses. Until recently, using QuickBooks meant downloading the accounting software to your computer.
Now small business owners have the option of using QuickBooks Online and the company has upgraded the software with some impressive features.
I've been using QuickBooks Pro since 2013 to handle my home business accounting but switched to QuickBooks Online in 2014. Intuit is the clear leader in the market with almost 80% of the small business accounting DIY market.
QuickBooks Online has been available since 2004 and is used by more than 1.2 million businesses. I wanted to share my experience in this QuickBooks Online review of the accounting software.
Even as a finance guy with lots of accounting classes, I can appreciate how easy it is to use QuickBooks software. One of the reasons the accounting software is so popular with home businesses is because you need no prior accounting experience to use it.
The software is very intuitive and most of your sales and expenses go in one of a few pages. The software moves everything around for you, organizing different reports and financials for your business.
For small business owners with accounting experience, Quickbooks Online will still save you a ton of time creating and managing different spreadsheets. This was my problem before I started using QuickBooks Pro. Besides the hours it took to setup and link all my spreadsheets (sales, expenses, business credit cards), I constantly had to troubleshoot problems whenever I needed to change it.
Try Quickbooks Online FREE for 30-days, Click Here for a Discount up to 50%
And as proficient in Excel as I am, I was still only scratching the surface in terms of productivity. QuickBooks solved it and shaved hours a month off my accounting.
The desktop version of QuickBooks has always been a popular choice but retails for $200 and up on the company's website. It's not a huge expense for most home businesses but can be a little bit of a sticker shock at first. Using the power of the cloud, Intuit rolled out a more affordable monthly rate for QuickBooks Online with plans starting as low as $8 per month.
One complaint of QuickBooks Online in the past has been the lack of features that were available with the QuickBooks Pro desktop version. Intuit listened to their customers and added a lot of upgrades to the recent edition of the cloud-based accounting software.
The Online version of QuickBooks now includes the financial reporting and billing functionality of the desktop version as well as a few mobile additions. The new Starbucks mode includes privacy settings so you don't have to worry about nosy watchers when you're using your laptop in public.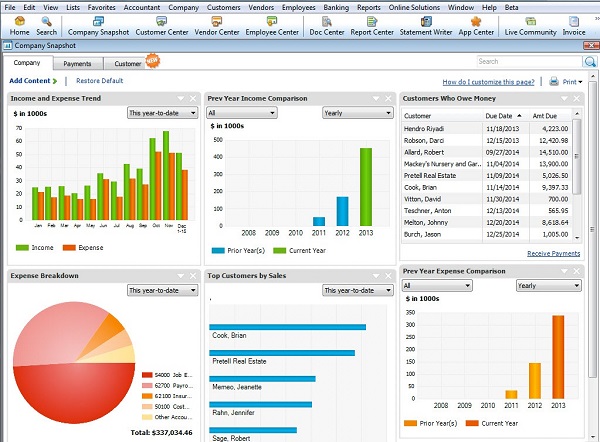 Requirements to run QuickBooks Online for your home business are very light, basically only requiring the Windows 7 OS or the OS X system or newer. If you're still working on a computer with older operating systems than these, your business has bigger problems than accounting. I use the accounting software on Firefox but it can also be used with Chrome and Internet Explorer.
After you've signed up and linked your accounts, the home page dashboard gets you started with a few how-to videos customized to your industry and business needs. One of the easiest ways to get started is through the diagram on the 'Getting Around' tab. The graphic is a schematic of how all the different accounts for your home business are connected. Each icon on the graphic is clickable and will take you to videos and help features so you understand how everything is organized.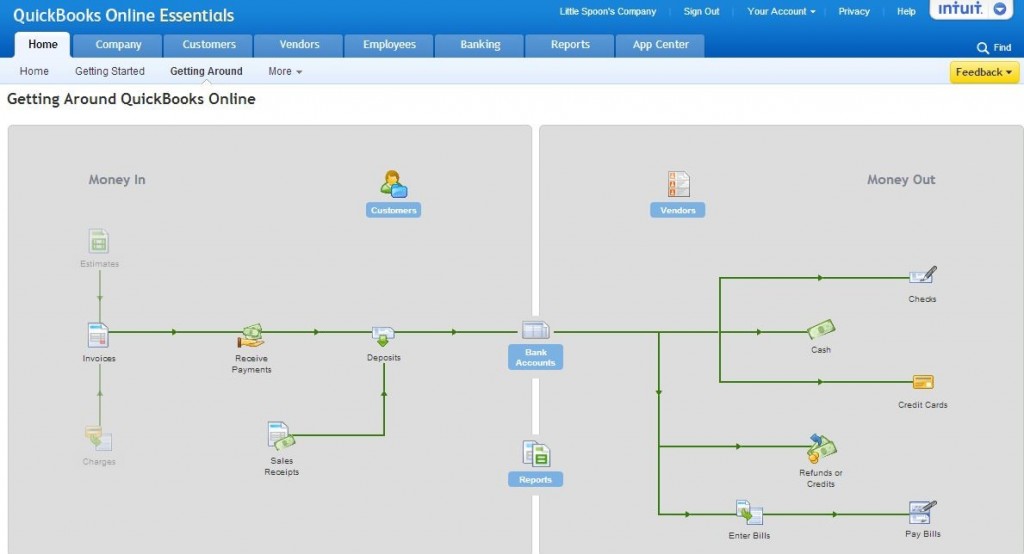 Intuit offers four levels of QuickBooks Online
, each with extra features and functions to organize a home business. The Self-Employed version is the cheapest but most business owners will want to start with the Simple Start version for its additional invoicing and billing features. This version starts at $12.95 per month so it's really not much of an expense, especially compared to competitors like Sage 50 which starts at $449 per year.
One thing I like about the online software that isn't available on the desktop version is that you can add features as your business grows. QuickBooks Online allows you to add up to 300 different add-ons and features from third-party providers and Intuit programs. Features include payroll services, CRM and project management.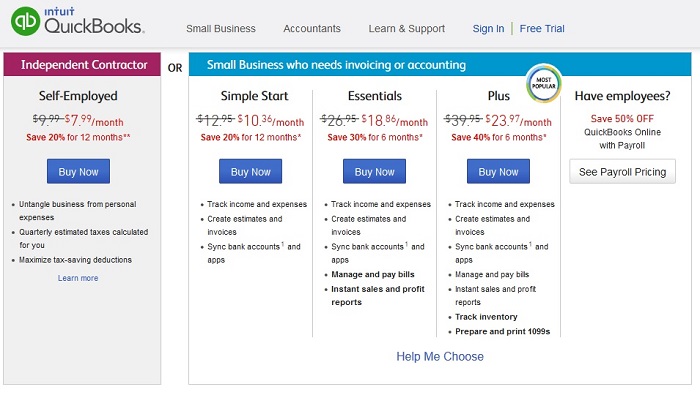 Since there's nothing to download on your computer, QuickBooks Online won't slow down your computer like the desktop version. Your data gets backed up every day by Intuit and stored on two separate servers using the same technology used to protect banking data.
Complaints about QuickBooks Online Accounting Software
There are still a few features I would like to see added to the online version of the QuickBooks accounting software. User access levels are still a little limited so businesses with many different levels of employees accessing the software might not be able to restrict all features. I've never had a problem with it because I only have a few people accessing my account but larger businesses might be bothered.
Email and chat support is still lacking for all of QuickBook products though the company offers phone support Monday through Saturday. Wait times for phone support are around five minutes and I've never had a problem getting something answered but sometimes you just want to send an email.
QuickBooks Online Home Business Review: Summary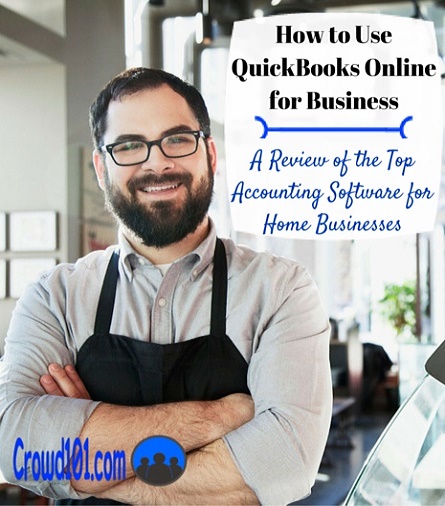 If you have any kind of a home business or small business, you need some way to keep your accounting organized. I managed all my accounting in Microsoft Excel for the longest time, trying to save money, but was glad when I finally switched to a professional accounting software. QuickBooks Online offers a free trial to try the software out and see for yourself how easy it is to manage your business accounting.
Pros of QuickBooks Online Accounting Software
Saves time and manages everything easily, especially for business owners still trying to do everything on Excel spreadsheets
Up to 65 forms that automatically generate with your financial data to show you just how your business is doing
One of the most affordable accounting software products out there with most home businesses only needing the basic $12.95 per month subscription
Cons of QuickBooks Online Accounting Software
QuickBooks Online can transfer all your data from the desktop version or from other accounting software products but it will still take an afternoon to get familiar with the new layout
Lack of email and chat support is annoying at times though phone support is good
The Online version still lacks a few features available on QuickBooks Pro desktop but the company is upgrading each year
Take $100 off QuickBooks Pro 2017 Software and Free Shipping
Try out QuickBooks Online or the Pro version for yourself. They offer a 30-day guarantee but once you check it out, I think you'll be as convinced as I was. I've been using QuickBooks accounting software for a few years now and can't imagine doing my own accounting again.
Save