Social media changed fundraising for better and for worse. Understanding social media limitations is the only way to raise more money.
I started getting involved fundraising for social causes in 2005 including managing my own 501(c)3 that created after-school programs in Latin America.
There were just 12 million Facebook users at the time, most in the large coastal centers. MySpace had been bought by NewsCorp but was slowly fading into obscurity and WordPress for bloggers had just been released.
The social media revolution had yet to start and fundraising was still grass roots, boots on the ground. We did mini-golf tournaments, dinners and the old-fashioned ask for donations.
Looking back, 2005 seemed like the fundraising stone-age without the technological boost to our message from social media.
But that was also the year that individual giving reached a peak over $350 billion that wouldn't be seen again until 2015 according to Giving USA.
By 2010, fundraising in the United States had fallen below $300 billion and the blame can't all be put on the recession. The economy and personal wealth has surged since 2009 yet charitable giving only just beat its prior peak in the last couple of years.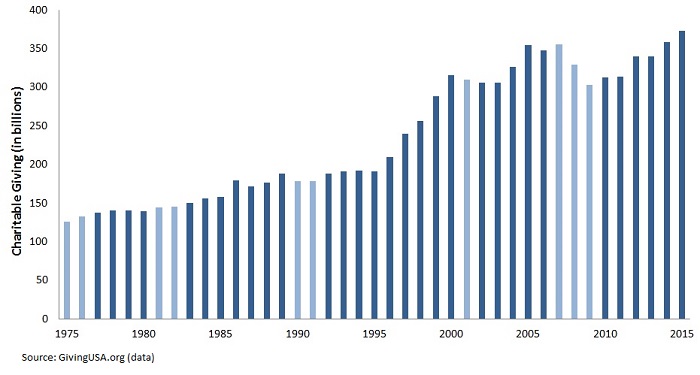 I think a lot of it has to do with how social media has changed fundraising.
How Social Media Made Fundraising Easier
To be sure, social media has changed the world of fundraising and much of the change has been for the better.
Social media platforms like Facebook allow even the smallest non-profits to reach a global audience in the billions. Your message goes out instantly and has the potential to find an audience you never would have dreamed about reaching.
The fundraiser also gets instant feedback on their message. Facebook users can 'like' or 'share' a message as soon as it's posted and provide comments that can guide non-profits to better messaging.
Another huge benefit of social media for fundraising, though few are using it, is that different messages can be tested to find the perfect voice before the campaign is pushed out to the entire audience. This kind of testing through old school fundraising was impossible or took months to do with direct mail campaigns.
How Social Media has Hurt Fundraising
The obvious benefits of social media for fundraising has driven many non-profits to shift their entire budget online, targeting massive audiences on Facebook and Twitter.
With the overwhelming increase in reach on social media, why haven't we seen charitable giving surge higher?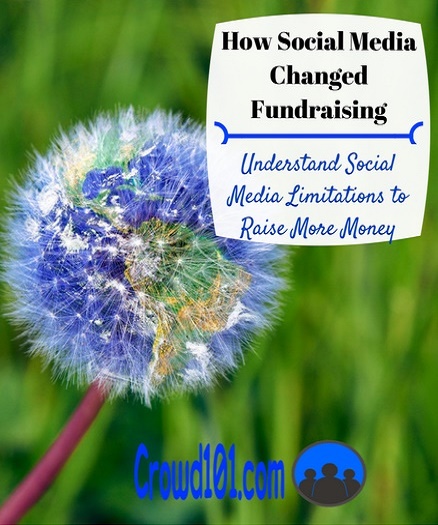 Because social media has also hurt fundraising in ways that people don't really understand.
Fundraising and supporting social causes is still very much driven by a personal message. You have to reach people on a personal level so they empathize with the cause, making it a part of their life and their own. Social media has helped people get their message out but it is still very difficult to make that message personal.
Making the message personal is a major goal of the social networks. Getting people's emotions out in an update makes them loyal users of the platform. Facebook has tried developing this recently by adding 'reactions' like a heart and other emoticons instead of just a 'like' button.
But social media still isn't personal. You can't just spam out your fundraising message and hope people will click through to make a donation. It just doesn't happen. People see hundreds of updates a day and just don't care about your non-profit cause.
Too many organizations have yet to learn this and are simply spamming their social profiles with updates that get ignored.
How to Use Social Media for Fundraising
Social media can help your fundraising message reach huge audiences and can be effective but you have to use it effectively. That means going a little old-school with outreach and a personal message first.
Contact your most vocal supporters to 'ask them advice' on an upcoming social media campaign
Look for social media influencers interested in your non-profit cause and reach out to them offline for advice
Understand what makes for a personal and successful Facebook page
Test several different messages with Facebook ads to see which work best for your target audience. Create a few different ads, varying the message and image to see which result in a better click-through-rate (CTR) and more reactions.
Use the best performing ad as an update on your Facebook page to share with your community. Reach out to everyone you contacted for advice to let them know the campaign has started and ask them to share the update.
Understand how to use social media management tools to automate your message but remember to engage your community with replies directly on your social profiles
You're in fundraising, you can't be afraid to ask. Ask people to share your message rather than just 'liking' it. Many of the people you personally enlisted pre-campaign will have enough buy-in to share your message with their network, helping you truly reach the viral potential of the crowd.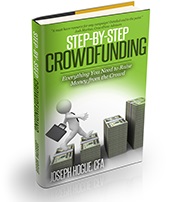 I've seen these same benefits and limitations in crowdfunding. Non-profits and small business owners think there is a ready-made 'crowd' waiting to support their campaign. The immediate disappointment when nobody backs the campaign is why many crowdfunding projects go unattended after the first week.
For crowdfunding, as with using social media for fundraising, you have to build that personal message first during your pre-launch. This initial community-building is essential to reaching a larger network and is why the pre-launch stage is 11 of 17 chapters in Step-by-Step Crowdfunding: Everything You Need to Raise Money in the Crowd.
Social media has changed fundraising, for better and for worse. Non-profit organizations need to understand the limitations of social networks just as well as the benefits and develop a process that combines the old with the new in fundraising strategies.