Don't pay for crowdfunding promotion services or crowdfunding marketing without reading this first!
Ever wonder how some people come back to crowdfunding time and again to meet their funding goal while 60% of campaigns fail?
Game-maker Cryptozoic Entertainment has raised more than $3.8 million on two games crowdfunded on Kickstarter. One of its campaigns beat the $300,000 funding goal by more than seven times and attracted almost 18,000 backers!
Then there are those that haven't seemed to crack the crowdfunding code. More than 125,000 projects have gone unfunded on Kickstarter alone and 24,000 of them never received a dime.
Even Hollywood fame hasn't been able to save some from a crowdfunding fail. Melissa Joan Hart cancelled her Kickstarter campaign for Darci's Walk of Shame after it raised just 2% of the $2 million goal in its first month.
The problem is that all the media attention on crowdfunding is on the stories of success with nothing on the process and work involved.
Crowdfunding has opened up a whole new world of funding for businesses and individuals but it is not free money.
Before you get discouraged, there is an upside to the fact that more than 60% of crowdfunding campaigns fail…
…once you know the process, you will become a Crowdfunding Rockstar!
The secret? That you need to know the process and you need to know it before you start crowdfunding. Wait until you need the money and It's Too Late.
So you need a crowdfunding strategy, there are 896 books about it on Amazon. You could grab one and spend hours reading through the history of crowdfunding and why it is such a great revolution in finance…
…or you could buy the only book that offers a step-by-step approach to crowdfunding.
I am passionate about what crowdfunding can mean for small business and social causes and could talk about it all day, but that's not why you are here. You are here to learn the process that will make your crowdfunding campaign a success. In my book, Step-by-Step Crowdfunding, I skip the fluff and fancy language and get right to the point.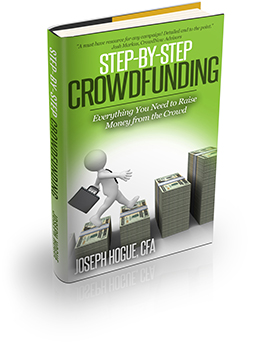 In the book, you'll find:
How to put your idea together and avoid budget and timeline pitfalls
How to research prior campaigns to find your crowdfunding magic number
How to find journalists, bloggers and other influencers that will spread the word about your crowdfunding campaign
How to do your own crowdfunding promotion and how to avoid scams
How to get the most bang for your crowdfunding marketing buck
How to build community around your campaign and keep your backers motivated
Order your copy of Step-by-Step Crowdfunding on Amazon Kindle, Paperback or the Audiobook
Read the Reviews on Amazon – 5 Stars
"I highlighted about 25% of this book because there was so much good information to remember. I highly recommend this book"
Carney, May 11 2015
Crowdfunding Resources
You may not need to pay for crowdfunding promotion services and crowdfunding marketing but there are a few resources that I have found indispensable to making your campaign easier to manage. I've tried out each of the resources below at some point and can attest to how much more smoothly a campaign can go with a little outsourced help. Best yet, most of the resources offer some kind of free trial or discounted promotion (linked where available) to get you started.
Design and Branding
I'm not a very artistic person so always outsource my graphic design, logo creation and branding when I need it. I've used two websites for this, each with its own special features.
DesignCrowd is a traditional freelancer marketplace focused on design and other creative professionals. It takes less than 10 minutes to post a job and you'll get bids from freelancers within a couple of hours. The bidding process helps to get lower prices but still good quality work. They've got nearly 500,000 designers working on the site so you can get pretty much anything created, including stuff for crowdfunding rewards.
Crowdsource unique design ideas from over 150,000 design professionals on DesignCrowd. Start Now!
The other freelance design platform I've used is 99designs.com
. The model is a little different here. You pay for a package price and then designers offer mock-ups to try and win the project. It's usually a little more expensive than the traditional bidding process but quality is often better as well since designers aren't competing on price.
Website Hosting
Having your own website for your crowdfunding campaign will go a long way to building credibility. One page on Kickstarter or another platform just isn't enough to show potential backers all they want to see. Putting a simple website and blog together is extremely easy and will help you get found on Google as well but you'll need a website hosting plan.
WordPress Hosting on BlueHost
is the most popular low-cost website host and regularly runs promotions for deep discounts on hosting packages. If you're just planning on running a small site for your crowdfunding campaign, the basic package will be more than enough. For larger sites with more traffic, you may need an upgraded package but it will take years to outgrow the starter package.
Bigcommerce Hosting
is another hosting site with the added benefit of easy set-up for online commerce. Hosting plans are a little more expensive on BigCommerce but the added value to online shopping and PayPal integration is worth it if you plan on selling directly from your website.
Social Media Marketing
Social media visitors from Facebook and Twitter is a huge part of crowdfunding. Don't think there is a 'crowd' waiting for your campaign. You have to drive visitors to your page and the #1 way to do it is through social media messaging. I couldn't run my two blogs without a social media messaging tool.
Hootsuite
is one of the most popular social media tools. The website allows you to connect all your social media profiles and send all your messages from one screen. You can schedule messages for the future, allowing you to constantly engage with backers, and even respond to messages from the tool. It will save you a ton of time and help to reach out to the real crowd.
Sign up for a free 30-day trial of Hootsuite Pro.
Sprout Social is another popular social media tool and does pretty much the same thing as HootSuite. Sprout also has a great blog that constantly provides excellent tips for how to grow your social media following and how to engage with people. Best yet, Sprout offers a free 30-day trial.
Email Marketing
Your email list is like pure gold for your crowdfunding campaign. You need to be collecting emails and engaging with supporters for at least a month before your campaign starts. Do it right and your first two days of crowdfunding will be through the roof.
Campaigner is a newer email marketing service but has a really innovative tool in drip marketing. With a drip email campaign, you can design a series of emails specifically for the past actions of the recipient. You automate the series and people get very targeted email messages depending on different actions. It is a great way to engage with your best customers.
New to email marketing? Try Campaigner FREE for 30 Days and let us show you how easy it is to connect with your customers.
iContact.com
has been around for a little longer and also offers the ability to create an email series for your contact list. The service includes all the basic email tools to get your message out and build a following that will be ready to go on Day one.
Try iContact for FREE for 30 Days! Sign up now at iContact.com
Miscellaneous Crowdfunding Marketing and Projects
I use Fiverr.com
regularly for freelance tasks. Freelancers post their services (gigs) on the site starting at $5 and offering upgrades for a little more. There are service providers for just about every task you could possibly imaging. The quality is not always great but payment is held in escrow and you can retract the job if you're not happy. For the price, you can shop around and find a few freelancers that really deliver on quality and then just keep going back to them.
I'm not just trying to make a quick buck off your crowdfunding campaign. I have developed this blog into the #1 free resource in crowdfunding promotion and marketing. Check out posts on the site for valuable advice on crowdfunding marketing on a budget and great tips for your fundraising ideas.