The only thing difficult about these easy fundraising ideas is deciding how to spend all the money!
I ran a post last week called 7 quick fundraising ideas as a follow-up to a phone conversation I had with a non-profit political fundraising campaign. The fundraising campaign had raised just $800 in three weeks and needed fundraising ideas to boost outreach and donations…fast!
The campaign had never used crowdfunding to raise money and frankly wasn't doing it very well.
Three weeks wasn't much time to raise its $15,000 goal but they ended up getting within a few thousand.
What if you've got a little more time but need some easy fundraising ideas to get things going?
One of the most difficult aspects of raising money for a non-profit is coming up with fundraising ideas that stand apart from the constant bake-offs and raffle sales. Put together an easy fundraising idea that's also unique and you've got the potential to raise some real money.
The easy fundraising ideas below may not be as quick as our previous list but they're pretty painless to put together and can take on a life of their own. After you're done with the list of six easy fundraising ideas below, check out our expert roundup post of 33 tips to boost fundraising ideas and crowd campaigns.
Easy Fundraising Ideas #1 – Mock Political Elections
Got an election coming up on the national or state level? Get into the excitement by letting people vote for their preferred candidate with pledges. For each $1 pledge, the donor gets one vote for the candidate of their choice. On election night, tally up the 'votes' and announce the winner.
You'll need to stress that your mock election is in no way connected with the real election or with the campaigns of the candidates. Donors should understand that they are donating to your fundraising campaign, not to the campaigns of either candidate.
A twist on this idea would be to name candidates from your own fundraising campaign for the mock election. Volunteers mount their own campaigns to raise money and whoever raises the most money wins the election. Regardless of who wins the actual election, your donors will always be able to say that they elected their own leader with their pledges.
A successful fundraising campaign means reaching out to the crowd in social media. Updating your message a few times each day on multiple social networks can seem impossible without a good social media management tool like Hootsuite
. The site allows you to link and manage all your social media messaging from one page. You can even reply to comments and schedule messages in advance from the site.
Crowdfunding isn't just for non-profit social causes and can work for political campaigns as well. I get the question whether you can use crowdfunding for political purposes all the time. While you need to offer rewards for a crowdfunding campaign, these can be just about anything from campaign memorabilia to tickets to fundraising dinners.
The thing to remember about crowdfunding a political campaign is that the crowd campaign isn't about the money. You'll raise money but the real gold is in building a community around the candidate and the message. Crowdfund supporters are some of the most active and vocal cheerleaders for campaigns they've backed. Use a crowd campaign early on in your fundraising to recruit people into the movement.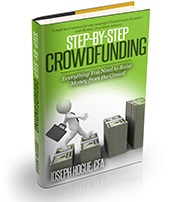 New to crowdfunding? Get the entire process laid out with Step-by-Step Crowdfunding. Used by more than 1,500 crowdfunders, the book walks you through the 17 steps in a successful crowdfunding campaign from building a community to hacking Kickstarter and leveraging your success into bigger campaigns.
Easy Fundraising Ideas #2 – There's gold in yonder sandbox
Ask for donations of old jewelry from your network and bury the donations in a lot on the beach or another private area. Then let people pledge to the campaign for the opportunity to play miner. No metal detectors allowed, just old fashioned trowels and sifting pans.
It helps to have a private sand area for easy burying and mining. Miners get to keep what they find so the cost of admission can be set pretty high. Make sure you carefully map where you buried the items just in case something is not found.
Easy Fundraising Ideas #3 – Let your fingertips do the donating
Text message fundraising has become popular over the last few years and third-party providers can make it very easy to manage.
After setting up your campaign with a provider like Text2Give, you provide the phone numbers of the donors on your campaign list.
A text message goes out to everyone on the list asking for a pledge.
Donors only need to text a keyword back to a specific number to donate $5 or $10
The donor is billed through their cell phone bill
Donors can text a larger commitment and will be sent a link for a credit card payment
Getting your network involved can help supercharge the campaign by asking people to forward the text message to two more people. The fact that they pledged adds social proof for the next people receiving the text.
Don't forget to include a strategic email marketing campaign in your fundraising event as well. Some people might not be able to participate locally but will want to follow along with the event by email. iContact.com
lets you send out emails targeted to how the recipient acts on older messages, whether they open or click through any part of the message. It's a great way to customize your email marketing.
Easy Fundraising Ideas #4 – Change the way you think about fundraising
Ask people to commit to taking a change jar home with them for one month. At the end of the month, the jars come back to the organization. This is an easy fundraising idea on so many levels. The work involved is extremely low, just a matter of passing out the jars. The commitment by donors is also extremely easy since they are not promising a certain amount but simply agreeing to share the loose change they probably don't even care about.
Easy Fundraising Ideas #5 – The more embarrassing the better
In rewards-based crowdfunding, backers pledge money for progressively bigger rewards. The incentive from a bigger reward is often all it takes to convert someone from a $5 donor to a $55 donor.
Use this same concept of progressive incentives in your easy fundraising ideas. One idea that always works well is the embarrassing stunt. Donors pledge to get an individual or group to do something really embarrassing like shave their head or run around in a chicken costume.
Instead of just one stunt, build in an incentive structure. If the campaign raises $500 then the founder will do something fairly embarrassing but pretty mild. If $1,000 in pledges is reached then the founder will do something really embarrassing. Build in as many levels and stunts as you like. It helps put a little more fun and gamesmanship into the campaign.
Easy Fundraising Ideas #6 – Get social for a cause
Ask people to pledge a certain amount for each like or share the campaign gets on Facebook. Designate a specific time period and you may want to offer people the chance to donate only up to a specific amount, just in case the message goes viral.
This easy fundraising idea works great on a couple of levels. Not only will you collect donations on your campaign's reach through social media, but extending that reach with a lot of Likes and Shares will bring in new people to your network.
A few of these easy fundraising ideas are so easy that you may just work them into your regular rotation of campaigns. Whether you're fundraising your social cause or a political campaign, you'll be able to put some of these fundraisers on auto-pilot. Most of the ideas can be managed by one or two people and can be relatively quick to put together as well. Get creative with your own easy fundraising ideas and add them to the list through the comment box below.
Save