Use this crowdfunding marketing checklist to save time and money for your crowdfunding campaign without paying for expensive crowdfunding marketing services
One of the most frequent questions I get from crowdfunding campaigns is how to market and promote their crowdfunding or fundraising project on a tight budget.
While you can do crowdfunding marketing without spending a dime, it doesn't necessarily mean you should. It also doesn't mean you have to shell out hundreds of dollars to crowdfunding promotion scams.
Crowdfunding marketing is about giving yourself time to use the free resources on the internet and leveraging the power of community. Most of your crowdfunding marketing will be done before you even launch your campaign on a crowdfunding platform.
This crowdfunding marketing checklist is the third in our four-part series of crowdfunding checklists. Having an easy-to-follow checklist can mean the difference between hitting each step in the crowdfunding process and missing some critical parts that could mean a missed funding goal.
Start with our 24-step crowdfunding checklist to pre-launching your campaign
Put together an awesome crowdfunding campaign page with this 15-point checklist
Keep the momentum going with this post-campaign crowdfunding campaign checklist
Crowdfunding Marketing Checklist: Social Media
Social media can be one of the most important tools for your crowdfunding campaign but it can also be one of the most frustrating. Simply spamming your message out across social networks isn't being social and people are not likely to share your news.
Success on social media for your crowdfunding marketing is about being social…duh! You have to actually engage with people and groups to make yourself and your campaign more than just another update in their news feed.
To really be successful, use a combination of community building and sharing other people's news. Follow these five social media steps to make your crowdfunding marketing a social event.
Write out a strategy for how often you will share social media messages and how you plan on building community through the networks. Post at least a few times a week to each of the major social media networks – Facebook, Twitter, LinkedIn and Pinterest.
A social media management tool like Hootsuite makes it much easier to manage the constant messaging that needs to be done. You can link all your social media accounts and send messages from one page. Schedule messaging in advance so you are always putting your campaign in front of the real crowd in crowdfunding.
Answer questions and comment on other people's social media news at least a few times per week. This is a critical part of the crowdfunding marketing checklist that most people will avoid. Don't forget to take the time to be social on social media!
After a few weeks of engaging with people on a particular social network, send a link to friends/followers on each network and ask them to follow/friend on the other social networks
Join at least two groups on Facebook and LinkedIn that are relevant to your campaign. Actively engage others, answering questions and leaving comments at least twice per week
This type of community building, especially when done during your pre-launch crowdfunding will give your campaign the boost it needs to reach the virtual crowd. Without this initial group of supporters, there's no way you reach a larger audience through others' networks.
Crowdfunding Marketing Checklist: Online Outreach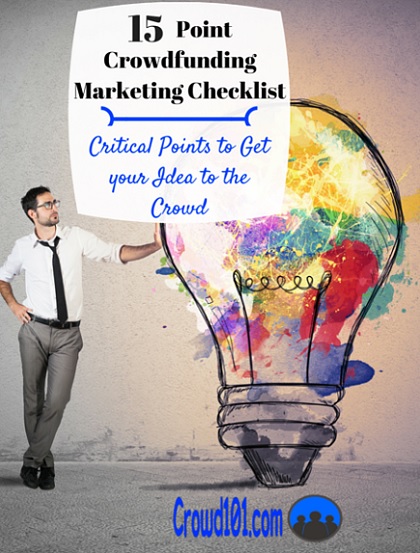 Besides social media, there are other ways to market your crowdfunding campaign online.
Building your online presence is the only way to convert random visitors to crowdfunding supporters. Follow these five outreach points on the crowdfunding marketing checklist.
Join at least two online forums or affinity groups related to your campaign. Actively engage with comments and answering questions at least once per week. Recruit someone from your crowdfunding team to join and engage on two more online forums or groups
Recruit someone from your crowdfunding team to join and engage on two more online forums or groups
After a few weeks of engaging with the groups and specific people, send links and a request to join social media groups and your campaign blog/website
After a minimum of one month engaging on a forum or group, talk about your upcoming campaign and ask for input – recruit anyone that offers input to be a bigger part of the campaign
If you don't already have a website running for your small business or cause, start one with BlueHost WordPress Hosting. It's pretty easy to get a basic website started in less than an hour and it's probably the best way to get found online. Not only will you build credibility for your crowdfunding campaign by having a website but you'll start getting noticed in Google search.
Run an email subscriber contest on your website or blog. Check out these three steps to boosting fundraising outreach through a contest strategy.
Crowdfunding Marketing Checklist: Offline Marketing
Most people are surprised to hear that offline marketing is probably the most important part of crowdfunding marketing.
Meeting people face-to-face is still the easiest way to get supporters for your crowdfunding campaign. It is much quicker to build trust and credibility offline and then make the point for your campaign online.
Talk to at least three local groups or organizations related to your campaign. Ask to give a brief five-minute presentation at the next group meeting. Ask for input after the presentation and personally approach anyone offering advice after the meeting. Distribute a card with your email/phone number and a relevant question to each person
Organize a pre-launch party for local supporters and anyone interested in the campaign. Reach out to your interested network ahead of time and ask about their connections that might be interested in attending. Develop a team of at least two other people to meet before the event and discuss a strategy for working the room. Talk about how to approach people about the campaign, main talking points and how to ask for a pledge. Personally collect pledge cards through the event and update a Pre-launch Funding Goal chart
Don't be afraid to ask people for their support! Have faith in your cause and know that people want to support your campaign but need to be asked directly for a commitment.
Crowdfunding Marketing Checklist: Resources
Use a social media tools like Hootsuite to manage social media sharing
Develop at least three videos for crowdfunding marketing, each between one minute and up to five minutes, for use on the campaign page, YouTube and Vimeo
Develop at least 6 images relevant to your crowdfunding campaign that you can share on your campaign page, Pinterest and social media
As a crowdfunding marketing checklist, this is just a brief summary of the points you need to hit in your crowdfunding marketing activities. Check out the book, Step-by-Step Crowdfunding, for more detail on each point in the crowdfunding marketing checklist as well as a few steps that will boost your chances. Join us next week for the final crowdfunding checklist in the series on how to leverage your success after the campaign.
Save