Fiverr can help you make your crowdfunding campaign a success with inexpensive help on all your tasks
Crowdfunding is more work than most people understand before they start putting their campaign together. Weeks need to be spent on campaign research, outreach and planning…and that's just in the pre-launch phase.
Even small businesses with a staff of workers may not have the short-term help needed to make a crowdfunding campaign successful.
It might not make sense to bring on another full-time employee and hiring help is usually out of the question for smaller personal campaigns.
That's where a virtual assistant comes in.
I've used VAs on individual crowdfunding campaigns, to help run my five blogs and for a range of tasks. They can be a godsend, especially for short-term tasks where you need some help but don't have time to train someone.
But finding a good VA can be a job in itself. If you don't have time to train someone, you surely don't have time to go through five or six assistants before you find someone that works.
Fiverr is an amazing new freelancer platform for finding virtual assistants and other short-term work. Fiverr can even be an option when you're trying to make extra money yourself.
What is Fiverr?
Fiverr is an online freelancer website. Like other freelancer websites, the platform helps connect people with short-term tasks with people that can work on a project basis. The site is separated into categories like design, social media, technical and has an easy search function.
What makes Fiverr different is that freelancers post specific projects they can do and a low rate, usually $5. The 'gig' is detailed to let you know exactly what you get and upgrades are usually offered for higher rates.
I've used several other freelancer websites and still use Upwork on occasion for tasks. There's a reason why Fiverr is my go-to choice for finding freelancers.
That $5 starting rate for tasks!
The problem with most freelancer and VA websites is that it can take forever to find a great freelancer at a reasonable price. I have filled a job multiple times on Upwork, hiring one person for the task only to find out they're not qualified and having to go through the whole process again.
That isn't to say there are not some crappy freelancers on Fiverr but the advantage is that you can hire several freelancers for very small projects at once. At just $5 for most tasks, you can hire five freelancers for the same task for just $25 total.
Since freelancers offer their own pre-packaged jobs, they are already experts in those tasks. You don't have to train them.
Gigs are usually completed in less than a week. You can then choose the freelancer with the best work and negotiate for help on your crowdfunding project.
It's a very inexpensive and fast way to find quality help on any project you need done.
Find your next virtual assistant on Fiverr – Click to browse projects
How to Find Virtual Assistants on Fiverr
I fumbled around on Fiverr before I learned how to use it effectively. There are some points you should remember when trying to find quality assistants.
You can use the category menu to browse but I've found the search function works very well and will give you the projects you want
Filter for the top-rated sellers or at least 'Level Two' sellers to make sure you only see the most experienced freelancers
You can scroll over each project and see how many reviews have been left for a freelancer. I usually only go with a freelancer that has at least 100 reviews
You can see a freelancer's negative reviews. Almost all will have some negative reviews but if you see a lot of critical reviews mentioning the same problem, it might be a good idea to find someone else
Be picky when it comes to your completed project. Most freelancers will revise the work upon request and will incorporate any changes you need.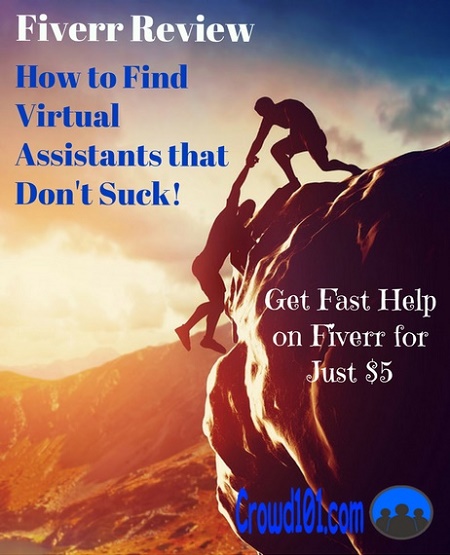 There are tens of thousands of projects available on Fiverr. I use it regularly, at least two or three times a month, for a range of tasks.
Some crowdfunding tasks you might consider looking for on Fiverr:
Social media marketing to help spread the word about your campaign
Graphic design for your campaign
Video editing and production
Virtual assistants to help research prior campaigns
Forum posting and Facebook posting to help with campaign outreach
Fiverr Review Summary
Crowdfunding a project or a new product is an amazing opportunity to reach a larger audience and raise more money than you ever could offline but there are a lot of moving pieces to a successful campaign.
Managing a crowd campaign means being a marketer, graphic designer, videographer, financial planner and being able to do a list of other tasks.
Unless you've got a huge community of supporters or a staff that is able to do all these things, you are going to need help. That's where virtual assistants come in and where Fiverr can be the perfect solution. Fiverr can help you find the best quality help for your campaign without wasting your time and spending hundreds on low-quality freelancers.
Click to get the help you need on Fiverr today!
I've used Fiverr for over two years and use it regularly on my crowdfunding campaigns. Use this Fiverr review to get the help you need to make your next campaign a success. Use Fiverr virtual assistants to help with your pre-launch crowdfunding and to help manage your campaign once it's running.