Real estate crowdfunding could be the biggest opportunity for Main Street investors in more than 50 years
I've been a real estate investor since just after the Marine Corps in 2001. I was first a commercial real estate analyst and then started buying single-family homes for rent.
Few investments offer the kind of benefits you get from real estate but there are also so very big disadvantages that keep regular investors out of the game. Besides having to put down tens of thousands of dollars even with a loan, trying to manage your real estate investments can seem like a full-time job.
Now real estate developers and investors are using the power of the crowd to get all the benefits without the disadvantages.
It's been more than half a century since an opportunity has opened up in property investing like real estate crowdfunding. Investments in crowd funded properties jumped three-fold last year and could pass $1 billion this year as one of the best wealth-generators opens to everyone.
Real estate crowdfunding has bridged a five-decade gap for regular investors. Real estate investment trusts (REITs) made it possible for investors to get instant diversification but came with management expenses and no direct ownership.
It wasn't a perfect deal but it was the only one open to everyone.
That all changed in 2012 with the JOBS Act and the opportunity opened up to Main Street investors in 2016. Investors can now get diversification and direct ownership without having to put down hundreds of thousands of dollars in each property.
We'll start by uncovering the opportunity in crowdfunding real estate before sharing my pyramid strategy for finding the best property investments. I've included a comparison of the biggest real estate crowdfunding sites and some of the most frequent questions asked by investors.
Read the full guide or click through the table of contents below.
How Crowdfunding Real Estate Works for Investors
Real Estate Crowdfunding Sites Comparison
How to Get Started Investing in Real Estate Crowdfunding
The Pyramid Plan to Pick Real Estate Crowdfunding Deals
Real Estate Crowdfunding FAQ
RealtyShares FAQ
How Real Estate Crowdfunding is the Next Boom Investment
More than $484 million was poured into real estate crowdfunding deals last year. That's more than three times the amount invested in 2014 and it could pass more than a billion this year.
There's good reason to believe that crowdfunding real estate deals could be the next boom in investment opportunities. Traditional banks have all but cut off loans to residential real estate developers and government regulations have weighed on lending in general.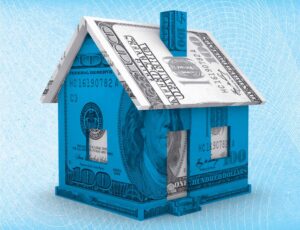 The 2012 JOBS Act was supposed to open up crowdfunding to the masses but it took more than four years for equity crowdfunding to be approved for regular investors. While real estate developers and startups could draw investments from accredited investors, people with more than a million in net worth or over $200,000 in annual income, it wasn't until May of 2016 that everyone else could invest.
The combination of the two forces, developers in need of funding and millions of investors looking for cash flow investments, could propel real estate crowdfunding as an asset class over the next few years. I've been following this real estate boom since 2015 and have invested in a few crowdfunding deals myself.
More than 125 crowdfunding portals like RealtyShares offer real estate investments. Most don't have many deals available at any particular time and may struggle until more people come to the investment asset. It's the same dynamic I've seen in equity crowdfunding platforms but should work itself out over the next few years.
Check out this video on the basics of real estate crowdfunding investments.
Click to Browse Properties for Free on RealtyShares
Editor's Update – I've negotiated a special, limited-time offer with RealtyShares. Click on the link above and use promo code: Partner100 to get a bonus $100 on your first investment!
There are bound to be a few platforms fail but the crowdfunding opportunity is like none we've seen in generations. Regular investors haven't had this kind of access to startup investing or real estate deals for more than 80 years since the Securities Act of 1933 limited many investments to the wealthy.

How Crowdfunding Real Estate Works for Investors
Crowdfunding opens up real estate investing to Main Street investors in ways we haven't seen in decades. REITs allowed individual investors to get access to property investments in 1960 but only through indirect ownership in the funds.
It was nearly impossible for anyone without hundreds of thousands to invest to get the kind of diversification by property type or location before REITs so they have served a purpose. Crowdfunding has taken it a step further though, allowing investors to get direct ownership in a property.
The process for investing in real estate crowdfunding is surprisingly simple. Developers submit an application on one of the crowdfunding portals. The crowd portals are required by the SEC and FINRA to investigate applications and most platforms go well beyond requirements in their due diligence. It's in their interest to see that only the best deals make it to investors.
Crowdfunding portals first check the developers and their track record in real estate deals before looking at the legal ownership and investment upside on the property. On most platforms, less than one-in-ten submitted deals ever make it through the process.
Deals listed on the real estate crowdfunding sites generally include a summary, analysis of the local property market and a detailed investment analysis provided by the developer.
Just because the crowdfunding portals research the deals doesn't mean you shouldn't do your own investigation as well. I joined a real estate investment group to help source and analyze my own real estate deals. The benefit of a real estate club is that you can meet online with investors that know different markets and property types.
You can usually invest as little as a thousand in any real estate deal on the portals. The money goes into an escrow account managed by a third-party and not accessible by the platform or the developer. When the real estate project meets its funding goal, the money goes to the developer and you get your final investment documents.
Most crowdfunding real estate deals are shorter-term and pay out on a monthly or quarterly basis. Debt investments will pay out interest and principal quarterly until maturity. Equity investments will pay out when the property is sold.
Real Estate Crowdfunding Sites Comparison
The 100+ real estate crowdfunding sites will probably thin out over the next few years. I would say about a third of the portals only have a couple of deals listed at any given time and some deals are questionable to say the least.
A lot of people started real estate crowdfunding sites after the JOBS Act thinking it would be a big money maker but just aren't making enough to be worth it. I've followed the biggest real estate crowdfunding sites, those most likely to succeed and help you find the best investments.
I follow several real estate platforms to get access to as many deals as possible. It costs nothing extra to have an account on more than one crowdfunding site and you'll be able to invest in more deals.
RealtyShares raised another $10 million in startup funding this year on top of $20 million in prior funding from tech startup heavyweights like Menlo Ventures and Union Square Ventures. The crowdfunding portal usually has the most deals available even though the vetting process is one of the best I've seen. Only about 5% of the real estate deals submitted to the site ever make it to the portal.
PeerStreet specializes in real estate debt investing with strong returns between 7% to 12% on terms between six and 24 months. The crowdfunding site is backed by venture capital firm Adreessen-Horowitz and was named the top emerging real estate platform at last year's LendIt Industry Awards.
PeerStreet's team of finance and real estate experts underwrite the loans and perform due diligence. Loans are made on real estate at 75% and lower loan-to-value, giving investors a safety cushion in case the project gets in trouble. You can invest in loans with as little as $1,000 and the platform offers an automated investing tool to regularly put excess cash to work.
Invest in Real Estate Loans and Automate Your Portfolio – Click to get started on PeerStreet
EquityMultiple is a newer real estate platform but one that is getting some very good deals. The site targets only institutional-quality commercial properties instead of individual developer deals. That means projects are often also backed by big money institutional players that can help make the deal a success.
Target returns on debt for EquityMultiple deals have been in the range of 8% to 12% on an annual basis while equity deals have been 13%+ with cash flow. The site is aggressively adding investors to bring out more projects so watch this platform for future growth.
There are risks to all of these real estate platforms, some specific to each and others common across all real estate crowdfunding portals. Understand that the portals are simply marketplaces, connecting developers and real estate investors. The crowd platforms do their due diligence into individual deals but are not ultimately responsible for the success of an investment.
Real Estate Crowdfunding Portal
Crowdfunding Fees
Live Real Estate Deals (December 2016)
Total Real Estate Funded
Types of Real Estate Deals
RealtyShares

1% Management Fee for Equity, Percentage spread for Debt
9
$200 million
61% Debt, 39% Equity
86% Residential Property

PeerStreet
Fees on each loan between 0.25% to 1.0%
7
$300 million
100% Debt Investments
EquityMultiple
0.5% annual management fee
5
$70 million
Equity and Debt Investments
Realty Mogul
Up to 3%
3
$220 million
39% Debt, 61% Equity
Residential 54%
Patch of Land
Up to 2%
8
$168 million
Residential 94%
Fundrise is different from other real estate crowdfunding, offering only eREITs for investment. These are funds of real estate investments managed by the portal and similar to REITs available on public stock markets. I like the idea of investing in REITs but I'm not sure eREITs is the way to go.
Normal REITs charge far less in expenses, usually less than 1% and offer more information on holdings and valuation. The only way to see what is in the eREITs on Fundrise is by wading through the 200+ page offering circular. There's no valuation or analyst coverage done on the eREIT portfolios so it's tough to tell whether the $10 per share price is worth it.
Realty Mogul was one of the earlier crowdfunding real estate sites launched in 2013 and has raised $220 million in debt and equity investments. The portal doesn't have many direct investments available and seems to favor its own MogulREIT.
Patch of Land is a smaller property crowdfunding portal and leans heavily to single-family residential properties (72%) with multi-family (22%) and commercial (6%) properties a smaller chunk of investments. Investing on Patch of Land isn't available in 18 states. The portal has funded 344 loans since 2014 with an average $489,000 loan size.
GroundFloor accepts accredited and non-accredited investors though you are not actually investing in crowdfunded projects but Limited Recourse Obligations (LRO). There are limited investor protections in these compared to direct ownership in projects but you can choose in which LROs you invest.
Fees on GroundFloor are between 1% to 2% of your investment and dividends on the LRO investments are paid on a monthly basis.
Prodigy Network only accepts accredited investors for real estate crowdfunding deals and the minimum investment is a steep $10,000 in each project. The crowdfunding projects are exclusively in New York City so they won't help you diversify regionally but it will still help diversify by property type.
Fees vary by project but most charge 3% annually on your investment plus a management fee of 2% and a 1% financing fee. Average returns on the crowdfunding site can be fairly high but the fees will significantly eat into your profits.
CrowdStreet is another crowdfunding real estate site only open to accredited investors. The website offers only institutional-size commercial projects like apartment buildings and office property. CrowdStreet has a Marketplace fund that allows investment by non-accredited investors though the minimum investment can be high.
How Do Crowdfunding Real Estate Sites Work?
Most of the process on crowdfunding real estate sites goes on behind the scenes, before investors even see a project offer. These platforms have a billion dollar interest in making sure scammers don't take investor money so the vetting process can be intense.
First, a real estate developer applies to list their project on the website. This includes providing documents on:
The developer's history in real estate and agreement to a criminal background check
Project documents including the details of the investment, location and property factors
Financials for the project including a complete investment analysis, often written by an independent auditor
Ownership documents for the property
Each real estate crowdfunding site has a staff of underwriters, real estate experts and lawyers that review project applications. The staff is checking the developer and the project documents for red flags and potential fraud.
It's important to understand that the crowdfunding platform might check the project financials to make sure return assumptions are realistic but they are NOT guaranteeing these results.
If a crowdfunding project and developer pass this vetting process, and only about one-in-twenty applications pass on most property crowdfunding sites, then the project is posted with a funding deadline.
This is where you as an investor can review a project to see if it fits your criteria and your portfolio needs. The obvious step here is to analyze the financial documents and projections to determine whether the projected return can actually be met.
There's also a not-so-obvious step you need to take with each project on a crowdfunding site, making sure the project fits with your diversification needs. If you have mostly residential rental properties then adding another single-family project to your portfolio isn't going to diversify it much. Make sure you invest in a mix of property types, regions and across debt and equity crowdfunding.
If you decide to invest in a project, you commit to a certain amount and the money goes into an escrow managed by the crowd platform.
If the project reaches it's funding goal, the escrowed funds are released to the developer and legal documents are written up for the investors. If the funding goal is not reached, the escrowed money is returned to investors.
The developer then gets to work on the project and sends any payments to the real estate platform to distribute to investors. The platform will deduct its management fee before disbursing funds.
How to Get Started Investing in Real Estate Crowdfunding

I'll compare the best real estate crowdfunding sites further down in the article but wanted to highlight one of the largest and easiest to use for investors. RealtyShares has funded more than $200 million in real estate deals since 2013 on more than 400 properties. Typical of most crowdfunding real estate sites, almost two-thirds of investments have been for loans while the rest has been for equity investment in properties.
It's free to open an account on RealtyShares and takes less than a couple of minutes. You will need to link your bank account before investing but it's not necessary to get started.
Create your account with an email and contact information
Verify your investor status by checking the box for net wealth or annual income
Verify your email
RealtyShares is only open to accredited investors at the moment but may open to everyone soon. To view the real estate deals available, you'll need to indicate that you are an accredited investor with either a million in net wealth or by income.
Login to your account and click 'Explore Investments' to see current deals available.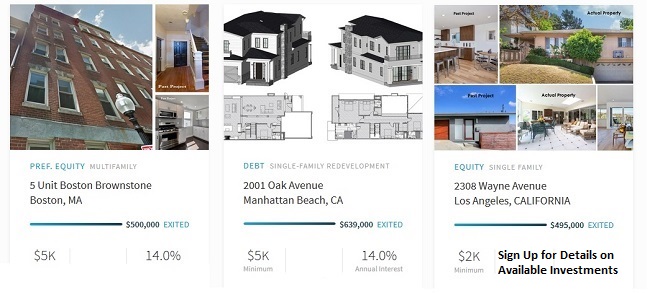 Most real estate crowdfunding offers are for between 18 months and five years. These aren't buy-and-hold properties but real estate development deals to rehab a property and sell it for a profit. The deals for debt investments will show the annual interest rate to investors while the equity deals will show a targeted return.
Property developers usually have the option to extend the investment for a few years so your actual time horizon may be different from originally projected. Targeted returns vary by type of deal and by length of investment.

Developers upload all their deal analysis with the crowdfunding campaign but it's critical that you take a little time to do your own research to make sure it's a good deal.

The Pyramid Plan to Pick Real Estate Crowdfunding Deals
Direct investment in real estate is usually a horrible passive income strategy. Investors buy a bunch of rental properties based on something they saw in a 3am infomercial and think they're going to get rich. The reality sets in pretty quick as the investor learns that owning property is a constant hassle of repairs and crappy tenants.
Crowdfunding real estate is a great bridge between the better returns on direct investment and the easier management with REITs. You are a direct investor in the property along with a limited number of others and management fees tend to be lower while you still get professional management by the developer.
I like to use an inverted pyramid idea for picking real estate crowdfunding deals. RealtyShares uses the method to narrow down the list of applications before it adds deals to the site and I've used the concept in the past to narrow the deal list further.
Get started by browsing investments for free on RealtyShares
The idea is that you start with a few higher-level deal criteria like markets and property types before doing the detailed analysis on individual properties. This pyramid plan is the most efficient way to narrow down your list because the market and property type research you do can be used to narrow down many potential deals rather than one at a time.
Your market analysis is the first step and covers all the available deals on real estate crowdfunding platforms. Some of these deals may be in the same region or even in the same city. Even if you have to research several different markets, you can reuse the analysis in other months when new real estate deals get listed on the portals.
What is the economy like in the city, state or region? Is unemployment higher or lower than the national average? What types of companies are hiring?
What is population growth for the area? How is population density (people per square mile) changing for the cities and rural areas?
What is the average vacancy rate for different types of property?
What is the average market cap rate (more on how to calculate later) for types of property?
What has been the trend in building over the last five years? Has there been more building completions than over the long-term?
Be wary of markets with weak population growth and struggling economies. Real estate construction is notoriously cyclical so be wary of high growth rates in construction because it could be followed by a bust.
Once you've narrowed your list to a few select markets, you can look at property types in which you want to invest. These include either residential or commercial and different segments within each.
Within residential, you can invest in either single-family or multi-family homes. Single family residential is popular for crowdfunding projects because houses can be rehabbed and sold quickly. Multi-family projects require more funding but can provide higher returns as well.
I started my career in commercial real estate and I still love investing in deals within the space.
Industrial property includes warehouses, distribution centers and factories
Retail property includes everything from single shops to strip malls and shopping centers
Office property includes small buildings to huge skyscrapers
Storage property is garage-like spaces in strips or larger buildings
Lodging can include motels, hotels and even resorts
Doing your property-level analysis will integrate with your market analysis. A property type that does well in one market may not do so well in another.
What are the growth factors for a property type and what is the trend within the market?

For residential property, factors will include population growth, employment, rental rates and home prices.
For retail property, factors will include wage growth, retail sales growth and proximity to residential areas.
For storage property, what is the trend in square footage of new residential construction?
Lodging property will depend on how well the market develops attractions like historic sites, theme parks and other diversions. Important metrics to follow are hotel vacancy rates, available rooms and revenue per available room.
Don't forget to check which industries are hiring and which are laying off people to get an idea of property types that might do well in the market.
Once you're done with your property type analysis, you should be left with only a few real estate crowdfunding deals in your funnel. The developer with real estate crowdfunding deals is going to provide an analysis of the investment but it helps to understand how rental property works and to be able to check the data yourself.
If the project is a residential property flip then your analysis will start with reviewing the cost plan the developer has put together. This is where a real estate investment group comes in handy because you can get a better idea of how much it should cost to rehab a property. You'll get better at making these estimates as you do more research.
Is the developer planning on doing the work themselves or do they have contractor agreements you can see? Can the developer realistically do the work given their track record?
How much is the developer paying for the property on a square foot basis relative to other properties? There should be a sizeable discount, between at least 20% to 50% in my experience, to the market price if the developer is going to make any money after repairs.
One trick to verify the developer's target sales price is to think like a buyer. You can estimate the net operating income (NOI) for a rental property using the chart below. From the NOI you can find what's called the capitalization rate by dividing the NOI by the developer's target price.
For example, if a property has the potential to provide $100,000 in annual net operating income and the developer plans on selling it for $1,000,000 then a buyer would be investing in a property for a 10% cap rate. The developer is going to have a hard time selling a property for anything less than an 8% cap rate in most markets. You can find cap rates for comparable properties from just about any commercial real estate broker in the area.
One of the biggest problems I've seen in real estate crowdfunding has been inflated target sales prices by developers. Backing into a reasonable sales price by thinking like a buyer is the best way I've found to avoid bad investments and find crowdfunding deals with the potential to provide higher returns.
Even investing across a few different real estate crowdfunding sites, you might only find one deal a month that you like if even that.
I recommend investing in properties across at least three different markets or cities and within at least a couple of property types in each market. Don't feel rushed to fill out your portfolio with deals, just invest in good ones as they come along.
Real Estate Crowdfunding FAQ
Real estate crowdfunding portals will differ on details but there are some questions that can be answered in general.
What types of property can I invest in with real estate crowdfunding?
Real estate portals will differ on types of property available but residential property seems to be the majority of deals available. This is because banks have all but closed lending to smaller residential real estate developers after the 2008 housing bust. Residential includes both single-family and multi-family apartment properties.
There are also commercial property deals available on most crowdfunding platforms, usually about a fifth of the deals in my experience. Most of this is in retail property but you can find storage and office property as well.
How does a real estate investment get listed on a crowdfunding website?
All equity crowdfunding sites have to apply to the Securities & Exchange Commission (SEC) and FINRA, a regulatory body for brokers. These regulators require that crowdfunding deals go through a process where the portal checks the background of the developers and financial documents.
Most of the real estate crowdfunding sites go a lot further in checking deals and properties. It's in their interest to make sure investors don't get scammed. On most portals, less than 10% of the real estate applications end up making it to investors.
This doesn't mean you don't need to do your own analysis on crowdfunding deals. The developer will include return analysis on the property and the market but you need to double-check these numbers to make sure they match up with your objective research.
How is real estate crowdfunding different from real estate investment trusts (REITs)?
When you invest in a REIT, you are not investing directly in real estate but in the fund managed by the company. The individual properties could do well but your investment can go to zero if management misuses funds or invests poorly. Besides the operating expenses on each property, REIT management also charges a management fee on your investment.
With real estate crowdfunding, you get a direct ownership in investment property. You will still pay a small investor's fee to the crowdfunding platform but management fees are often lower because there are fewer people taking a piece of the pie.
How are real estate crowdfunding investments managed?
Real estate crowdfunding properties are managed directly by the property developers. Most crowdfunding sites will provide a summary of the developer's experience and background. It's important to look at their past successes and any failures to make sure you aren't partnering with someone that can't deliver.
How do investors get a return on their crowdfunded real estate?
Getting a return on your crowd real estate deal depends on what type of investment you make, debt or equity. Debt investments are loans to the developer and will be paid in interest and principal over the term of the loan.
Equity investments in real estate are paid off when the property is sold. Equity returns are higher than debt but are riskier because you are betting that the property is worth more than the purchase price.
Real estate developers deposit all money with the real estate crowdfunding portal which distributes it to investors. You don't have to worry about collecting from the developer and the platform manages legal disputes for investors.
Which are better debt or equity investments in real estate?
This is largely a matter of what you need as an investor. You should always have a mix of equity and debt in your portfolio whether it be in real estate or other assets. Debt is safer because you get paid out before equity investors but the returns are lower.
Your preferred mix of debt and equity will change as you age. Most younger investors will want less debt investments, around 20% to a third of their portfolio. This helps protect them against market crashes but still provides cash flow. Older investors may want to increase the amount of debt investments to limit risk and pay expenses.
Can I sell my real estate investments?
You generally aren't going to be able to sell your real estate crowdfunding investments. You only own a portion of the property so can't sell it outright to someone else. Most crowdfunded real estate is only made for a few years at most so it usually isn't long before you get your money back plus returns.
As the market develops for crowdfunding real estate deals, a secondary market will develop for selling investments before they mature. It will be some kind of online marketplace where investors sell investments to each other like the stock exchanges.
I would warn against selling your real estate investments in this kind of market. It's only going to bring the same panic-selling that investors see in the stock market. Hold your real estate investments until they mature or the developer sells and returns your profit.
How does real estate crowdfunding stack up against stocks and bonds?
Real estate is an important part of a well-rounded portfolio including stocks and bonds. While bonds offer lots of protection and cash flow, the rate of return isn't going to get you to your financial goals. Stocks offer higher returns but tell that to the investors that lost half their money in 2000 and 2008.
Apart from the housing bust, real estate is generally a very stable investment so your portfolio won't rise and fall like stocks. Even in the 2008 crisis, commercial real estate didn't tank like housing.  Adding real estate to your assets is also a great hedge against inflation since property appreciates along with prices.
The downside to real estate crowdfunding compared to stocks and bonds is that you can't get in and out of investments quite as easily. There aren't markets to trade real estate like there are on the stock exchanges. This isn't necessarily a bad thing because it will keep you from making bad investor decisions like panic-selling.

RealtyShares FAQ
RealtyShares is one of the biggest real estate crowdfunding sites and has been aggressive at bringing in new investors. This tells me they are close to opening up to non-accredited investors and bringing on more deals to be funded.
Open a Free Account on RealtyShares to Get Started
How does RealtyShares work?
RealtyShares is a real estate marketplace, connecting real estate developers and investors. A developer submits an application along with documents and financials. The portal then puts the application through a due diligence process checking on the developer's track record and background. The portal also checks property terms like legal ownership.
If the application passes these checks, and only 5% of applications do, the investment is published on the website. Investors can browse property deals for free and invest as much as they choose. Minimum investment in each deal usually ranges from $1,000 to $5,000 each.
Pledged investments go into an escrow fund that is managed by a third-party, not accessible by RealtyShares or the developer, until the project is fully-funded. If the project reaches its goal, funds are released to the developer and RealtyShares creates a limited liability corporation (LLC) for investors. You get direct ownership in the property through the LLC but your risk is limited to the investment.
RealtyShares continues to manage the investment and passes any returns through to investors.
How does RealtyShares make money?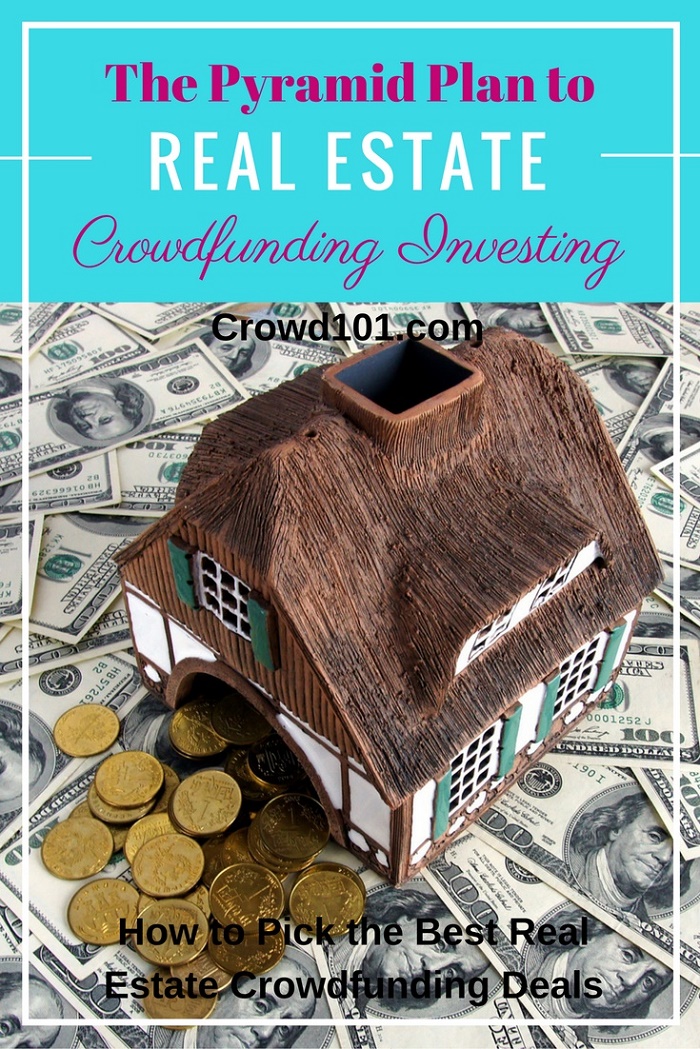 RealtyShares charges an investor fee of 1% on equity investments in property. The website charges a percentage spread on debt investments as well to cover costs. The crowdfunding site doesn't invest in deals itself but manages the marketplace between developers and investors.
Why should I consider investing with RealtyShares?
RealtyShares is the regular investor's opportunity to get the benefits of real estate investing without having to put up hundreds of thousands to buy property. You get better diversification by being able to invest in several different property types and in different locations across the country.
What sets RealtyShares apart from other crowdfunding real estate sites is that it typically has more deals available to investors. There's nothing to say you can't invest on more than one platform but it's nice to be able to get all your properties on one site. RealtyShares also charges a lower fee than many other crowdfunding portals and the due diligence process is top-notch at weeding out bad investments.
There are risks to investing on RealtyShares as well as in crowdfunding in general. Investing on RealtyShares is an investment in the property developer as much as it is an investment in the property. Make sure you look through the developer's experience. You should also do you own analysis of the property from understanding the local real estate market to doing an investment analysis to double-check the developer's numbers.
While RealtyShares does some due diligence on the developer and the project, you have to understand the the real estate crowdfunding platform is just a marketplace for deals. It is not ultimately responsible for how well developers do or the return produced by investments. Of course, the platform wants all the listed deals to do well and only about 5% of applications make it through but there are going to be investment risks just like with any other investment.
How do I create an account on RealtyShares?
Opening an account on RealtyShares is free and takes less than a couple of minutes. You don't need to enter your bank account information until you're ready to invest in a deal.
Create your account with an email, password and contact information
Check one of the boxes for accredited investor confirmation by either checking the box for net worth or income. This is required to invest on the site and browse deals
Verify your email address to open the account
After opening an account, you can see the detail on each real estate deal by clicking on 'Explore Investments'. You will need to complete a suitability questionnaire if you want to invest immediately or you can just wait 30-days. This is why you should open an account before you go to invest so this '30-day cooling off period' passes before you want to invest.
How much does it cost to invest in real estate on RealtyShares?
RealtyShares charges an investor fee of 1% on each investment annually and then a fee when the final proceeds are returned to investors which is usually another percent or two. Actual lifetime costs on equity real estate investments tend to be less than 2% total and below other real estate crowdfunding sites.
On real estate debt crowdfunding, RealtyShares charges a spread percentage between what the developer pays and what investors get. This usually ends up being between 2% and 3% but the rate you see in the investment documents is what you will receive on the debt.
Is Real Estate Crowdfunding Investing Right for YOU?
I've been extremely happy with my real estate crowdfunding investments but it's not for everyone. There are drawbacks including having your money tied-up for three to five years and the increased risk that comes with flipping real estate projects. There is also the time commitment on your part to check real estate crowd deals and manage your investments.
I've found that most investors would benefit from owning some real estate crowdfunding investments, even if it's a very small percentage of their portfolio. The opportunity does offer some solid, double-digit returns on real estate crowdfunding and instant diversification in an asset class that is notoriously difficult to diversify.
Investors that Should Invest in Real Estate Crowdfunding
Investors with rental real estate properties but not commercial properties or with everything in one market
Investors that want the diversification and returns of real estate but that don't want the headaches of managing rental properties
Investors that need an average annual return over 10% to meet their long-term investing goals
Investors that Should Not Invest in Real Estate Crowdfunding
Investors that want a completely stress-free strategy like robo-advisors or hire a financial advisor to take care of their investments
Investors that don't understand or don't have the time to learn how to analyze real estate investment basics
Investors that don't have at least three hours a month to review new crowdfunding projects
Real Estate Crowdfunding Review Summary
Real estate investments should be a part of everyone's overall wealth strategy. Real estate investment offers higher returns than bonds but less volatility compared to stocks. Combined with a portfolio of stocks and bonds, real estate can help boost returns and cash flow while spreading risk over another asset class so your nest egg doesn't tumble with the next stock market crash.
Within real estate investing, crowdfunding could be the best thing to happen to Main Street investors in more than half a century. Investing in crowdfunded property gives you the opportunity for a direct investment and diversification without having to have lots of zeros in your bank account balance.
Investing in every real estate crowdfunding deal will leave you broke as quick as investing in every penny stock mentioned on TV. A lot of deal analysis is done by the crowdfunding sites but investors should have their own process for picking the best crowdfund deals. One of my favorite ways is to narrow investments down through an inverted-pyramid process and then think like a buyer to check a developer's target sales price.
Real estate crowdfunding is a good way to get into the real estate asset class without having to manage your own properties or put down tens of thousands for direct purchase. Don't avoid this new real estate investment opportunity for lack of information. Sign up to one of the crowdfunding portals and check out the deals for yourself.
Save
Save
Save
Save
Save
Save
Save
Save
Save
Save