There are benefits to investing in eREITs but the risks and costs are not always easy to see
I've been an active investor in real estate crowdfunding for years but there's one part of the new revolution in real estate investing in which I can't quite bring myself to invest.
eREITs were an obvious next step for real estate crowdfunding in 2015 when regulators still had not written rules to allow non-accredited investors into the crowd. With more than two-thirds of the country locked out of one of the best new investments in decades, crowd platforms had to do something.
Enter the eREIT, a fund of crowdfunded properties open to any investor and run by a portfolio manager. The funds would operate like traditional real estate investment trusts (REITs) but would bridge the gap for regular investors.
Despite my enthusiasm for investing in individual crowdfunded properties, I haven't been nearly as excited about the eREITs. The structure of these funds and the fees have kept me on the sidelines and I wanted to write a post to explain why.
What is an eREIT?
eREITs are the evolution of crowdfunding meets real estate investing. They are a crowdfunding version of real estate investment trusts, managed by someone at the crowd platform but not traded on the public stock exchanges.
eREITs are a group of crowdfunded real estate properties held in a fund and managed by a portfolio manager. Cash flow from the properties flows through to investors who pay an annual fee for management.
The momentum for eREITs on crowdfunding platforms really comes from two directions. Most crowdfunding sites aren't yet able to offer individual property investments to non-accredited investors, those with an income under $250K a year or less than one million net worth.
That limits the number of people that can invest on the sites pretty dramatically so crowdfunding sites are structuring eREITs under Reg A+ which allows them to raise up to $50 million a year from both accredited and non-accredited investors.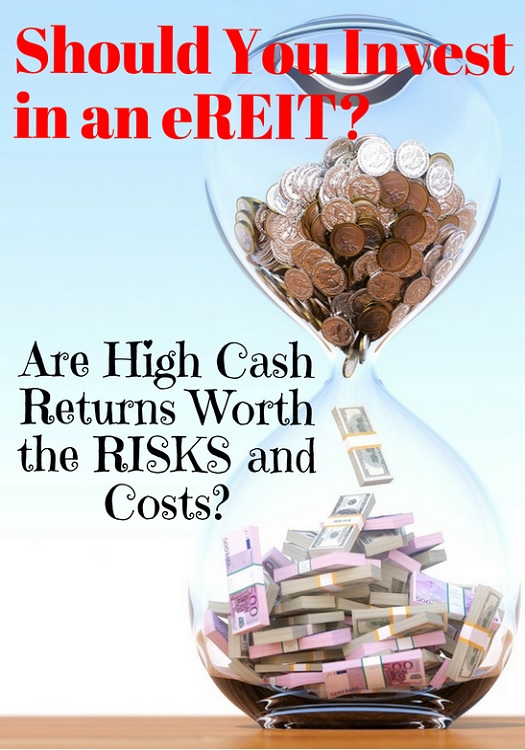 A lot of investors, non-accredited and otherwise, also like the simplicity in the real estate funds. Investing in individual properties means you have to research each property and the developer, spending hours on due diligence. That's all taken care of by the eREIT portfolio manager.
How do REITs Work?
A crowdfunding platform structures an eREIT, filing with regulators and formalizing investor documents.
Hiring someone to manage the fund
Deciding what types of real estate investments will go in the fund
Writing up the fee structure and how dividends will be distributed to investors
The platform usually starts promoting the eREIT to investors before it begins buying properties for the fund. This makes sure there is enough interest in the fund to cover all the expenses that go into management.
Once a fund reaches a certain level of investor commitment, the manager will begin investing in crowdfunded properties. eREITs usually have loose guidelines for the types of properties but the manager has a huge amount of discretion.
Property developers submit any cash flow to the crowd platform which then distributes it to individual real estate investors and the eREIT. Fund managers keep track of the investments and distribute dividends, usually every three or six months, to investors.
Investors generally pay an upfront fee of up to 3% to invest in an eREIT and then a management fee that can be as high as 3% annually. Investors may also pay a redemption fee to sell shares back to the manager.
How are eREITs Different from REITs?
Since eREITs are not traded on public stock exchanges, they don't have the daily volatility in price. Most eREIT managers calculate the net asset value (NAV) of a fund on a quarterly basis. The method for this calculation is very subjective and can differ from manager to manager.
Investors may have a harder time selling shares of their eREITs compared to publicly-traded REITs. More than five million shares of the Vanguard Real Estate ETF (VNQ), a fund that hold publicly-traded REITs, are traded every day which means investors can buy or sell within seconds.
Investors in an eREIT have to sell their shares back to the fund administrator and wait for a price to be set. I haven't heard any complaints about the process yet but it's obviously not the best scenario for investors. Fund managers have complete control over the price calculation which sets eREITs up for conflicts of interest.
[In which real estate crowdfunding projects am I investing? Browse available properties for free on the platform I use, RealtyShares.]
Pros and Cons of eREITs for Crowdfunding
I understand the attraction to eREITs for many investors. I invest in traditional REITs to get instant diversification for my real estate portfolio and love the cash flow from the investment.
I'm not a big fan of eREITs though.
Many eREITs have hidden fees that aren't easy to find. The management fee of between 1% to 3% is compounded by selling fees and other expenses paid to administrators. By comparison, I can buy shares of a REIT like Extra Space Storage (EXR) for $5 on any online investing site and pay just 1% annually to management.
The higher fees are the least of my reasons for avoiding eREITs. The investment structure is set up to give administrators and the portfolio manager all rights including redemptions and pricing. Management has a lot of discretion in pricing the shares when it comes to reporting and redemptions which lends itself to conflicts of interest.
There are some potential benefits to eREIT investing. In theory, portfolio managers should be able to produce higher returns on smaller portfolios than REIT managers that need to place hundreds of millions in funds. Real estate crowdfunding in general is producing higher returns for my portfolio compared to traditional REITs so there's no reason eREIT portfolio managers shouldn't be able to produce those returns as well.
eREITs do offer simplicity and diversification compared to investing in individual properties. An individual investor will find it impossible to manage enough properties to be diversified across property type and region. An eREIT or REIT gives you professional management to diversify direct holdings.
What Crowdfunding Platforms Offer eREITs?
Fundrise was the first crowdfunding platform to offer an eREIT in late 2015 but several other crowd websites have since launched their own investment vehicles. The basics are the same but differences can be significant in investor rights and how the eREITs are managed.
Fundrise offers two levels of eREIT investment, the Starter Plan and Advanced Plans.
The Starter Plan is an investment in 35 properties, mostly multi-family apartments in the South and Southeast. Investors in the Advanced Plan can choose between three funds; Supplemental Income, Balanced Investing or Long-term Growth.
Investors pay a 1% annual fee which covers management and advisory. There is a 60-day waiting period to redeem shares and distributions are paid quarterly and at the discretion of the manager.
Realty Mogul offers the MogulREIT, a diversified mix of multi-family, office and retail property. The fund is a mix of both debt and equity crowdfunded properties. Distributions are paid monthly and have run at an 8% annualized rate so far. The 1% annualized management fee is paid quarterly.
Selling your shares in the MogulREIT are a little more complicated. Investors may only redeem a maximum of 25% of their investment each quarter with no redemptions allowed in the first year. There is a sales commission of 1.2% and investors received less than the share price if redeemed within the first three years.
Should You Invest in Crowdfunding eREITS?
While I believe real estate crowdfunding is a good investment, I've yet to invest in any eREITs. I understand the attraction for some of the benefits like easy diversification and professional management, but I just don't see much advantage over investing in traditional REITs.
Instead of investing in eREIT funds, I've been more than happy with the returns to individual properties on RealtyShares and PeerStreet.
That doesn't mean you shouldn't invest in eREITs but you do need to understand the risks and costs. Expenses for eREITs tend to be much higher and less transparent than REITs though they may provide a higher return depending on the manager. Investor rights are not quite as strong but this may never be an issue for you. If you do decide eREIT investing is right for you, make sure you read all documents before investing.