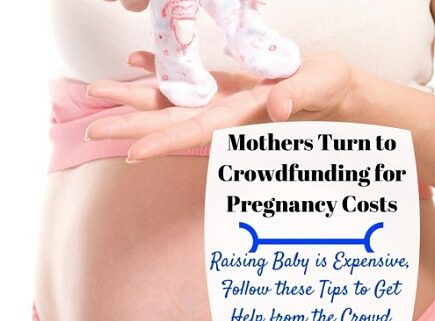 Mothers Turn to Crowdfunding for Maternity and Pregnancy Costs
Maternity crowdfunding has emerged to fill the gaps in work policy and budget needs
Having a baby is expensive and people are increasingly turning to crowdfunding to cover the costs of pregnancy and maternity leave. WebMD estimates the cost of pre-natal care at upwards of $2,000 and hospital costs of $15,000 and higher.
Top it off with the fact that most maternity leave is unpaid. The Family and Medical Leave Act (FMLA) of 1993 entitles mothers to 12 weeks of maternity leave and protects their job but doesn't provide that leave must be paid. Some jobs may give you up to six weeks of paid maternity leave but most people are forced to take a combination of sick leave, vacation and short-term disability.
Enter maternity and pregnancy crowdfunding.
Why Crowdfunding is Perfect for Maternity and Pregnancy Costs
While rewards-based crowdfunding is better known, raising money by promising gifts or products, crowdfunding got its start with social campaigns. Social crowdfunding is just the combination of traditional fundraising and the social online phenomenon.
An individual or non-profit organization can launch a campaign on websites like GoFundMe and Causevox to share their need and raise money. Compared to rewards-based crowdfunding campaigns that normally run up to 45 days and establish a set funding goal, a social crowdfunding campaign may run indefinitely and the crowdfunder generally gets to keep any funds raised.
A search on GoFundMe for maternity or pregnancy shows more than 10,000 crowdfunding campaigns seeking funding. Campaigns range from pre-natal care and special medical procedures to single parents trying to make ends meet. The majority have raised a few hundred or less but there are the standouts that have raised into the tens of thousands of dollars crowdfunding.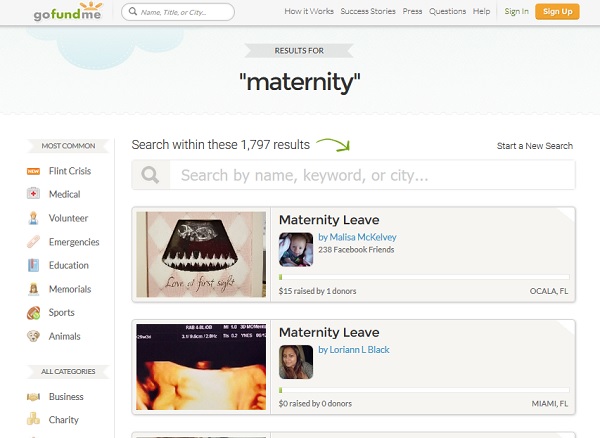 How to Raise Money for Pregnancy and Maternity Costs with Crowdfunding
Don't expect to crowdfund tens of thousands of dollars for maternity leave or other pregnancy costs but you can raise several thousand to help fill gaps in insurance and savings. Most of your crowdfunding donations are still going to come from friends and family but there are some tips to follow for getting the support of the crowd.
Describe exactly what you need the money for including a budget if it's for general living expenses. People like to see that their money will be put to good uses.
Put together a brief video. A lot of social crowdfunding campaigns overlook the power of a video but getting your message on camera is critically important. You don't have to be Spielberg, just get in front of the camera for a couple of minutes to make a personal plea.
A crowdfunding campaign for general living expenses might not help it stand out against the 1,000+ other maternity crowdfunding campaigns. Try giving something back to the community while on leave or helping a social cause with some planning or admin tasks. Giving your campaign a social component can help get you some free marketing with the non-profit organization's followers.
Don't think you'll be able to post your maternity crowdfunding campaign and watch the money pour in. Reach out to people in your personal network for a pledge and for help sharing the message. You don't have to ask people to empty their wallets but you do have to ask for something.
Crowdfunding is a social phenomenon, so be social. Set up a Facebook page for your maternity campaign and share all your messages out on your personal page as well as any related groups.
Crowdfunding isn't just for video games and cool new gadgets. There's a powerful social opportunity to help each other out and supporters love the chance to be a part of your story. I can't think of a better use of the financial revolution than maternity crowdfunding or raising money for pregnancy costs.
https://www.crowd101.com/wp-content/uploads/2016/03/maternity-crowdfunding-pregnancy-costs.jpg
569
435
Joseph Hogue
https://www.crowd101.com/wp-content/uploads/2020/09/Crowd101-logo.svg
Joseph Hogue
2016-03-14 08:45:15
2016-03-14 08:45:15
Mothers Turn to Crowdfunding for Maternity and Pregnancy Costs