These 11 crowdfunding campaigns offer some creative school fundraising ideas to raise big money for your educational project or cause.
October is the unofficial start of fundraising season for many non-profit organizations so I thought I would check in on a few of the fundraising campaigns we looked at in this post. Whether you're looking for fundraising ideas or want to see what works, these 11 examples have a lot to share that could help you raise more money fundraising this year.
School fundraising has been a big beneficiary of the online crowdfunding movement. The ability to reach beyond your community or school district to raise money for a fundraising project or cause has presented a massive new audience. Like many people active in crowdfunding, I regularly look through crowdfunding platforms for educational campaigns and good school fundraising ideas.
The 11 school fundraising campaigns below caught my eye recently as great examples of how non-profits are using crowdfunding. Across the campaigns, the projects are raising $326,908 through crowdfunding.
The post is a follow-up to yesterday's about how crowdfunding is helping 11 campaigns fund their church fundraising ideas. While there are similarities between school fundraising ideas and church campaigns, there are some important differences and things you'll want to be aware of for your campaign.
First off, in case you haven't yet heard about crowdfunding or if you're still a little skeptical of the online revolution in fundraising, check out my recent webinar with small business site Manta about crowd funding. Crowdfunding is not unlike raising money for a special project through your community or school district. The only difference is that you talk about the project and ask for donations across a much wider audience…the entire online community!
School Fundraising Ideas for the Community

The school fundraising ideas I've posted below were chosen not only because of their unique campaigns, but because they offer some valuable tips for other school fundraising campaigns. Click through the links and check out the campaigns before launching your own.
Updating your World and Cosmos with EarthSky
Earthsky.org is crowdfunding $10,000 to keep the organization going through 2015 and develop its dream website. Editor-in-Chief Deborah Byrd says, "The internet is all about people connecting," and the site does a great job of it. More than two million visitors check out the website every month and the Facebook page has more than a million members in the community.
The campaign is a great example of setting a realistic crowdfunding goal then using a stretch goal to keep your community motivated. Earthsky blew through its initial goal but is motivating its community by showing what can be achieved with a new website. With so many campaigns receiving nothing due to not meeting an initial funding goal, it is so important to set a realistic goal and a plan to go beyond it.
Earthsky did amazing and beat its goal by 354% to raise 36,382 from 1,132 backers. The fundraising campaign had more than 1,500 shares on Facebook and Twitter. While there were only two updates, campaign owner Deborah used the comment section to respond to every single comment and thank people for their interest in the campaign. They uploaded 29 stunning pictures that really helped make the campaign visual.
Does that help to drive home the importance of a strong community in crowdfunding? You have to make your own crowd and build that sense of community on social media before you launch your crowdfunding campaign.
One of the best ways to get traffic to your crowdfunding campaign is through your own website and blog. Post once a week for a couple of months before the campaign and you'll start seeing traffic from Google search to your campaign. Bluehost WordPress Hosting
offers one of the most inexpensive plans for simple websites including a free domain name, search advertising credits and an easy-to-use website builder.
See How You Can Set Up a WordPress Blog in 15 Minutes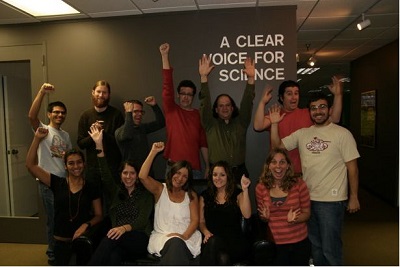 Crowdfunding Professor Peaches
Kimberly Glazier is crowdfunding $50,000 for the tutoring program Professor Peaches. The program builds on six aspects of public speaking to help kids become better communicators. Kimberly is passionate about the project and what it means for children globally. "Professor Peaches empowers children by teaching and truly instilling them with strong communication and interpersonal skills.
Please join us on our campaign to change children's lives through cultivating their communication abilities!"
While passion is a really important part of any campaign, I liked this one for its professional design and detail. The campaign shows images of the curriculum, all very professionally-done, and walks supporters through a clear message of why the campaign needs funded. Beyond the two co-founders, a team of 17 people are helping with the project. With the growth of crowdfunding, I see a lot of campaigns thrown together quickly and haphazardly. It is really important to show supporters that you have put the time in to really develop your school fundraising idea or project.
The fundraising campaign didn't reach its goal but still raised $5,310 from 34 backers in just a month. They got a ton of support on Facebook with 529 shares but did not provide any updates to the campaign page.
I'm not sure if they communicated with backers and the community off the campaign website but you'll notice a big difference between campaigns that beat their goal in the number of updates and comments on the page. Crowdfunding, and really any fundraising idea, is a social idea and communication is extremely important.
The Village Leadership Academy is crowdfunding $15,000 to send 20 Chicago youth to Panama for the World Scholars Program. The program aims to develop participants into conscientious global leaders of tomorrow with cultural exchanges and acquiring first-hand knowledge about the challenges that other communities face.
The campaign is a great example of using prior success to show that you have the ability to make the current project successful. The campaign shows examples of five other educational expeditions from Africa to Latin America. Showing that you are an expert or have experience in your project's topic is important to building social proof and will go a long way in convincing supporters that you can follow through with your school fundraising idea.
The Village Leadership Academy beat their fundraising goal by 102% to raise $15,550 from 201 backers. The campaign had more than 1,000 shares on Facebook and Twitter and really worked hard to get the message out.
My favorite part of the campaign is the updates provided by the fundraisers. They provided 16 updates to the campaign with the most recent one in July, more than three months after the campaign ended. This kind of frequent and personal communication is going to set them up for success in their next campaign. Keep your community alive by keeping the conversation alive.
A successful crowdfunding campaign means reaching out to the real 'crowd' in social media. Updating your message a few times each day on multiple social networks can seem impossible without a good social media management tool like Hootsuite
. The site allows you to link and manage all your social media messaging from one page. You can even reply to comments and schedule messages in advance from the site.
Sign up for a free 30-day trial of Hootsuite Pro.
Making Crowdfunding Personal and Making an Impact
Kenny Phan is raising $9,000 for his educational board games that encourage parents and children to spend more time with each other. Kenny does a good job of reaching people on a personal level by sharing his own story and showing people how they can be a part of something bigger than themselves. With the anonymity and impersonal nature of the internet, making a crowdfunding campaign personal is one of the things I talk about constantly on the blog and is one of the chapters in my Step-by-Step Crowdfunding eBook.
School Fundraising Ideas for Outreach

A Library to Lift up a Community
Joana Dias is helping the Amor Village in Uganda and the Pearl Community Empowerment Foundation raise $11,628 to build a community library. The campaign does a good job of relating the need for the program but other crowdfunders will want to check out the campaigns use of images to really tell the story. The campaign has 36 images in its gallery, all vibrantly colored and making the supporter feel like they know the community. If a picture is worth a thousand words, these pictures say more than a book could about the campaign.
Joana raised $7,100 from 81 people in two months. While the fundraising campaign didn't reach its goal, it still raised more than most campaigns and did it with an impressive number of backers. The campaign was shared 744 times on Facebook and 147 times on Twitter.
In her final update on the campaign, Joana is glowing with appreciation. She thanks backers three times with THANK YOU all in capital letters. You get a real feeling of her appreciation and feel even closer to the campaign. How much do you wanna bet she'll raise even more money from those 81 donors and others in the next campaign?
Pay it Forward in Educational Crowdfunding
The student robotics team from Sacramento Unified School District's School of Engineering and Sciences is crowdfunding $10,000 to compete at a robotics competition in Canada. The team is one of only eight U.S. schools that will be attending.
The campaign does a good job of bringing supporters in to a community of giving adding, "Crowd Funding not only gives people an opportunity to support their local communities and people all over the world, but allows individuals to "Pay it Forward" It's a pouring outreach of free spirit, caring & love like no other!"
Spreading Music Education through Crowdfunding
Midcoast Music Academy (MCMA) is raising $15,280 to support ten scholarship students and expand the studio space to accommodate the growing waitlist. The academy has grown from one private student to 65 and from one instructor to five since 2012.
There are a lot of great tips in this one for other school fundraising ideas. The campaign makes good use of limited-amount awards and is already sold out of the $60 reward level. Limiting some reward levels helps to build a sense of urgency and exclusivity with supporters. The campaign page is also very visually-striking with great use of images and design. For frequent supporters of crowdfunding campaigns, the page really stands out and makes an impression.
MCMA beat its fundraising goal to raise $15,670 from 135 backers. It didn't get quite as many social shares, only 341 shares on Facebook, so you get the impression that they could have raised even more. The campaign owners offered seven updates that really kept people in the loop on the campaign and feeling like a part of the community. It's this sense of community that helped the campaign raise more money on average from each donor.
School Fundraising Ideas for Music & Sciences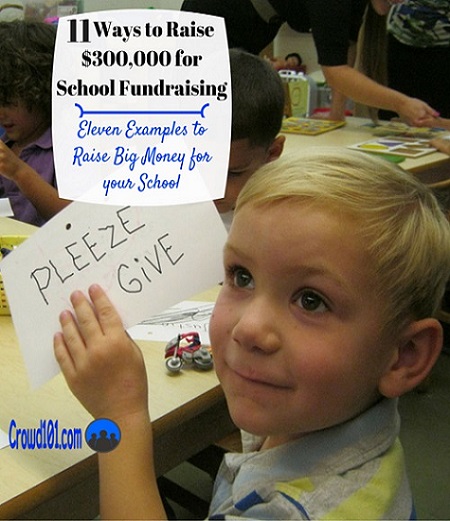 Taking Education to the Next Frontier
The Next Frontier Academy is raising $100,000 for Ohio's first agricultural academy. The academy will be a one-of-a-kind school giving urban students a chance to succeed in school and in the world beyond including a summer work program and hands-on experience.
The campaign is a good example of reaching out to the local community and businesses for offline support. While crowdfunding may be an online phenomenon, your local community is still going to be the biggest contributor to your school fundraising idea. Reach out with some 'old school' grass roots events and marketing to give local contributors the opportunity to be a part of the campaign before it even goes live. This will also help to build momentum when your crowdfunding campaign starts by showing support from your community.
Launching an Online Music School
Ken Lewis is raising $15,000 to launch an online music school and offer affordable music learning for everyone. The site will launch with over 400 tutorials teaching voice, guitar, piano, drums and bass along with a fully animated kids site.
The campaign really makes use of an email list and community to drive support. Ken put together an opt-in email list of more than 7,000 people plus another 5,000 friends on Facebook before the campaign. This kind of pre-launch crowdfunding outreach is crucial to building a community around your campaign and bringing people to your page.
The campaign didn't reach its funding goal and was on Kickstarter so ultimately received nothing. Most of the other school fundraising campaigns in the post were launched on Indiegogo which offers a flexible funding model. While fees are higher for the flex-funding model, you get to keep what you raise.
Science & Stories on the Space Station
Story Time from Space is raising $55,000 to develop a series of educational videos based on science experiments conducted on the International Space Station. The campaign poses some really interesting questions about science and space and is a great example of detailing your budget for supporters. The budget is detailed on the campaign page with 12 separate pieces of equipment that the campaign needs for its experiments. Crowdfunding supporters like to see this level of detail because they want to know exactly how their money will be spent.
Togi Application for Fun Family Activities
TOGI is raising $36,000 to launch an application that will provide you physical activities and ideas for fun active time with your children. The application helps schedule active time and contains a variety of games for a range of locations.
The campaign does a great job of detailing the timeline for supporters, from idea conception all the way through a working version and possibilities for expansion. Along with a detailed budget, a timeline is something that supporters really want to see in your campaign. Campaigns that fall behind schedule and leave rewards unfulfilled is a growing complaint from the supporter community and seeing that you've thought through a timeline will go a long way to building credibility.
I hope you've picked up a few pointers for your school fundraising ideas from these 11 campaigns, a few good ideas and maybe even a few things not to do. A few things should immediately stand out:
There is no 'crowd' in crowdfunding. You have to build a community before the campaign to get the kind of social sharing that can take your message viral. It's the single most important idea and 11 of the 17 steps in my book, Step by Step Crowdfunding.
Keep your supporters in the loop with constant updates while your campaign is live. They can't see all the hard work you're doing so you need to share it with them.
Keep the community alive by updating the campaign after it has ended and keeping the conversation going. This is going to pay off over subsequent school fundraising ideas by bringing people back.
Crowdfunding Platforms for School Fundraising Ideas
By comparison with our church fundraising post which were mostly on GoFundMe, the campaigns for school fundraising ideas are more evenly spread across different crowdfunding platforms. A lot of this is due to the fact that many are games or some kind of product development as well as a social cause. There are other crowdfunding platforms that might work well for your campaign and you might want to check out my Ultimate List of Crowdfunding and Fundraising Websites for details on each.
Also, don't forget to check out our mega-list reference of 33 expert tips on their #1 way to boost your fundraising ideas and crowd campaigns.
Got a tip for school fundraising ideas in crowdfunding that you didn't see here? Please use the comments section below to share it. Also, please use the social share buttons on the left side of the screen to share this post with people that need it.