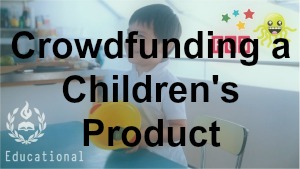 Crowdfund Anything: Crowdfunding a Children's Product
Here on the Crowd101 blog, we love to hear from crowdfunding campaigns about how they are using the new movement to fund their dreams. If you're thinking about launching a crowdfunding campaign, you'll never find better advice that from the people that are making it work. It's a great opportunity to learn from their success and their mistakes.
Today's campaign review comes from Sasha Zhdanova and her Kickstarter campaign for the Jungle Bowl, a really cool kids bowl billed as a smart way to motivate kids to finish their meals. Sasha and her two business partners designed a food bowl that reveals a surprise toy when the child finishes the food. The team also designed a few series of collectible toys that fit into the bowl.
First, tell us a little about yourself.
I was born in Moscow, Russia, studied Business and Finance at the London School of Economics (LSE) and Oxford University, and then worked at one of the world's top three management consulting firms. Two years ago I had a daughter, but couldn't just stay at home during my maternity leave, so my husband and I packed our suitcases, put our baby girl in a baby carrier and headed to France to do an MBA at INSEAD. Despite that everyone told us it was a crazy idea, we had a lot of fun studying together and taking turns babysitting our daughter.
At INSEAD, I pitched my idea of a baby bowl that motivated kids to eat for the first time. I had never thought of myself as an entrepreneur before coming to INSEAD. The idea immediately got a lot of followers among students and professors, I got a lot of encouraging feedback and support – so I thought, "Why not try and bring this idea to life?" That's how we found ourselves preparing for Kickstarter.
Did you try to raise funding before crowdfunding?
No, this Kickstarter campaign is our first attempt to raise money. We received some funding through a grant from INSEAD but it was rather small – not enough to pay for the mold and the first round of manufacturing. That's where Kickstarter backers come in.
Have you ever done a crowdfunding campaign before?
My business partner Adam ran a very successful crowdfunding campaign in the past. He raised almost $400,000 which was 20 times the funding goal. For me and our other partner Mike, it is the first campaign and a thrilling experience but I've backed many campaigns previously.
What did you do before starting the campaign to get ready? Can you take us through your process?
First we checked whether the concept worked at all. We made a few very basic prototypes and gave those prototypes to our friends with kids to test them. The results were amazing, our friends and friends or friends really liked the invention.
So we decided to go for Kickstarter. We made a proper 3D model with computer-aided drafting, ordered a 3D-printed prototype, colored it and called a friend with a camera for some pictures and a video. Some friends and family that had tested it offered to meet in the park for pictures and to talk about their experience. I think that being genuine & relaxed is the best way to shoot a Kickstarter video. Anything else will sound like advertising.
Then we did the same as everyone does, I guess. I made a website and created a Facebook page. We wrote the text for the page and made beautiful pictures. When the page was set up we sent it to lots of friends for review before we launched the campaign. It was super useful with tons of feedback and it really got our awareness campaign going.
Sasha and her team have checked all the boxes from a business perspective with their prototype and testing. It's obvious from the campaign that they have a lot of strong business skills. They didn't do quite as much as they could have from a crowdfunding perspective though. They did some pre-launch outreach but should probably have extended it a few months.
We've covered the all-important crowdfunding pre-launch activities in an earlier post and showed how to drive massive visitor traffic to your crowdfunding blog in another. This pre-launch campaigning sets up the first couple of days to raise enough money to potentially get you featured on the crowdfunding platform. While neither Kickstarter nor Indiegogo will say how they choose feature page campaigns, the rumor is that a strong factor is reaching 20% to 30% in the first few days of the campaign.
Looking at the crowdfunding campaign's Kicktraq page, it's obvious they did some pre-launch marketing but it wasn't quite enough. The campaign raised about 7.5% of its goal in the first three days.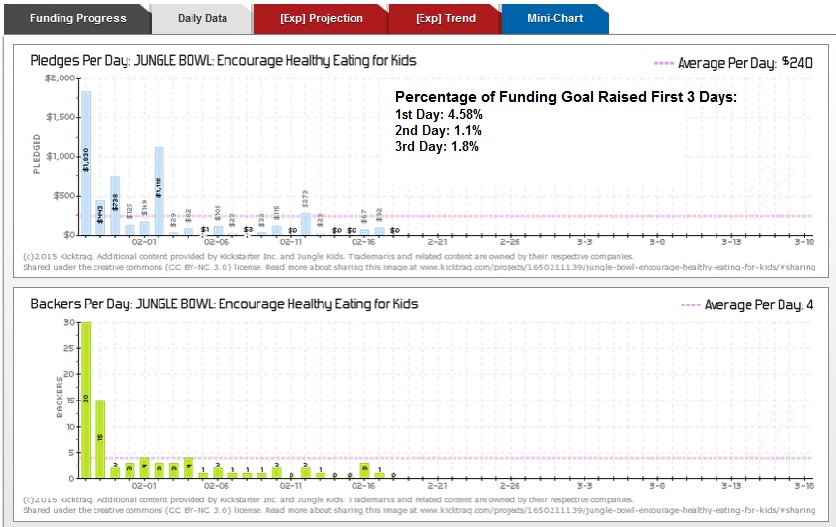 What has surprised you most about running a crowdfunding campaign?
The most surprising thing about Kickstarter is that you never know what will and what will not work there. It is so much different from the standard retail market. You can reach out to a thousand people who you think are your target audience and get just one or two pledges of $20. The next day you suddenly get $500 in pledges from two alumni of your college or business school.
You can hardly tell where they heard about you and why they loved the product – they simply found the project great and decided to help. It is very inspiring!
It's true that knowing what will work in a crowdfunding campaign is difficult but it is not impossible. Before the campaign, the team should have reached out to similar campaigns run in the past. This crowdfunding campaign research is invaluable in determining your market and reaching influencers. I've found crowdfunders are extremely open about discussing the challenges and successes of their campaigns and some will even offer to connect you with media contacts.
After this campaign research, you really need to reach out personally with each backer and everyone that subscribes to your blog's email list. Crowdfunding supporters are the best customers you'll ever find. Since crowdfunding grew up in an environment of helping each other, people are extremely helpful with feedback and advice.
How much have you spent on your campaign?
We've spent about $2,000 though half was to set up a legal entity which most campaigns could probably avoid. We also hired a PR agency for $525 which yielded no results. All the press coverage we've got so far was through friends or from people that saw the campaign on Kickstarter.
We also ran a Facebook ads campaign, but we didn't pay for it. I had a $50 Facebook coupon from Wix.com that I used to build our website. So I used it to run some experimental ads for a week.
I've heard similar comments about press release services. You have to understand that the lists to which your press release is blasted receive maybe hundreds or thousands of releases every day. I've seen press releases sent out to more than 5,000 recipients and not lead to even a single backer.
Online advertising can be effective but also expensive. Starting early enough to use free marketing ideas like blogging, guest blogging and interviews is still the best way to go. Check out Crowdfund Campaign Marketing on a Budget for more marketing ideas.
What is the biggest mistake you've made so far in crowdfunding?
Setting up an overly ambitious goal. A project creator should always think, "What if I raise 50% of the goal or just 25%? Will I still be happy to raise that much along with some of my own and maybe some investor money?" If the answer is YES, your goal is way too high. It's always better to set up a modest goal and raise 1000% of it than to shoot at a million, raise 10% and get ZERO on Kickstarter's all-or-nothing model.
I've noticed that there are two types of creators on Kickstarter. Some people run one-shot projects. They design a product or a game specifically for Kickstarter and sell it only on Kickstarter.
Others are entrepreneurs who think long-term, they are raising money to finance their startup's long-term needs. If you are in the latter category you'll probably go forward and launch your product even if you raise less money through Kickstarter than you actually need. it would be wise to set a modest goal, secure the money, and then probably enjoy additional traffic because some Kickstarter users only back projects that are 100% funded or close to that.
The campaign has already raised more than $5,000 for what is one of the coolest products I've seen on Kickstarter. Maybe I'm biased as the father of a two-year old boy but I love this idea. Unfortunately, Sasha is correct and the funding goal of $40,000 may be too high. Too many campaigns try to fund their entire startup costs or years of expenses and ultimately fall short of the goal.
Instead, try raising enough to reach a major milestone. You'll still get all the marketing benefits of crowdfunding but will be able to reach your goal more easily. Reaching a production or planning milestone, and the publicity from the campaign, will make it easier to raise money through private groups like angel investors.
What do you think is the thing you've done really well so far?
We raised a lot of awareness about the product before and during the campaign. A lot of retailers and distributors from all over the world have contacted me saying that they wanted to be the first to launch the Jungle Bowl in their stores. For us it means that Jungle Bowl's journey won't be over when we finish the campaign and fulfill our orders. It means that we've got some pretty good odds of manufacturing and selling large batches of it. That will allow us to develop more cool products for kids.
How are you building community with crowdfunding supporters?
We send our backers updates when we reach certain milestones or have other important news. We also have a Facebook group and I actively use my Instagram to build relationships with the existing backers and attract new ones. For example, I'll post the link to this interview there once it gets published.
My followers enjoyed reading about the Kickstarter preparation process and now watch the campaign with a lot of genuine interest. We are also planning to launch some sort crowdsourcing tool for our Monkey Treats – the collectible toys that fit into Jungle Bowl. We think that it will entertain our backers and, at the same time, help us create new awesome collections that will be exactly what our backers' kids want!
What 3 resources or tools should every crowdfunding campaign have?
An economist or a business person – to calculate the budget and make sure you won't lose money on your rewards. I heard that many creators underestimate their costs. You should be able to estimate and take into account the costs of design, production, packaging, shipping to the warehouse and beyond, as well as Kickstarter and money processing fees.
Strong connection with a few journalists who can cover your launch.
A great team. It's important to generate a lot of activity on your pages and in social networks – so you'll need a team of at least 2-3 people, and ideally covering the campaign 24/7 – at least in the first week.
Updates are extremely important to a campaign and keeping the first few days' momentum going. Crowdfunding backers get emotionally invested in the campaigns they support, it's just the way the medium has evolved. They want to stay involved and know how the campaign is doing.
Sasha is spot on with the need for a good team. Slava Rubin, founder of Indiegogo, states that teams raise an average of 70% more money than campaigns run by a single person. Besides the diversity of skills you get from a team, crowdfunding is just too much work for one person.
What's next for you?
Just do it! We are very excited about bringing this product to life, upgrading the design, going through the whole engineering & production process, and delivering the bowl and the surprise treats to our customers. It's great that the business has two parts. We sell a bowl once, but then we get the opportunity to design a lot of great collections of toys for it – and it all looks sooo exciting! This is our chance to feel like kids again.
I want to thank Sasha for taking the time to talk with us and share her experience with crowdfunding. Visit her campaign page at the link above and or check out the website at jungle-bowl.com. If you've got a campaign you'd like to share or just want to share your experience with crowdfunding, email me or use the comment section below.
https://www.crowd101.com/wp-content/uploads/2015/02/crowdfunding-childrens-product.jpg
169
300
Joseph Hogue
https://www.crowd101.com/wp-content/uploads/2020/09/Crowd101-logo.svg
Joseph Hogue
2015-02-23 08:45:48
2015-02-23 08:45:48
Crowdfund Anything: Crowdfunding a Children's Product