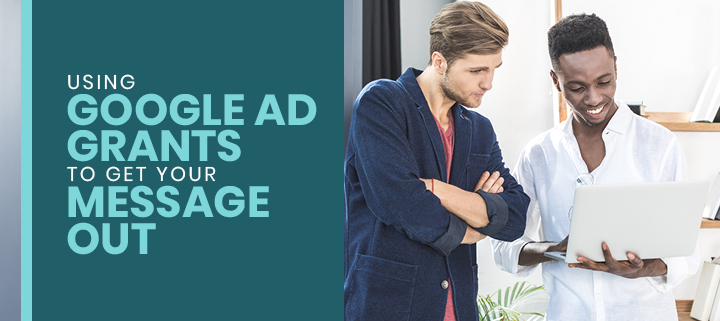 Using Google Ad Grants to Get Your Message Out
Google Ad Grants provide nonprofits the invaluable opportunity to reach a large audience at no cost at all. These grants are especially useful if your organization's mission is heavily searched for online and you have a well-established website that reflects said mission.
Data supports the importance of having an optimized website:
75% of young donors are turned off by out-of-date websites.
Donors are 34% more likely to give on mobile-responsive websites.
51% of high-wealth donors (earning $200k+) prefer to give online.
When influencing donors, online resources are 20% more useful than direct mail.
With a clear correlation between online resources and donation tendencies, be sure your platforms are well-running as you prepare for an increase in traffic to your website. With the help of Google Ad Grants, you will have users coming left and right in no time. To help you best prepare for your Google Ad Grant journey, we will cover the following topics in this article:
Let's dive in as we uncover all there is to know about Google Ad Grants.
What is the Google Ad Grant?
Google Ads allow organizations to display paid advertisements for their products and services strategically in a search engine results page (SERP). In seeing the value of high ad visibility, Google created its Google Ad Grant program. This program provides nonprofit organizations with $10,000 in monthly Google AdWords spending.
These grants are considered an in-kind donation, as Google is donating its AdWords services, rather than time or money. A Google Ad Grants digital campaign is one of the most effective methods for getting your content to reach your target audience quickly, without breaking the bank on a marketing budget.
One of the best parts about this program is that any nonprofit deemed eligible can make use of the grant. Unlike other grants, it is not awarded to a few lucky winners. As long as organizations follow the guidelines of the Google Ad Grants program, the process of acquiring and maintaining the grant is far simpler in comparison to others.

Am I Eligible for the Google Ad Grant?
The eligibility requirements for the Google Ad Grant program are fairly straightforward. In order to be considered eligible, nonprofits must: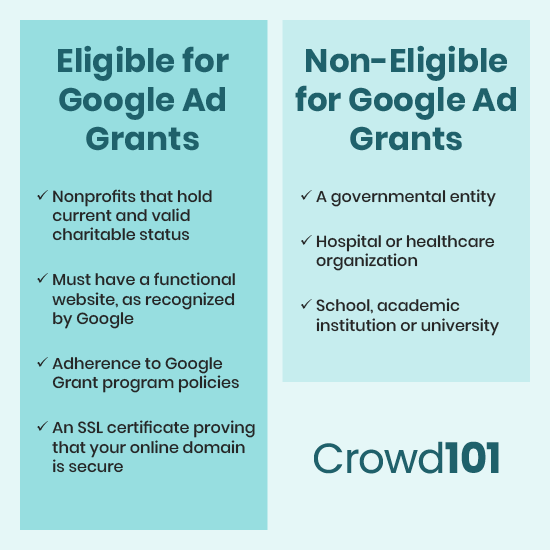 Hold current and valid charitable status, which in the United States means registering as a 501(c)(3) organization.
Have a functional website that contains valuable content that is relevant to the nonprofit's mission.
Adhere to Google Grant program policies, including registration with Google for Nonprofits and TechSoup.
Obtain an SSL—secure sockets layer—certificate, proving that your online domain is secure.
Organizations that are not eligible include:
Government entities
Hospital or healthcare organizations
Schools, academic institutions, or universities
In running through the checklists above, your organization has most of the basic information to determine eligibility. Some other requirements include:
Ensuring your site does not already contain revenue-generating ads.
Having the ability to manage Google Ads campaigns.
Selecting keywords that have a maximum cost of $1 per click.
After determining eligibility and ensuring your organization meets the other requirements, you can begin the process of acquiring a Google Ad Grant for your nonprofit. Let's see how to get started.

How do I get the Google Ad Grant?
The process of applying for a Google Ad Grant can be accomplished in just a few simple steps.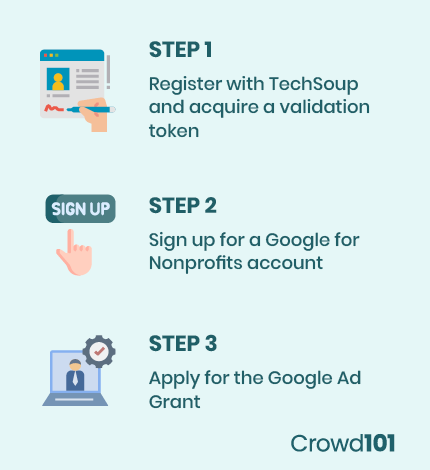 Step 1: Register with TechSoup and acquire a validation token.
The first step in the application process requires validating your organization via TechSoup. Doing so will earn you a validation token, necessary in later steps. Here is a walkthrough of how to register with TechSoup:
Visit the TechSoup registration page.
Select the country in which your organization is based, as well as the preferred language used.
Click new member, register, and agree to the terms and conditions listed. From there, you wait to receive validation.
After receiving validation, you can log into your account to claim your TechSoup Validation Token which is presented in the form of a code. Include this code in your Google for Nonprofits application.
By following the processes outlined above, you will be closer to getting a Google Ad Grant of your own. The next step will walk you through establishing your Google for Nonprofits account.
Step 2: Sign up for a Google for Nonprofits account.
Aside from just the Google Ad Grants program, Google for Nonprofits provides your organizations several opportunities to increase visibility and drive conversions. An account with Google for Nonprofits gives you access to:
YouTube Nonprofit Program: This program allows nonprofits to spread word of their organization through visual storytelling. YouTube also has many unique features, such as the Giving Feature that allows for direct fundraising. Incorporating videos into your digital marketing strategy is worth a shot, as they can be incredibly effective in playing to human emotion.
Google Earth and Maps: Google Earth and Maps helps to share compelling data visualizations which highlight your organization's impact. Additionally, the use of Google Maps helps community members locate your nonprofit's programs and resources nearest to them.
Google Workspace: Finally, this resource offers complimentary access to Google's most useful apps, such as Gmail, Docs, Drive, Calendar and Google Meet. In allowing you to stay organized and efficient, Google Workspace for Nonprofits helps to keep your team running smoothly.
Sounds like a pretty good deal, right? Here is how you can gain access to all of that and more by registering with Google for Nonprofits:
Visit the Google for Nonprofits registration website.
Agree to Google's non-discrimination statements.
Input the validation token provided through TechSoup.
Fill out the subsequent forms, including contact and organization information.
Submit your request and await a response.
Once completed, your organization must await final registration approval. Then, you can submit an application to the Google Ad Grant program.
Step 3: Apply for the Google Ads Grant.
The moment we've all been waiting for: it's time to submit your application for the Google Ads Grant. In just a few short steps, you're on your way to $10,000 of free monthly Adwords spending: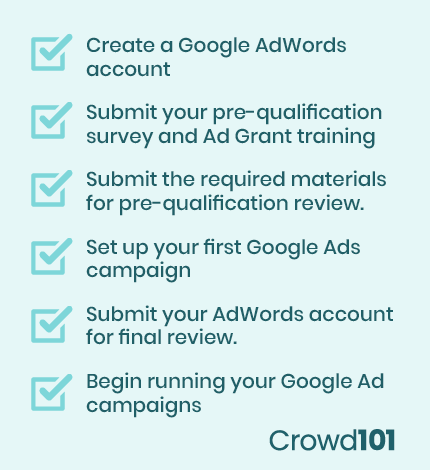 Create a Google AdWords account after receiving approval from Google for Nonprofits. In using this link to get started, AdWords will prompt you to select your billing country and timezone. Once submitted, it will take you to your new account.
Submit your pre-qualification survey and Ad Grant training. The training video will cover policy requirements, key guidelines and best practices for managing your account. A short quiz will follow, so make sure you're paying attention.
Submit the required materials for pre-qualification review. After signing into your account, look for the "Activate" option under Google Ad Grants and select "Enroll". Await a response back from Google in regards to your pre-qualification submission.
Once approved for pre-qualification, set up your first Google Ads campaign!
Submit your AdWords account for final review using the same process of approval as the pre-qualification review found above.
Once approved, the nonprofit can begin running Google Ad campaigns.
It may seem daunting, but the three-step process of acquiring a Google Ad Grant is simpler than you think. Once you earn your grant, it is important that you take the proper steps of managing it. Otherwise, your time with Google Ad Grants may be short-lived.
How to keep your grant with proper management
To ensure your account remains in good standing, there are a few key components to pay attention to. Be sure to keep your eye on:
Account activity: Log into your account at least once a month and update the information every 90 days. This will prove to Google you're still using the program.
Ad relevance and geotargeting: Be sure that the ads you are running have specific relevance to their audience. A great way to do this is by including geotargeting, so Google knows users are receiving ads relevant to them.
Monthly keyword evaluation: Google requires a Keyword Performance Report once a month to ensure that you are optimizing your keywords for best results. This will put you in the best position to remain profitable.
A minimum of 5% click-through rate (CTR): Google requires maintenance of this CTR in order to improve user experience and ad relevance. Accounts who fail to meet this requirement will be notified. If the requirement isn't met after two consecutive months, those accounts will be suspended.
A great way to take some of this stress off of your shoulders is by working with an Ad Grant Agency. These professionals help tie up the odds and ends so that you don't have to. An Ad Grant agency can assist by: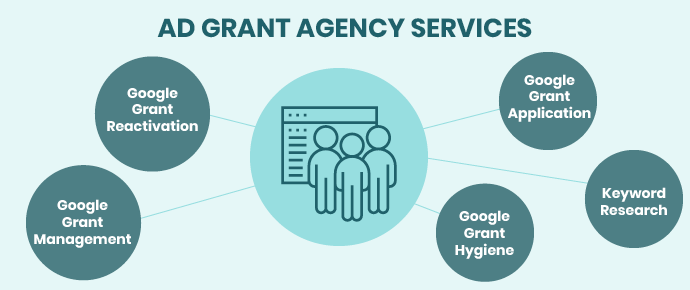 Creating, maintaining and optimizing ad campaigns. Since effective results require three to five ongoing campaigns, having professionals there to continuously track performance and refine strategies will prove incredibly beneficial to your overall success.
Optimizing website content. In order to best serve the needs of your increasing audience, your website will need refinement. Ad Grant agencies can help keep your website in the best shape via keyword research, landing page relaunches, and more.
Practicing account upkeep. To avoid grant suspension due to poor account maintenance, agencies can help make sure your organization is in constant compliance with Google Grant guidelines. This will help to avoid the headache of ever having to go through the account reactivation process.
From the Google Grant application to Google Grant management and everything in between, Ad Grant agencies are an incredibly useful tool to help make the most of your Google Ad Grant opportunity.



Are Google Ad Grants worth applying for?
Simply put: yes. There are many benefits to utilizing Google Ad Grants that will make the application worthwhile. Some examples include the ability to: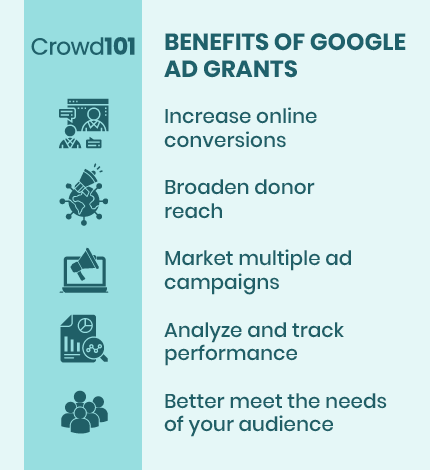 Increase online conversions, such as event signups, donations, and volunteer registrations.
Broaden your reach to new donors.
Market multiple ad campaigns simultaneously.
Analyze and track performance to ensure your campaigns are always improving.
Learn about how to better meet the needs of your digital supporters.
Interested to see some grants in action? Continue reading to discover the ways Google Ad Grants have helped several organizations grow and thrive.

charity: water
The mission of charity: water is to bring clean and safe drinking water to people in developing countries. The organization works with dozens of local partners overseas, and has completed over 21,000 water projects to bring more than 6.4 million people access to water, hygiene, and improved sanitation. Charity: water sought to expand its online presence through the free tools available with Google for Nonprofits.
Charity: water uses Ad Grants to help increase organic and paid search results. Through Google Ad Grants, they have created several campaigns, such as one that encourages people to ask their friends to donate to charity: water instead of a traditional birthday gift.
According to Tyler Reiwer, the brand content lead for Charity: water, "Over the course of a year, Google for Nonprofits helped deliver a 350% increase in site traffic, a 300% increase in total visitors, and a 333% increase in video views." Needless to say, the impact is substantial.

Action Against Hunger
Action Against Hunger leads the global fight against hunger across nearly 50 countries. The organization works to save childrens' lives and work with countries before and after undergoing disaster. Through their work, they aim to empower people to provide for themselves, while seeing their recipients grow up strong and build prosperous communities.
Google Ad Grants has brought 158,000 people to the nonprofit's website in the last 12 months and raised over $66,000 in donations. Because it costs just $45 dollars to treat a child with malnutrition, 1,466 children will now have a chance to live.
Additionally, Action Against Hunger has raised over $20,000 from YouTube website referrals, which they were able to track through Google Analytics eCommerce tracking. The resources provided by Google for Nonprofits have freed Action Against Hunger from many challenges, and ultimately, helped them save more lives.

Special Olympics World Games
Special Olympics World Games unified Special Olympics programs worldwide and celebrates athletes overcoming huge odds. The Special Olympics provides year-round sports training and hosts athletic competitions for children and adults with intellectual disabilities. Participating athletes find opportunities to develop physical fitness, demonstrate courage, and share their gifts with the global community.
The Special Olympics Ad Grants campaign generated 44% of new users to the Special Olympics site, and drove half of their new subscriber signups. Google Analytics also gave them a clear understanding of overall site behavior, and allowed them to measure the amount of engagement they were generating and where it was coming from.
Although just a handful of the many organizations who benefit from Google for Nonprofits and Ad Grants specifically, the impact made on each organization above is undeniable.



Getting Started with Google Ad Grants for Nonprofits
If we haven't already convinced you, the Google Ad Grant is an incredibly valuable opportunity you don't want to pass up. If it sounds like an offer you can't refuse, getting started is easy!
We recommend working with a Google Grants agency to help you get up and running as soon as possible. Our friends at Getting Attention will tackle every aspect of the process for you, starting with completing your application.
Here are the key Google Ad Grant services that'll help you take full advantage of the program: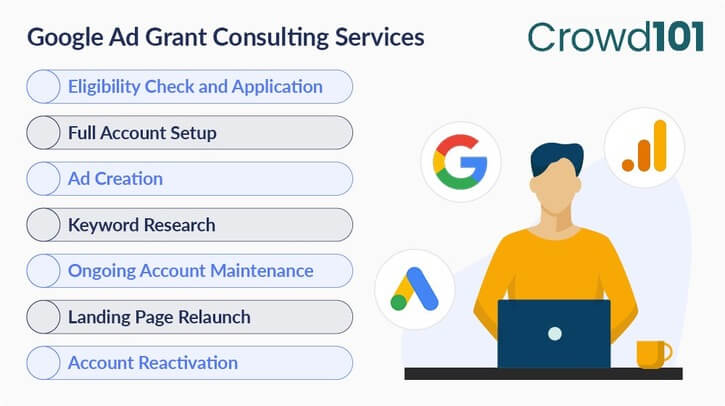 Google Grant eligibility check and application
Account setup
Ad creation, including keyword research
Ongoing account maintenance compliance
Landing page optimizations
Account reactivation for deactivated or lapsed accounts
Expert Google Ad Grants management can take your digital marketing to the next level. Getting Attention strives to work as an extension of their nonprofit partners' teams. They'll take the time to understand your mission, establish concrete goals, and create ads that drive value for your cause.

Wrapping Up
Now that we've covered all the ins and outs of Google Ad Grants, it's time for you to get started on your own Google Ad Grants journey. With the help of an Ad Grant agency, you will be able to see significant growth in your organization.
If you are looking to investigate further, here some additional resources to look into:

https://www.crowd101.com/wp-content/uploads/2021/11/Google-Ad-Grants-for-Nonprofits.png
340
720
agoldblatt
https://www.crowd101.com/wp-content/uploads/2020/09/Crowd101-logo.svg
agoldblatt
2021-11-25 18:52:36
2023-02-03 17:18:16
Using Google Ad Grants to Get Your Message Out