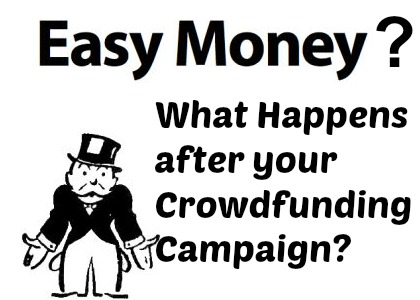 You're Not Done! After the Crowdfunding Campaign
After the crowdfunding campaign ends is when the real work begins. Use the momentum and sense of community from a successful crowdfunding campaign to really kick your idea into high gear.
So you've successfully crowdfunded your idea and the money is being dispersed by the platform. Congratulations, you've joined a small but growing list of successful crowdpreneurs and could be on your way to even better things ahead.
But don't think that your job is done after collecting your money. One of the worst things you could do is let all that hard work go to waste by not fulfilling your promises and keeping the momentum going. Not carrying through with your crowdfunding rewards promises might even leave you legally liable.
The State of Washington filed a lawsuit against Altius Management after its Asylum Playing Cards raised more than $25,000 on Kickstarter and failed to send out rewards. The suit is seeking restitution, the state's legal costs and $2,000 for each violation of the Consumer Protection Act.
Besides the monetary loss, Altius Management has lost the loyal support of a community more than 800 strong that could have propelled the company well beyond that initial campaign.
Which makes one of the most important questions in crowdfunding, "How do you manage your crowdfunding campaign after your campaign?"
It's not a Thank you, It's a Job Well Done!
The first thing you need to do is to reach out to all your supporters and everyone involved in the campaign. Don't thank them for their donation! Congratulate them for being a part of the team and tell them you appreciate all their hard work. The idea, as you'll see throughout your post-crowdfunding steps, is to keep that sense of community alive.
You will need to keep responding to comments and providing updates to your crowdfunding campaign page well after the campaign is closed. Keep everyone updated on the status of production, rewards fulfillment and delivery.
Remember, you're community isn't working on this day-to-day so they can't see the hard work you are doing and progress made. If you stop sending out regular updates, the project goes dark for your community and they will quickly lose interest or get disappointed.
A website or blog can handle a lot of the work and is great for continuing to build that search presence. Leave detailed updates on the blog and then summaries with links back on the crowdfunding campaign page. This has the added bonus of drawing people back to your website and to the rest of your company's message.
Focus on Delivering your Crowdfunding Promises
A growing problem for crowdfunding is non-fulfillment or late delivery of rewards. As crowdfunding grows and more campaigns are successful, a certain number are going to fall behind or just become total busts.
Setting a realistic timeline for production and crowdfunding rewards fulfillment should start in your pre-launch crowdfunding planning. We set out how to build in a cushion for your timeline in a previous post, Shaping a Successful Crowdfunding Idea. Don't panic if you find yourself going beyond the timeline, it happens to most but you need to be honest and upfront with the community.
Within your campaign updates and on the blog, be completely honest about bugs in the process and even any potential problems you might see coming.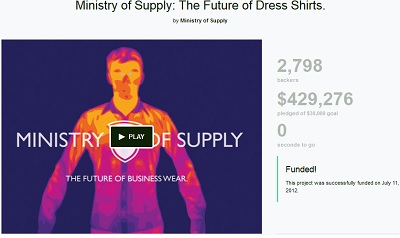 A good problem is having to fulfill way more rewards than expected. The Kickstarter project Ministry of Supply closed its campaign in 2012 beating its initial $30,000 goal by 14-times and being responsible for more than 10-times the rewards they expected. All the logistic partners they had sourced before the campaign were unable to fulfil the orders. They needed new manufacturing, fulfillment, packaging…everything.
The crowdfunders were completely transparent with their nearly 2,800 backers. They outlined the entire supply chain so supporters could see how complex the problem had become.
You know what they found? That backers were actually fine with the delay because they were informed. Backers felt just as successful as the crowdfunders because they had made it all possible. The campaign's problems were their problems because they felt that sense of community.
Whatever you do, resist temptation to start thinking about future campaigns, new products or new features. Stay focused and deliver on your promises and your community will reward you with all the funding you need in the future.
Leverage your Crowdfunding Success
After you've delivered on all your crowdfunding rewards and promises, it's time to really get to work. A successful crowdfunding campaign gives you a ton of credibility and sets the stage for even more funding in the future.
Do not assume that your crowdfunding campaign was a one-time event or project. You've proven your ability and the idea's worth in a market that disappoints nearly two-thirds that launch a campaign. That success took a ton of outreach, research and social work and you do not want to let it go to waste. Even if you only post to your blog once a week, you will be able to conserve a lot of the momentum for when you need it in the future.
Fail to bank that momentum and you'll have to complete the entire process again.
You will definitely want to host a post-campaign party to congratulate everyone and keep that sense of community growing. You do not have to set a mega-budget for the event, it can be set up for next to nothing by partnering with a local establishment and having people pay for their own food or drinks.
It will depend on how much you raised and what you crowdfunded but the money from your campaign is not going to last forever. You will want to start thinking about future sources of funds.
Naturally, another crowdfunding campaign will be an option and much of the work will already be done. You will still want to do additional research, outreach and marketing but your established community is going to make it so much easier this time around.
Depending on where your business or project is at, you might even consider equity crowdfunding. Equity crowdfunding is the process of selling a share ownership in the company to investors, much like has been done for centuries on the stock exchanges. The downside is that you give up some of the control and profits to investors but the upside is that most equity crowdfunding campaigns raise hundreds of thousands and even up into the millions of dollars.
The credibility you gain from a successful crowdfunding project might be able to get your foot in the door of a venture capital or angel investor firm. These companies specialize in funding early-stage companies and helping them grow their sales and profits. They will require a portion of the profits and some control but will offer decades of experience in management and could take your idea to the next level. Before crowdfunding, this was the path for almost all new start-ups and remains a great option for raising money.
https://www.crowd101.com/wp-content/uploads/2015/03/after-the-crowdfunding-campaign.jpg
300
420
Joseph Hogue
https://www.crowd101.com/wp-content/uploads/2020/09/Crowd101-logo.svg
Joseph Hogue
2015-03-16 08:45:10
2022-04-26 15:10:53
You're Not Done! After the Crowdfunding Campaign