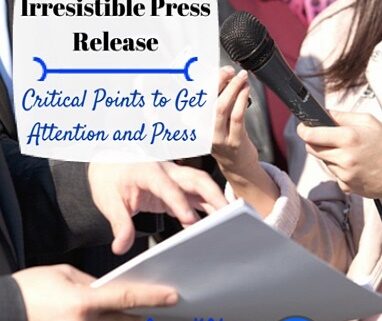 How to Write an Irresistible Crowdfunding Press Release
Writing a crowdfunding press release that gets media attention could mean a viral campaign and huge fundraising success. Follow these steps to write an irresistible crowdfunding press release.
Used correctly, crowdfunding press releases can be a powerful part of your promotion strategy. If you're able to craft a compelling story, the crowdfunding press release offers one of the best chances for your campaign to get media and blogger attention.
Fail to check some crucial boxes in your press release strategy though and you'll just be wasting your time. Journalists get thousands of press releases every day. What will make yours stand out?
What is a Press Release?
A press release is a news article developed to announce a special event or anything particularly newsworthy. Disguised as news, companies often use press releases to promote new products and other information they want to get out to the public.
If a journalist or online influencer sees your press release and is interested, they might reach out to you for more information or may just publish an article referring to the event. The idea is that people look at press releases differently than traditional advertising, giving it their attention because it's "news" rather than a commercial.
I've seen press releases drive thousands of visitors to a website or crowdfunding campaign…I've also seen the majority of releases fall flat and result in literally no traffic at all.
The way a crowdfunding press release works is,
A one-page crowdfunding press release is written and distributed out to the media through distribution services or individually
Journalists and others receiving the press release scan hundreds a day to find interesting stories for their viewers and readers
The journalist or blogger may reach out for more information and to develop an article
The article or excerpts of the release are published through media, both online and offline and have the potential of reaching thousands and even millions of people
Not only can a crowdfunding press release send you immediate visitors but it can help build your search engine ranking on Google so you get more visitors in the future.
How to Write your own Crowdfunding Press Release
The fact that crowdfunding press releases can be so powerful means that thousands are distributed every day. Just three of the larger distribution services send out more than 1,759 press releases a day and that's just a fraction of the market. So many press releases are sent out that an Adweek survey notes most journalists spend less than a minute reading each one they receive.
Crowdfunding press releases are a favorite among many crowdfunding consultants and crowdfunding promotion sites because they can be easily written up and distributed. Unfortunately, this is also a disadvantage of press releases. Simply throwing something together quickly and spamming it out namelessly to the masses isn't going to help. In fact, I have seen crowdfunding press releases spammed out to thousands of people without a single contribution and no secondary distribution.
It begs the question, "If a crowdfunding press release is written but nobody sees it, does it make an impact?"
While it's possible to find good press release writing services out there, I recommend you write your own crowdfunding announcement. Only you care enough about the campaign to really give it the time necessary to craft a compelling news article. You've likely already spent time writing your crowdfunding campaign page and other marketing material so you've got a good idea on the most important points of the campaign.
Crowdfunding press releases are fairly short and mostly factual so it doesn't take a Shakespeare to put together one that can get someone's attention. In fact, everything you need can be found in the simple crowdfunding press release example below.
What's in it for Me in your Crowdfunding Press Release?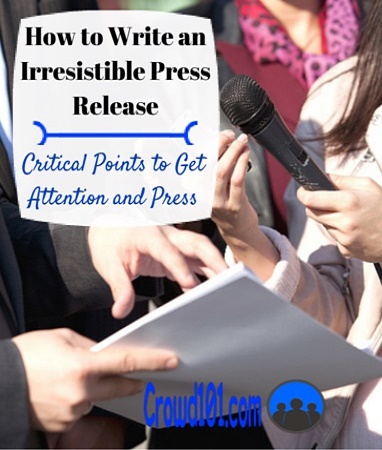 The problem with a lot of crowdfunding press releases, especially those written by crowdfunding consultants, is that they are too generic and don't really offer anything to journalists.
There are three hurdles you need to overcome with your crowdfunding press release. Why should someone open, care and share your story?
Getting someone to open your crowdfunding press release or look at much more than the title is a matter of getting their interest quickly. I know more than a few in the media that practice writing 25 different headlines for every story they publish. After narrowing the field down to the top ten, they get others' opinions to narrow it down further until they find the perfect headline that grabs attention and draws people in further.
Getting someone to care about your crowdfunding press release should be a bigger part of your crowdfunding campaign in general. What is special about your campaign? Does it serve a social cause or the greater good? Does the product satisfy an undeniable need? Getting media attention through your press release means showing why it will be a compelling story.
If you've developed a compelling story that gets people to care about your crowdfunding press release, readers will most likely be interested enough to share or contribute to your campaign but you still need a call-to-action. This is the part of your story that explains how important it is for people to support the campaign and what they should do.
Journalists receive so many press releases every day that even a great title and story may not be enough to get their attention. You'll get a lot more traction for your crowdfunding press release if the recipients recognize your name on the email. This means building a relationship up to a month in advance by reading their work, commenting and sharing across social media.
Through your campaign research, find at least five or 10 journalists or bloggers that actively share articles or campaigns like yours. These will be the most likely to share your campaign so start following and building a relationship with them before your release. Learn more about how to build a relationship with bloggers and journalists.
When you go to send out your press release statement, you can send it out through a mass distribution service but you'll want to send it to these influencers personally so they recognize your name.
Putting your Crowdfunding Press Release Together
The structure of a crowdfunding press release is actually pretty simple. I've put together a template below with all the major sections. While writing your press release, ask yourself if it answers the questions of who, what, when, where and why.
Notice that the press release template above is brief and to the point. Journalists and other media are busy and may not even look at your release if it looks like it will take them a while to get the necessary information. You are not trying to get your whole story out with a press release, just enough to get someone interested enough to contact you for more information.
That last part is worth repeating because it's where most crowdfunding press releases go wrong. Your press release is not meant to be a whole story of your campaign but to announce something special and give someone enough information to get them interested in wanting more. The easier you make it to read, the more eyes you'll get on your press release. More eyes on the PR means a better chance of someone seeing it that will run with the story!
After composing your crowdfunding press release, you'll need to distribute it to your target list as well as through a couple of distribution services. Rather than work with one of the smaller press release agencies with questionable lists, I would recommend going with one of the established press release distribution services.
24-7PressRelease.com
offers several press release packages for any budget. The company distributes across 30,000 members in online, print media, and blogging and maintains an A+ rating with the Better Business Bureau.
eReleases.com
sends press releases out with a customized strategy to 150,000 national, local and industry contacts. It's a more targeted approach and means a better chance of success, especially with their industry and trade categories targeting. The services are a little more expensive than other distribution sites so it's best for larger campaigns that need to raise more money.
Now that you've got an irresistible crowdfunding press release ready to distribute, you need to start thinking about how to get it out to the masses. We'll cover outreach and distribution for your press release in our next post including how to find distribution lists and get the best bang for your press release buck.
Press releases are just one of the many ways to promote your crowdfunding campaign. Use the crowdfunding press release example and tips above to get you started but don't forget to put a personal spin on it and customize it for your campaign. Check out our prior post for crowdfunding campaign marketing on a budget for some of the best and most cost-effective ways to boost your crowdfunding campaign.
Save
https://www.crowd101.com/wp-content/uploads/2015/06/crowdfunding-press-release-tips.jpg
450
382
Joseph Hogue
https://www.crowd101.com/wp-content/uploads/2020/09/Crowd101-logo.svg
Joseph Hogue
2017-02-21 09:19:48
2022-04-26 13:50:41
How to Write an Irresistible Crowdfunding Press Release