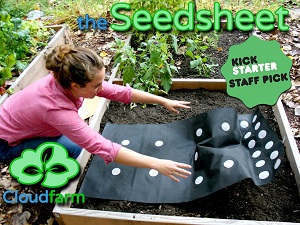 Crowdfunding an Agriculture Project, A Campaign Review
An interview with Cam MacKugler of the Seedsheet campaign reveals some great tips and tricks to crowdfunding an agriculture project on Kickstarter
Possibly the best learning experience we have seen here on the blog is from interviewing others with crowdfunding campaigns and getting their story. Not only is it a great way to share ideas on what works but it also provides clues into how to improve a campaign.
I'd love to hear your own tips and tricks for raising money in crowdfunding. Use the comment section below to share what has worked and what has not worked for you.
Cam MacKugler, founder of Cloudfarm, got the idea for his Seedsheet while house-sitting for a co-worker in 2011. Harvesting vegetables on the 80-acre farm led to an epiphany, he loved having access to such a bounty of delicious and nutritious produce, but didn't have the time, space or the knowledge to grow it himself. He sketched out the idea for a paint-by-numbers farming kit that would help everyone grow their own fresh vegetables.
Cam is running his Kickstarter campaign to demonstrate market interest, and provide demographic statistics as to what groups are most interested in the product. The goal is to build brand awareness and traction so he can later secure a traditional investment round as well as entice retailers to carry the products. The idea of raising money first as a rewards-based campaign before seeking investment funds is a pretty common one among start-ups. It allows small businesses to get exposure to two groups and potentially increase market awareness. That is why it is so important to understand which crowdfunding platform is right for your campaign and to know your options.
Click through here for a review of the best crowdfunding platforms for creative campaigns.
Click through here for a review of the best crowdfunding platforms for equity investing.
Most see crowdfunding as solely a method to raise money for an idea but, as Cam is doing, it can be so much more than that. Even if he doesn't reach his $30,000 goal by the time the project ends, he will have gotten a ton of customer information from his backers. The people backing your crowdfunding campaign, especially the rewards-based crowdfunding campaigns, are going to fit your buyer persona better than anyone. Not only do they like the idea and see a need for it, they care about it so much as to back it financially.
Cam's project has about 200 backers so far. That's 200 opinions and insights that will be more than happy to give their feedback on how to improve the product.
I've included my own comments in italics so as not to be confused with Cam's.
What work did you do on your campaign before the launch?
I read everything that I could find about crowdfunding techniques, researched successful campaigns, and built an amazing advisory team highlighted by influencers, Kickstarter veterans, and generally awesome individuals. One particularly helpful strategy that I used was to create a separate webpage that integrated social-media sharing links that I referred my mailing list to. This helped catalyze my friend group to share the campaign by greatly simplifying the sharing process. I also worked with a friend in PR to develop a media list of over 5,000 contacts that I reached out to during the initial launch.
There are a ton of great ideas here and not just for crowdfunding an agriculture project. One thing that Cam has done that a lot of crowdfunding campaigns lack is build out a team. The idea might be yours alone but there are several reasons why you need a team for your crowdfunding campaign.
Slava Rubin, founder of IndieGoGo, states that teams raise an average of 70% more money than campaigns run by a single person. Teams raise more money. First because more people working on the campaign means more work can be done and crowdfunding can be a lot of work. Second, having a group of people behind the project, especially experts in different fields, gives a lot of social proof to the campaign. Your crowdfunding campaign goes from a shoddy idea you put together in your mom's basement to a fully supported business venture.
Disappointing, discouraging, overwhelming – all words I have heard crowdfunders use to describe their crowdfunding campaigns. It's often tough to find the 'fun' in crowdfunding and nearly everyone considers quitting at some point. A team means a support network to keep everyone motivated and focused on the goal.
Putting the team together before you launch a crowdfunding campaign is extremely important. It first helps you to understand how well you are able to share your passion with others. If you can't find anyone that wants to be part of the dream, it is going to be just as difficult convincing others to support it financially. Putting the team together before the campaign launch means you can work out flaws in the plan before it goes live.
Start with friends, family and your closest network first. They will most readily offer advice and you should be able to find a few that will share your vision. Actively contribute to internet forums related to your campaign a few months before the launch. This could also uncover a few experts for the team.
What kind of work have you done since launching your campaign?
I have worked non-stop on media outreach, constantly contacting journalists and bloggers in hopes of spreading the word. It is an unending task, but very fun to build relationships with so many people that will inevitably be more likely to cover us in the future as well.
I'm putting together a post for tomorrow on one of the biggest mistakes crowdfunders make, believing that just launching a campaign is enough to attract the 'crowd.' Unlike building a baseball field in a small Iowa corn field, just creating your campaign does not ensure that 'they' will come.
Integrate every form of media, both online and offline, into your outreach.
It is relatively easy and inexpensive to put together your own website for the campaign. Campaign pages on the crowdfunding platforms are great but they are just not enough. Your own website will give you greater control of the information from potential customers and will help to send traffic to your campaign.
Use all the social media pages: Facebook, Twitter, LinkedIn, StumbleUpon, YouTube and Pinterest at least. There is some overlap across these but we all have our favorites and you won't reach everyone effectively unless you use all of them.
Contact local and national journalists. You may not get many replies but just a few well-placed stories can lead to thousands of visitors to your crowdfunding campaign page.
If your project is local then reach out personally to local influencers and the community. People assume that the mighty internet will take care of their crowdfunding needs but there's still a lot to be said about face-to-face networking.
Is there anything you would do differently?
I highly recommend more preliminary media outreach prior to campaign launch. I thought that the turnaround from initial email to a published article would be significantly faster, and was worried about media outlets publishing articles before the campaign launched. However I've learned that reporters often have stories locked in weeks in advance, and reaching out earlier would have likely yielded me more press to simultaneously occur when my campaign launched. Additionally the spray-and-pray approach isn't ideal- identify those most likely to post about you that have the highest influence, and then pitch them individually.
What advice would you have for someone thinking about launching a crowdfunding campaign?
Win or lose, I've found that a crowdfunding campaign is a great way to test the marketability of a product before sinking upfront costs into an unproven idea. Even if my campaign is unsuccessful, the reactions and press coverage I have received have been overwhelmingly positive. The reality is that crowdfunding is fickle, with many campaigns (including Kickstarter's most funded project to date, The Coolest) failing on their first attempt and then wildly succeeding on the next. So get out there and launch, it doesn't need to cost much or anything, and the marketing and demographic research gained is truly invaluable.
I want to thank Cam and wish him all the best for his campaign. Thank you, the reader, as well and let me know what you thought of the post using the comment section below. Please bookmark the blog page and share this article with friends if you found it useful.

https://www.crowd101.com/wp-content/uploads/2014/12/crowdfunding-an-agriculture-project.jpg
225
300
Joseph Hogue
https://www.crowd101.com/wp-content/uploads/2020/09/Crowd101-logo.svg
Joseph Hogue
2014-12-09 09:00:54
2022-04-26 13:19:56
Crowdfunding an Agriculture Project, A Campaign Review