The Microsoft Ad Grant Program: All Your Questions Answered
Imagine you're running a crowdfunding campaign for your organization. Your fundraising team is super excited about the prospect of raising a large sum of money for your cause. However, the campaign isn't going as well as you had hoped. People are having trouble finding the crowdfunding page on your website, and thus, you're struggling to hit your fundraising goals. That's where the Microsoft Ad Grant comes in.
If you're familiar with the Google Ad Grant program, the Microsoft Ad Grant program functions similarly. Under the Ads for Social Impact program, Microsoft provides eligible nonprofits with $3,000 per month in ad spending. Then, they display these ads on platforms they own, including Bing, Yahoo, AOL, Outlook, MSN, and Microsoft Edge.
There are so many unique benefits of the Microsoft Ad Grant program that we'll cover in this article. However, you might also have some questions about what the Microsoft Ad Grant is and how it works. To help you out, we'll be answering the following questions:
At Crowd101, we're passionate about helping mission-driven organizations develop successful crowdfunding campaigns. Crowdfunding is a great way to raise money with the help of your supporters. To maximize your fundraising potential, creating ads with the Microsoft Ad Grant program can help you promote your crowdfunding campaign online. Let's dive right in and start answering your Microsoft Ad Grant questions!

What Is a Microsoft Ad Grant?
Named Ads for Social Impact, Microsoft's Ad Grant program began helping nonprofits in June 2022. Ultimately, the purpose of the program is to assist nonprofits in their fundraising and marketing efforts by boosting their online visibility. To do so, Microsoft grants eligible organizations $3,000 per month toward ads that appear on Microsoft-owned platforms.
Something that makes the Microsoft Ad Grant program stand out is the variety of sites available for organizations to advertise on. Google Ads simply go on Google, but Microsoft Ads show up on many different websites such as Bing, Yahoo, AOL, Outlook, MSN, and Microsoft Edge. With more ad touchpoints, you can increase the likelihood that people will see your ads online.
While we've gone over the basics of the program, you might be wondering what an ad created using the Microsoft Ad Grant program might look like. We'll give you an example to help you out.
Let's say that you're passionate about keeping public museums up and running. As a result, you might pull up Bing and perform a quick search for a museum donation page. Then, your search engine results page may display a Microsoft Ad at the top that features a museum's donation page and maybe even a crowdfunding campaign, making it easy for you to contribute to that organization.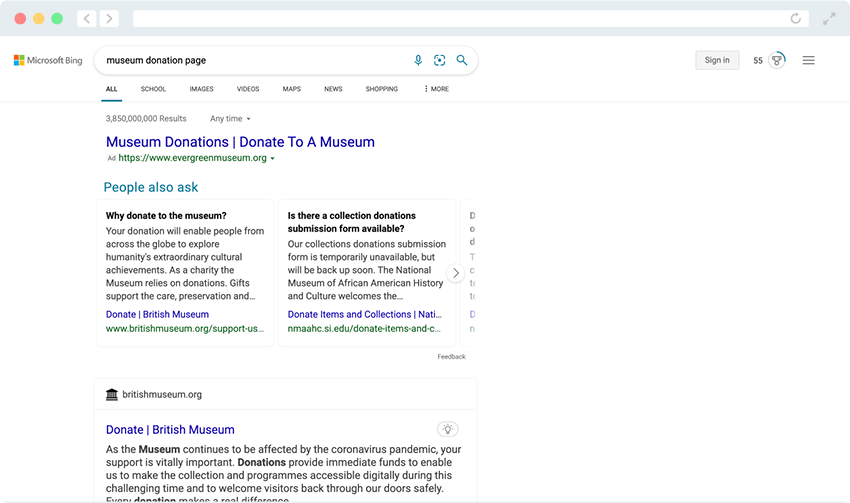 Even though the Microsoft Ad Grant is smaller than the Google Ad Grant, there are benefits of Microsoft's program that set it apart from Google's. When you participate in the Google Ad Grant program, you must create an entirely new ad account. In contrast, if you already have a Microsoft Ads account, Microsoft will add your grant directly to that account. This setup is beneficial because it allows you to keep all of your campaigns in one place as opposed to switching back and forth between two separate accounts.
Since Google has separate accounts for regular Google Ad users and Google Ad Grant program participants, there are stricter requirements for Google Ad Grant accounts. While Google Ad Grant accounts must meet minimum click-through rates and quality scores and a maximum cost-per-click, Microsoft has none of these restrictions. You are free to use your Microsoft Ad Grant how you choose without worrying about meeting certain ad performance criteria.
Now that we've answered exactly what the Microsoft Ad Grant is, it's time to move on to some more in-depth questions about the program.
What Are the Benefits of the Microsoft Ad Grant Program?
You now understand a little more about the Microsoft Ad Grant program, but why should your organization participate? We'll introduce you to the five main benefits of the Ads for Social Impact program.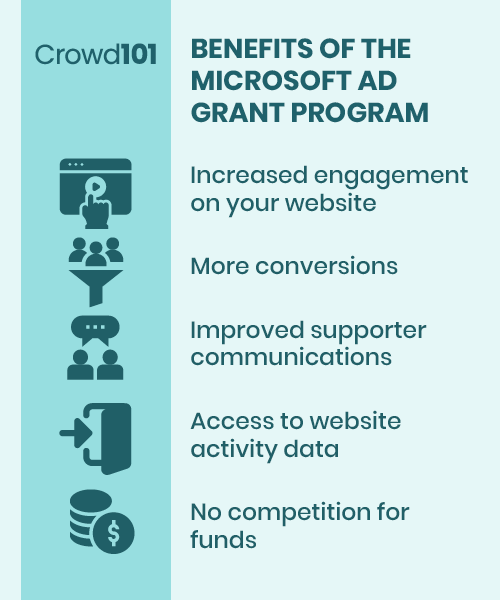 Increased engagement on your website.
Driving traffic to your organization's website is always helpful, but encouraging potential supporters to check out specific pages based on their interests is even more beneficial. With the Microsoft Ad Grant, you can tailor your ads to different potential searches in order to better serve your supporters. For example, for people searching for ways to donate, you can feature your donation page. For those looking to learn more about your organization, perhaps your email subscription page or about section of your website would be appropriate.
When you show people the content they want to see, you're increasing the likelihood that they'll click through to your website and check out your organization.
More conversions.
Contrary to popular belief, conversions are more than just sales or other for-profit activities. Nonprofits also have ways they can track the impact of their campaigns according to their own goals. Examples of online conversions your organization might track include:
Donations
Volunteer signups
Ticket sales
Event registrations
Petition signatures
Email list signups
Just as showing people the content they're interested in can increase engagement on your site, it can also guide people to act on their interests and boost your conversion rate.
Improved supporter communications.
It's important to use a mix of marketing channels, including email, phone calls, direct mail, and social media. However, it's also important not to bombard your supporters with too much direct communication.
Microsoft Ad Grants offer an alternative communication source that allows you to reach your target audience in a more subtle way. By meeting your supporters where they are, you'll have the chance to acquire new supporters and re-engage previous ones.
Access to website activity data.
Microsoft wants you to be able to continuously improve your campaigns. That's why they allow easy access to your website activity data.
With tools such as event tracking, campaign analytics, and traffic insights, you'll be able to learn more about your supporters and how they interact with your website. Then, you can adjust your campaigns accordingly, making data-driven decisions as you go.
No competition for funds.
As a nonprofit, you already rely on donors and supporters to raise the money you need to run properly. With traditional grant programs, you might have to worry even further about how much funding you'll receive and how you stack up to other applicants.
The Microsoft Ad Grants program is different in that it gives each participating organization the same amount of money each month. Knowing you'll receive exactly $3,000 in ad spending each month, you can plan your campaigns ahead of time and allocate your resources accordingly.
What Can My Organization Use Its Microsoft Ad Grant to Accomplish?
As with the start of any new project, it's best to outline your goals ahead of time. In terms of the Microsoft Ad Grant program, determining your goals before you participate will let you optimize your grant. It will also allow you to create more focused campaigns.
To give you an idea of what we're talking about, here are some common goals of organizations in the Ads for Social Impact program: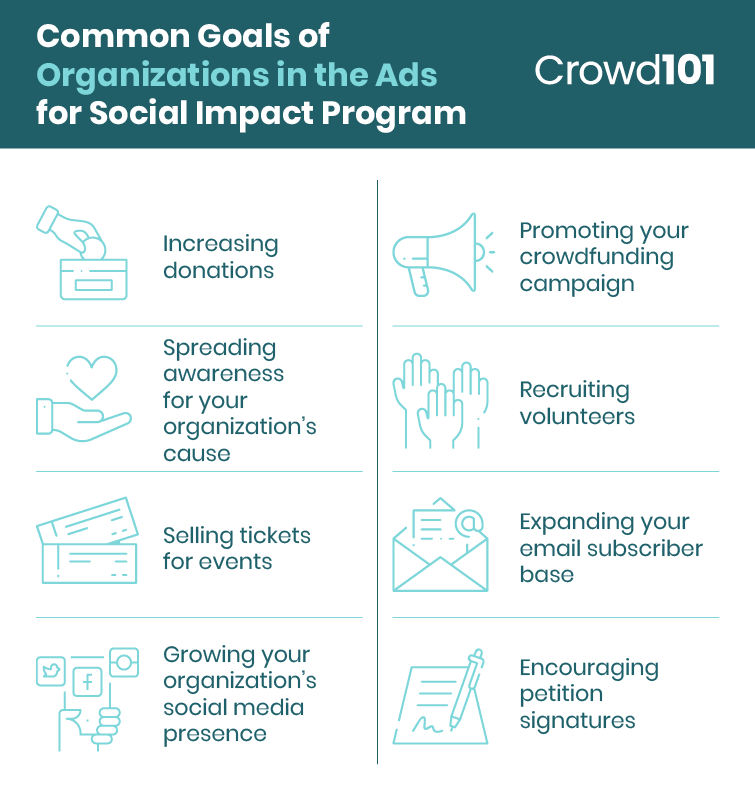 Promoting your crowdfunding campaign
Spreading awareness for your organization's cause
Selling tickets for events
Expanding your email subscriber base
Encouraging petition signatures
With goal-backed campaigns, you'll be better able to track your progress and get the most out of your Microsoft Ad Grant.
Is My Nonprofit Eligible for the Ads for Social Impact Program?
Throughout this article, we've emphasized that eligible organizations will benefit from the Microsoft Ad Grant program, but what exactly does that mean? To start, Microsoft outlines three main eligibility requirements.
The first requirement is that all participating organizations must be legally recognized nonprofits or non-governmental organizations in their respective countries. For example, United States-based nonprofits must register with the IRS to obtain tax-exempt 501(c)(3) status.
Second, Microsoft requires all participating organizations to operate on a not-for-profit basis. They must also serve a specific mission to better their communities. For example, Microsoft states that helping the poor, protecting the environment, and promoting human rights are all acceptable missions.
The final requirement is unique to the Ads for Social Impact program. Microsoft is passionate about inclusivity and treating all parties of interest with respect. As a result, they do not accept organizations into their program that have a policy, history, or mission based on discrimination of any kind.
In addition to the program's three main eligibility requirements, Microsoft also provides a list of automatically ineligible organizations. Examples of ineligible organizations include: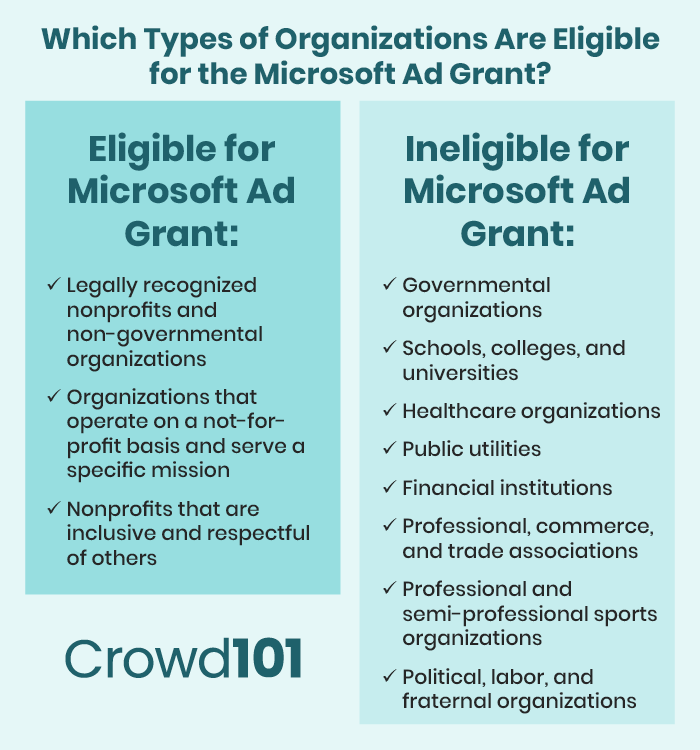 Governmental organizations
Healthcare organizations
Public utilities
Financial institutions
Professional, commerce, and trade associations
Professional and semi-professional sports organizations
Political, labor, and fraternal organizations
For a more comprehensive list of eligibility requirements, check out Microsoft's program eligibility page here.
What Is the Microsoft Ad Grant Application Process Like?
After determining that your organization is eligible, your next step is applying for the program. The Microsoft Ad Grant application has two distinct parts.
To begin, you'll apply for Microsoft for Nonprofits. Microsoft for Nonprofits is Microsoft's overarching program for nonprofit tools and resources. This section of the application contains four simple steps:
Welcome & Policies: In the first step of the application, you'll name your organization's point of contact and review some program policies Microsoft has in place.
Organization Info: Next, you'll fill out some basic organizational information. This includes your nonprofit's name, address, website, phone number, size budget, mission statement, and IRS EIN.
Verify Phone: The third step entails verifying your organization's phone number so Microsoft knows where to reach you.
Create Account: To complete the application, you'll set up a login for your Microsoft for Nonprofits account.
Once you submit your Microsoft for Nonprofits application, Microsoft will review it and get back to you within 24 hours.
If your application is accepted, you will then move on to the second part of the application process: the Microsoft Ad Grant application. For this step, you'll provide additional information about your nonprofit and your point of contact. Within 10 business days, Microsoft will look over your application and notify you of the outcome.
What Are Some Microsoft Ad Grant Best Practices?
While you might be celebrating your acceptance to the Microsoft Ad Grant program, you might also feel overwhelmed. If you've never run a digital ad campaign before, it can be intimidating at first. That's why we've compiled this list of Microsoft Ad Grant campaign best practices.
By keeping these tips in mind, you'll be able to hit the ground running and develop great campaigns from the start. Let's take a look at how you can optimize your Microsoft Ad Grant.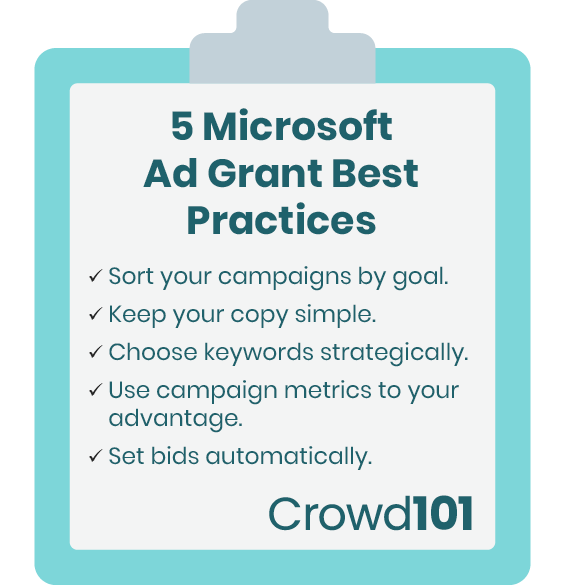 Sort your campaigns by goal.
It's likely that you'll have multiple goals for your time in the Microsoft Ad Grant program. In order to keep track of these goals, try restricting your campaigns to one goal per campaign. That way, you'll stay organized and have an easier time tracking each goal's progress.
For example, two of your goals may be recruiting volunteers and promoting your crowdfunding campaign. By creating a different campaign for each of these goals, you'll stay on top of your campaigns and make it easy for your supporters to find the content they're looking for.
Keep your copy simple.
It can be tempting to describe your organization in a long-winded, eloquent way online. However, the best way to grab potential supporters' attention is to keep it simple. For best results, use short sentences and avoid uncommon acronyms or abbreviations.
Choose keywords strategically.
The keywords you choose will determine how easily your ads are found, so it's important to pick them strategically. In this case, specificity is key. For example, if a museum chooses "art" as a keyword, then their ad might show up with those for other organizations related to art such as art supply stores and art schools. More appropriate keywords for this organization would include "art museum donations" or "volunteering at an art museum."
Use campaign metrics to your advantage.
Microsoft's handy analytics tools are there for a reason. They allow you to collect data on your campaigns, learn more about your supporters, and ultimately improve your campaigns.
Let's walk through an example of how these analytics tools can be useful. Through some keyword analysis, you might find that "art museum donations" doesn't perform as well as "donate to an art museum." In that case, you can remove "art museum donations" from your campaign and divert the funds from that keyword to a more effective one.
Set bids automatically.
When you run a Microsoft Ad campaign, there are likely many other similar organizations that have campaigns with the same keywords. To determine which nonprofit shows up in each search, you will bid for keywords with other organizations.
You can bid on keywords manually, but Microsoft also offers automated bidding strategies. We recommend taking advantage of these because they will save you time that you can devote to campaign development as opposed to management. The bidding strategies Microsoft offers include ones for enhancing your cost-per-click, maximizing clicks, maximizing conversions, and hitting your target cost per acquisition and return on ad spend.
If you keep these five best practices in mind when creating your campaigns, you'll be able to maximize the impact of your Microsoft Ad Grant.
Can Someone Help Me Manage My Microsoft Ad Grant?
Whether you've managed many digital ad campaigns over the years or are new to the practice, you can easily and effectively develop Microsoft Ad Grant campaigns on your own. However, if you feel uncertain or don't have enough team member time to devote to digital ad grant management, there are options out there for you.
Many organizations work with digital marketing agencies to help them with the Microsoft Ad Grant program. By teaming up with ad grant experts, your organization can feel at peace knowing your Microsoft Ad Grant is in good hands. Digital marketing agencies can help you with any step of the grant application or management processes, including: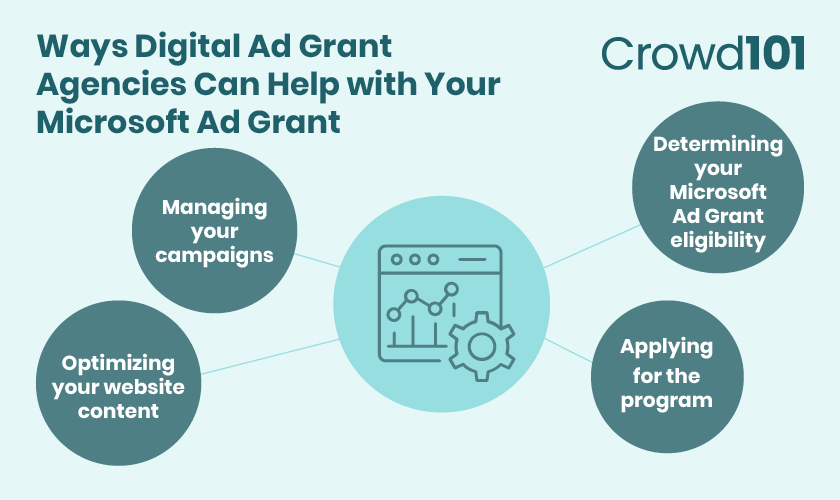 Determining your Microsoft Ad Grants eligibility
Applying for the program
Managing your campaigns
Optimizing your website content
You can rely on a digital marketing agency to help you manage and optimize your Microsoft Ad Grant.
Additional Resources
We hope by now, you've had most, if not all, of your questions about the Microsoft Ad Grant program answered. To sum it all up, the Microsoft Ad Grant is an extremely useful nonprofit tool that boosts your online visibility and launches your organization toward its fundraising and marketing goals.
If you still want to learn more about the Microsoft Ad Grant program, we have several other resources we recommend. Check them out below:
https://www.crowd101.com/wp-content/uploads/2022/11/Microsoft-Ad-Grant_Feature-3.png
300
870
Crowd101
https://www.crowd101.com/wp-content/uploads/2020/09/Crowd101-logo.svg
Crowd101
2022-11-10 13:13:36
2023-01-30 05:43:28
The Microsoft Ad Grant Program: All Your Questions Answered