4 Successful Crowdfunding Examples to Motivate You
If you're interested in starting a crowdfunding campaign, you probably already have a vague sense of what these initiatives entail. Crowdfunding is the process of collecting small donations from a large pool of supporters, typically using a digital donation form and a variety of online marketing strategies to spread the word. 
But to understand these campaigns on a practical level and see what they look like in action, it's helpful to review successful examples. These can help you generate ideas for how you want to design and market your own campaign. 
Here, we've compiled a roundup of inspiring crowdfunding campaigns that engaged the help of dedicated supporters using a powerful purpose. We've pulled these examples from Fundly and Bonfire, two robust crowdfunding platforms that can help you design an engaging, successful campaign. Learn more about these crowdfunding partners before diving into four impactful case studies! 
Crowdfunding Platform Overview: Fundly
Fundly is designed to help individuals and nonprofits create customized, effective crowdfunding campaign pages. Fundly offers plenty of donation page features to make your crowdfunding campaign a success, including:
A video and photo gallery

on every fundraising page to help illustrate your mission and make an emotional connection with donors.

Mobile-friendliness

to ensure your campaign page doesn't have any formatting issues for mobile users.

Social media monitoring tools

to assess how well your crowdfunding posts are performing on social media and dial-up outreach efforts when necessary.

Integrations with email marketing platforms

to easily get the word out to your contact list.

A secure payment processor

to keep donor information safe. 
Fundly even offers a quick-start guide for first-time crowdfunders to make it easy to get your crowdfunding page up and running and set up your marketing campaign. Plus, the platform allows you to create and share your fundraising page for free (although there's a small processing fee involved). 
Crowdfunding Platform Overview: Bonfire
Bonfire is a t-shirt fundraising platform, also available for both individuals and nonprofits. Here's how the platform works:
Fundraisers design their t-shirts and upload them to the Bonfire platform.

Bonfire handles the transactions while the fundraiser takes charge of promoting the t-shirt.

Bonfire ships the shirts directly to supporters.

Fundraisers receive 100% of the campaign profits.
T-shirt fundraisers work because they allow community members to show their support for your cause while providing them with a stylish article of clothing in return. Plus, when your entire supporter base is decked out in matching shirts, you foster a greater sense of community and generate more awareness of your cause. Bonfire takes care of the logistics so you can spend more time connecting with supporters and promoting your campaign. 
4 Effective Crowdfunding Examples
Let's look at a few successful crowdfunding campaigns powered by Fundly and Bonfire. Think about the elements that made each of these campaigns successful and how you can incorporate those features into your crowdfunding campaign. 
Robin Hood NYC
Robin Hood is a nonprofit that fights poverty in New York City. They support low-income families by investing funding into key nonprofits throughout the city. The nonprofits they invest in focus on key issues such as early childhood and youth development, education, jobs and income security, and basic survival needs. 
The organization launched a crowdfunding campaign with Fundly's help to raise donations for their NYC Marathon runner team. 
By creating a crowdfunding campaign page that featured a comprehensive backstory on the organization, complete with inspirational photos, the organization exceeded its fundraising goal. 
The Takeaway:
How can you incorporate the most successful elements of the Robin Hood campaign into your fundraising initiative? Take a look at the suggested donation amounts the organization included on its crowdfunding page: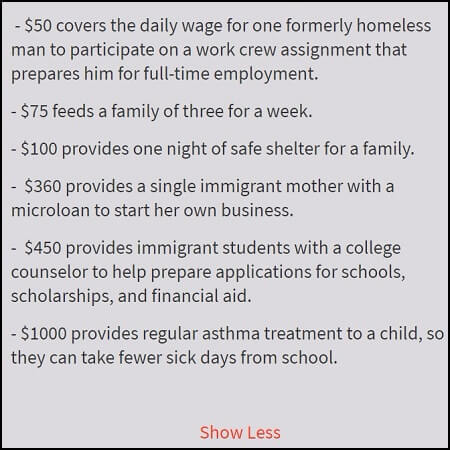 The page gets very specific about the impact of donating at different levels and what each donation can achieve. By incorporating suggested donation amounts and relevant impacts in your crowdfunding page, you can help donors visualize what their support will accomplish in reality. This shows potential supporters that you have a plan for using their donations to the fullest impact. 
Habitat for Humanity Global Village
Habitat for Humanity's Global Village program funds international volunteer trips to build homes abroad. The organization created a Fundly crowdfunding page to expand this program and help more individuals who need shelter around the world. 
The organization's campaign page featured a compelling, succinct lead video and was fully branded to Habitat for Humanity, adding a sense of legitimacy and familiarity.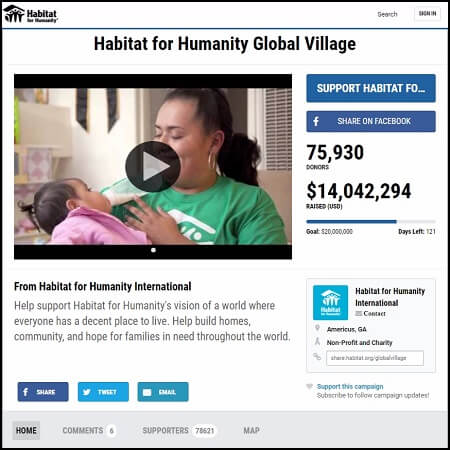 The Takeaway:
Your crowdfunding campaign page should similarly be fully branded to your organization, with your colors, logo, and fonts. This helps donors feel more comfortable giving since they know the funds are actually going to your cause. Plus, it can generate more brand awareness for your organization, providing a strong first impression for new donors. 
Takis Shelter
Takis Shelter is an animal rescue organization located on the Greek island of Crete. The nonprofit's primary goal is to care for the stray cats and dogs of the island, providing spay and neuter services, pet adoptions with no adoption fees, and care for the animals until they can find furever homes. 
Caring for over 400 cats and dogs doesn't come cheap, so Takis Shelter had to find a way to bring in a large influx of donations. They decided to run a t-shirt fundraiser using Bonfire to help pay for expenses related to spay and neuter surgeries for local low-income pet owners. 
They designed a shirt featuring one of their beloved rescues and the donations started pouring in. Takis Shelter raised $124,337, allowing them to spay/neuter 411 dogs and 260 cats.
The Takeaway: 
So, what can you take away from the success of this Takis Shelter fundraiser? As you can see from their crowdfunding page, Takis Shelter took the time to fully explain the history and purpose of their organization and provide links to learn more about their cause: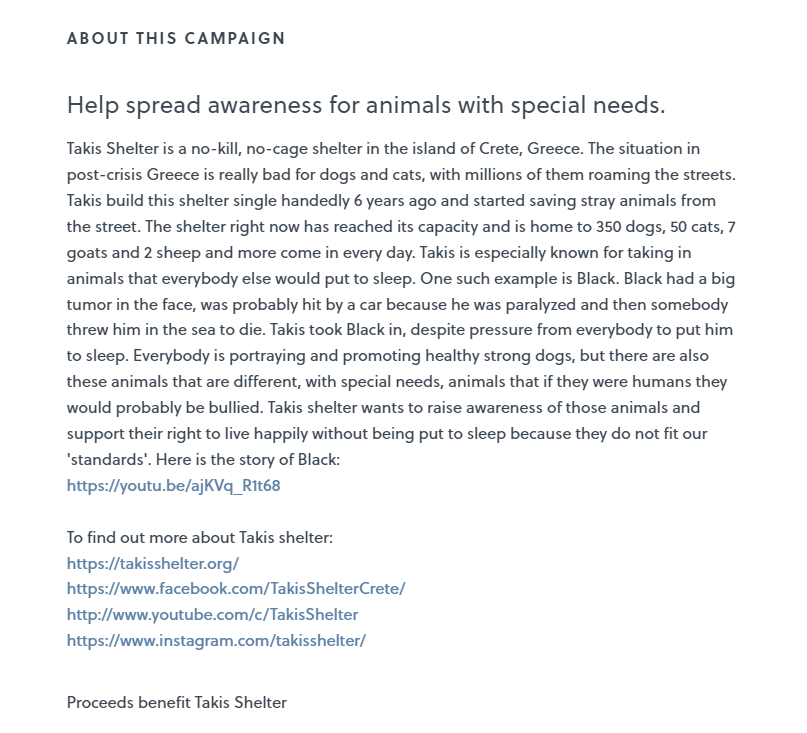 Even if prospective supporters didn't know anything about the cause, they could review this information, fully understand why the shelter is raising money, and decide whether to purchase a t-shirt to show their support. 
No matter what type of crowdfunding campaign you're planning, you'll want to make sure that your donation page tells your story and connects donations to real impact.
National Forest Foundation
The National Forest Foundation is a conservation organization dedicated to preserving America's national forests. The organization raises funds to expand funding for carbon and water projects to help mitigate climate change. 
They partnered with Bonfire to create a t-shirt celebrating National Forest Week and raise funding. The campaign raised $19,978 with the help of 1,548 supporters. 
The Takeaway:
The National Forest Foundation didn't just include a concise, illustrative description of their fundraising campaign on their Bonfire page. They also encouraged supporters to post a photo wearing their shirt with the hashtag #NationalForestWeek: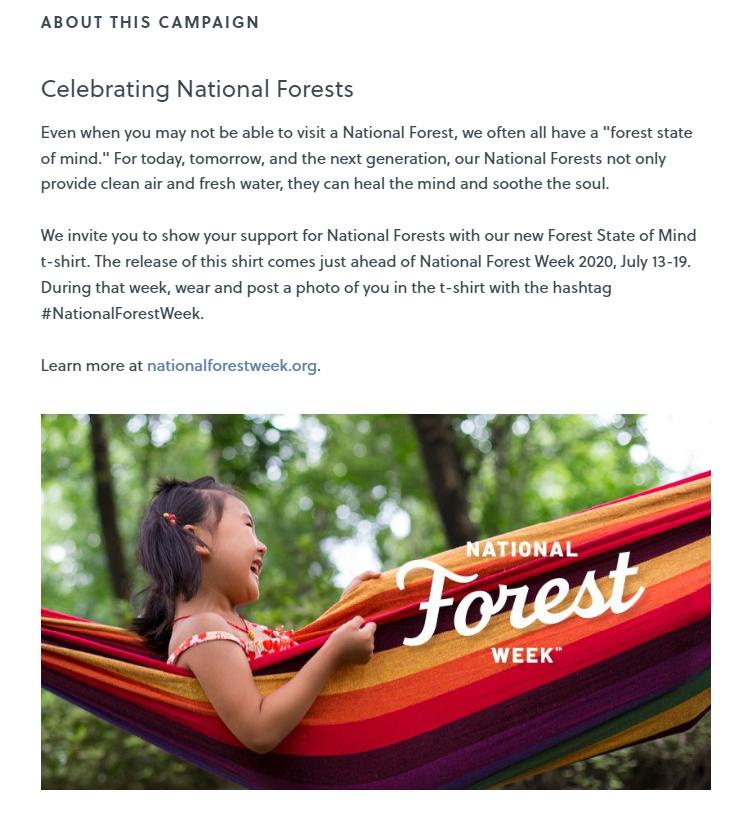 By encouraging supporters to promote their shirts online, they spread awareness of their campaign and empowered their supporters to act as influencers for their cause. 
Think about how you can integrate social media into your campaign to make it more engaging beyond just a single donation or purchase. What unique social media challenge or hashtag can you launch? The more fun and visible your crowdfunding campaign is, the more donations you'll be able to raise! 
5 Steps to Start Your Own Crowdfunding Campaign
Feeling inspired to kickstart your own crowdfunding campaign after reviewing these examples? Follow five simple steps to launch a successful campaign: 
Select a campaign style.

Determine which campaign style will work best for your cause—a donation page, a merchandise campaign, or a combination of the two. To help make the choice, think about your audience—would they be interested in having a t-shirt to show their support for your cause? Would a compelling donation page, complete with a captivating video, help encourage them to give? Choosing a campaign style that appeals to your audience makes it much easier for them to decide whether to get involved. 
Choose the right

crowdfunding platform

.

Your crowdfunding platform should support you in creating an engaging, wide-reaching campaign with a variety of features. These include the ability to create streamlined donation pages or upload and promote your stylish t-shirt. Review

Double the Donation's comparison of top crowdfunding websites

to help find the right platform. The guide recommends comparing platforms based on the campaign types they support, pricing, and features. 
Use a multichannel promotion strategy.

With a crowdfunding campaign, social media will be your greatest promotional tool. You can get the word out to a large group of potential supporters by consistently posting on apps like Facebook, Twitter, and Instagram. Other online platforms, such as your email marketing platform and website, will also come in handy. Create blog posts highlighting your campaign's purpose and progress, and share your donation page link in your email newsletters. 
Share your story effectively.

If your marketing campaign is wide-reaching, your crowdfunding page will reach current and new supporters alike. Not everyone will be familiar with your organization and its mission, so make sure your page describes why you're raising money and how you'll use it. Create an emotional connection with potential donors by highlighting a specific community member who's benefited from your services. Include compelling images and videos on the page to give a face to your mission. 

Thank donors and advocates.

Your crowdfunding campaign isn't over once the last donation comes in and you reach the final day of your fundraising period. Finish your campaign by following up with all donors. Thank them for their support and update them on the fundraising total. Personalize these messages by addressing them with supporters' names and referencing their specific giving amounts. 
That's it! By incorporating these tips, along with the takeaways above, you should be able to create an impactful crowdfunding campaign that reaches its goals and helps further your mission. 
---
Crowdfunding is a perennially popular fundraising idea that can rally your existing supporters to your aid and recruit new donors to your cause. With the help of powerful platforms like Fundly and Bonfire, you can create a successful campaign of your own and get your donation page up and running in no time.