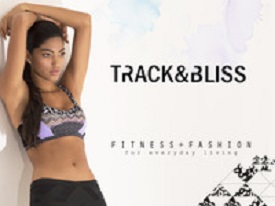 Crowdfunding a Fashion Project, a Campaign Review
Luciana Scarabello of NBC's Fashion Star shows you how crowdfunding a fashion project can help achieve your dreams
Here on the Crowd101 blog, we love to hear from crowdfunding campaigns about how they are using the new movement to fund their dreams. If you're thinking about launching a crowdfunding campaign, you'll never find better advice that from the people that are making it work. It's a great opportunity to learn from their success and their mistakes.
Looking for more advice from actual crowdfunding experience? Check out these 11 crowdfunders that share their experience crowdfunding church fundraising ideas or these that talk about their school fundraising ideas. Between the two posts, they're raising nearly $1 million dollars for their fundraising ideas.

Use the comment section below to add your own tips and tricks for crowdfunding.
Luciana Scarabello of NBC's Fashion Star merges fitness and fashion to create a new stylish activewear line with her Track and Bliss campaign. Through her campaign, she's preselling items from the Spring 2015 collection at a discounted price to raise money for Track & Bliss's first production.
I've included my own comments in italics so as not to be confused with Luciana's.
First, tell us a little about yourself.
I was born in Buenos Aires, Argentina and have always been passionate about clothes and fashion. As part of a family tradition, at an early age I learnt sewing techniques and garment construction from my grandmother and mother. In 2000 I moved to the United States with my family and attended Suffolk University in Boston, where I earned a Bachelor's Degree in Marketing and Management. After completing this stage of my education, I moved to New York where I obtained an Associate Degree in Fashion Merchandising from Parsons School of Design. While attending college I interned for different fashion houses including Ann Taylor and Armani Exchange.
In 2006 I launched Scarabello, a modern contemporary brand featuring chic, edgy clothes inspired by trendy and modern women. The company successfully grew throughout the years increasing our customer base to 100 stores. In 2011 I participated in a fashion competition called Fashion Star that aired nationally in 2012 on the NBC network. Featuring host and executive producer Elle Macpherson along with celebrity mentors Jessica Simpson, Nicole Richie and John Varvatos, the series gave 14 designers the chance to win a multi-million dollar prize to launch their collections in three of America's largest retailers.
Fashion Star provided me with an excellent platform to promote myself at a national level due to high mass media attention, and the opportunity to sell to the most prestigious retailers: Saks Fifth Avenue, Macy's and H&M. Through-out the competition I was able to successfully sell my garments for a retail value of $380,000 to all three retailers.
What did you do before starting the crowdfunding campaign to get ready? Can you take us through your process?
The whole process of creating the campaign page before launching took about a month. It was a long process getting the video shot, setting up the pictures, coming up with the rewards and phrasing the message correctly that you want to transmit. It always felt like the page wasn't ready and I just kept moving things around. At one point I just had to let go and launch it!
Luciana brings up a big hurdle for a lot of entrepreneurs, called analysis paralysis. The idea is that you want everything to be so perfect that it never meets your standards and never gets off the ground. Sometimes you have to just say, "Let's get this done."
Luciana definitely has the background to make her clothing line a success. She may have missed a pretty big opportunity in not promoting her campaign through pre-launch crowdfunding events and crowdfunding marketing though. Making your campaign video and profile superb will not ensure that people come to your page and become a part of your community. There are almost 6,500 projects on Kickstarter right now. Really reaching out to your closest network to create buzz for the campaign before the launch will go a long way to bringing people to your side.
The campaign still has time to hold a few live events and get some media attention and it sounds like Luciana has some great connections through past experience. Hosting even a low-budget fashion show to highlight the 2015 line could go a long way to promoting the campaign.
What has surprised you most about running a crowdfunding campaign?
What surprised me the most about running a crowdfunding campaign is the amount of time you have to invest in it. It's a full time job!
Definitely one of the things that surprises people the most about crowdfunding. Don't think that posting a campaign on one of the platforms is enough. A lot of people mistakenly think that there is already a 'crowd' in crowdfunding so their campaign will have no problem attracting backers. You still have to market your crowdfunding campaign just as much as you would a normal business and that can be a lot of work. At lot of the ways to market your campaign and reach people on a personal level were posted in a previous article on crowdfunding campaigns.
How many hours a week do you spend crowdfunding?
Since launching my campaign I can say I spend 8 hour a day working on it. Whether it is reaching out to reporters, sending messages through social media or going to meet people and show them the samples and talk about my campaign.

How much have you spent on your crowd fund campaign?
Since the whole point of doing this campaign is to raise money I haven't spent much on the campaign. My father shot and edited the video, my sister modeled the clothing and I put everything together. I would have hired people to work on my page and it probably would have ended up looking more professional but since there is no guarantee when you launch your campaign that you will raise the money I didn't want to risk loosing money in the end!
Luciana hits on a key point here but you might not have caught it. Don't think of your supporters as just monetary donors. Most likely, you've got upwards of hundreds of people that see your campaign every day. Many of these people may not be ready to support the project financially but they might be able to offer key skills like video production, writing, accounting and marketing. Reach out personally to everyone that emails you about your campaign and make them a part of your community.

Have you paid for any crowdfunding promotion services?
I haven't paid for crowdfunding consulting services so far but I recently hired a PR company that will issue a press release and release it next week to the media. I will let you know if it was worth it next week!
What is the biggest mistake you've made so far in crowdfunding?
Taking it personally. I have felt very sad when close friends of mine where not supportive and haven't done any effort to spread the message. I had to change my mentality and focus on the people that have been supporting me and be very thankful for that.
Another mistake I made at the beginning was assuming that everybody understood how Kickstarter works. I realized that some people though I was sending them an article, others assumed I was asking for donations. You have to really be clear about how Kickstarter works and still walk a lot of people through the process!
Disappointment in initial support is a big one for Kickstarter crowdfunding campaigns. I think a lot of people see huge numbers of visitors on the site and read about other successful campaigns and just assume that people will be drawn to their dream. This is where pre-launch campaigning is vital. Your closest friends may not be able to support you financially but they will be the first to give you honest feedback on your pitch and your project.
The line of clothes on Luciana's campaign look great and she has a ton of experience in fashion but I don't think she's done enough to reach people on an emotional level.
The campaign page talks a lot about Luciana and the clothes but not about what they mean to people wearing them. People can be very self-conscious about how they look, especially when exercising. Tell people how they will feel in the workout line, how looking great can be a great motivator to get out and exercise. Talk about how the there is more to workout clothes than a t-shirt and shorts and how you'll feel the difference in this line.
What do you think is the thing you've done really well so far?
I am willing to go the extra mile! For example if there is someone within my network that says they are going to pledge but haven't I turn it into a mission. I will meet up with them show them some samples, tell them the whole story and bring my ipad with me so hopefully they can pledge when I'm there and I can work them through the process.
Luciana is definitely putting in the time necessary to make her crowdfunding campaign a success.
What 3 resources or crowdfunding tools should every campaign have?
Video, video and video. It was very tedious to shoot the video and then editing to the best of our ability but people want to hear your story and they want to see who is the face behind this campaign.
You absolutely MUST be in your video. Not all of us are as photogenic as Luciana but showing visitors that you are a real person with real dreams is the first step to bringing them into your community. It's probably the most over-cited statistic on the blog but Yancey Strickler, cofounder of Kickstarter, reports that projects with videos have had a success rate of 54% while those without a video have only been successfully funded 39% of the time. As more people realize this and post a video on their campaigns, it won't be enough to just have a video but you'll have to make an awesome video to set it apart.
I want to thank Luciana and wish her all the best for her campaign. The clothing line looks great and I've no doubt that she'll raise the funds for her 2015 line. Please let us know how it turns out. Thank you, the reader, as well. Please bookmark the blog page and share this article with friends if you found it useful.
https://www.crowd101.com/wp-content/uploads/2014/12/crowdfunding-a-fashion-project.jpg
206
275
Joseph Hogue
https://www.crowd101.com/wp-content/uploads/2020/09/Crowd101-logo.svg
Joseph Hogue
2014-12-10 09:05:11
2014-12-10 09:05:11
Crowdfunding a Fashion Project, a Campaign Review