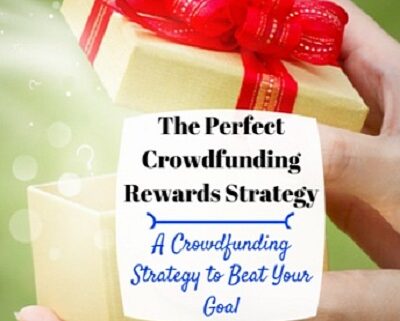 The Perfect Crowdfunding Rewards Strategy to Beat Your Goal
The idea of giving away crowdfunding rewards to reach your crowdfunding goal is misleading. Follow this crowdfunding rewards strategy for your small business success.
Don't let the misconceptions about crowdfunding rewards keep you from using crowdfunding for all its benefits. The fact is that a smart set of rewards is key to meeting your funding target and a host of other advantages.
In fact, using a system of stretch rewards and goals can help you virtually guarantee you get funded and can help to blow away your initial target. You'll also get free marketing and turn your regular customers into cheerleaders of your brand. In this post, I'll show you how one game-maker regularly beats its funding goal by more than 300%!
Crowdfunding Rewards Basics
Crowdfunding rewards are not really rewards in the sense that you are giving something away in a contest. Crowdfunding rewards are more like products, services and special recognition you sell in exchange for people contributing to your campaign.
Many backers on crowdfunding platforms are there looking for innovative products and gear. Too them, it's great that they can support a small business and help you meet your goal but the crowdfunding rewards are the real kicker.
If you think of your crowdfunding campaign as an online extension of your business, an e-store, then your crowdfunding rewards are simply different products and services you're selling.
Setting up a system of reward levels, where the lowest level begins around $1 or $10 and the highest level reaches into the thousands, helps to incentivize people of all economic means and passion for your project. Crowdfunding rewards at the lower levels are going to be trivial items like a thank you, a t-shirt or a digital copy of your work. Making the reward levels cumulative, meaning that each level earns the previous rewards as well, can help incentivize people to contribute to one higher level than they might otherwise.
[linkad]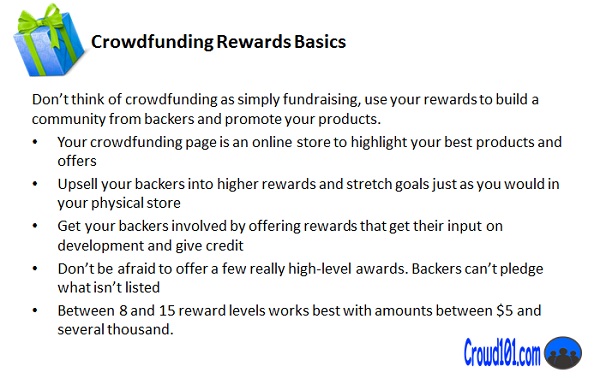 In a study of more than 200 campaigns, I found campaigns with as few as three rewards and as many as 20 crowdfunding reward levels. Three is way too few reward levels but you also don't need as many as twenty initial reward levels. The average across all the campaigns was 12 reward levels with a median of nine crowdfunding rewards.
The more creative you can get with your crowdfunding rewards, the more you will interest random visitors to your campaign page. We'll get to some of the more creative ideas in the next section but a good general rule on crowdfunding rewards is:
Contributions of $10 or less will get a personalized thank you by email or snail mail. You may also include them in the credits for a video production.
Contributions of between $10 and $25 may get a digital version of the work or an invitation to a special event.
Contributions of between $25 and $50 may get a VIP invitation to your event, printed and digital versions of the work or special signed memorabilia.
Contributions of $100 or more might get special recognition on the work, multiple copies of the work to use as gifts or even an interview or lunch with the campaign owner or cast.
I've seen a lot of crowdfunding reward levels starting at $10 recently, whereas the $1 level was typical in prior years. Starting your rewards at a higher level is tempting but $10 may be a little high for some casual backers, especially for a minor thank you reward. I usually recommend starting crowdfunding reward levels at $5 and work up from there. Of course, the rewards you offer and the level of contribution for each reward will work into your budgeting so check out our post on budgeting and Shaping a Successful Crowdfunding Idea.
One resource for your crowdfunding rewards strategy is Anypromo.com
, a rewards and fulfillment site that specializes in promotional products. You can put your brand on everything from shirts and pens to furniture and electronics. The site offers a 110% price match guarantee on orders and special discounts for bulk ordering.
Don't forget that your crowdfunding campaign is just as much a community building tool as it is anything. Use crowdfunding rewards that bring customers into development and give them recognition as a way to build customer loyalty.
Getting Creative with Crowdfunding Rewards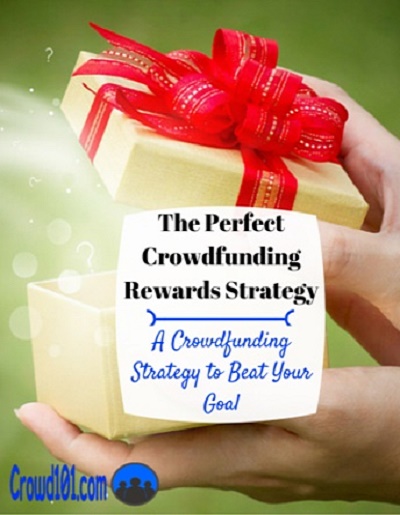 Crowdfunding social causes lends itself well to creative and emotional rewards. Your goal throughout the campaign page will be to strike an emotional tone and make people passionate about the cause. This will allow you to make your crowdfunding rewards less costly, emotional-type branding, something that the backer can wear or use to say, "I'm important to this cause."
For these emotional-type crowdfunding rewards; t-shirts, buttons and digital buttons work well. For digital buttons, make sure you show contributors how to post them in their email signatures.
For other campaigns, your crowdfunding rewards will really help drive contributions. If backers see that you're getting something out of the campaign, like funding a product or project, they are going to want something as well.
The lower-level crowdfunding rewards will still be fairly basic for these campaigns but you need to get creative to draw higher-level contributions. Some great ideas I've seen:
Grant naming rights to characters in your story or production to backers
Signed memorabilia by cast or writers, especially if the memorabilia is limited
Big money contributors may get parts as extras in the production or a character written after them
Extra features on a product or a personalized service level
A Crowdfunding Rewards Strategy to Blow Away your Funding Goal
We've already touched on your basic reward strategy and some ideas for creative rewards. You're just a few ideas from really beating your crowdfunding goal.
Limited time or quantity crowdfunding rewards are a good way to build on that sense of urgency within crowdfunding. The most often used of these is limited quantity rewards, giving backers an early-bird offer to get some of the most sought after rewards. Limited-time rewards work best after you've built out a list of backers and community so you can email out the offer.
Add-on crowdfunding rewards is an upsell idea you can pitch to current backers and can be a great way towards the end of the campaign to get that last bit of funding to put you over your goal. The idea is that you contact your current backer list or even your outreach list and offer an add-on reward for backers of a certain reward level. The idea works best if it is for a limited time as well.
While it may not necessarily be a reward, promoting a limited-time backer pledge is a powerful way to reinvigorate your campaign. You first need to find a few backers or a new donor that is willing to offer a special reward or match pledge for a limited time. You then promote the match pledge or reward out through current backers and through social networks – Today only! 100% Matching on all Pledges!
My favorite crowdfunding rewards strategy is the stretch goal. The idea is that you set an initial funding goal that is well within reach but will still allow you to develop your product or idea, then make a set of progressively higher funding goals that will allow you to do extra things for your idea.
Game-maker Cryptozoic Entertainment has worked stretch goals perfectly and raised more than seven-times and three-times their goal in two Kickstarter crowdfunding campaigns. Each stretch funding goal is well within reach of the previous one and includes a special incentive like a new character piece or feature to the game. Read through the updates of the game-maker's campaign and you'll see how they really build excitement for backers to reach that next funding goal. A story is built around each level and the campaign reaches out through social media and the community to build excitement.
Crowdfunding rewards do not have to be expensive or a distraction to your campaign. Besides offering a lot of incentive to backers, they can really help to add features to your product or project. Building out a smart crowdfunding rewards strategy will help you blow your crowdfunding goal out of the water and keep momentum going in your campaign.
https://www.crowd101.com/wp-content/uploads/2015/03/crowdfunding-rewards-strategy1.jpg
515
400
Joseph Hogue
https://www.crowd101.com/wp-content/uploads/2020/09/Crowd101-logo.svg
Joseph Hogue
2015-11-12 09:30:59
2015-11-12 09:30:59
The Perfect Crowdfunding Rewards Strategy to Beat Your Goal