Understanding the fees and unique features on crowdfunding sites and fundraising websites can help you choose between the hundreds of options.
While almost all the media attention for crowdfunding sites goes to mega platforms like Kickstarter and Indiegogo, there are hundreds of other crowdfunding and fundraising websites to meet your campaign goal. Understanding the fees and unique features at each will help you take full advantage of the boom in alternative funding.
You see, there's so much more to successful crowdfunding than hopping on a site with lots of traffic. It's about finding that crowd that is going to be interested in supporting your project.
I've updated this list of 18 crowdfunding platforms and fundraising websites with a list of sites and crowdfunding resources to help you raise money online. Besides fees and the types of projects allowed on these crowdfunding sites, pay attention to which categories seem to do the best on the site and which resource tools you can use to make your campaign go smoothly.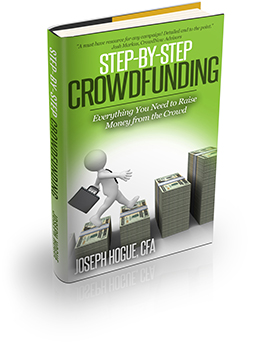 If a fundraising site has a forum or some type of community, spend some time to see if it leans toward any particular category or demographic. This will give you an idea of the kind of audience you can expect from the site and how appropriate it is for your campaign.
Don't become another crowdfunding statistic. Get everything you need to raise money in the crowd with Step-by-Step Crowdfunding. An Amazon best seller in the crowdfunding and non-profits categories with almost 1,800 copies sold.
Get your copy of Step-by-Step Crowdfunding and learn what it takes for crowdfunding success!
I have included a rough classification of the best crowdfunding sites and fundraising websites at the bottom of the post. It's not an exact classification but might help you decide which crowdfunding website or fundraising site is best for your needs.
Please use the comments section at the end of the article to add any crowdfunding platforms or fundraising websites that didn't get listed.
Crowdfunding and Fundraising Websites
I'm going to start off the list with a few crowdfunding websites specifically for non-profit and social crowdfunding. Make sure you scroll down through the list though and check out other sites. Each has specific types of campaigns for which it is best suited.
This idea of finding the best crowdfunding website for your campaign is important but overlooked by a lot of people. It's not just about whether a site has a lot of monthly traffic but whether that traffic is going to be interested in your campaign.
Fundly is a crowdfunding website that's helped raise over $330 million. Designed specifically for individuals and nonprofits, Fundly's simple crowdfunding model allows campaign creators to instantly build a custom donation page and accept donations directly from supporters.
Fundly, launched in 2009, was one of the first crowdfunding websites and has helped pioneer the industry. From easily customized fundraising pages which help you tell your story with images and videos to multiple social media integrations which help you promote your cause, Fundly is designed to help you raise funds quickly.  And Fundly is not an all-or-nothing service so you don't have to hit a specific goal in order to receive the donated funds.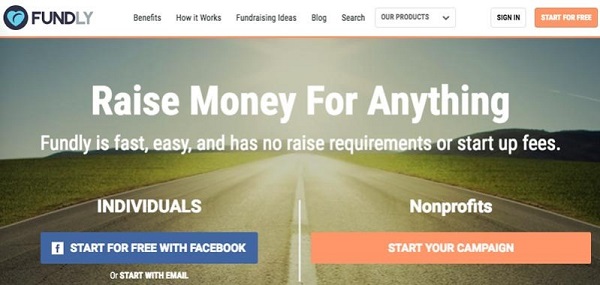 Products: Fundly offers two crowdfunding products:
Fundly, which provides individuals with an easy way to raise money for any cause they care about or need to raise funds for.
FundlyPro, which provides nonprofits with robust tools to run a successful crowdfunding / peer-to-peer fundraiser for their organization.
Fees:
It's free to start a campaign with Fundly. You only incur a fee if you successfully raise money, in which case Fundly charges a 4.9% platform fee in addition to the standard credit card processing fee of 2.9% + $0.30 per transaction. The platform fees also go down if you run a big fundraiser.
YouCaring offers crowdfunding for personal and charitable causes and charges no fee to fundraising organizations. That could make a huge difference compared to the 5% fee charged on the GoFundMe platform. For example, you would lose $250 in fees on a GoFundMe campaign versus no fees charged on YouCaring.
The site specifically offers categories of Medical and healthcare costs, Memorial & funeral costs, Education & tuition fundraising, Family & adoption costs, Faith-based service projects, Pet & animal expenses, Community or Cause.
YouCaring does not permit fundraising for legal defense, litigation, bail bonds or other legal matters.
Fees:
YouCaring does not charge admin or service fees though donors are given the option to donate to the website to support operations. PayPal and WePay offer third-party payment processing and charge 2.9% plus $0.30 per transaction.
One hurdle that stops a lot of great campaigns from getting started is lack of funds to pay for the work that needs to be done pre-launching and building a community around a project. You need a minimum of three months building support for your campaign or a few people helping to drive the campaign once you get started.
Every campaign I've managed and everyone I've helped on has spent at least a few hundred dollars before the campaign began to make sure the fundraising campaign was a success. On average, I've seen a 10-to-1 return on the money spent building that initial momentum.
I know it sucks to spend money before you start making money on your crowdfunding campaign but it's a step you shouldn't avoid. Even a small budget for that initial pre-launch marketing and to hire a few people to help out can mean the difference between raising hundreds or thousands for your project.
For a lot of campaigns, this means getting a startup loan or personal loan of a few thousand. I've used PersonalLoans.com to consolidate debt as well as for startup funding for a crowd project. For more details on using a personal loan for crowdfunding, check out this comparison post for loans versus crowdfunding.
Check your rate on a startup loan for up to $35,000 – won't affect your credit score
The largest crowdfunding site with more than 13 million visitors every month, Kickstarter hosts crowdfunding campaigns from comics and crafts to technology and Theater. The site does not allow campaigns for social causes so you'll need a product or event to promote.
The platform has helped nearly 80,000 projects get funded with a strong community of repeat backers. Nearly 300,000 people on Kickstarter have backed 10 projects or more. About the biggest drawback for Kickstarter is that it only offers the all-or-nothing funding model which means that if you do not reach your funding target, you get none of the funds pledged.
Fees:
Kickstarter collects a 5% fee for successfully funded projects. Payments are processed by Stripe which charges between 3% and 5% of the amount.
Similar to Kickstarter, except that here, you can raise funds for any project (so long as it's legal), including donations for charity. This opens the crowdfunding site up to campaigns for personal finances, medical needs and just about anything. Kickstarter has gotten better about supporting international campaigns but I still hear from some campaigns that they prefer Indiegogo for raising money from international sources.
The flexibility and ease of international crowdfunding on Indiegogo has helped its popularity and campaign success is slightly higher at 44% compared to Kickstarter. The site receives upwards of nine million visitors per month.
Fees:
Under the flexible funding model, Indiegogo charges a 9% fee on the funds raised. If you reach your goal, you get 5.0% back, for an overall fee of 4%. Fees for the all-or-nothing model are a flat 4% of contributions. PayPal or credit card processing is available with fees ranging between 3% and 5% of the amount.
Indiegogo offers a 25% discount on their platform fees for any campaign raising funds for a nonprofit institution with a 501(c)(3) registration in the United States. Contributions for these campaigns are tax-deductible.
AngelList is not necessarily a crowdfunding website but a platform for startups to meet investors, candidates and incubators. In the past, angel investing was one of the best forms of funding for startup companies, similar to venture capital, and was typically the first round of funding after friends and family. Angellist is an equity crowdfunding site where companies offer an ownership stake in exchange for funding. Click through to this post for more about how to find angel investors and raise money for your small business.
Syndicates – An angel or fund forms a syndicate, picking which investments it likes and wants to support. Private investors then support the syndicate to invest indirectly or directly in the separate projects.
Cost:
For Startups – No fees to receive an investment from a syndicate
For Backers – 5-20% carried interest per deal to the syndicated lead and 5% carried interest to AngelList
Out-of-pocket setup costs for each investment: $8K in the US and £8,300 in the UK
Self-syndication – Allows accredited investors the opportunity to make direct investment in individual campaigns.
Cost: Investors pay a 10% carried interest to AngelList and a fixed setup cost.
Appbackr is one of the two popular crowdfunding websites for applications development. It aims to index the world's apps, helping developers raise funding and to build attention around their apps and app ideas.
Developers can sign up and post their apps, whether they are still in development or currently for sale in a mobile app store. Backrs purchase wholesale copies on appbackr and makes a 26% profit when he backs an app. If the app is already available, funds are immediately transferred to the developer's PayPal account. If the app is pre-launch, the funds will be available when the app is ready to be released.
As the app sells, appbackr counts the number of sales and pays the developer and the backrs when the mobile app store distributes the money.
Products
AppBakr has three main products
Appscore, which provides incentives and rewards to developers based on a ratio between the appscore and its current market performance;
Xchange, which provides a platform to developers to receive offers from stores and platforms to port their apps; and
Marketplace, which has helped developers to crowdfund $1 Million to develop and market their new apps.
While it's not necessarily a crowdfunding platform, Como.com is a great tool for app publishing and can be used with some of app crowdfunding platforms. After you've raised money developing your app, you'll want to launch it to a larger audience with some of the features on Como.com like scratch cards and in-app coupons.
RocketHub is one of the more popular crowdfunding sites after Kickstarter and Indiegogo and has a great support system with the crowdfunding site's Success School series. The platform offers the flexible funding model where you keep any pledges made whether you meet the funding goal or not.
RocketHub has partnered with A&E Project Startup for a huge potential boost to campaigns. Campaign owners have the chance to be featured on television and on the A&E website, as well as featured in the channel's bi-annual magazine.
Fees:
If you reach your goal, 4% commission fee + 4% credit card handling fee. Fees for flexible funding if you don't reach your goal are higher at 8% plus the 4% processing fee.
CrowdRise allows you to create a fundraiser online for your favorite cause. The fundraising website runs on the flexible funding model where you keep all pledged donations. The site is one of the largest for social cause crowdfunding and used by some of the largest non-profits including the Red Cross, UNICEF and the Boston Marathon. Crowdrise offers a unique point system that helps track the impact charities are making through their reporting numbers.
CrowdRise offers three pricing plans for crowdfuding:
The Basic Plan has no annual fee but charges 5% plus credit card fees of 2.9% + $0.30 for each transaction
The Featured Plan includes a $49 per month fee but reduces the donation fee to 4% plus credit card fees.
The Royale Plan charges $199 per month but lowers the donation fee to 3% plus credit card fees.
Fundable is one of the few crowdfunding platforms to offer both equity crowdfunding and rewards-based crowdfunding. One of the most interesting features on Fundable is that it charges no fee associated with how much your campaign raises, i.e. the 5% fee on Kickstarter. This means you keep any money pledged and makes the site more attractive to those looking to raise a large amount.
Two ways to Fundraise – Equity-based Fundraising and Rewards-based Fundraising.
Pricing and Fees:
Fundable charges $179 per month plus a merchant processing fee of 3.5% + $0.30 per transaction for rewards-based crowdfunding.
The site charges $179 per month for equity crowdfunding campaigns.
SeedInvest is a platform that enables equity-based crowdfunding by accredited investors in startups. Crowdfunding campaigns must reach their funding goal to receive any funds. Companies should expect to take a minimum of 60 – 90 days to complete equity crowdfunding.
The crowdfunding site charges no investor fees and allows you to invest alongside with institutional investors.
Costs:
5% placement fee, to be charged on the value of the fundraising upon successful completion.
Between $3,000 and $5,000 in due diligence, escrow, marketing and legal expense reimbursements.
WeFunder is another equity crowdfunding site but offers lower minimums for investment. You still have to be an accredited investor but can invest as little as $100 for an individual company.
Startups receive most of the funds committed, minus an admin fee. Investors also pay a $10-$75 admin fee on top of their investment.
Fees:
WeFunder charges 10% carried interest, and a nominal admin fee between $2,000 to $4,000 upon the successful close of the funding.
CrowdCube is a U.K. crowdfunding website backed by Balderton Capital and more than 400 private investors who have collectively invested more than £1.8M across multiple rounds of funding. You can find investment opportunities in a variety of industries or raise funds for your business. Currently, they only support British businesses.
Equity – Raise investment in exchange for an equity stake in your business.
Mini-bonds – Give the crowd the opportunity to lend you expansion capital and share in your growth.
Fees:
Success fee – 5% (VAT Exempt) of total funds processed
Administration – £1,250 (ex. VAT)
Corporate services – £1,250 (ex. VAT)
Payment Processing Fees: 2.4% of the funds processed + £0.20 per transaction
GoFundMe is one of the most popular fundraising websites for personal fundraising causes. The platform offers a little more personalization in campaigns and three models for fundraising: personal campaigns, charity fundraising and all-or-nothing campaigns.
Under the personal campaign model, you set up your campaign and request donations. This is a good option for those looking to fund medical expenses, memorials, and travel because you don't have to offer rewards. For personal campaigns, you do not have to set a deadline or funding goal.
The charity model allows you to choose one of the non-profit organizations listed on the site and promote it through your social network. Crowdfunding promotion is one of the toughest parts of crowdfunding so it's nice to have another option.
The all-or-nothing campaign model is similar to Kickstarter where you create a crowdfunding campaign and offer rewards for backer contributions.
In the United States, GoFundMe deducts a 5% fee plus a processing fee of about 3% and $0.30 from each donation you receive. International fees range from 6.9% to 7.9% depending on the country. Charities pay a 5% platform fee and a 4.25% fee to FirstGiving.
If you do go with a non-rewards based fundraising website like GoFundMe, make sure you check out our mega-resource of 33 expert ideas to boost fundraising ideas and crowd campaigns.
GiveForward is an online fundraising website that claims to be the #1 crowdfunding platform to start a medical fundraiser and the only site with fundraising coaches providing guidance. Specific categories include medical bills, veterinarian bills and funeral expenses.
Each fundraiser is assigned a personal coach that is available to answer questions and provide advice via phone or email. Besides the personal coach, an attractive feature is that the fundraising campaign can distribute funds to the recipient any time and in chunks or all at once.
Fees:
Giveforward charges 5% for the platform plus 2.9% + $0.50 goes to their online payment service provider.
Patreon was launched to enable fans to support their favorite creators and is geared towards ongoing projects of music, video and other creative projects. The site offers a really unique model in that backers pledge to support creators on an ongoing basis, usually for each project, until the backer cancels the promise. Pledges are generally for smaller amounts than the one-time donations on other crowdfunding sites but can grow over time with multiple projects.
Patreon can be a great way for those in the creative space to fund their ongoing projects without having to constantly worry about raising money for each individual campaign. Rewards are offered but are usually only deliverable one time.
Fees:
Patreon charges 5% on pledges with credit card processing adding another 4% off the donation. Beyond these fees, creators also pay billing partners for payment processing between 2% and 5% of the amount.
ALUMNIFUNDER
AlumniFunder aims to help build deeper relationships between students and alumni by providing a platform to fund creative and innovative projects within the university community.
People who register on AlumniFunder are divided into two groups: Students and alumni looking to create a project ("Doers") and Alumni and the general public who are looking to browse and fund these projects ("Alumni"). Crowdfunding campaigns run for a limited time (30-60 days) and operate on the all-or-nothing model. As of this writing, there were no active projects listed on the site.
The idea of an alumni networking crowdfunding platform makes a lot of sense as alumni have been strong supporters of campaigns on other sites.
AppStori is a crowdfunding and fundraising platform connecting mobile app consumers and developers before an app becomes available on an app store.
Developers can raise funds, find beta testers, build an audience, advertise their needs and wants and create a "Stori", essentially allowing friends, family and consumers to be part of the team that brings the app to the market.
When consumers find a team or an app they would like to support, they can make a contribution. Depending on the amount, each team offers different rewards to supporters/backers. Payments are facilitated with Amazon Payments.
Fees:
AppStori deducts 7% of total collected funds
Amazon Payments deduct 2-3% for credit card processing.
CircleUp is an equity crowdfunding platform that connects accredited investors with innovative consumer and retail companies. Companies must typically have substantial revenue (> $500,000 annually) or other indicators of potential success and are evaluated by private equity investors before being allowed on the site. Average funding time is between two and three months and funds can be raised through convertible debt or equity. Companies pay a commission to FundMe Securities LLC, a wholly owned subsidiary of CircleUp.
Minimum investment size is $1,000 and up, depending on the offering. There are no fees for investors and your investment is returned if the company fails to meet their target funding.
An interesting feature of CircleUp is the ability to follow "circles" based on an affiliate company, usually a private equity analyst or an investment firm. The affiliate publishes their opinion on deals and investors are allowed to co-invest through a fund managed by the affiliate. Investors pay carried interest to be a part of the fund.
CauseVox is another fundraising platform developer with tools to create your own website for online fundraising. The fundraising site tool works similar to WordPress with custom themes and templates available.
At the time of this writing, Causevox was offering development with no monthly fees until you raise $5,000 online. At that point, the site offers three pricing plans.
Starter plans carry no monthly fee but charge 5% on each transaction and limited features.
Impact plans charge $49 per month but charge only 4.25% per transaction. Users can develop an unlimited number of fundraising sites and have access to more features.
Pro plans charge $129 per month and a 4% transaction fee with unlimited sites and full access to features.
Payment processing is available through Stripe or PayPal and will amount to another 3% fee per transaction.
While some crowdfunding sites or fundraising websites may allow multiple types of campaigns, I've tried to offer some kind of classification below to help you pick the best for your fundraising campaign or crowd project. This is only a guide to make it a little easier but in no way absolute. Read through the descriptions of crowd and fundraising sites and consider talking to other campaigns to find the best for you.
Best Crowdfunding sites for rewards-based campaigns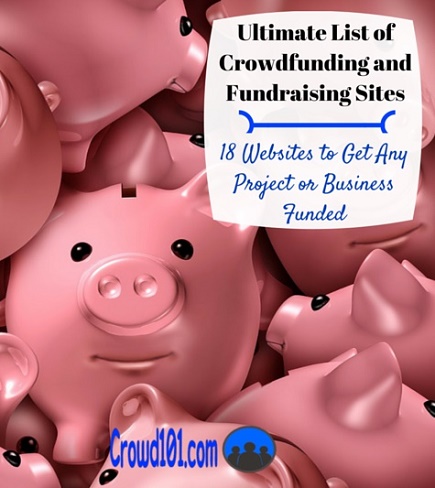 Kickstarter and Indiegogo are by far the largest crowdfunding websites in terms of traffic and popularity. That can go a long way in attracting a crowd to fund your campaign. Kickstarter only accepts rewards-based campaigns while Indiegogo is a little more lenient on requirements. It's a good idea to check one of these two out unless another crowdfunding site has a specific feature in which you're really interested.
RocketHub is also a popular rewards-based crowdfunding site though not quite as trafficked as Kickstarter or Indiegogo. The crowdfunding platform has developed a great program with A&E TV so might be able to offer huge exposure if you can get noticed by the site.
Patreon offers a unique crowdfunding model for people with recurring funding needs like artists, writers and others that create multiple projects regularly. If you've got an active group of people that regularly follow and support your work, this site is definitely worth checking out.
Best Crowdfunding sites for equity crowdfunding and angel investing
Even before the SEC clears non-accredited investors to invest in crowdfunding projects, equity crowdfunding has become a great source for business funding. As with traditional angel and venture capital funding, you sell an ownership stake in the company for funding.
Fundable offers rewards-based crowdfunding as well but one of the rewards-specific platforms would probably be better suited for a non-equity campaign. The upside to equity crowdfunding on Fundable is that you pay only a monthly fee instead of a percentage of funds raised.
SeedInvest, CircleUp and WeFunder are also equity crowdfunding websites with fees slightly lower on WeFunder. CircleUp has a strong investor community and has developed the investing circles concept on its platform. This might help to reach larger investors and influencers for your equity campaign.
For those business owners in the U.K., CrowdCube is a good choice for equity crowdfunding. The opportunity to raise money through equity funding or through bonds helps to match investor needs and risk appetite.
Best Crowdfunding sites for Apps
Appbackr and AppStori are both crowdfunding websites for application developers and look fairly similar. You can raise money for app development as well as sell your app through the sites. I've never used either and would love to hear from people that have used the sites and can help with feedback.
Best Fundraising websites for non-profit fundraising
Fundraising websites and platforms account for a little over a quarter of total crowdfunding pledges each year. A few fundraising sites have become the standard for the group while others offer special features.
Crowdrise and GoFundMe are the two most popular crowdfunding fundraising websites. As co-founder of Crowdrise, Edward Norton has done a lot of press on the cause and really helped to bring the spotlight to the site. GoFundMe doesn't have the boosters but has the most campaigns and higher visitor traffic.
YouCaring does not charge a project fee, making it one of the low-cost fundraising site options, but still charges payment processing. The fundraising coaches at GiveForward are a nice feature though I have never used the service.
CauseVox is a fundraising website developer and not necessarily a fundraising site where you can directly raise money. If your non-profit is an ongoing organization with regular funding needs, you might consider creating your own fundraising site for the purpose.
Choosing the best crowdfunding site or fundraising website is only one step of the process you'll need to be successful. Crowdfunding sites have opened up a whole new world for small business and non-profit fundraising but you need to learn the process of promoting and managing your campaign to meet your goals. Check out the entire process with Step-by-Step Crowdfunding, the only crowdfunding ebook to take you from start to finish
Save
Save
Save
Save
Save
Save
Save
Save
Save
Save