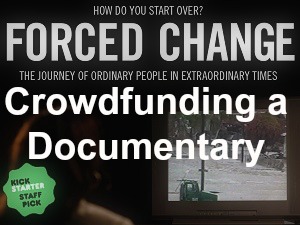 Crowdfunding Campaign Review: Crowdfunding a Documentary
Here on the Crowd101 blog, we love to hear from crowdfunding campaigns about how they are using the new movement to fund their dreams. If you're thinking about launching a crowdfunding campaign, you'll never find better advice that from the people that are making it work. It's a great opportunity to learn from their success and their mistakes.
Today's campaign review comes from Rennik Soholt of the Forced Change Kickstarter campaign. The campaign is for a feature documentary that uses the path of destruction left behind by Hurricane Katrina to bring to life unique human stories that shed light on what it means to be home. Filmed at critical moments over the last ten years, Forced Change is a decade-spanning retrospective of five unique and relatable people that left New Orleans after the hurricane and never returned home.
Rennik's documentary makes an important point, one that I never considered during Hurricane Katrina or in the aftermath. Driving through New Orleans and Gulfport, Mississippi to visit my uncle two years after the hurricane, I couldn't understand why people didn't just leave the area and live somewhere else. Put yourself in their shoes though. Our cities, towns and neighborhoods are just as much who we are as the blood in our veins. Could you just pack up and leave so easily?
First, tell us a little about yourself.
I am a television and documentary producer/director who has been working in the business for over ten years. I'm originally from California but moved to NYC over 12 years ago by way of New Orleans.
What is your crowdfunding campaign about?
I am raising $30,000 to complete the end of production and the majority of post production for my documentary film, Forced Change. I have been working on the project for close to 10 years, following the same characters. They all left their home of New Orleans after Hurricane Katrina hit and haven't returned. The campaign focuses on my personal, 10-year journey to finish this feature, because I can't finish it alone.
Did you try to raise funding before crowdfunding?
I applied for grants, but they have been very elusive. Many granting organizations want you to apply a few times before they really consider accepting you, if you don't have a history of receiving grants. The timeline of this film hasn't allowed me to apply again. So here I am. Crowdfunding has really opened up the world of independent films and documentaries.
Grants for these projects have dried up since the Great Recession and many great projects wouldn't get made if it were not for crowdfunding. Crowdfunding a documentary has become a viable solution for many filmmakers and projects.
Have you ever done a documentary crowdfunding campaign before?
I haven't. I haven't really even considered it. I live in NYC where EVERYONE is doing a Kickstarter or Indiegogo or Seed & Spark for something. It felt like the landscape was too crowded. But then I startedtalking to people who were doing it. I saw lots of successes and got first hand accounts. So it came down to the questions: Do I really want this and am I willing to try? Or do I just want to give up and go back to a paid gig? I have a family so I don't have time for all three (family, full time job + full time project). So I thought I would give a try.
This is the dilemma for many great projects. While I recommend that every small business be crowdfunding, if just for the marketing and outreach benefits, crowdfunding a personal project can take a ton of time. This is why building a team around your crowdfunding campaign is absolutely essential. Campaigns like the Forced Change documentary are so emotional and so powerful that you can always find people to help out if you only ask.
What did you do before starting the crowdfunding campaign to get ready? Can you take us through your process?
It's been a long process. I was actually going to launch this back in November but I didn't feel ready. So I postponed and prepared. I talked about it all the time and made everyone I know aware of it. My team and I worked very hard to build a social media presence: Twitter, Instagram and Facebook. We also reached out and developed strategic partners from different non-profits and organizations who's goals were in-line with the film's, from global warming awareness to home building in New Orleans.
I searched for creative rewards from New Orleans' radio stations, musicians and cooks to include in our rewards theme of "home." Many of the characters in the film question the meaning of "home" and still miss New Orleans as their home close to 10 years later. So I wanted to create something that went along with that theme and would make people who left New Orleans, or just like it, feel like they were there.
And finally, I reached out to writers and journalists who may have an interest in the film or the topics the film touches. With the 10 year anniversary of Katrina this year, the media will be focusing on New Orleans again and I tried to tap into that conversation.
Rennik has done a great job building up to the campaign, doing those pre-launch activities that have helped him raise more than $10,000 so far. One of the few points of critique I can provide for the campaign is that it doesn't look like he is running a website or blog around it. We just finished up a three-part series on how to create a blog, drive massive amounts of traffic to your blog and then use those visitors for crowdfunding success.  
It takes a little more work but it could have really spread the word and built a ton of support for the crowdfunding campaign before it launched.
How many hours a week do you spend on your documentary crowdfunding campaign?
I work 8-9 hours a day during the week and part-time on the weekends. What is that, about 50 hours?
It's what surprises most crowdfunding campaigns, that a campaign can become a part-time or even full-time job. For small businesses, it may not take as much time because you're already doing a lot of the marketing. For personal campaigns, it can be overwhelming.
Rennik's experience is probably on the longer end of the scale but I've seen most crowdfunders spend between 10 and 20 hours a week on their campaign. The time you spend in pre-launch can really help cut the ongoing time you have to spend during the campaign. Before launching your crowdfunding campaign, reach out to forums and others that are as passionate about the project. These people are going to be worth much more than their financial support because they will be able to take some of the workload.
Outreach and team building is one of the biggest concepts highlighted in an earlier post on Pre-Launch Crowdfunding Hacks.
What is the biggest mistake you've made so far in crowdfunding?
I could have set up more timed press. I would have liked to be ready with articles or blogs coming out before the launch or in the first few days.
A strong online presence through guest blogging and articles is vital to getting the word out on your campaign. It is a major part of our blogging series and can drive thousands of visitors to your campaign if planned correctly. 
What do you think is the thing you've done really well so far?
I've worked hard. I mean, the numbers and donations are coming in. It's never fast enough, but they are coming. Ask me that after we reach out goal.
Honestly, Rennik's is one of the best crowdfunding campaigns I've ever seen. The video is amazing and really strikes an emotional chord. He uses his own personal plea along with interviews and the stories of others. If you are considering a crowdfunding campaign, check out the video and build its points into your own. It helps that the Forced Change campaign is about an emotional topic but anyone can build this same emotional and personal element, you just have to find the need your project satisfies.
How are you reaching people on an emotional level for your crowdfunding campaign?
It's a story about me and my 10-year journey, along with the journey of the film's characters. These stories need to be told and I can't finish this film without Kickstarter supporters. If that's emotional, great. But that's just real.
How are you building community with crowdfunding supporters?
I am letting them go on the journey with me. I leave soon for Texas and then New Orleans for Mardi Gras. The film's characters are going back to New Orleans for their hometown's biggest party, ten years after they left. I'm filming parts of that journey and taking my supporters with me by creating new content they can witness with me and engaging them through updates.
What 3 resources or tools should every crowdfunding campaign have?
People, the internet and a good, passionate story.
Is there anything else people should know about raising money through crowdfunding?
Don't be afraid to ask but realize you can p*ss people off pretty quickly.
Rennik asks people to spread the word through the social networks if they cannot make a financial contribution with the lowest reward level of $10. While $1 contributions will not help much in reaching his goal, I would make it the first reward level and ask people to come onboard with even that level of support.  The video is so emotional that I think he would get a lot of these smaller contributions which would provide contact information. By getting contact info for each backer, he could make a more direct and personal request that they send the campaign page through their social network and be a bigger part of the campaign. People see requests to share on social networks so often anymore that they usually need a more direct request to get them moving.
What's next for you?
I will finish Forced Change. And I've promised to spend more time with my wife and 3-month old son. All of this is great and exciting, but there has to be time for family.
As I finish up loading this article into the blog, Rennik's Forced Change campaign has raised $9,925 from 102 supporters and still has 18 days left. He is 33% toward the goal which usually means a pretty good chance of getting there but the $30,000 goal is a high one. Just 14% of crowdfunding campaigns on Kickstarter are able to raise more than $20,000. I want to thank Rennik for taking the time to talk with us and share his experience with crowdfunding. If you've got a campaign you'd like to share or just want to share your experience with crowdfunding, email me or use the comment section below.
https://www.crowd101.com/wp-content/uploads/2015/02/crowdfunding-a-documentary.jpg
225
300
Joseph Hogue
https://www.crowd101.com/wp-content/uploads/2020/09/Crowd101-logo.svg
Joseph Hogue
2015-02-16 08:45:50
2022-04-26 13:45:40
Crowdfunding Campaign Review: Crowdfunding a Documentary