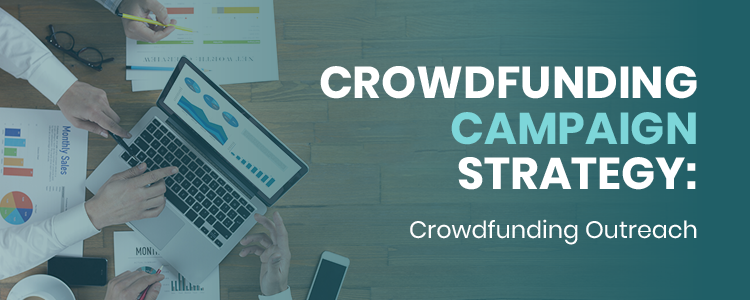 Crowdfunding Campaign Strategy: Crowdfunding Outreach
A crowdfunding campaign's success depends on your ability to reach out and build a sense of community around the project. The outreach phase of your campaign is when your ability to network and connect with supporters will be tested, so ensure you have a solid plan in place. 
During your crowdfunding outreach, you will make the initial connections with potential backers, long-term supporters, and even media influencers. To help you create your strategy for this phase of your campaign, this guide will explore four ways to conduct outreach. 
Launch a social media campaign
Before promoting your campaign online, be aware that only a small portion of the people who see your digital ads will click through them to make a donation. However, this does not mean social media, email, and other digital outreach channels are not worth exploring. You'll just need to consider how you can position your campaign to drive responses. 
For example, consider the fundraising website you'll use to host your campaign. While many crowdfunding sites will offer basic features such as the ability to customize your page and share it on social media, others will also come with their own audience, providing your campaign with a marketing boost from the outset. 
Take into account who your crowdfunding website's primary audience is. For instance, a smaller site that hosts primarily nonprofit fundraisers might receive less traffic than well known sites like Kickstarter or GoFundMe, but the audiences they have are more likely to be receptive to causes like yours. 
After choosing your host website, you can begin developing a social media outreach strategy. Start by finding the people that are most likely to share your posts. You can accomplish this by joining pages, groups, and communities that revolve around your topic. Each social media platform has a different method for doing this, while some only allow for engagement through comments on individual posts. 
Here's an overview of a few of the top platforms: 
Facebook.

Rather than individual profiles, Facebook groups are set up for communication around a common interest. Facebook's algorithm has also been known to prioritize showing users posts from groups they are in. To attract attention, create a group for your nonprofit and invite your supporters to follow and interact with you there. Or, try joining a group focused on your cause of supporting nonprofits in general to tap into a new audience who might be unfamiliar with your organization. 

TikTok.

Since its creation, TikTok has become a social media giant and has major marketing potential. Use your

donor data

to consider the types of content your supporters are likely to interact with and how you can relate that to your crowdfunding campaign. For example, if you're hosting a crowdfunding campaign to help a school district provide supplies for their students for the new year, you might ask students and teachers to participate in your marketing by telling short stories or answering funny questions about their school experience. 

Twitter.

Twitter does not have a group function like Facebook, but to attract attention, you'll need to cultivate high levels of engagement with your followers. Twitter prioritizes content that receives comments and replies. However, it can be more difficult to get noticed on Twitter than on other platforms due to the short amount of time a tweet has to attract attention before new content is prioritized. 
Before launching your social media campaign, make sure you know what platforms your supporters are already using. Consider using a social media append to learn your top supporters' social media handles so you can send friend or follow requests. This can help you build up an initial base of supporters when starting a profile on a new platform. 
Contact journalists
Your supporters can spread your message through their own personal networks, but getting your campaign on the news or in a widely-published periodical can mean tens of thousands in donations and an army of backers.
There are two things to remember for getting journalists to cover your campaign: the story and who is most likely to want it.
Research which journalists or publications are most likely to be interested in your story.

This is usually fairly simple and just a matter of noting the journalists that frequently write about a topic. Even if your campaign is not locally-focused, you will want to note which local journalists cover the topic as well.

Create a story that others will want to hear.

Consider how you can relate your campaign to a current event. Can you link your campaign to a holiday or special community event? Does it relate to a social cause that is making the news lately? Remember, you'll have to be fast when reaching out to journalists, as most will source and outline an article days or even weeks in advance of an event.
There are a few resources online for connecting with journalists. The most popular is Help a Reporter Out (HARO), a website set up to connect journalists with informational sources. While HARO primarily pushes its fee-based services, it's still worth filling out a profile and checking in on the site to see if you can find journalists looking for a story similar to yours. Other sites include PressRush, ProfNet and SourceBottle.
Partner with influencers
There are people in every industry, including the nonprofit sector, that are just naturally sociable or that carry huge social networks. While each of your supporters can help expand your reach, partnering with an influencer can put your crowdfunding campaign in front of a far wider audience than you would likely be able to reach without them. 
Work with your team to identify potential connections to notable figures in your community, influencers, and other organizations you can partner with. Consider how you'll pitch your cause to these partners. To form a successful partnership with an influencer, you will need to:
Present an impactful story.

Why should an influencer support your crowdfunding campaign specifically? To stand out from other requests they likely receive, tell a compelling story about what your organization has accomplished, why that impact is meaningful, and how your crowdfunding campaign will make a difference. 

Create incentives.

While your target influencers likely do want to support a good cause, they also have their own business interests at heart. In your pitch, emphasize why helping you will also help them. For example, this could be a promise to reference them in your outreach, helping boost their reputation by showing their connection to a good cause. 

Form a relationship.

You are likely not the only person trying to get in touch with your target influencers. Your request for support will likely find greater success if you build a relationship with them before asking them to be a part of the campaign or to share your project with their network. This can be done through reading, sharing, and commenting on their own online material.
A partnership with an influencer can take several forms. They could simply promote your campaign to their followers with a few social media posts or make public a donation themselves. More involved influencers may even want to attend events or join in by helping create unique merchandise and prizes to give away to top contributors. 
Offer incentives 
People give to crowdfunding campaigns for all sorts of reasons. Many contribute solely because they want to support your cause, but others might be motivated to give more if they will receive something in exchange. 
Offering prizes for giving can also make marketing your crowdfunding campaign easier. On posts promoting your campaign, you can share the various items top contributors will be able to earn. Plus, if you create branded merchandise and other items with your logo on them, you can further promote your nonprofit by encouraging supporters to post pictures of themselves with their prizes online. 
Some nonprofits run entire fundraisers focused around the incentives, such as t-shirt crowdfunding campaigns. These campaigns aim to build traction for their cause by uniting their community through matching commemorative t-shirts. This can be especially impactful if you plan to host an event as part of your crowdfunding campaign. Seeing all of your supporters together in matching t-shirts can build a sense of unity that may lead to increased giving. 
---
Crowdfunding campaign outreach relies on building connections with your supporters and partners to instill trust and motivate them to reach out to their own networks. Start your outreach by getting in touch with your most engaged supporters, and ensure you have a cause for your campaign that they will be excited to share with their friends and family.
https://www.crowd101.com/wp-content/uploads/2015/02/Crowd101_Crowdfunding-Campaign-Strategy-Crowdfunding-Outreach_Feature.png
300
750
Joseph Hogue
https://www.crowd101.com/wp-content/uploads/2020/09/Crowd101-logo.svg
Joseph Hogue
2015-02-25 08:45:20
2022-11-02 16:14:50
Crowdfunding Campaign Strategy: Crowdfunding Outreach