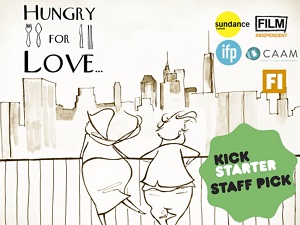 Hungry for Love and Crowdfunding, a Campaign Review
Currently on the SUNDANCE curated Kickstarter page is Hungry for Love, a culinary love story directed by Justin Ambrosino. Below is my interview with the film's producer, Soojin Chung, about the steps she took to realize her campaign. Please visit the film's Kickstarter page to learn more and consider donating.
Here on the Crowd101 blog, we love to hear from crowdfunding campaigns about how they are using the new movement to fund their dreams. If you're thinking about launching a crowdfunding campaign, you'll never find better advice that from the people that are making it work. It's a great opportunity to learn from their success and their mistakes.
Use the comment section below to add your own tips and tricks for crowdfunding.
I've included my own comments in italics so as not to be confused with Soojin's.
Tell us a little about yourself?
Soojin Chung: I'm Soojin Chung, the producer of HUNGRY FOR LOVE. Previously, I produced "Escape from Tomorrow" which premiered at the Sundance Film Festival in 2013. Also, as an on-location editor, I worked on eight major feature films including Park Chan-Wook's Venice winner "Lady Vengeance". I was born in South Korea and I'm an AFI graduate.
Soojin may not have realized it but she just gave you one of the best tips in crowdfunding, prior success. Campaigns from people that have prior successes, even if they're not on a crowdfunded campaign, raise money much more easily. In fact, I've known crowdfunders that have launched mini-campaigns before just to be able to record their success on a larger follow-up campaign. Put together a small project, something that you know you can get funded and really impress people. Being able to show people that you can be successful will go a long way to establishing credibility for bigger projects.
What led you to crowdfunding?
SC: Every film faces some kind of obstacle at the beginning. For ours, it was casting. Our project has attracted interest from financiers but they wanted to know who our main cast is. In respect to that, we want to work with a professional casting director to find our leads. And that costs money – not only the fee for it but also certain % of the budget. So, we decided to go the crowdfunding route to raise pre-production money in order to find our cast, secure the locations and all the legal fees that go along with that. And the bonus part of crowdfunding is we get to find our audience!
Small business or other projects can be a chicken-and-the-egg problem. You want the best quality but you need money. Banks and other financing will give you money but they want to see quality first. Soojin strikes another really good point here, staged financing. I talk about the topic more in a previous post as one of the biggest mistakes crowdfunders make. The idea is to break your project budget up into manageable chunks for crowdfunding instead of trying to go for one big lump sum.
For Soojin's project, raising a lot of money all at once would be difficult but raising money for casting could lead to some really high-profile names joining the team which will help raise more money down the road.
What is the vision or goal of your campaign?
SC: Mainly, we'd love to create a community around the project. Our film deals with themes such as the love of food, restaurants as public forums, it talks about the current state of New York City and it's various cultural neighborhoods, and finally, it aims to fight size discrimination by casting full-figured actors in the leading romantic roles. With all that in mind we hope to bring audiences to our project that connect with any of these themes because that is the kind of material we connect with! Of course, immediate goal of the campaign is to succeed, so we can move this project forward!
Another great piece of advice that many miss. Most people crowdfund to raise money, right? But that may not be the biggest benefit to many projects!
Kickstarter gets more than 14 million visitors to the site each month with seven million from the United States. The crowdfunding website boasts 7.5 million total backers and more than 2.2 million repeat backers. These people are enthusiastic about creative crowdfunding campaigns and will be active voices for your project. Using your crowdfunding campaign as a marketing tool to get the word out to thousands, even tens of thousands of people is the kind of marketing that would make even Mad Men envious.
Work you did on your campaign before you launched it?
SC: We focused a lot of energy of the video itself. Writing the script, pacing it, pre-visualization, casting, scouting locations. It was basically like doing another film. Meanwhile we were building our social network, by creating a Twitter & Facebook account, posting photos and stories with our audiences. We went to seminars and read up on how to run a successful campaign. Then, when it came time to create the actual campaign page itself we spoke with Sundance Artists Services and Kickstarter staff to see what to do.
You would expect a film campaign to put out a great crowdfunding video but don't think that because your crowdfunding campaign is not video-oriented means you don't need one. Yancey Strickler, cofounder of Kickstarter, reports that projects with videos have had a success rate of 54% while those without a video have only been successfully funded 39% of the time.

What kind of work you have done on the campaign after launch?
SC: We are mainly focused on outreach. We are very grass roots. Only my director and I pretty much doing everything. We send all the emails individually. Only once did we send a mass email but that was after two weeks into the campaign already. We make daily photos of celebrities eating, we have organized screenings, podcasts, interviews, twitter takeovers, etc. We are trying to contact a celebrity chef so if anyone knows one, let us know! We have a lot of support from our backers too. We just encourage everyone to spread the word!
Crowdfunding campaigns can be a ton of work but are worth it in the end. Using all the social media channels is hugely important. Pin those photos to Pinterest. Provide constant twitter and Facebook updates. Connect with professional associations and members on LinkedIn. Share your video and follow-on videos on Youtube. Everyone connects differently through social media and you need to reach as many as possible.
What you would do differently?
SC: Pretty much everything I wrote in the above question, I wish we had done before the campaign started, but we had a time restriction. We had to launch or wait until next year. But I would of loved to have another month pre-launch to organize some more.
Pre-launch campaigning is probably the most important key to success and something we've talked a lot about here on the blog. Holding your pre-launch events and reaching out to supporters early will go a long way to providing the social proof you need to convince strangers to support your crowdfunding campaign.

Any advice for people thinking about putting together a campaign?
SC: Well, there are hundreds of articles out there that tell you how to succeed. There are tons of companies that say they can help you succeed. But in the end, it will be the work you put into it that will make you fail or succeed. So, I just encourage you to take it seriously, work hard, be ready to put in a lot because at the end of the campaign it'll be worth it.
I want to thank Soojin and wish her all the best for her campaign. Please let us know how it turned out and we look forward to seeing the release of the movie. Thank you, the reader, as well. Please bookmark the blog page and share this article with friends if you found it useful.
https://www.crowd101.com/wp-content/uploads/2014/12/hungry-for-love.jpg
225
300
Joseph Hogue
https://www.crowd101.com/wp-content/uploads/2020/09/Crowd101-logo.svg
Joseph Hogue
2014-12-08 09:20:37
2014-12-08 09:20:37
Hungry for Love and Crowdfunding, a Campaign Review