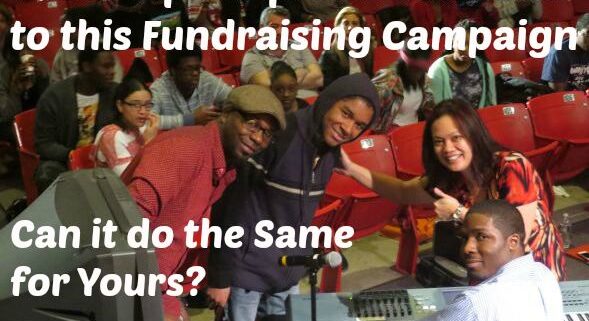 30 Minutes Tripled Donations to this Fundraising Campaign
A quick phone call and some great ideas helped to triple donations to one fundraising campaign. Apply these lessons for your next fundraising project.
When I got an email from the Epitome of Soul fundraising campaign mid-July, things were not looking great for the Patterson, New Jersey non-profit. Their crowdfunding campaign on Indiegogo to raise $15,000 had raised just $800 in the first 22 days of the campaign from 17 donors.
There was no reason the group couldn't raise more money. It is an established 501(c)(3) doing a great job of empowering and encouraging leadership in high school students through the arts. The video was professionally done and the campaign page described the need for the fundraising campaign.
I was excited to talk to the group's executive director about the campaign and how they could kickstart their crowdfunding in the last couple of weeks. We talked for just over half an hour and brainstormed some great ideas for the campaign that can be applicable to any fundraising campaign in trouble.
[linkad]
Leveraging Past Success in your Fundraising Campaign
The first thing I noticed was that the campaign had not seen much social sharing or contributions from the non-profit's network or people that had benefited from the organization's mission. The organization has had a ton of success including reaching hundreds of students, receiving the 2014 Mayor of Paterson's Award for Civic Engagement and the Rotary Club's 2014 Patersonians Making a Difference Beneficiary Award.
A lot of fundraising campaigns, especially non-profit campaigns, have trouble pushing their network to share and contribute. While you definitely need to pick your campaigns selectively, for the big annual campaigns you need to shamelessly promote out to everyone that has ever been touched by the organization. If beneficiaries of the non-profit aren't responding to the campaign, that might even mean playing the guilt card to get them helping out.
Beyond just asking for a pledge, a lot of fundraising campaigns do not realize the importance of asking for social media and outreach support. Learn how to ask for all-around help for your fundraising project in a prior post.
Make Fundraising Campaign Rewards Relevant and Achievable
The rewards on the campaign were a little expensive and not really related to the non-profit's mission. From $10 and $25 reward levels that included a thank you and a button, the levels jumped to $50, $100 and $250 with rewards of a laptop sticker, wristband, embroidered cap or tote bag.
Crowdfunding, even fundraising campaigns, are still about the rewards for a lot of people. I know quite a few backers that regularly scan crowdfunding sites like they would garage sales, looking for cools stuff for a bargain price. You certainly don't need to take a loss on your crowdfunding rewards but your fundraising campaign needs to offer something of value beyond the emotional benefit of supporting a good cause.
For a non-profit related to the arts, videos and audio recordings of previous events can make great rewards. Offering ego rewards is a good idea for any campaign, offering backers the chance to help develop future events or have their name attached as a producer.
Last Minute Ideas for your Fundraising Campaign
Since the fundraising campaign only had 19 days left, it wouldn't be possible to change the rewards structure and outreach was limited. We were able to brainstorm some great ideas around special events and ways to boost the campaign.
With less than three weeks left to the fundraising campaign, they needed to reach people personally and quickly expand out to the online crowd. Special improv local events would put them in front of people in the community and establish a quick relationship. These people could then be reached through social media and asked for the social share and pledge.
An improv music parade or arts event in the park would be easy and quick to put together. The organization could use some of its previous contacts to get the release for public use and an upcoming radio announcement to get the word out. People love these improv events and will actively participate.
Towards the last week of the fundraising campaign, the group could promote a match day for pledges. Reach out to a few enthusiastic supporters to match pledges received for the day, matching all pledges or only up to a certain amount. Then heavily promote the event through social media and the existing network.
Partnering with other local non-profits offers the opportunity to expand your social network instantly to other groups that care about the community.
The group was able to reach out again to its network and more than tripled its existing donations. Executive team members made a friendly competition for each to raise $275 over the last week. The group went to physically collect donations from people that had made verbal commitments but hadn't yet made it online. Through a well-crafted text message and following-up with the network, the group was able to really boost its fundraising campaign. While the Indiegogo page shows $1,965 raised, the group raised a total of $2,445 with post-campaign donations.
Epitome of Soul is planning another campaign around its annual winter event in December. They are planning on aggressively pre-launching the campaign and using the process in Step-by-Step Crowdfunding to meet their fundraising goal for the year. While they didn't meet the goal for this fundraising campaign, they learned a lot about crowdfunding and every penny counts.
Looking for more tips to boost your fundraising campaign? Check out these 33 expert tips to boost fundraising ideas and crowd campaigns.
https://www.crowd101.com/wp-content/uploads/2015/08/Tips-to-Boost-Fundraising-Campaign.jpg
407
589
Joseph Hogue
https://www.crowd101.com/wp-content/uploads/2020/09/Crowd101-logo.svg
Joseph Hogue
2015-08-10 08:45:58
2015-08-10 08:45:58
30 Minutes Tripled Donations to this Fundraising Campaign