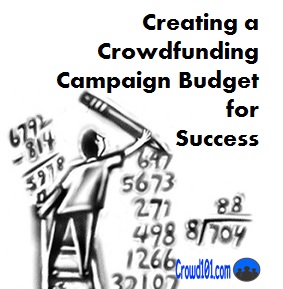 Creating a Crowdfunding Campaign Budget for Success
Creating a crowdfunding campaign budget is not just about how much you need but about how much you can raise and how to leverage your crowdfunding success
Wonder why more than two-thirds of crowdfunding campaigns fail to reach their funding goal? Is it too obvious to say that it's because their funding goal was set too high?
I've been following the crowdfunding industry for a long time and have spent enough time coaching campaigns to know that widespread campaign failure is due to a little more than crowdfunding campaign budgets being set too high, but it's definitely a big factor. The fact that 12% of crowdfunding campaigns fail to raise any money means there are other problems like crowdfunding promotion that plague campaign owners.
But what about the thousands of campaigns that get so close to reaching their funding goal, only to barely miss it? More than 3,000 campaigns on Kickstarter have raised over 60% of their funding goal but have ultimately fallen short.
So what's the magic number for your crowdfunding campaign budget that will lead to raising the money you need? The answer, like many things crowdfunding, is a strategic one and you've got to consider more than just how much you need.
Your Crowdfunding Campaign Budget – How much you need
I've said more than a few times that crowdfunding is about more than just raising money. The benefits to your small business from a marketing perspective almost always outweigh the money you'll raise. But crowdfunding is at least a little about the money, right? You need start-up capital for your project or cash flow to take your business to the next level.
I talk about putting your crowdfunding campaign budget together in another post on shaping a successful crowdfunding idea. You are going to start with your basic company-specific expenses like marketing, administration, production and any other general fees. You should be as detailed as possible with your budget and how much you need to get started. This is not only going to make you better prepared but backers are going to appreciate that you took the time to really think things out.
Beyond your own company- or project-specific budget needs there are a few crowdfunding campaign budget needs that you absolutely must not miss. Not budgeting all the crowdfunding expenses is a big reason why many successful campaigns fail to carry out their promises and disappoint their community.
Most crowdfunding platforms are going to take 5% of what you raise and 3% for payment processing. Divide how much money you're planning on raising by 0.92 to get that amount after your platform and processing fees (i.e. if you need $5k then $5,000/0.92 equals $5,435 for your goal)
You can run your crowdfunding campaign marketing on nothing but should you? Just like you budget money for marketing your business, budget something for your crowdfunding campaign. Check out our previous post on crowdfunding marketing strategy on a budget.
Don't forget that you have to deliver your crowdfunding rewards and that's going to cost money. Estimate fulfillment costs by using the cost to produce and ship your average reward and for how many of those rewards it will take to reach your funding goal.
Except in very few circumstances for officially-designated non-profit organizations, you are going to pay income taxes on your crowdfunding proceeds. You can deduct the cost of the campaign and rewards from the funding but any profit will be taxed at your personal income rate.
Your Crowdfunding Campaign Budget – How much can you raise
After you've got an idea of how much you need for your crowdfunding campaign budget, it's time to face reality. Unfortunately, it may not be as much a question of how much you need but how much you think you can raise. More than 70% of crowdfunding campaigns on Kickstarter raise less than $10,000 and less than 3% raise the fabled $100k or more.
Unless you have an amazing social network and a team that will support the project, I would try getting your crowdfunding campaign budget to $10,000 or less.
A helpful idea to do this is what we in business call the "minimum viable product." The MVP is the minimum you need to create some form of your product that will serve a need for customers. It might not have all the bells and whistles you want in the final product, but it is a working model that does some pretty cool things.
Often the MVP is much cheaper to produce than the final product and can allow you to slash your budget needs to a point that's more realistically raised in the crowd. As another option, or if you cannot seem to cut the crowdfunding campaign budget to a realistic level, consider a peer loan as part of your business need. Check out our sister site PeerFinance101 on how to use a personal loan to jumpstart your business plans.
Just because you set your crowdfunding campaign budget and funding goal lower than the amount you would like to raise doesn't mean you can't meet those higher goals. Stretch goals can be an extremely powerful idea and I've seen campaigns beat their initial goal by as much as 700% by promoting add-ons and stretch rewards to their community. Your first goal is to raise enough to get funded but the sky's the limit with stretch goals.
Your Crowdfunding Campaign Budget – How to use your budget to leverage crowdfunding success
Reaching your crowdfunding goal and getting funded can open up a whole new world for your business or project. You've done something that most others are incapable of and have built a community around your crowdfunding campaign. You can leverage that success several ways.
Once you've got some form of a product, even an MVP, you will have more success pitching your idea to the big money. If you still need money to get your company fully-operational, seek out venture capital investors or angel investing networks. They will appreciate the hard work you put in on your crowdfunding campaign and the fact that you've already got a community of supporters will go a long way to getting big money investors.
Your community of backers will share in your success and is a great resource list for product improvement and ongoing sales. Reach out to the community for how to improve the product and upselling to the next higher product or service level. This community is also going to be your first line of supporters in any follow-on crowdfunding campaigns. I've seen companies make a habit of crowdfunding a new product once or twice a year and be very successful at it just on the momentum from previous backers.
Like everything else crowdfunding, putting together a crowdfunding campaign budget and goals is a strategic process and not necessarily just about the money. People are just starting to grasp the full power of crowdfunding and what can be done with this new funding revolution. Put together a realistic crowdfunding goal and use your success to launch your small business dream or project further than you thought possible.
https://www.crowd101.com/wp-content/uploads/2015/06/Planning-a-Successful-Crowdfunding-Campaign-Budget.jpg
289
283
Joseph Hogue
https://www.crowd101.com/wp-content/uploads/2020/09/Crowd101-logo.svg
Joseph Hogue
2015-06-04 08:45:59
2015-06-04 08:45:59
Creating a Crowdfunding Campaign Budget for Success