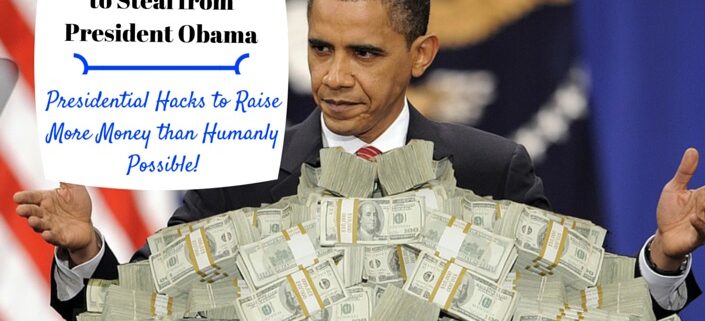 5 Crowdfunding Ideas to Steal from President Obama
Steal these 5 Best Crowdfunding Ideas from President Obama's 2008 presidential campaign to raise more money from the crowd
Think President Obama has never run a crowdfunding campaign? Think again. His 2008 presidential campaign rallied the masses to raise more online than any other political campaign in history. By the end of the campaign, his Facebook page counted nearly 2.4 million fans.
By the end of the 2008 campaign, President Obama had raised more than $500 million from 6.5 million online donations. Possibly more impressive was the fact that it was from three million donors, meaning people donated multiple times.
That's raising money from the crowd whether you call it crowdfunding or not. Take a page from his playbook to grab these crowdfunding ideas for your own campaign.
Presidential Crowdfunding Ideas #1: Online and offline recognition blast
It's nothing new to see a presidential candidate everywhere you go during an election year but President Obama really integrated online and offline media to get the message out
I found a funny quote in Monte Lutz' "The Social Pulpit: Barack Obama's Social Media Toolkit."
"Obama limited his official presence to 15 [online social networks]…"
I have six social media profiles and have trouble keeping up with that sometimes. To say someone "limited" themselves to just 15 profiles is crazy but shows the power of social media. The President had more than two million Facebook fans along with countless Facebook groups for just about every niche imaginable. Beyond social media, the campaign posted on political blogs and other websites to get the message to different audiences.
Not to say that the President sat behind a computer 24/7 during the campaign, along with online events he also attended the obligatory offline receptions and speaking engagements.
For your crowdfunding idea, build a strategy that integrates online and offline outreach.
Do a few offline events and gatherings first to build strong personal support through a few people that can become part of your team. Crowdfunding may happen online but you need to build trust with face-to-face interactions first to get things moving. Offline events are just one of the critical steps in this crowdfunding campaign checklist
Use this initial team to start your online outreach that can expand to other virtual team members. Bringing on five new people doesn't seem like much until you consider you just expanded your online network by hundreds from each person.
Give team members the autonomy to start their own groups to support your crowdfunding idea. This helps to build support through different locations and interest groups
Need the entire process for successfully raising money in the crowd? Check out the crowdfunding ebook, Step-by-Step Crowdfunding, the only book to detail the process from pre-launch crowdfunding to beating your goals. Available on Kindle or paperback.
Presidential Crowdfunding Ideas #2: Go Grassroots
Possibly the most impressive achievement in President Obama's 2008 fundraising drive was the ability to reach massive grassroots support. While the campaign was led by Washington insiders, it was driven by people on the street and had a real community feel.
Besides a huge in-person volunteer drive, email was also used extensively but in a way that made the message personal. A series of emails were designed to establish a relationship between the volunteer and the receiver. The email messages got progressively more intense with a sense of urgency until people were begging to donate to the campaign.
The campaign used extensive testing of email, something rarely used in crowdfunding ideas but critical for increasing support. Email lists were separated into groups which would test different subject lines, messages, images and donation request. After 18 months of testing, the campaign got its email message down to a science and that's when the donations started pouring in.
You may not need as much email testing but you definitely need to use a little strategy with your email campaigns. iContact.com
is one of the most popular email marketing providers and offers a 30-day free trial to get started. I've used the site before to send out a strategic series of emails to lead up to a product purchase.
Go grassroots with your crowdfunding idea and use email effectively:
You don't have to do 18 months of email testing for your crowdfunding idea but try to do at least a couple of months before the campaign, testing different messages and requests to see which get the most opens, clicks and support
Keep your message personal and build a relationship with supporters. Practice your message with volunteers so everyone gets a feel for reaching people.
Develop a series of messages you can send to supporters, starting with personal introductions and your story then progressing through the need for your crowdfunding or fundraising campaign and finally a sense of urgency for support.
Check out other tips for building community around your crowdfunding campaign
Presidential Crowdfunding Ideas #3: Decentralized Campaign Organization
This massive volunteer army was largely free to craft its own message about the campaign, with help through talking points and training. Almost unheard of in political campaigns, local volunteers were even allowed to talk to the media.
This really helped bring people onboard the campaign and made it their own. Volunteers felt real ownership of the campaign and its message because it was their own. Besides building that level of buy-in, letting volunteers use their own voice helped the campaign be all things to everyone. It wasn't a singular message crafted for one group, it was millions of messages delivered in a way which millions of different people could relate.
Of course, you want to talk with people before you send them out to start cheerleading for your crowdfunding idea. Volunteers for the President's campaign received training on talking points as well as what they could not say. You will want to do the same with the most vocal members on your team. Work on a central message from which they can build and let it evolve with their own voice.
Presidential Crowdfunding Ideas #4: Reach millions personally through video
Video is one of the most powerful yet underutilized media for crowdfunding ideas. Most people understand the need for a basic video but then put little time or effort into making a decent one for their campaign.
By the end of the 2008 presidential campaign, then-Senator Obama and staff had posted nearly 2,000 videos on YouTube. Internet viewers watched more than a billion minutes of the clips, willingly.
Think about that! One of the biggest complaints leading up to elections is the wave of campaign commercials that drown out everything else on TV, yet people were willing to actually click through and watch online videos from the campaign.
Create different video series for different audiences. Some of President Obama's videos were targeted to volunteers, messages to motivate and keep the momentum going. Other videos were geared to specific messages and specific groups; videos about the need for healthcare reform for seniors, videos about poverty relief for the poor, videos about expanding access to education for parents.
Use videos extensively for your crowdfunding idea
You can download free screen capture software like CamStudio or Yawcam that will incorporate your webcam and computer into videos
Spend some money for production value on your primary crowdfunding video
Do several (at least three) less formal videos to really focus on different messages and key points of your crowdfunding idea
Videos should be under three or four minutes and shared extensively through social media channels
Presidential Crowdfunding Ideas #5: Build a Sense of Urgency and Ask Often
Online donors to the President's 2008 campaign donated an average of 2.5 times each and at an average of $80 per donor. The ability to get donors to pledge multiple times is a feat to which every crowdfunding campaign should strive.
The most popular reward level in crowdfunding is generally around the $25 pledge. To reach even a $10,000 goal you would need 400 backers, well over the average of around 50 backers for most campaigns. Get your backers to pledge multiple times for your crowdfunding idea and you'll raise much more from fewer people.
Build a sense of urgency and a frequent ask for your crowdfunding idea
Sense of urgency is built through two ways: developing the need for your product or fundraising idea and the limited amount of time you have to raise money
Build in a recurring ask in each of your emails through a series, developing a progressively more intense message in each
Reach out to all your backers before the end of the crowdfunding campaign to give them one last "opportunity" to support such a needed and worthy crowdfunding idea
https://www.crowd101.com/wp-content/uploads/2015/05/fundraising-ideas-to-steal-from-president-obama.jpg
455
705
Joseph Hogue
https://www.crowd101.com/wp-content/uploads/2020/09/Crowd101-logo.svg
Joseph Hogue
2016-01-11 09:01:42
2022-04-26 15:21:01
5 Crowdfunding Ideas to Steal from President Obama