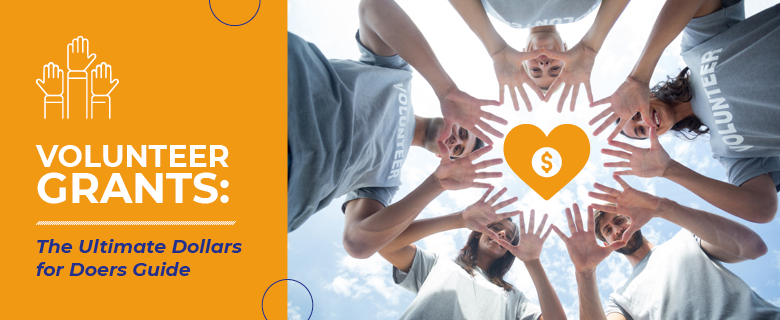 Volunteer Grants: The Ultimate Dollars for Doers Guide
When you think of corporate giving, what's the first thing that comes to mind? It might be matching donations. And that's totally fair! Matching gifts are one of the most common forms of corporate giving.
But when it comes to other corporate giving programs, there's one program that tends to fall by the wayside. And it's a huge source of revenue if you know how to tap into it!
We're talking about volunteer grants.
Volunteer grants can have a major impact on your fundraising efforts, especially if dedicated volunteers make up the backbone of your nonprofit. In this guide, we're going to break down volunteer grants so your organization can use them to your fullest potential.
The questions we'll address include:
By the time you're finished reading, you'll be in a much better position to take advantage of this awesome corporate giving opportunity. Let's dive in!

1. What are Volunteer Grants?
Volunteer grants, also known as Dollars for Doers grants, are monetary donations companies make to eligible nonprofits where their employees regularly volunteer. Volunteer grants are a great source of revenue to tap into when you have a dedicated group of volunteers.
Other Names for Dollars for Doers Programs
You might have seen the phrase "volunteer grants" or "Dollars for Doers" floating around, but there's actually a handful of names for these programs. For example, they're also called:
Matching Time Programs

Dollar for Hour Programs

Grants for Time Programs
Though known by different names, these programs have the same impact: turning volunteer hours into revenue that nonprofits can use to serve their missions!
Why are Volunteer Grant Programs Important?
Volunteer grant programs seem like a pretty sweet deal, right? Well, these programs are surprisingly overlooked by a lot of nonprofits and volunteers. Why? Because many organizations (and individuals) don't know that their volunteers' employers offer Dollars for Doers.
Looking to change this? Check out ways to raise awareness around volunteer grants below.
Key Volunteer Grant Statistics
Just to make sure we're driving home the importance of Dollars for Doers, here are some key statistics:
40% of Fortune 500 companies offer volunteer grant programs.
The average corporate volunteer rate participation rate is 33%.
Approximately 63 million Americans volunteer each year, totaling 7.7 billion hours. The value of these volunteer hours is about $175 billion annually.
Source: Double the Donation Volunteer Grant Statistics
(https://doublethedonation.com/tips/matching-grant-resources/matching-gift-statistics)
What are the Benefits of Volunteer Grants?
If you're still not convinced about the importance of volunteer grants, here are some benefits of monitoring Dollars for Doers programs. First, it can strengthen your relationships with volunteers. Dollars for Doers helps your volunteers make a greater impact with the hours they commit to your organization. They'll feel even more integral to your mission by knowing that they're making a difference in a cause they believe in.
Second, it creates stronger relationships with companies. For example, if a lot of your volunteers come from a local business that offers volunteer grant opportunities, your organization can connect with the business and forge a stronger relationship. The company will get a great public image, and you'll get the support you need.

2. How Does the Volunteer Grant Process Work?
Though different companies have different specifications, the general volunteer grant process is the same across the board. Here's how it works in a nutshell:
#1: Individual Volunteers with a Nonprofit
Of course, to get a volunteer grant, the individual has to volunteer with your nonprofit! If a particular volunteer helps out on a regular basis, the nonprofit should definitely recommend they check their eligibility for a grant.
#2: Individual Submits a Volunteer Grant Request
After volunteering and tracking their time, the individual can look up their company's guidelines and submit a volunteer grant request.
#3: Company Reviews Forms
The company reviews the request and verifies the employee's volunteer hours with the nonprofit.
#4: Company Provides Grant to Nonprofit
Once the hours are verified with the nonprofit, the company sends the monetary grant to the organization!

Let's further illustrate this with a scenario: Say your organization puts on an annual fundraising event with 20 volunteers who help out. They help set up and run the event, which totals about 5 hours for each of them. Following the event, you encourage them to check and see if their employers offer a volunteer grant program. Then you provide a link to a search tool they can use to search for their company's name.
As it turns out, half of your volunteers are eligible for a volunteer grant! This means once they submit their requests and you verify the hours with their employers, the companies will send you a monetary grant. So not only did you get help with running the actual event, but you also received grants for 10 different volunteers!
That said, many companies have certain thresholds that have to be met before they'll issue a volunteer grant. This includes eligibility, restrictions, minimum hours, and other qualifications. We'll explore that next.
Guidelines for Submitting a Volunteer Grant Request
Volunteer grants may be free money for your organization, but it still requires a little work! Make sure your volunteers meet the below guidelines so you can ensure the grant requests are approved and ready to go!
Eligibility Requirements
Depending on an individual's employment status (full-time, part-time, retired), they may or may not be eligible for a volunteer grant. This is the first thing to check when looking into Dollars for Doers programs.
Restrictions
Some companies have restrictions on the type of nonprofits they'll give to, among other restrictions. Some only give to educational institutions, or to organizations that share their values. But for the most part, any 501(c)(3) nonprofit or school is typically eligible.
Deadlines
Deadlines vary for each company, so make sure your volunteers submit their volunteer grant requests in time. Common deadlines include the end of the calendar year, a number of months after volunteering, or the end of January, February, or March in the year following the volunteer time.
Minimum Hours
Companies might have a set hour requirement for Dollars for Doers. This means they either provide a certain dollar amount per hour volunteered, or a threshold number of volunteer hours must be met to get a set grant amount.
Grant Amount
This is the fun part! Once the hours are completed, this is the amount your volunteer's company will award to your organization. Make sure you know how many grants the company offers per employee each year. There may be a maximum amount to take note of.
Logging Hours
It always takes a little effort, but make sure your volunteers understand their employers' processes for logging volunteer hours. Companies may have their own system of tracking hours and certain platforms to log into, but your volunteers should be able to find and follow their employer's directions.
3. What are the Top Volunteer Grant Companies?
If you're looking to collect volunteer grant revenue for your organization, you have to start by researching the companies that offer these grants. Then, you'll want to determine whether your volunteers work for any of these companies (see our software section below).
To give you a head start, here are some of the top volunteer grant companies with excellent programs!
ExxonMobil
Company Overview
ExxonMobil is an American oil and gas corporation with a mission to fuel the world safely and responsibly. The company is an industry leader in energy and chemical manufacturing while also aiming to address climate change.
Volunteer Grant Information
ExxonMobil offers two types of volunteer grants: the Individual Volunteer Grant Involvement Program and the Team Volunteer Grant Involvement Program.
After an individual employee volunteers 20 hours with a nonprofit, ExxonMobil will provide a grant of $500 to that organization. Each employee can request up to four $500 grants a year.
Team volunteer grants are also available.
Other Corporate Giving Information
Not only does ExxonMobil offer great volunteer grants, but the company also matches donations made to eligible nonprofits!
Learn more about ExxonMobil's volunteer grant and matching gift programs!
Boeing
Company Overview
Boeing is an American multinational company that designs, manufactures, and sells airplanes, rockets, missiles, and more around the world.
Volunteer Grant Information
Boeing's individual volunteer grants include $10 for every 10 hours spent volunteering, with a minimum of 25 volunteer hours to qualify.
The company's team volunteer grants depend on the number of employers who participate.
Other Corporate Giving Information
Boeing also offers a matching gift program! All employees, including full-time, part-time, and retired individuals, are eligible to have their donations matched.
Learn more about Boeing's volunteer grant and matching gift programs!
Chevron
Company Overview
Chevron is an American multinational energy corporation. The company strives to provide reliable, affordable, and clean energy.
Volunteer Grant Information
Chevron's Humankind Volunteer Grant Program provides funding to nonprofits where their employees regularly volunteer. Each individual employee who volunteers 20 hours in a year can request a $500 grant. One employee can request up to two of these grants each year, for a maximum grant amount of $1,000.
Other Corporate Giving Information
Chevron also offers a Humankind Matching Gift Program, matching donations to most eligible nonprofits.
Learn more about Chevron's volunteer grant and matching gift programs!
ConocoPhillips
Company Overview
ConocoPhillips is an American multinational energy corporation committed to both efficient and effective exploration and production of oil and natural gas.
Volunteer Grant Information
ConocoPhillips offers both individual and team volunteer grants. Individuals can request $500 grants after volunteering 20 hours and $1,000 grants after volunteering 40 hours.
Teams of four employees or more can receive a grant of $1,000 after they volunteer together for a total of 40 combined hours.
Other Corporate Giving Information
ConocoPhillips also matches donations to most eligible nonprofits.
Learn more about ConocoPhillips' volunteer grant and matching gift programs!
Allstate
Company Overview
Allstate is an insurance company dedicated to giving back to communities and making a difference.
Volunteer Grant Information
Through Allstate's "Hands in the Community Grants," employees and agency owners who volunteer more than four hours in a calendar year can receive a volunteer grant.
The grant amounts vary based on company role, but agency owners are eligible for $1,000 in grants and employees are eligible for $500 in grants.
Other Corporate Giving Information
You guessed it! Allstate also offers a matching gift program to most nonprofit organizations.
Learn more about Allstate's volunteer grant and matching gift programs!
Pro Tip: Looking for even more volunteer grant companies? Check out this list!
4. What are Team Volunteer Grants?
Team volunteer grants take Dollars for Doers a step further. These grants are a type of corporate giving program in which a company provides monetary grants to nonprofits where groups of employees volunteer together.
Companies often offer these programs as a way to promote both team building and community service.
How Team Volunteer Grants Work
Team volunteer grants work similarly to individual volunteer grants. After the threshold of hours has been met, the company will make a donation to the nonprofit. However, team volunteer grants can offer a higher amount in grant money when groups of employees volunteer together. Each company has its own regulations on how many employees must make up the group of volunteers, as well as how the hours will be paid out.
Benefits of Team Volunteer Grants
The benefits of team volunteer grants are definitely worth a look! For example:
Your organization gets support from a group of dedicated volunteers.

The group of volunteers has a fun and rewarding team-building experience.

The company where these volunteers work gets to give back to the community.

Your organization gets a volunteer grant from the company.
As you can see, your organization isn't the only party that gets to reap the rewards. Team volunteer grants make an excellent team-building experience, while also giving back to nonprofits with missions like yours. If you have a few dedicated volunteers, see if they're eligible, and if so, whether they would be willing to spread the word to their coworkers and come volunteer together!
Examples of Team Volunteer Grant Programs
Looking for some awesome examples of team volunteer grant programs? These companies offer generous grants for employees who volunteer together.
CarMax
Under their Volunteer Team-Builders program, CarMax employees who volunteer in a group together can earn a grant for the nonprofit they help. It's broken down like this:
$500 grant for eligible donation drives (excluding blood drives) or when 5-24 associates volunteer.

$1,000 when 5 or more associates participate in a nonprofit's run or walk.

$1,000 when 25 or more associates volunteer.
Individual and board service grants are also available. For example, after individual employees volunteer at least 8 hours with a nonprofit, CarMax will award a grant of $10 per hour to that organization.
Learn more about CarMax's team volunteer grant program!
IBM
If a group of IBM employees or retirees volunteers together, they can request up to $7,500 in equipment grants for eligible schools and nonprofit organizations.
IBM offers individual volunteer grants, as well!
Learn more about IBM's team volunteer grant program!
Walmart
Walmart offers a Volunteerism Always Pays (VAP) program. Groups of Walmart employees who volunteer or participate in fundraising runs or walks together, can request a group VAP grant between $500 and $5,000. The grant amount will depend on the number of Walmart employees who volunteered.
Individual VAP grants are also available.
Learn more about Walmart's team volunteer grant program!
5. How Can Organizations Best Manage Volunteers?
It's definitely important to find out whether your volunteers are eligible for Dollars for Doers grants. But it's equally essential that you manage your volunteers well so the entire process is organized. This all comes down to volunteer management.
What is Volunteer Management?
Volunteer management refers to the process of recruiting, tracking, engaging, and retaining volunteers. If your organization effectively manages your volunteers, you'll be able to create a positive volunteer experience and cultivate long-term relationships with your supporters.
Volunteer management software can help you achieve this. Check out some of the top software solutions for managing your volunteers here!
Why Does Volunteer Management Matter?
Volunteers play a huge role in your organization's success. It's important that they feel inclined to stick around so you can continue growing your relationships with them and people they know.
When you have a long-term dedicated group of volunteers, this means Dollars for Doers programs will make an even bigger difference for your nonprofit. As volunteer hours add up, so do volunteer grants. And if you have large groups of volunteers working with you from the same company, the associated team volunteer grants will add up too!
What's the Best Way to Manage Volunteers?
If you want to manage your volunteers in an effective way, focus on these four elements:
Recruitment.

Recruiting volunteers is the starting point of your volunteer management process. But it's also ongoing, which means you need to consistently promote your opportunities, process sign-ups, and screen volunteers to find those who are most invested in your cause.

Communication. When you have a group of volunteers, you need to be able to present them with important information and answer questions. Volunteer management software can help with this!
Organization. Once you have your volunteers, it's important to offer them roles relevant to their skills so they can have the most impact. Be sure to set clear expectations, train them, and supervise them so they're ready to go!
Recognition. Volunteers should know they're doing a good job

and

that they're appreciated. That said, regular communication to remind them of their value and say thank you is important to retaining volunteers.
Be sure to also understand the types of volunteers your organization can leverage and where they fall into your mission and daily tasks. For example:
Events.

These are volunteers who specifically help with your events the day of. 

Skill-based. These volunteers may help you on a one-off basis, but they're skilled in accounting, legal work, or other areas in which you may need assistance.
Long-term. These volunteers are committed for the long haul! They can include mentors, tutors, or teachers.
Administrative.

These volunteers perform tasks like greeting visitors at your reception desk and supporting your staff in the office.

Committee.

These volunteers work to accomplish specific tasks for your organization, and are usually created in conjunction with fundraising events.

Advocacy.

These are volunteers who are out on the street raising awareness and funds for your cause.
All of these types of volunteers are important, and all of these volunteers can be eligible for a Dollars for Doers program. When you effectively manage your volunteers, set clear expectations for their roles, and understand the importance of retaining them long-term, you'll be more likely to bring in more revenue from volunteer grants as well!
Pro Tip: Looking for more info about volunteer management? Check out this guide from Double the Donation!
6. How Can Nonprofits Get More Volunteer Grants?
We've gone over some of the top volunteer grant companies, different kinds of volunteer grants, and how to manage your volunteers. However, we haven't specifically touched on how your organization can land more volunteer grants in general.
There are many ways you can feature Dollars for Doers programs front-and-center. Let's explore some of the key strategies:
Create Team Volunteer Opportunities
We already know that team volunteer grants are great opportunities for revenue. But how can you actively push for more volunteers from a company to come work together?
As you put together your plans for volunteers, you can offer team-oriented activities, like group community service or teams of event volunteers. This is a great way to increase your volunteer numbers, boost your corporate donations, and build long-term relationships with companies and their employees.
Educate Volunteers from the Start
This might seem obvious, but it isn't always clear! You should be teaching your volunteers about volunteer grant opportunities from the moment they sign up to work with your organization.
This means breaking down the volunteer grant process on your volunteer registration page, adding information to their volunteer confirmation emails, and mentioning it in person when they come to volunteer. 
If you're running an event and volunteers are helping out, make sure those who check them in provide them with time tracking tools and any other materials they might need to submit to their employers. It's crucial that volunteers correctly track their hours so they can apply for a volunteer grant.
Volunteer sign-up is a perfect time to promote volunteer grant programs and teach your volunteers how they can go about requesting one.
Communicate
Depending on your organization size, you may use a variety of different communication platforms to reach out to your supporters. Whatever channels you're using, be sure to include information about volunteer grant programs so your supporters can stay informed.
This means using:
Social media.

Post volunteer grant resources on your social media pages right next to your signup link to volunteer!

Email outreach. Do you send out regular newsletters? Use them to promote corporate giving programs whenever you have a large volunteer opportunity coming up. Include links to more information so your supporters can find the details they need.
Personalized outreach. If you have a dedicated group of volunteers who work with you on a regular basis, send out personalized messages and invite them to learn more about volunteer grants. Not only will this stand out to them as genuine, but it will also increase the likelihood of them requesting a grant!
However you communicate about volunteer grants, make sure the messages are spaced out so you're not overwhelming your supporters with info. But it's still important to mention volunteer grants across your communications and make sure your volunteers take advantage of these opportunities.
Partner with Companies
While you should definitely be engaging your volunteers and educating them about volunteer grants, there's yet another avenue to consider. Taking advantage of corporate partnerships can help you get both volunteers and volunteer grants!
Most companies want to take part in corporate social responsibility in some way. Your organization can help them do this while also benefiting from the volunteers and grants they send your way.
Ask local businesses if they would be interested in partnering with your nonprofit. It's even better if these companies offer products or services that closely align with your nonprofit's mission. Once you've set up a partnership, more employees will come to volunteer with your organization, resulting in team volunteer grants and more!
Your nonprofit has an excellent opportunity to secure more volunteer grant revenue as long as you educate and communicate with them, reach out to companies, and make it easy to track volunteer time. From there, you'll be on your way to getting even more funds for your cause!

7. How Does Volunteer Grant Software Boost Revenue?
While there's still some work involved in promoting volunteer grants to volunteers, reaching out to companies for partnerships, and managing your volunteers in general, we haven't touched on the most important thing that can help your nonprofit out: corporate giving software!
You might have heard of matching gift databases, which house information of thousands of companies and their matching gift programs. But did you know that many of these databases also house information on volunteer grants?
Corporate giving software can significantly boost your volunteer grant revenue because it makes the information readily available to your supporters.
So how do you get started with corporate giving software?
If you're looking for accurate and up-to-date information about Dollars for Doers programs, we have a top recommendation for you: Double the Donation.
Double the Donation is the leading provider of corporate giving solutions, with a database of more than 20,000 companies and subsidiaries and their giving programs. This means if your supporters work for companies that offer a volunteer grant program, they are very likely to find their company's information in Double the Donation's database.
Using Double the Donation, your supporters and website visitors can quickly and easily search for their companies and see if they offer a volunteer grant program.
How the Volunteer Grant Software Works
It's easy! Here's how the software works:
Your volunteer 

accesses the corporate giving database

via the search tool.

Your volunteer

searches for their employer.

Your volunteer

views the results

, including the guidelines, forms, and other information needed to submit a volunteer grant request.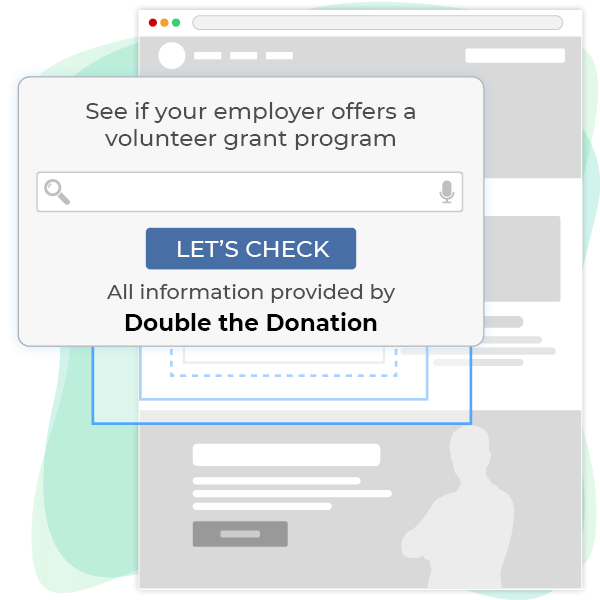 Double the Donation is our top choice because their search tool makes it easy to find up-to-date information. Plus, the search tool can easily be embedded onto any page of your website!
Benefits of Using This Volunteer Grant Software
Using Double the Donation comes with a lot of benefits. For example:
Customizability.

Though the plugin looks great as is, if you want to customize how the search tool looks on your website, you can do that! For example, you can adjust the search tool to match your own color scheme and branding.

Comprehensiveness.

As we said, there are over 20,000 companies and subsidiaries in Double the Donation's database. Plus, they're constantly updating their database with the most recent information.

User-friendliness.

Once users access the database and view the results, it's easy to understand the information presented to them. This is great because overly complicated processes or unclear directions can keep volunteers from going through the request process.

More revenue opportunities.

Because 360MatchPro helps you automatically collect corporate giving program eligibility from your supporters, more supporters will successfully submit requests for volunteer grants and matching gifts.

Easy tracking capabilities.

360MatchPro helps you track the entire process, from outreach to form submission to corporate payment. Targeted follow-up emails will also drive more completed submissions.

More time for your team. 360MatchPro acts as your own corporate giving team, which gives your staff more time to focus on other pressing tasks!
It can be a challenge to keep track of your volunteer programs, let alone market volunteer grants effectively when you've got other tasks to keep track of. 360MatchPro by Double the Donation makes it easy for organizations of all sorts of shapes and sizes to market corporate giving programs to their supporters. It's not just useful for matching gifts—it can also help you bring in more volunteer grant revenue!
360MatchPro automates the entire process from start to finish. If the platform determines that a supporter works for a company with a corporate giving program, the system will automatically reach out to them.
Learn more about 360MatchPro by Double the Donation!
8. Where Can I Learn More About Volunteer Grants?
Hopefully you've learned a lot about Dollars for Doers programs today! If you're looking to expand your search and find even more resources, have a look at these:

https://www.crowd101.com/wp-content/uploads/2020/09/Volunteer-Grants-Feature.png
320
780
Crowd101
https://www.crowd101.com/wp-content/uploads/2020/09/Crowd101-logo.svg
Crowd101
2020-09-07 10:54:55
2021-10-06 18:57:49
Volunteer Grants: The Ultimate Dollars for Doers Guide