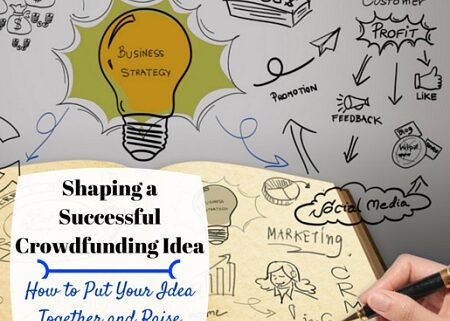 Shaping a Successful Crowdfunding Idea
Putting a successful crowdfunding idea together is a lot like traditional business planning but there are some key points you need to build into your plans.
While crowdfunding was seen as an alternative form of finance just a few years ago, it's quickly becoming the preferred way of launching a new product or business. While equity crowdfunding generally raises more money, even rewards-based crowdfunding has hit amounts in the tens of millions of dollars.
This is the first chapter in Step-by-Step Crowdfunding. Check out the book for all 17 steps to make your crowdfunding campaign a success from pre-launch to rewards fulfillment. It's everything you need to raise money from the crowd.
Shaping your Crowdfunding Idea: Product, Service or Social Cause
Few campaigns start for the sole purpose to crowdfund something. You've most likely got an idea for a product or service and want to explore ways to raise money. The process of developing your product and business plan is going to be fairly general but there are some points you'll want to consider when it comes to crowdfunding.
Kickstarter or Indiegogo are generally the go-to decisions for most campaigns but your product decision will affect which crowdfunding platform will best suit your needs.
If you plan on selling your product internationally, you may want to go with Indiegogo or another platform other than Kickstarter. While Kickstarter claims to make international crowdfunding just as easy, I have heard from several campaigns that they ran into problems with shipping and collecting pledges.
Kickstarter may not accept you campaign if it is a social cause though Indiegogo is more flexible with types of projects. Other platforms like GoFundMe are more focused to social causes and may provide a better environment where backers are looking for projects like yours.
As with any crowdfunding idea development or business plan, one of your key questions is going to be the product's unique selling point. What needs does your crowdfunding idea satisfy and why does it do it better than existing products? Establishing these needs is even more important ahead of your crowdfunding campaign because it will help you reach backers on an emotional level.
Think about your crowdfunding idea not in terms of what it does but what it means for customers. A fine pen is not just something with which to write but an expression of your thoughts. Buying a quality pen is a symbol of your success and respect for an art form that has died out.
Understanding these needs will help you understand what type of people are most likely to buy your product and support the campaign. Once you have an understanding of this customer segment, you can start to build a picture of their interests and what kinds of things they do online. You won't do much with this yet but will go into more detail to build your crowdfunding outreach list of people to contact before your launch.
Having thought through needs fulfilled by your crowdfunding idea and its target customers, you can start developing your sales pitch. There are different thoughts on this but I like having two pitches ready, a very brief 30-second pitch and a longer two-minute proposal.
Developing your pitch is important for two reasons. Not only will it give you a well-rehearsed lead to grab people's attention but it will also force you to think critically about your product's most interesting aspects.
The 30-second pitch will be used most often and should hit on no more than two key points. The power isn't really in the details here but in creating enough interest that the person wants to know more. You don't even need to mention the product's name or even what it is in this pitch. Lead with the problem or need with which your market suffers and explain in one sentence how your product will solve it.
For times when you are asked to explain the crowdfunding idea to a group or if your 30-second pitch gets a follow-up question, use your two-minute pitch to fill in the details. Even this pitch isn't meant to answer all questions and should leave enough unanswered to have people interested in finding out more. Your two-minute pitch will likely double as much of the script for your primary crowdfunding video.
Vetting your Crowdfunding Idea with Friends and Family
Unless you are already developing your crowdfunding idea with a team, your first interaction with others will be to bounce the idea off of friends and family. They might not have the business savvy or know-how to critique your plans but they will be able to look at it from a customer-perspective.
Your closest personal network will be the most upfront with criticism and you should be able to get some valuable feedback on your crowdfunding idea and pitch. While you might have to build a relationship with others on your outreach list before you can get a phone conversation to talk about the crowdfunding idea, your friends and family represent a quick opportunity to get instant feedback.
There are two primary hurdles in crowdfunding, establishing trust and sharing your passion. While friends and family may not share your passion for the product, as might others from affinity groups, you will not have to spend the time to develop a level of trust. If you can find a way to share your passion for the crowdfunding idea then you might just find your first crowdfunding supporters in these initial conversations.
Building a Team around Your Crowdfunding Idea
While your crowdfunding idea or product might by your baby, an effective campaign is too much for one person to handle. A crowdfunding campaign can easily require 20 hours per week and much more if you plan on raising more than a few thousand dollars. Not only are other people going to help take some of the workload off your shoulders but they will bring ideas and experience to complement your own.
From your conversations with friends and family, you should be able to get at least one or two people that are interested enough to commit a little extra time to be involved. This doesn't have to mean a big commitment but can be as little as spending an hour or two each week to answer emails or perform outreach tasks. Have a few easy tasks in mind to suggest or talk with them about what they would be best able to do and when.
The idea of recruiting from friends and family first is two-fold. You'll be starting from the level of trust and friendship which will help securing some kind of commitment. You'll also get the opportunity to practice bringing people closer into the community of your crowdfunding campaign. This practice is going to be important as you start asking for higher levels of commitment from people that may not know you as well.
Fiverr.com
can be a good place to round out your team for specific tasks. Fiverr is a freelancer website where people post small tasks they are willing to complete for as little as $5 each. The low starting price allows you to check out a few different freelancers and tasks to see which work best without breaking your budget.
How much will Your Crowdfunding Idea Cost?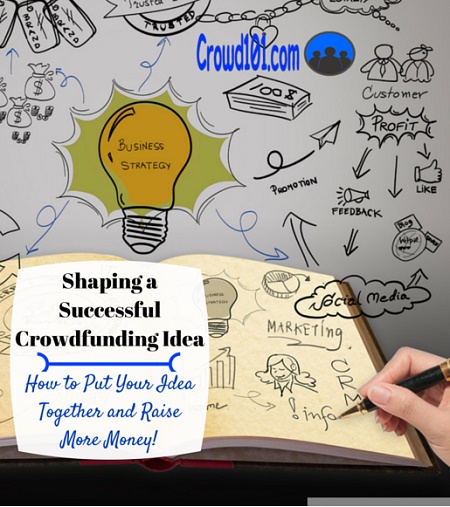 Developing a budget for your crowdfunding idea is one of the most important and overlooked steps in crowdfunding. Most crowdfunders include a fairly simple budget in their campaign planning but never go beyond this back-of-the-envelope calculation. Even if their campaign is successfully funded, disappointment sets in when they figure out that they grossly underestimated the costs and the campaign actually ends up costing them money.
Creating a detailed budget for your crowdfunding idea may seem counter-intuitive, especially if your campaign is for a creative project, but it will go a long way to establishing trust and credibility with crowdfunding supporters. The fact that you have taken the time to detail each expense in your project will help show funders that you know the reality of seeing the project through to completion.
If you have never worked with spreadsheets like Microsoft Excel then now is your chance. Spreadsheets make budgeting much easier than listing everything out on a sheet of paper and you'll be able to detail your budget out further as you get more information. If you need help with basic spreadsheet use, YouTube is a good source for quick tutorials.
Within your budget spreadsheet you will start with the basic expenses:
Marketing expenses – will you need to advertise what your project or business offers?

Campaign marketing – Most campaigns don't even think about the cost of their time and the money they spend marketing their campaign. Crowdfunding campaigns are a ton of work, require hundreds of hours and can cost a significant amount in marketing. These costs are all part of your project idea and should be included in your budget. Check out our previous post on developing a crowdfunding marketing strategy on a budget.
Project marketing – post campaign marketing expenses usually get a little more attention in the budget but still not enough. Separate these costs into online and offline expenses. Then these two categories should be further separated into estimated spending on different websites, programs, catering dinner parties, invitations, offline advertising and any other media you need to get your message across.

Administrative expenses – office support including supplies, rent, utilities, staffing are all important to show that you will have the resources to make your crowdfunding idea work

A lot of these will depend on how big your project is going to get. No one expects you to run your business out of the garage forever. Even Mark Zuckerberg had to move Facebook out of his dorm room eventually.

Insurance – property, health, workman's compensation

Supporters have backed your crowdfunding idea and have an interest in seeing it through to the end. You need to protect that interest by protecting yourself against problems that could mean an immediate end to your project.

Professional fees

The crowdfunding idea and campaign might have been your brainchild but no one expects you to be all things, all the time. If the project is going to grow and really make an impact, it is going to need professional help like graphic designers, technical developers, outreach organizers and a myriad of other staff positions.
Beyond these basic expenses, you will need to add others specific to your product.
Will you need manufacturing facilities or other commercial property?
Expenses for utilities like phone, water and heat may vary depending on usage.
Will your crowdfunding idea require any licenses, permits or legal filings?
How much will raw materials cost to produce a sample or first batch of the product?
Rewards and the cost of delivering those rewards are an integral part of your budget. This is where the budgeting can get a little tricky though because you might not know exactly how many of each reward-level will be chosen. Figure out how much it will cost to produce each reward, remembering that you might be able to get volume discounts if you produce in large quantities. Don't forget to add in an approximate cost for shipping each within the United States.
One of the toughest parts of crowdfunding is deciding what kind of rewards you can offer to persuade supporters. Anypromo.com
 is America's leader in promotional products and offers discounts for bulk purchases. Get branded merchandise and a 110% price match guarantee on all orders.
Once you know how much it will cost to produce and ship each reward, you can go one of two routes for a basic idea of rewards fulfillment.
You can assume that an equal amount of your funding is spread across each reward-level. If you are raising $10,000 and have five reward levels then each one will bring $2,000 in pledges. From here you divide the $2,000 into the reward size to find how many of that reward you would need to produce and deliver. Do this across all reward levels and you will get an idea of how much everything will cost.
A safer method is to assume that all your funding comes at the most expensive reward level. You will take the expenses from producing and delivering the necessary amount of rewards at that level against your funding goal. I like this method because it gives you a worst-case estimate for cost of rewards fulfillment.
Understand that most crowdfunding campaigns for a product or service are considered a business by the Internal Revenue Service and you'll own income taxes on the project. The accounting is similar to basic business bookkeeping, with the expenses you pay for the campaign offsetting any money you raise. I won't go into every detail of small business accounting but there are a few points you will want to remember.
If you run your crowdfunding campaign from home, you can write off a portion of your property taxes and utilities as expenses for the campaign as well as any equipment you use. To do this, you calculate the amount of square footage around the space you use. This is the size of the room where you do the work. You then take that square footage divided by the total square footage for your house to get the percentage used for business purposes. This percentage applied to utilities and other household costs can be taken as a business expense against any money raised crowdfunding.
Keep receipts for all rewards and fulfillment. These will be your primary expenses against the money you raise crowdfunding.
One stumbling block that gets many crowdfunders at tax time is the fact that money comes in quickly but expenses can take several months or years to build up. The money you raise crowdfunding is considered taxable in the year you received it. Under accounting rules, you can choose to delay the recognition of that money to match it with expenses but you need to know how to show this on financial statements.
After you have selected the crowdfunding platform most appropriate for your campaign, you will have an idea of fees charged to raise the money. Most platforms charge around 5% of the money raised and around 3% for processing the funds. This means dividing the money you need by 0.92 to find how much your goal should be to meet your budget after fees. For example, if you need to raise $1,000 to cover expenses then you will need to set your goal at $1,087 ($1,000 divided by 0.92) to have $1,000 left over after the 8% fees.
With a detailed budget that includes taxes and fees, you should consider reaching out to other crowdfunding campaigns to check your numbers. We discussed researching crowdfunding campaigns in an earlier blog post, though it will normally come later in the development of your crowdfunding idea. Reaching out to other campaigns about costs that you might have missed can save a huge headache later in the process.
Once you have a rough idea for how much your crowdfunding idea will cost to launch, you need to make one of the most important decisions in crowdfunding. Too many crowdfunding campaigns reach for tens of thousands of dollars or more to fund years' worth of expenses or the whole production process. The business owner puts in countless hours towards the campaign only to miss the funding goal and receive nothing in the all-or-nothing Kickstarter model.
Instead of trying to fund everything with just one campaign, consider setting your funding goal high enough to reach a milestone like a test product or a draft copy. Nearly three-fourths of Kickstarter campaigns raise less than $10,000 and less than 3% raise more than $100,000 successfully.
My advice would be to set the bar low for your initial crowdfunding campaign, only trying to raise enough that you can provide a working model or something as a reward to backers. With a successful campaign under your belt, it will be much easier to fund successive campaigns since you will already have a base of backers and the experience as a guide.
Setting your crowdfunding goal low does not mean you cannot still shoot for the stars. Be sure to include several stretch goals into your campaign. These are funding goals that you would like to reach and that would allow you to develop the crowdfunding idea a little further. Set each stretch goal at a level that is within reach of the last. This will give backers and potential backers a reason to drive funding just a little further even after the original funding goal has been reached.
You might also build this concept into your reward levels, though it will take a little more planning and budgeting. Establish a series of rewards that only kick in after a certain level of funding has been reached. Looking forward to additional rewards if the project meets a stretch goal can help keep current backers motivated and actively supporting a project.
Before spending too much time on any one crowdfunding platform, check out our Ultimate List of Crowdfunding and Fundraising Websites.
Setting a Timeline for your Crowdfunding Idea
The final step in putting together your crowdfunding idea is to develop a basic timeline for the project. Some of this will depend on your own deadlines and circumstances but there are a few rules you should remember.
The most important stage of crowdfunding is before your campaign even goes live on the internet. We talked about pre-launch crowdfunding activities in a prior post and how it will help build a crowd around your campaign. The minimum amount of time you should plan for pre-launch activities is three months. Within three months, you should start seeing visitor traffic coming to your crowdfunding blog from Google search and you will have built a decent mailing list from your outreach efforts. If you have the time, developing your pre-launch following over a longer period like six months can help to raise more awareness and more money.
Studies have shown that shorter campaigns are relatively more effective than longer ones. This is because visitors to your crowdfunding page get a sense of urgency if they see that the campaign is coming to a close within a few weeks. If your campaign has more than 30 days left then some of that urgency is lost and there is no guarantee that visitors will come back later and support your project.
With most of your outreach work done in pre-launch, your biggest days will be the first few after the campaign goes live. In fact, most campaigns start strong before going into a lull until the last week. Besides the sense of urgency created from a shorter campaign, you risk burning out on the continuous work involved in a crowdfunding campaign if you try to raise money over an extended period. Generally between 30 days and 45 days will give you enough time to drive people to the campaign while not being too long to risk burnout or sap that sense of urgency.
Another often overlooked part in the planning process is building your timeline around production and fulfillment of rewards. There is a growing chorus online from crowdfunding backers that have been disappointed by campaigns that failed to live up to promises made during the campaign. Do not assume that you will never need to come back to the crowd for funding. Even if you never crowdfund another product, crowdfunding backers are some of the most engaged and loyal customers you could hope for. Do not alienate them by grossly underestimating the amount of time it will take to deliver rewards.
Budgeting rewards and fulfillment should give you an idea of how long it will take to deliver them as well. Talk to your suppliers about contingencies for higher quantities of production if you end up blowing away your funding goal. In business, you would plan out three different scenarios for production costs and fulfillment times. You then take the average of the three as a good estimate for worst, base and best-case scenarios.
Once you have an estimate for how long it will take to produce and deliver awards, a good rule of thumb is to increase this amount of time by 20 percent. There is nothing wrong with delivering rewards ahead of schedule but you really do not want to fall behind. If you do start to fall behind in your schedule, be open and upfront with backers. Most will understand and appreciate the regular communication update, especially if fulfillment delays were caused by a much higher funding reached.
Knowing about how long your crowdfunding campaign will take from pre-launch through rewards fulfillment can help to build in a really important idea into the schedule. Try planning your crowdfunding campaign to coincide with a conference or other industry event. Getting a booth or just having a demonstration product on-hand is a great way to showcase your idea and get people to visit your crowdfunding page. Conferences represent a major source of potential backers that you know will be interested in your crowdfunding idea.
Crowdfunding Idea Wrap-up
Putting a crowdfunding idea together isn't something you will be able to do in a short afternoon. Like any good business idea, it will take time to develop and you will likely be revising the idea well after the early stages of the project. Start off with a quick sketch of each step and then continue to fill in details as more information becomes available.
As with any steps in the crowdfunding process, don't rush this planning stage or generalize any of the details. Planning everything out here will help avoid a lot of hassles and will drive the success of your crowdfunding campaign when it goes live. Backers will appreciate the fact that you took the time to detail your budget and your rehearsed pitch will pay off through interest from the people you meet.
https://www.crowd101.com/wp-content/uploads/2015/03/shaping-successful-crowdfunding-idea-business.jpg
507
450
Joseph Hogue
https://www.crowd101.com/wp-content/uploads/2020/09/Crowd101-logo.svg
Joseph Hogue
2016-01-04 07:13:17
2016-01-04 07:13:17
Shaping a Successful Crowdfunding Idea