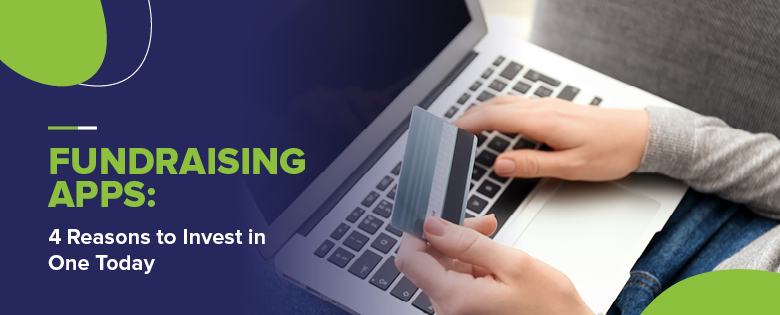 "There's an app for that!" is a phrase that has quickly become the reality of the smartphone era. Applications have been developed for almost every aspect of our lives. We can go grocery shopping, order take-out, find recipes for dinner, manage our banking, and even devise a home workout all from an app on our smartphones. 
So, it makes sense that nonprofit professionals can also manage fundraising efforts and maximize their potential directly from an app on their smartphone. 
Fundraising apps come in two different formats. They can either be donor-facing or nonprofit-facing (for internal use). This Bloomerang guide to fundraising apps explains the difference between the two formats: 
Donor-facing fundraising apps

are downloaded and used by donors themselves to simplify their giving processes.

Nonprofit-facing fundraising apps are downloaded and used by nonprofit staff members to support fundraising strategies, especially on-the-go (or from the couch).
As a nonprofit professional, you can't force your constituents to download an app to contribute to your nonprofit. But you can inform your own strategies by downloading a nonprofit-facing fundraising app for you and your team. That's why, in this article, we'll be focusing on the benefits that accompany nonprofit-facing fundraising apps. 
1. Keep an eye on fundraising campaigns. 
When your organization launches a new fundraising campaign, especially an important one, it's vital that you frequently keep an eye on the campaign metrics. 
Let's say, for instance, you're hosting a Giving Tuesday campaign. This is a high-impact campaign that requires a lot of attention on the day of the fundraiser. You've already been preparing and sending messages reminding supporters about their opportunity to give for weeks. Therefore, when you actually start the campaign, you ensure you're engaging supporters and collecting the donations that will help you reach your goals. 
When you have access to an effective fundraising app, you can use dashboards to keep an eye on your campaign throughout the day, no matter where you are. 
If it's later in the evening and you've put your work computer away for the data, you can still keep an eye on your fundraising as you check out what's new on Netflix. Or, if you have a doctor's appointment, you can watch your progress from the waiting room. 
However, in order to make the most of this feature, there are several actions you'll need to take: 
Integrate your fundraising software

with your donor management software. Especially with online-focused campaigns like Giving Tuesday, integrated technology is crucial to update data in real-time and avoid manually inputting fundraising information. However, make sure that you're also able to manually update your campaign with new donations in case they come in over the phone or on another platform. 

Encourage co-workers and board members to use the app

so that they too can keep up-to-date with what's going on with your campaign. It can be hard to get your team to log into a dashboard or download a report. An app, with typically simple interfaces, makes it easy to get at-a-glance info with just a few taps of the thumb.
While your fundraising app will help you keep an eye on your campaign from wherever you are, you'll still need to do all of the prep work for your fundraising in order to maximize its effectiveness. Leverage your technology to help you monitor your campaigns, but don't assume it will do the work for you. 
2. Reach out to supporters. 
One of the best ways to reach your supporters is simply picking up the phone and calling them. Actually, calling first-time donors is shown to dramatically increase the chance that they'll give again, give sooner, and give more.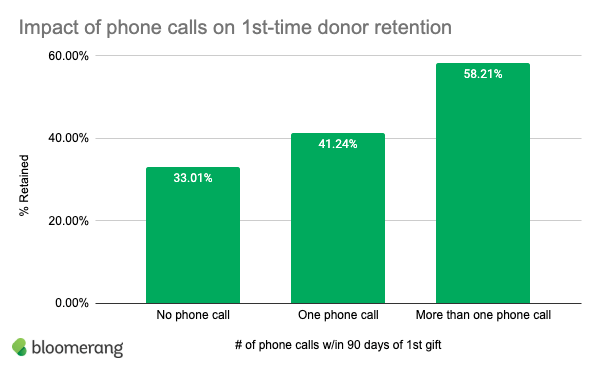 Luckily, if you're looking at the profiles of these supporters from your fundraising app, you're already holding a phone! 
You can easily just tap the number that appears on the donor profile and make the call. This way, you'll also have access to information about their gift right in front of you. Use information such as the campaign they contributed to, their donation amount, and other gift details to guide the conversation. Show them that you've taken notice of their gift and that you appreciate it. 
Calling supporters is a strategy used to capture the attention of your new supporters, show appreciation, and build the foundation of your relationship with them. However, it can also be used to develop your relationships with major donors and prospects. 
Use your app to run prospects through a wealth screening database, to identify potential major prospects, and to start your stewardship campaigns. For instance, you may choose to: 
Reach out directly to prospects and set up video calls. Remember to brush up on your knowledge of their past interactions with your mission by analyzing their profiles before the call. 

Send individualized emails to each of them informing them about your organization's latest news and telling them how they can get involved. 

Schedule meetings with major prospects to discuss their involvement with your organization. 
If you're looking for other ways to engage your major prospects, especially during COVID-19, DonorSearch put together this handy checklist in their major donor fundraising strategies guide: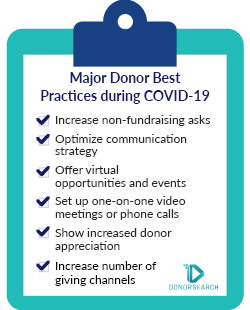 It's helpful to know that no matter who you're reaching out to, whether it's a legacy major supporter or a brand-new donor, that you can use your fundraising app to communicate with them from wherever you are. 
3. Expand donor profiles.
Let's say you work with a food bank. The pandemic has likely increased the needs for your services even more this year, with more volunteers than ever knocking at your door to help you distribute goods to hungry individuals in your community.
You've worked hard to implement social distancing and sanitation practices to help keep your volunteers and constituents safe every step of the way. You've been busy! And you're still working hard on-site to make sure that everything is going smoothly. Now, one of your volunteers offers to provide a donation to your latest campaign. 
In the midst of the hustle and bustle, you don't want to limit their in-person payment options to only cash or check. And you definitely don't want to tell them to go home and give online because they may forget amid their own busy lives.
Fundraising apps allow your organization to collect donations right there and then. 
You can take credit card payments directly from your smartphone when you have a swiper attachment and your fundraising app cued up. Or, if your supporter wants to give via check or cash, you can use your fundraising app to record their donation and add the information directly to their profile in your nonprofit CRM. 
This isn't a feature only limited to donations. Use your fundraising app to expand your donor profiles with other information such as: 
Volunteer hours

Notes from conversations

Interests

Pledges

Events attended
Any custom information you want to include can easily be stored in your database with your fundraising app. You can even record this information directly from the in-person conversations you have with your supporters. This way you won't have to wait until you get home to input it on the computer or search for a scrap of paper so that you can take notes to remember everything directly after the conversation. Use the information from these conversations to drive engagement down the line. 
4. Keep your team organized. 
Your fundraising software is designed to help you build a foundation for and develop your relationships with supporters. But you can't do all the work. Your entire development team plays a part in your relationships and fundraising success. 
Fundraising apps make it easy to communicate the tasks that each team member should complete in order to develop these relationships. 
Consider the donor journey and what each person on your team can do to help support that journey. This article breaks down the donor journey into several steps: 
The potential donor becomes aware of your mission.

This is the marketing stage, make sure your supporters know who is in charge of writing different social media posts, emails, and other materials. Then, assign someone to be sure these materials are distributed on time. 

The donor begins to research who you are.

Not only this, but they'll research the specific campaigns that your organization is hosts. Assign an individual to be sure all of this information is up-to-date and accessible. 

Give your donor a reason to give.

This is a key aspect of the donor journey. Be sure that team members assigned to personalized outreach know what will motivate supporters or where to find that information. Then, they can accurately communicate why donors should give and the impact they can make. 

The potential donor becomes a donor for your cause.

When a donor gives, you probably have immediate confirmation emails set up. However, make sure to also assign an individual to make a phone call or send a follow-up thanking the donor for their contribution. 
Communicating the tasks that individuals should accomplish not only makes it easy to make sure everything gets done, it also ensures that they don't accidentally repeat tasks.
For example, if multiple people call a supporter to thank them for a donation, that supporter may feel confused or as if the organization isn't well organized. Your fundraising app can minimize this confusion by keeping everyone updated on what tasks have been done and what have not. 
---
It feels like we have an app for everything these days. Why should our fundraising efforts be any different? By leveraging a nonprofit-facing smartphone app for your fundraising strategy, you can accomplish your fundraising tasks from wherever you are. We recommend leveraging this technology to enhance your fundraising and create a more efficient team. Good luck!
Author: Jay Love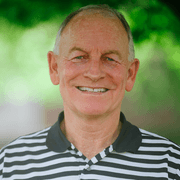 Co-Founder and current Chief Relationship Officer at Bloomerang
He has served this sector for 33 years and is considered the most well-known senior statesman whose advice is sought constantly.
Prior to Bloomerang, he was the CEO and Co-Founder of eTapestry for 11 years, which at the time was the leading SaaS technology company serving the charity sector. Jay and his team grew the company to more than 10,000 nonprofit clients, charting a decade of record growth.
He is a graduate of Butler University with a B.S. in Business Administration. Over the years, he has given more than 2,500 speeches around the world for the charity sector and is often the voice of new technology for fundraisers.