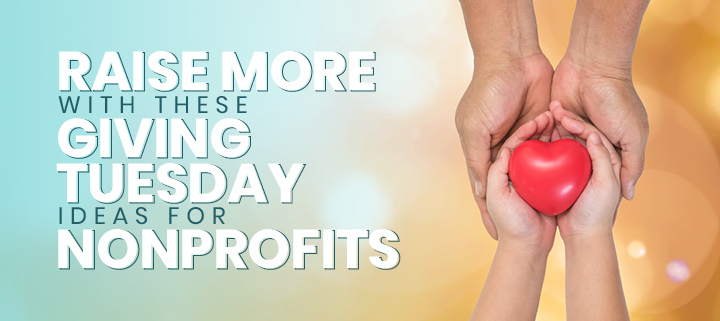 Raise More with These Giving Tuesday Ideas for Nonprofits
It's easy to get caught up in the hustle and bustle of the holiday season once fall rolls around. From holiday shopping to endless gatherings with friends and family, there always seems to be too much to do and not enough time to do it. However, the Tuesday after Thanksgiving is a holiday that encourages the world to pause and engage with neighbors and friends in the spirit of radical generosity.
Known as Giving Tuesday, this holiday began in 2012 as a simple idea to kick off the giving season, promote meaningful community engagement, and celebrate generosity in all its forms. Since its inception in 2012, Giving Tuesday has continued to gain global awareness, leading to more and more money being donated on this national day of giving each year.
Giving Tuesday has become essential to nonprofits for raising money as the holiday season begins. On Giving Tuesday in 2020, Qgiv clients raised millions for a record-breaking year. Nonprofits experienced a 108% increase in dollars raised on the Qgiv platform from 2019, as well as a 100% increase in the total number of donations.
This year's Giving Tuesday falls on November 30th, and just as with any other fundraising effort, preparation is key. Though 2020 was an unprecedented year, donors were still ready to give, and this consistent upward trend in donations is expected to continue through the end of 2021. So, whether your nonprofit celebrates Giving Tuesday every year or if you're a new participant preparing for this year-end giving campaign, here are a few campaign ideas to ensure your nonprofit is ready to bring in record-breaking donations this Giving Tuesday.
10 Giving Tuesday Ideas for Nonprofits
Launch a text fundraising campaign
Surveys have found that millennials are most likely to give on Giving Tuesday compared to other generations, and their preferred method of donating is by text. To appeal to this widely-impactful generation of supporters, implement a text giving campaign using the following steps: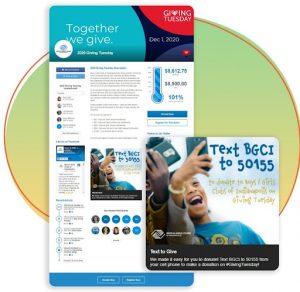 Choose an effective text keyword.

Complicated keywords can make it extremely frustrating

 for donors to contribute to your campaign, and you'll likely lose out on donations. Market your keyword by prominently displaying it on your website and social media channels.

Build your contact lists.

Reaching out to your donors through their phones will aid in increasing your text donations, but don't automatically sign your donors up for communications from your nonprofit. While it's not illegal to text all of your supporters straight off the bat, you might scare off potential supporters by overwhelming them with text messages. Institute an opt-in system and offer a compelling reason for your supporters to consent to receive text messages from your nonprofit.

Prepare your messages ahead of time.

It's important to stay in contact with your donors before, during, and after your

Giving Tuesday campaign

. You'll always want to avoid sending typo-ridden text messages or lackluster appeals, so plan ahead. Draft out messages you want to send your donors in advance to keep them engaged with your campaign and avoid any last-minute scrambling.
Make it a peer-to-peer experience
A peer-to-peer fundraising campaign is an excellent way to engage your supporters. By encouraging your donors and staff to reach out to their families and friends, they can exponentially boost their donation impact. They'll also introduce fresh faces to your nonprofit's mission, and you can use the opportunity to nurture potential long-term relationships with a group of new donors.
Here are the steps for launching a peer-to-peer campaign: 
Set up a campaign website.

The home of your peer-to-peer fundraising campaign should be an interactive, engaging webpage. Make sure to use a platform that makes setting up branded fundraising pages easy and also facilitates communication with your fundraisers via email.
Gamify your campaign.

Introduce an element of competition into your peer-to-peer fundraiser to keep your donors engaged. Offer team-based fundraising and add a fundraising thermometer to your website so donors can track their progress throughout the campaign.
Make social sharing easy.

Social media fundraising

has become an invaluable tool in the online fundraising landscape. Encourage your donors to share your event and their personal fundraising pages on social media. Place social sharing buttons on your campaign page so donors can promote their fundraising efforts to their network of family and friends with just a couple of clicks.
The Boys & Girls Clubs of Indianapolis executed a successful peer-to-peer campaign, raising 101% of their fundraising goal on Giving Tuesday 2020 using Qgiv's platform. If you're looking for inspiration for your own peer-to-peer event, check out their page.
Add an auction
Auctions are a fun way to get your donors involved with your nonprofit any time of year. However, with Giving Tuesday happening during the holiday season, donors will be extra engaged, trying to win gifts they can give to their loved ones or travel opportunities to visit friends and family.
As you're collecting items for your silent auction, consider your audience and the time of year. With winter holidays coming up, there are plenty of seasonal entertainment opportunities and cold-weather recreational experiences you can offer to your auction guests. From ski resort getaways to baskets full of holiday decor, you'll be sure to find plenty of auction gifts that'll ignite passionate bidding wars left and right.
Create a recurring giving campaign
While Giving Tuesday only happens once a year, that doesn't mean you can't nurture long-term donor relationships. Think sustainably by using a recurring giving campaign. You may not pull in as many substantial one-off donations with recurring giving, but you'll be able to rely on a steady stream of donations over time. In fact, monthly donors give 42% more in one year than one-time donors.
For a recurring giving campaign, optimize your donation page by offering your donors the option to upgrade their one-time donation into a recurring donation as they're completing their gift. Using nudges or modal windows is a great way to promote recurring giving. If your donor does choose to make their donation a recurring gift, stay in regular communication with them via email and text. Show your recurring donors how much your organization values them. 
Craft a social media campaign
In the age of social media, connecting with your donors and creating a surge of public support only takes a few clicks. And this is especially true when it comes to time-sensitive, critical campaign days—for example, did you know that Twitter users send 700% more visitors to donation pages on Giving Tuesday than the average day? 
So, when it comes to launching a successful Giving Tuesday campaign, your social media platforms are one of the best tools you have to promote your mission and engage with your supporters. Here's how to create an engaging social campaign: 
Create an event on social media.

Your event will serve as a digital home for your Giving Tuesday fundraising efforts. With a dedicated event, your donors will always know where to go for updates on your Giving Tuesday plans leading up to the big day. On the day of,

post on your event page

to motivate supporters and keep them up to date on how your fundraising efforts are going.

Get your supporters involved.

Once you've created your event, come up with a hashtag for your event.

Ask your supporters to share

their reasons for giving with the hashtag on their personal social media pages and in the event page. To engage your donors, don't forget to add an impact statement that informs them how taking the time to post on their social media pages will contribute to the success of your campaign.

Host a modern-day telethon.

Plenty of social media platforms have livestreaming features you can use to promote your mission and mobilize donors. Bring viewers in by offering entertainment. Ask local performers to appear on your livestream and market their performance in the weeks leading up to Giving Tuesday.

Utilize video.

Posting videos on your social media platforms will keep your donors engaged before, during, and after Giving Tuesday. Surveys show that 57% of people who

watch nonprofit videos

go on to make a donation, making this a valuable tool for your fundraising efforts.
Offer a matching gifts drive
Most donors are always looking for easy ways to increase their impact, and what better way than with a matching gifts drive?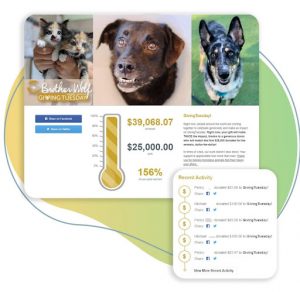 To execute a matching gifts campaign on Giving Tuesday, you'll first need to find a partner who will match your donors' gifts up to a certain amount or for a certain time period. Your partner can be an individual, a local business, or one of your nonprofit's regular sponsors. Reach out to any potential options, and don't be afraid to ask your network for recommendations. If you're not sure what a matching gifts drive could look like for your organization, check out Brother Wolf Animal Rescue's Giving Tuesday fundraiser.
Additionally, to encourage matching gifts beyond Giving Tuesday, consider integrating a matching gift database into your online donation form. This easily navigable tool will allow your donors to locate their employers' matching gift forms in seconds to submit a request, potentially doubling or even tripling the worth of each incoming donation. 
Offer an online store with Giving Tuesday-exclusive swag
A great way to thank your supporters for participating in your Giving Tuesday campaign is by setting up an online store where your donors can purchase merchandise. Branded t-shirts, hats, mugs, posters, and various accessories are all great options for your online store. 
If you already have an online store, add exclusive Giving Tuesday merchandise to your inventory that is only available to purchase for a limited time. Publicize your store and any unique products on your social media platforms leading up to Giving Tuesday and throughout the day to bring in more sales.
Host a fun, one-night-only event
Any holiday is an excuse to celebrate, and Giving Tuesday is no exception. Host an event to celebrate Giving Tuesday, and offer your guests a memorable night that combines philanthropy and fun.
Check out the following event ideas to find one that best suits your organization: 
Plan a trivia night.

Competitive donors will love the opportunity to show off their knowledge. Throw in a few facts about your organization and Giving Tuesday to keep things relevant, but don't make them too hard!
Throw a benefit concert.

Live entertainment is almost always guaranteed to be a hit. Curate a unique lineup, tapping local talent to perform at your concert. Livestream the concert for donors who couldn't make it in person, and get creative with fundraising options. For example, offer song requests as thanks for donations or give your supporters the chance to win meet-and-greets with the performers if they've donated a certain amount.
Organize a scavenger hunt.

A scavenger hunt is a great event for people of all ages. Ask teams or individuals to make a donation to participate, and use the scavenger hunt to highlight locations that are special to your nonprofit or unique to your community. Sprinkle some trivia into your event to make it even more engaging.
Hold a one-day "Stock the Pantry" drive.

Rather than asking for donations, it may be more beneficial to your organization to host a collection drive. Publish your list of requested items in the weeks leading up to your event so participants can add supplies to their Black Friday and Cyber Monday shopping lists. Check out the

Friends of the Davenport Public Library's

Giving Tuesday kindergarten books drive for ideas on how to organize a drive.
To expand your reach, offer virtual components to your events, organize widely accessible virtual events, or throw hybrid events so everyone can participate. Hosting virtual and hybrid events requires reliable software that can adapt to your event needs, so plan ahead by looking for virtual event platforms or virtual fundraising software that accommodates for the needs of your specific event or campaign. 
For more ideas and software solutions that could support your virtual or hybrid event needs, consider consulting Qgiv's list of top virtual fundraising event software.
Launch a major campaign
If your organization is looking to fund a large purchase or is simply making up for a gap in your budget due to the pandemic, launching a major campaign on Giving Tuesday is a great option. Establish a fundraising goal for the first day of your campaign, a.k.a. Giving Tuesday, and tie that milestone to a tangible result. 
For example, tell your supporters you're looking to raise 50% of your total goal to begin building a new facility. Explain that 50% of your fundraising goal will allow you to sign the building contract and break ground to give your donors a solid idea of how their donations will help your organization.
Have a plan for after Giving Tuesday
Once the clock strikes midnight and Giving Tuesday is over, don't forget about all the donors who made this successful day of giving possible. 
Use confirmation emails and receipts as an opportunity to express gratitude for your donors' support. Reiterate the impact they made on your organization with their donation. Then, offer ideas for how they can get further involved with your organization if they're interested. List volunteer opportunities, give a how-to for upgrading donations to a recurring gift, and provide them with options for sharing on social media.
While Giving Tuesday is only a day long, it's possible to reap the rewards from this holiday long-term by turning one-time supporters into repeat donors. Make sure you've adequately thanked all of your fresh faces for lending their time and money to your cause. Nudge your one-time donors towards contributing recurring monthly gifts if they're willing. Share updates and stories from your nonprofit, and keep the cycle of communication rolling.
Final thoughts
Participating in Giving Tuesday is a must for any nonprofit. Whether you decide to run a simple giving campaign or go all out and celebrate the holiday in style, you're sure to gain new supporters and an influx of donations. If you're searching for more information on Giving Tuesday, check out these resources:

About the Author:
Tiara Stephens is the Content Marketing Specialist at Qgiv. She's a writer by trade and a passionate supporter of nonprofits by nature. When she's not typing away at her keyboard for hours, you can find her dancing (if you can call it that) at concerts, drinking copious amounts of English Breakfast Tea, and daydreaming about traveling the world.
https://www.crowd101.com/wp-content/uploads/2021/11/GAP-Qgiv-Crowd101-Raise-More-with-These-Giving-Tuesday-Ideas-for-Nonprofits_feature.png
340
720
Crowd101
https://www.crowd101.com/wp-content/uploads/2020/09/Crowd101-logo.svg
Crowd101
2021-11-29 16:33:28
2021-11-29 16:36:55
Raise More with These Giving Tuesday Ideas for Nonprofits