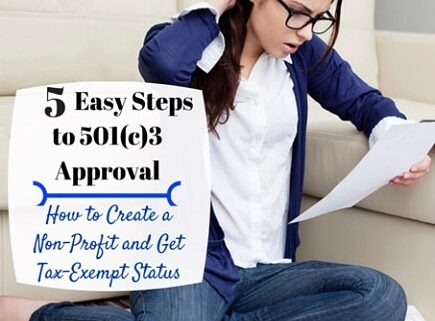 Don't sweat the 501c3 Form 1023 application for your charity or non-profit organization. Follow these five easy steps to approval.
Crowdfunding has opened the door to fundraising and charity organizations with more than $2.85 billion donated in 2015 alone. That number keeps growing every year and doesn't even include traditional fundraising activities. Still, many people miss out on their opportunity for fear of the 501c3 Form 1023 application for non-profit status.
I created a non-profit charity organization, called Books and Dreams, back in 2006 to fund tutoring programs in Latin America. Of all the work involved, from event planning to logistics and fundraising, applying for and receiving the 501c3 tax exemption status was probably the easiest.
If you have a dream and a way to give back, don't let the Form 1023 application keep you from creating your charity organization!
Having the tax-exempt 501c3 status is a big step to proof of credibility for your charitable and non-profit organization and even more so in online fundraising and crowdfunding. Having the verified non-profit designation on your GoFundMe page is a huge boost and it's proven time and again through donations.
As with any government process, Form 1023 and the 501c3 process can be confusing but it doesn't have to keep you from your dream. It actually comes down to five steps that you need to do before your application.
Before you Apply for the Charity 501c3 Form 1023 Application
A good start developing your idea, mission and bringing others on-board will go a long way to make things easier later. This means taking a hard look at your idea for a 501c3 charity and others like it. Are you starting a charity because you have a unique idea that needs supported or are you just starting a charity for the sake of starting something?
If there are other charities that focus on the specific need you're planning on supporting, why not just get involved with them? Starting a non-profit organization means a ton of work and resources and the cause will probably be best served by you bringing your resources to the existing charity rather than competing for donations.
If there is no other charity to support your cause, do you have the patience and time to make a new non-profit work? Just because it's a non-profit doesn't mean it won't be every bit as tough to manage as a business. Charities may be even more difficult to manage because you're asking people to donate their money without receiving a product. Your 501c3 charity will be a part-time job at the very least, you've got to start it with the passion and determination to make it work.
If you're still intent on creating a charity organization, check out the free business plan template here. Approach your charity idea as a business, developing the idea in detail before you take it to friends and family.
After you've really thought through the idea, including getting some constructive criticism from others, review section 501 of the Internal Revenue Code. There are 28 chapters under the code that will qualify you for tax-exempt status, only one of which is for a charitable organization. Make sure your non-profit cause is truly applicable for the 501c3 designation and the Form 1023 application.
Step One for 501c3 Charity Status: State Articles of Incorporation
You first need to incorporate your charity organization in a state by filing Non-Profit Articles of Incorporation. You don't necessarily have to file in your home state but it will usually be easier. The Department of Revenue requires that all charity 501c3 organizations be incorporated as non-profits before they can apply for tax-exempt status through Form 1023.
The requirements for filing will be found on your Secretary of State website.
The process is similar for most states including choosing a name and address for the charity. Incorporating as a non-profit isn't about proving your non-profit status but just providing the state with contact information and your intent to operate a charity. These things are rarely denied, just read through the requirements for your state and list out every point.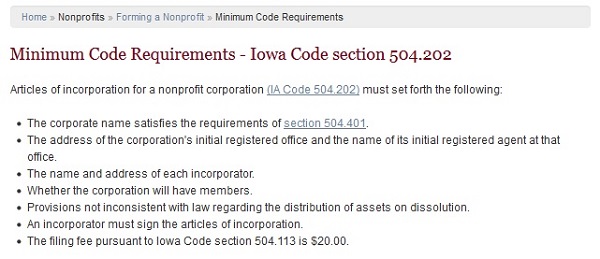 You're not done after filing your articles of incorporation. Most states require you to do a few other things to become a non-profit organization. For example, after receiving a certificate of acknowledgement for your non-profit Articles of Incorporation in Iowa, you must hold an organizational meeting with the Board of Directors to adopt bylaws and elect officers.
Step Two for 501c3 Charity Status: The Board of Directors
A charity's board of directors is a group of between four and twelve people that guide the non-profit's mission and act as an oversight on management. States have different requirements on how many people need to be on the board. While large boards can be a pain to manage, I would suggest finding at least seven people that are willing to spend a couple of hours a month. One of the most common reasons for the IRS to deny your 501c3 Form 1023 application is because of your board of directors, whether it's not enough people or if there are too many related people on the board.
Resist the temptation to fill the board with friends and family. First, they may not really have the passion necessary to be any help. You want the board to be a source of experience and guidance that will last for years, not just a rubber stamp to whatever you want to do. Putting too many related parties on the board may get your Form 1023 non-profit application denied as well.
Look for board members from volunteers of other charity organizations and at professional organizations. Getting active in the community for other non-profits will do a lot to get your own charity going and filled with people that want to give back.
Step Three for 501c3 Charity Status: Preparing Nonprofit Documents
Just as with any for-profit corporation, a legit non-profit will need a stack of documents outlining everything it wants to do as well as the things it can't do.
Bylaws are the rules that the organization follows in its day-to-day management. At minimum, they will usually spell out the process for electing directors, how meetings are conducted, roles of employees, and how committees are formed for your charity organization. Not only are bylaws required for state and federal filings, they help to solve conflicts that might come up and will help guide the non-profit.
The Conflict of Interest policy may be the single most important document to getting your Form 1023 tax-exempt application approved. The policy includes things that will help avoid corruption and conflicts in the charity as well as how conflicts will be resolved when they come up. The IRS offers a sample Conflict of Interest policy with special notes that apply to different states in which the charity is incorporated. I HIGHLY recommend clicking through the link and drafting your policy closely to the sample if you want to get your Form 1023 application for 501c3 status approved.
Besides these required documents for your charity organization, it's also a good idea to have a complete business plan. You won't need it for your Form 1023 application but it will really help you manage the organization. It doesn't have to be a perfect document but you should put the time in to understand how your non-profit is going to be successful. You can always change your business plan as ideas emerge.
Step Four for 501c3 Charity Status: Applying for your Employee Identification Number (EIN)
Your EIN is like a social security number for a corporation, whether you have employees or not. You can apply online or over the phone by filling out Form SS-4. It is a really quick process and not something you should worry about getting approved. Like incorporating in your state, it is more about recording the contact information for your 501c3 charity organization than anything.
Step Five for 501c3 Charity Status: IRS Form 1023
You're finally ready to file Form 1023 for tax-exempt 501c3 status as a charitable organization. The IRS has streamlined the process with Form 1023EZ but only some non-profit organizations will be able to use this form.
To use Form 1023EZ, you must:
Have annual gross receipts in the last three years under $50,000 and expect annual gross receipts in the next three years to be less than $50,000
Have total corporate assets under $250,000
Be formed under the laws of the United States or its territories and have a U.S. mailing address
Not be owned or controlled by an organization previously suspended for 501c3 status
Be formed under a corporation or trust
Not be a church, school, hospital service organization or a supporting organization
If you qualify under these questions, the Form 1023EZ application is a fairly easy form for your 501c3 application. If you've completed all the steps above, most of your Form 1023 application will already be written within those documents. You will have to pay a $400 user fee and must file within 27 months after the end of the month in which your charity was legally formed.
Even if you are not eligible to file Form 1023EZ, you can still file the standard Form 1023 for 501c3 status and it's really not that much more difficult. The IRS provides an interactive page on its website that will guide you through the form or an alternate PDF course to help you. The form itself even includes ten tips to shorten the application process.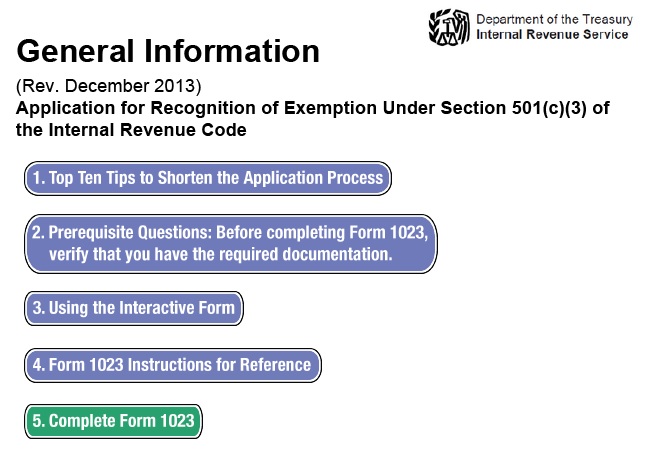 Once you're done completing Form 1023 for charity 501c3 status, expect it to take a few months to process your application and get your declaration letter. You can note your status as 501c3 application pending while you wait. If you've worked through the steps above, there is really little reason why your 501c3 application would be denied and you'll be on your way to raising money for your cause.
https://www.crowd101.com/wp-content/uploads/2016/01/steps-501c3-form-1023-charity-approval.jpg
500
435
Joseph Hogue
https://www.crowd101.com/wp-content/uploads/2020/09/Crowd101-logo.svg
Joseph Hogue
2016-02-01 08:45:45
2016-02-01 08:45:45
5 Easy Steps to Charity 501c3 Form 1023 Approval