4 Impactful Fundraising Ideas to Engage Your Community
According to various studies, charitable giving was on the rise before the pandemic and increased by 4.2% in 2019. Now, social distancing has amplified challenges such as maintaining consistent communication, making it more difficult than ever to engage donors and secure crucial fundraising dollars.
Now is not the time to give up all hope. Instead, your nonprofit's team needs to adjust to societal changes if you want to keep fundraising and growing your donor base.
It's easy to fall into the routine of hosting the same types of online fundraisers, and sometimes, standard donation requests and an online giving page won't cut it. Now is the perfect time to step outside of your comfort zone and experiment with new fundraisers.
This guide will explore four standout fundraising ideas and provide tips to engage your community and spark inspiration. Specifically, we'll explore these fundraising ideas that can be conducted at a safe social distance:
A Shoe Drive Fundraiser
Crowdfunding
Matching Gifts
Volunteer Grants
Your team needs to go the extra mile if you expect your donors to step up to the plate. Ready to engage supporters while simultaneously prioritizing your community's health? Let's dive in.
1. A Shoe Drive Fundraiser
Shoe drive fundraisers are highly engaging and incredibly easy to pull off at a safe social distance. When you partner with the right shoe drive fundraising coordinator, they'll facilitate your fundraiser at no cost and provide you with marketing materials and coaching. Once they send the necessary materials, you'll place your collection boxes around town and promote the fundraiser to your community. Reach out to high-traffic locations like local stores and place collection boxes in those areas.
Once your campaign wraps up, the shoe drive fundraising coordinator will pick up the shoes, contact-free, if possible, and send them to micro-entrepreneurs in developing nations. Then, they'll send your organization a check depending on the total amount of shoes you collect. It's as simple as that!
Although you might be asking, "Why shoes?" According to Funds2Orgs' school fundraising ideas guide, there are several reasons why collecting shoes is a standout idea for any group: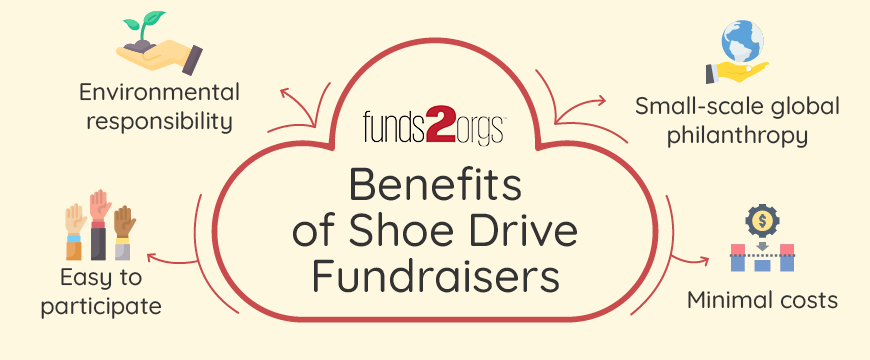 Everyone has an extra pair of shoes that they never wear. Why not give them to a good cause?
Donating and repurposing shoes sets an example of environmental responsibility.
Shoe drive fundraisers support global philanthropy when shoes get repurposed for entrepreneurs in developing countries to sell.
This fundraiser is low-cost for your nonprofit and supporters.
Because of its originality, this fundraiser will stand out to your community. Whether you're a seasoned nonprofit professional or if this is one of your first fundraisers, you'll have no trouble pulling off a shoe drive fundraiser because it's so straightforward. Beyond the financial impact on your cause, your supporters will feel a sense of accomplishment and resourcefulness by repurposing their belongings for a reason that has a special place in their hearts.
2. Crowdfunding
Crowdfunding is one of the leading virtual fundraisers that bring thousands of nonprofits closer to their supporters. This strategy generates plenty of revenue and has helped many nonprofits thrive. In fact, Fundly's crowdfunding statistics page shows that crowdfunding has raised $34 billion for causes worldwide.
Chances are, you've come across one of these campaigns at some point, no matter how long you've worked in the nonprofit sector. They take place primarily on social media, and when your nonprofit hosts this campaign, you'll get empowered to reach supporters across the globe.
For these fundraisers, you select a crowdfunding site and create a donation page that your supporters then share with their friends and family over email and social media, encouraging them to donate. While these socially-distanced fundraisers are fairly easy to pull off, maximizing your potential takes more than setting up a campaign page and calling it a day. Instead, you'll need to implement best practices such as:
Create a foolproof marketing plan. Your marketing strategy can make or break your campaign. Leading up to the fundraiser, share promotional materials on social media, through email, phone calls, and local media. Once the initial excitement of your campaign dwindles, you should proactively update your supporters on progress. Otherwise, you'll lose community interest as your fundraiser goes on.
Use a fundraising thermometer. By adding a fundraising thermometer to your campaign page, donors will enjoy physically seeing the impact their donations have toward meeting your goals. Plus, this establishes a sense of transparency since supporters will know precisely where your organization stands concerning its objectives.
Immediately thank your supporters. As with any effective campaign, personal outreach is vital. According to Crowd101's guide to building a community with crowdfunding, "this is most easily done with an auto-respond message that strikes an emotional cord and hits on your key points. If you really want to build community though, aim for a personal call within 24 hours."
Keep in mind that you don't have to do it alone. In fact, your supporters will play a major role in your success, so supercharge your efforts by relying on your supporters to share your campaign far and wide. Backed by a well-designed crowdfunding platform, your team can quickly set up your fundraiser, spread awareness for your cause, and bring people together over a shared mission despite social distancing.
3. Matching Gifts
Given that your nonprofit may be facing challenging financial circumstances, you need to maximize every donation you get. An easy way to multiply contributions is with a matching gift drive.
Matching gift programs are corporate philanthropy initiatives that many businesses adopt to give back to their communities. When an employer offers this program, they'll match their employees' donations to nonprofits to support the causes their employees support.
Between $2-$3 billion is donated annually through matching gift programs, so if you're not already cashing in on this opportunity, you're missing out. To help you make the most of these programs, let's review the matching gift process:
A donor makes a gift to your nonprofit.
The donor researches their eligibility for a match based on their employer's requirements.
If eligible, they submit the appropriate documentation to their employer.
Once you confirm the donation with the employer, they'll send the match to your organization.
A great way to turn this into a lucrative fundraising idea is to host a dedicated drive where you educate donors on the value of matching gifts and encourage them to research their eligibility.
Keep in mind that many businesses place stipulations on the types of donations that are eligible to be matched. These include guidelines such as minimum and maximum donation amounts, employee and nonprofit eligibility, and submission deadlines. For instance, some businesses partially match the donations made by retired employees, and many companies will not match donations made to religious organizations.
The easiest way to overcome this challenge is to implement an employer search tool that compiles and presents all available information on employers' philanthropic programs. That way, you can focus on promoting the opportunity instead of scrambling to find information.
4. Volunteer Grants
While matching gifts are certainly a prominent type of corporate philanthropy, businesses also give back through other types of charitable programs, like volunteer grants.
Volunteer grants, also commonly referred to as Dollars for Doers grants, are perfect for your supporters who prefer to donate their time rather than money, especially during economic hardship. Through these programs, companies provide monetary donations to nonprofits where their employees regularly volunteer. Volunteers often have to surpass a minimum hour threshold before becoming eligible, such as 25 hours within a calendar year.
This process looks very similar to matching gifts:
An individual volunteers with your nonprofit.
After tracking and recording their time, they research their eligibility for their employer's program.
If eligible, they submit a volunteer grant request to their employer.
Their company verifies the hours with your nonprofit and sends a corresponding monetary grant to your team.
To seize this opportunity, encourage your team to scour its volunteer database looking for eligible supporters. Then, reach out to those individuals. Offer to guide them through the process and share a volunteer grant database to help.
Keep in mind that, similar to matching gifts, businesses place requirements surrounding which employees are eligible, which types of organizations can receive grants, and how many volunteer hours are required. Take the time to read up on all those requirements and become well-versed in volunteer grants so that you can sufficiently secure these funds.
---
Remember, the most successful and engaging campaigns aren't necessarily difficult to pull off. Just get creative and select unique fundraisers that align with your community's preferences. These four serve as a solid starting point, so consider them as you brainstorm your plans for your next campaign.
Sometimes, all you need to do is step out of your comfort zone and expand beyond your typical fundraisers to capture supporters' attention. Regardless of your experience in the nonprofit sector, these impactful fundraising ideas can help you garner the support you need, overcome hardship, and meet aspirational goals in the face of adversity.
---
Guest Author: Wayne Elsey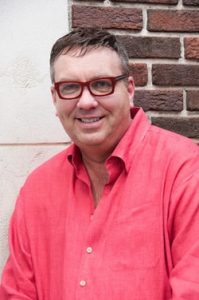 Wayne Elsey is the founder and CEO of Elsey Enterprises (EE) and a member of the Forbes Business Development Council. Among his various independent brands, he is also the founder and CEO of Funds2Orgs, which is a social enterprise that helps schools, churches, nonprofits, individuals and other organizations raise funds while helping to support micro-enterprise (small business) opportunities in developing nations.
https://www.crowd101.com/wp-content/uploads/2021/01/Funds2Orgs_Crowd101_4-Impactful-Fundraising-Ideas-to-Engage-Your-Community_Feature.jpg
300
870
Crowd101
https://www.crowd101.com/wp-content/uploads/2020/09/Crowd101-logo.svg
Crowd101
2021-01-15 14:28:24
2021-01-15 14:51:57
4 Impactful Fundraising Ideas to Engage Your Community