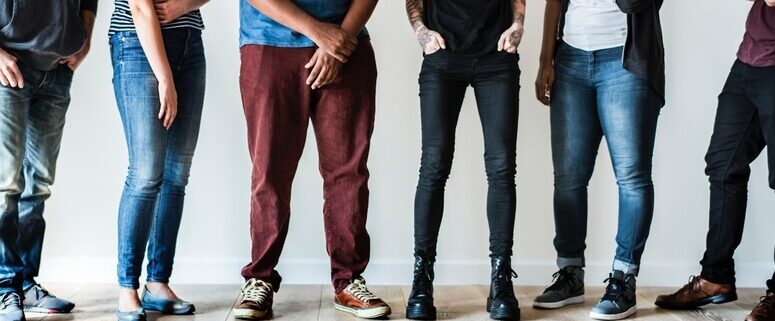 Whether you're an organization fundraising for a community project or an individual fundraising for a personal mission, crowdfunding is a strategic way to gain awareness, raise money, and engage your community all at once.
But what if you could raise the stakes a little bit? Without adding any risk to your mission, you could strengthen your connections within your community, give yourself a whole new way to advertise your mission, and implement a built-in social media strategy.
Enter t-shirt crowdfunding. If crowdfunding asks your community to donate money to a good cause, t-shirt fundraising asks your community to donate to a good cause and get a t-shirt in return.
If you're ready to kick your fundraising strategy into high gear and learn more about t-shirt fundraising, let's get started!
1. T-shirt fundraising builds connections within your community.
You started a t-shirt fundraising campaign because you believe in the cause that you're raising money for. That's the uniting truth, whether your goal is starting a small business, raising money for travel funds or school, or your nonprofit's mission.
A key benefit to t-shirt crowdfunding is that after the campaign is over, you have an expanded community of friends or acquaintances that have proven their investment, both financially and emotionally, in your success.
That's a powerful group of people! Those supporters are going to be the ones who celebrate your success with you when you reach your goals, or help you find another way when things don't go according to plan.
How else does t-shirt fundraising help build a community around your cause?
Because crowdfunding of any type requires person-to-person connections, even just through social media, when people purchase your t-shirts, they feel more connected to you—not just your cause!
When people wear your t-shirt, it creates a sense of community with others who either also wear the t-shirt or otherwise support the cause. Your t-shirts create a rallying point for anyone who supports your mission.
Your t-shirts give people an opportunity to raise awareness for your mission any time they wear it: the shirts can turn them into advocates for your cause! This, in turn, creates a deeper connection to your cause.
Having a community that supports you and has your back is vital for any mission. T-shirt crowdfunding is a great way to start building that community.
2. It doubles as a marketing tactic.
Marketing can be a challenge for anyone—that's why companies hire external firms to handle it for them! But as most individuals and small organizations are unlikely to be able to afford their own marketers, it takes a little more effort for us to gain an audience.
T-shirt crowdfunding is a great fundraising strategy for someone who is ready to use easily available marketing tactics to spread their campaign and cause!
First, crowdfunding is the perfect way to create a social media campaign because the donation/purchase pages are online and able to reach wider audiences. Share them with your friends and send the link through email, and then watch as your page gains attention and traction!
To really take advantage of this marketing tactic though, you have to make your and campaign page as attractive as possible. This means you should include:
A brief paragraph explaining who you are and what your mission is.
A high-quality picture or video of you or something related to your cause.
Ways to contact you.
And don't forget about other methods of communicating online. Not everyone uses social media regularly, so expand your target audience by sending out your order form through email. You can write this email just like you would any other fundraising letter, but with the added bonus of embedding your donation form or including a link in the email!
Then, let your t-shirt order form double as a billboard for your cause! Once people start to receive their t-shirts, those shirts become marketing collateral for your cause.
Your shirt should have a fun graphic and something related to your cause, so when your supporters wear them, everyone who sees the t-shirt gets introduced to your mission! And if someone asks about the shirt, your supporter is able to advocate for your cause.
3. It offers long-term benefits for your cause.
One of the great things about t-shirt crowdfunding is that the benefits of the campaign don't end when the campaign is over.
The two most important long-term benefits for your mission are that the community you built doesn't go away and that even after the campaign is over your t-shirts continue to raise awareness.
First, you can't buy a t-shirt anonymously. Everyone who buys your t-shirt is someone that you can talk to later about supporting your mission in other ways or getting involved somehow. These people have already proven that they support both you and your mission!
Don't let these relationships wither on the vine. Follow up with them as soon as they order a t-shirt to say thank you, and then keep them updated on your progress. Create a conversation with them, and you never know where things might go!
Second, your t-shirts continue to raise awareness even after the campaign is over. Think of your t-shirts as billboards. Your supporters are going to continue to wear your shirts, so make sure they're designed in a way that will continue to help your cause.
Your t-shirts should:
Have your brand name, nonprofit name, or slogan on the front in an easily readable font, or have an image related to your cause.
Be printed so that the words or image pops off the color of the shirt.
Be attractive and comfortable enough that your supporters will continue to wear them as a regular part of their wardrobe.
Playing the long game with your t-shirt crowdfunding marketing strategy is a surefire way to create a community of support for your mission.
4. It's easily accessible to many people.
A huge drawback of some fundraising strategies, like fundraising events or charity 5Ks or food drives, is that they're available only to people who are located in the areas where the events are held. That limits your potential audience to a very small group of people.
T-shirt fundraising is not limited in the same ways. In fact, it's not bound by geography at all, thanks to the internet. When you can promote your campaign to all of your friends, you don't have to worry about time differences or state lines.
Your grandma, two states away? Your friends from summer camp across the country? Your mom's best friend, currently stationed far away? All of these people are now able to support you, even if they're not nearby!
Sharing your campaign isn't only possible through Facebook, too—you can share the good news on Twitter, Tumblr, LinkedIn, and through email! This wide distribution capacity is great for your campaign. Every social media platform has a different audience, so you can reach more people.
Some other obstacles that t-shirt crowdfunding naturally overcomes are:
Prohibitive economic circumstance. Some people might not have the extra money for a t-shirt right now, and that's okay! They can still help your cause by sharing your t-shirt campaign on social media and vouching for you, which is just as valuable.
"Something for nothing" fears. Some people are averse to donating money if they don't know that something definitively good will come from it—but t-shirt fundraising doesn't have that problem! No matter what happens at the end of the campaign, the donor still gets a cool t-shirt.
Start-up costs. Traditional fundraising events require capital up-front, like venue costs and food/drinks. But when you partner with a t-shirt company that's free to start a campaign, you can make sure that you never go in the red while trying to raise money.
T-shirt fundraising doesn't only create a new level of accessibility for supporters—it's a great way for people raising money to create a fundraising campaign without having to front any cash. This is invaluable when you're tight on money or just getting started.
5. It builds excitement for the end goal.
In the same way that peer-to-peer fundraising helps nonprofits build hype for fundraising events by giving supporters ownership of their engagement, so crowdfunding gives your community reason to feel involved and included in your mission.
T-shirt crowdfunding is all about the end goal. And when you've spent a lot of time and effort marketing your campaign, you want people to care about your mission.
When you put yourself on the line, both financially and emotionally, during your crowdfunding campaign, people will respond in kind. By investing in your t-shirts, they also become invested in your success.
A community-funded project becomes far more important to the community than one funded by anonymous investors. So your mission trip becomes the community mission trip, manifested by you.
No matter if the goal of your t-shirt fundraising campaign is to pay adoption fees, school fees, or for a mission trip, investing money into your cause creates an emotional connection between you and your supporters.
Every one of your supporters is rooting for you! Watching your fundraising campaign creep closer and closer to your goal creates anticipation for success—making your success even sweeter.
6. Why is t-shirt crowdfunding so effective?
Now you know what the primary benefits of t-shirt crowdfunding are. But what really drives those benefits? Why are they as effective as they are? The answer lies in human nature.
Humans are socially motivated creatures. So when we see someone that we know and love ask for help, we are moved to help them however we can. And in this era, that might mean donating to a crowdfunding campaign or sharing a post on Twitter.
Social fundraising, like crowdfunding, appeals to us on a fundamental level. We want to watch our friends and family succeed, and if we can do that by buying a t-shirt, we will!
T-shirt crowdfunding is a seriously powerful fundraising idea. Now that you know the benefits and how it works, you can start to use it to support your own mission!
https://www.crowd101.com/wp-content/uploads/2018/12/Bonfire_Crowd101_5-Benefits-of-T-Shirt-Crowdfunding-Plus-Why-It-Works_feature.jpg
371
775
Joseph Hogue
https://www.crowd101.com/wp-content/uploads/2020/09/Crowd101-logo.svg
Joseph Hogue
2018-11-12 17:20:04
2018-11-12 17:20:04
5 Benefits of T-Shirt Crowdfunding (Plus Why It Works)