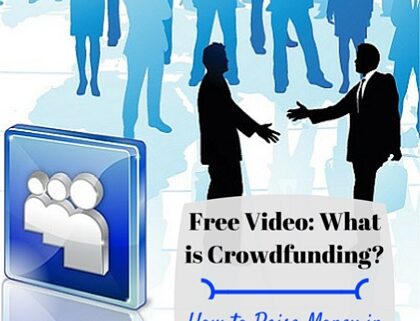 Free Video: What is Crowdfunding?
Crowdfunding is taking off as the preferred way to raise money for fundraising or small business. Check out the video and post below to answer all your, "What is Crowdfunding?" questions.
Today we're starting a video series to answer the question, "What is Crowdfunding?" the online fundraising phenomenon that is changing the way people raise money for small business and social causes.
Over the next several videos, we'll define what is crowdfunding and how you can use it as a great marketing tool for your business or use it to boost your fundraising project. We'll talk about how crowdfunding is so much more than the money and what you need to do to make your campaign a success.
What is Crowdfunding?
Most people think of crowdfunding simply as a way to raise money from a lot of people on the internet. WRONG!
Crowdfunding is about so much more than raising money. In fact, if it were only about the money…it wouldn't be worth it. It's not free money and the process can be just as intense as running your own business. Fortunately, there are a ton of great benefits for your small business or fundraising project that makes crowdfunding a critical part of a marketing strategy.
Crowdfunding can be broken down into two distinct worlds–rewards-based crowdfunding, where you offer products or services for donations, and equity-crowdfunding where you sell a share ownership of the company.
While you might be able to raise hundreds of thousands or even millions in equity crowdfunding, rewards crowdfunding is great because you don't have to sell a part of your company to investors. We're going to focus on rewards-based crowdfunding in this video and hit on equity crowdfunding in a follow-up video.
A donation or rewards-based crowdfunding campaign starts with a page launched on one of the websites like Kickstarter or Crowdfunder. Campaigns can be started to launch a new product, develop an older one or promote a social cause or project.
You'll use the internet for crowdfunding marketing as well as offline marketing strategies to bring people to your campaign page where they'll make a pledge in exchange for one of the rewards listed on your site. Crowdfunding campaigns usually run between a month or two, at the end of which the platform passes the pledges on to you and you fulfill any rewards promised.
One of the best ways to get traffic to your crowdfunding campaign is through your own website and blog. Post once a week for a couple of months before the campaign and you'll start seeing traffic from Google search to your campaign. Bluehost WordPress Hosting
offers one of the most inexpensive plans for simple websites including a free domain name, search advertising credits and an easy-to-use website builder.
What is Crowdfunding: Myths and Misconceptions
There's a popular misconception that crowdfunding is a last resort way of raising money, asking for help if your business is in trouble. But to a lot of business owners, crowdfunding is just another way to market and sell their product or services.
While supporters may be called "backers" and may receive "rewards" for their support, they are really customers getting something in return for their money. It's really a revolutionary new way to grow your business.
There are hundreds of crowdfunding platforms, Kickstarter and Indiegogo are the most well-known among rewards-based crowdfunding while GoFundMe is a popular social cause platform and Crowdfunder is one of the larger equity crowdfunding sites.
Check out our Ultimate List of Crowdfunding and Fundraising Websites for a review of all the fees and special features.
Another misconception of crowdfunding is that of the willing crowd waiting for your campaign. It's true that your crowdfunding campaign can go viral, reaching millions of people through news media or internet shares, but you have to get it to the right people first. Reaching the 'crowd' in crowdfunding means first reaching out to as many people as possible. It's through this first group of outreach that gives your campaign a chance of being shared to thousands or more.
What are the pros and cons of crowdfunding?
The biggest drawback of a crowdfunding campaign is that it can require a lot of time and effort to be successful. This isn't free money.
Successful campaigns usually mean at least three months of outreach before the launch. After the launch, most people report between 15 to 20 hours a week working on their campaigns.
As a business owner, you'll already have some marketing material and content that describes your products and you know what the selling points are so you are not going to see that additional time commitment we see with personal campaigns.
This is really why I tell business owners I talk to that, "All businesses should be crowdfunding," because it is really just an extension of your business into the online space. Your 'rewards' are really just products for sale and the campaign page is a full-page dedicated to your message, it's a commercial that people will actually want to watch.
Crowdfunding doesn't mean you have to do everything yourself. In fact, a big part of running a successful campaign is deciding what you can do and what is better left outsourced. I outsource a lot of my smaller tasks to freelancers on Fiverr.com
. Fiverr is a freelancer website where people post small tasks they are willing to complete for as little as $5 each. The low starting price allows you to check out a few different freelancers and tasks to see which work best without breaking your budget.
What is the Biggest Benefit to Crowdfunding? It's not what you think.
Crowdfunding is so much more than just raising money but people overlook the real benefits because they hold that singular definition that crowdfunding is just about fundraising.
And it's not. It's about marketing!
Think about it. Kickstarter alone gets more than 13 million visitors every month. Many of these visitors are eager to find new products, new technologies and new causes. It is a willing audience like you'll find nowhere else.
Now consider that your crowdfunding campaign is a complete page dedicated to your product or your message and it is absolutely free to put up on the site. You've got real potential to see some massive exposure. The Kickstarter campaign for Reading Rainbow got over 2 million page views. That kind of internet exposure would normally cost you into the thousands and hundreds of thousands of dollars.
Another benefit to crowdfunding is the feedback and sense of community you'll get from supporters and visitors to your page. Because crowdfunding has grown up in this environment of helping people fund their business dreams and social causes, people are extremely open and willing to communicate. It's because crowdfunding supporters feel a level of buy-in with the campaigns they support.
In your crowdfunding supporters, you'll not only find lifetime customers but also lifetime cheerleaders of your brand.
Crowdfunding originally started as an online extension of fundraising and social causes still make up about a quarter of all campaigns. Because of the huge benefits to marketing and brand building, campaigns for businesses are catching up fast. The arts have also found a great medium in crowdfunding and getting projects funded that would otherwise never get off the ground.
This post is just a summary of the key facts in crowdfunding so click through the blog and check out the entire process or click through and grab your copy of Step-by-Step Crowdfunding – the only book to guide you through the entire process of raising money in the crowd.
Next time someone asks you, "What is Crowdfunding?" be sure to tell them everything you've read here.
https://www.crowd101.com/wp-content/uploads/2015/05/what-is-crowdfunding-video-1.jpg
543
420
Joseph Hogue
https://www.crowd101.com/wp-content/uploads/2020/09/Crowd101-logo.svg
Joseph Hogue
2015-12-23 09:13:38
2015-12-23 09:13:38
Free Video: What is Crowdfunding?