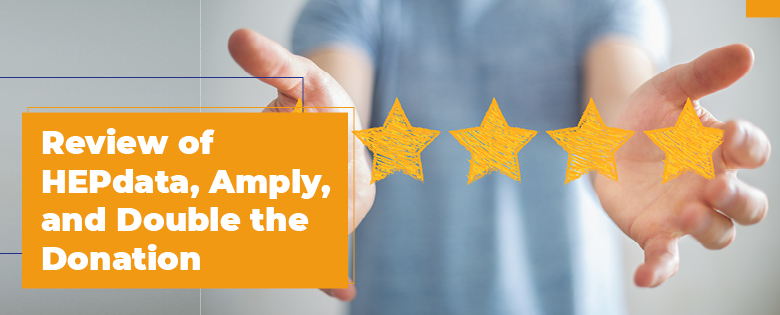 Are you looking for a comparison of HEPdata reviews, Amply reviews, and Double the Donation reviews? If so, you've come to the right place! All three of these software solutions provide tools designed to help nonprofits.
Essentially, these software providers give nonprofits and their donors access to a matching gift database. 
Corporate matching gifts are a unique type of philanthropy where companies match donations made by their employees (aka, your nonprofit's donors). HEPdata, Amply, and Double the Donation all provide tools to help nonprofits bring in more money from matching gifts. However, you may be wondering which solution is the right one for you.
What are HEPdata, Amply, and Double the Donation?
HEPdata, Amply, and Double the Donation are all matching gift solutions that offer access to a matching gift database. A matching gift database houses information on tons of employer giving programs—namely, matching gifts.
Matching gift databases are useful for nonprofits and their donors because they break down what could otherwise be a confusing process. Requesting a matching gift oftentimes requires a donor to contact their HR department or look through their employment materials to figure out if their company offers a giving program.
That's why matching gift databases are so important. Through a simple search tool, donors can easily type in the name of their company and immediately pull up the results that tell them whether their donations are match eligible.
But, as you'll find, not all matching gift solutions are created equal. Some have features that others don't, and it's important to find the right fit for your organization. That's why we've pulled this comparison together of HEPdata, Amply, and Double the Donation.
Read on to discover our findings!
1. Double the Donation: Our Favorite Matching Gift Database
We should start off by mentioning our favorite matching gift solution of the three: Double the Donation.
Double the Donation stood out to us because its database is super comprehensive, constantly updated, and provides easy-to-understand and accurate information.
Double the Donation offers two plans that each pull from its database. The Premium Plan allows your nonprofit to embed a search tool anywhere on your website, giving donors direct access to the database. This is a great, simple option for small to mid-sized nonprofits that want to make it easy for donors to determine their matching gift eligibility through their website.
Here's a glimpse of what their search tool looks like: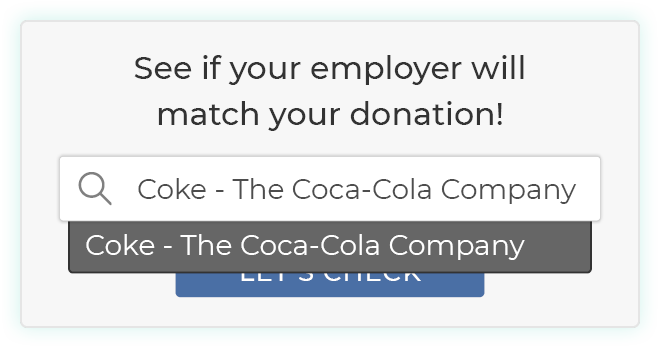 Meanwhile, 360MatchPro by Double the Donation pulls from the same database, but adds a layer of automation to the mix. 360MatchPro scans the information donors provide during the initial donation process to determine their matching gift eligibility right away. Then, the platform sends out an automated email to the donor explaining what they can do to get their donation matched.
360MatchPro has a number of integrations with giving software, so while it's great for larger nonprofits, it also works for any size nonprofit that uses giving software that will integrate.
This means your team will save time on matching gift outreach overall, devote more time to top matching gift opportunities, and get even more matches completed!
Now we're going to jump into some helpful comparisons between Double the Donation, HEPdata, and Amply. 
2. Double the Donation vs. HEPdata
Both Double the Donation and HEPdata provide tools that nonprofits can use to raise more through matching gifts.
For that reason, we picked a handful of categories we could use to compare Double the Donation and HEPdata on a more specific level to help your organization choose the most appropriate option.
The categories we chose were comprehensiveness, user friendliness, and updates/accuracy.
Comprehensiveness
Both matching gift databases contain more than 20,000 entries, which means tons of companies will be covered by either. Admittedly, however, given the size of these databases, it's impossible to compare every single entry. For that reason, the below is our generalized analysis.
Based on our research, HEPdata is missing some major corporations that Double the Donation's database includes. We also compared the number of forms available in each database that help donors fill out their matching gift requests. It's useful if the database contains links to online forms, which speeds up the submission process and makes donors more likely to submit a match request at all.
As a result of our search in both databases, Double the Donation had more online forms available for more companies than HEPdata.
User Friendliness
Both databases offer useful information, but the way the data is presented between both Double the Donation and HEPdata differs.
HEPdata offers information that can be used by both donors and nonprofits. However, the way their database presents its information may be confusing for some donors who are unfamiliar with the process.
Meanwhile, Double the Donation specifically displays its matching gift information with donors in mind. The links to submission forms, company contact information, match ratio, and minimum and maximum amounts for matching gifts are front and center. This means donors who type in their company name and view these results can easily identify the information they need and click on the appropriate link to start their submission process.
Updates and Accuracy
The final category we used to compare Double the Donation and HEPdata is updates and accuracy. Because company policies can change on a regular basis, choosing a matching gift database that constantly updates its information—especially matching gift guidelines—is essential.
Based on our evaluation, HEPdata has some outdated information about certain companies, as well as more instances of inaccurate links. Meanwhile, Double the Donation has fewer dead or inaccurate links than HEPdata, as well as more accurate company information.
Something else that stood out is Double the Donation's autoscan process. Double the Donation automatically scans the information within its database to remove outdated links and contact information. HEPdata doesn't appear to autoscan its information.
3. Double the Donation vs. Amply
When comparing Double the Donation and Amply, we also broke our evaluation into relevant and useful categories to help organizations decide which areas were most important to them.
The categories we chose included updates/accuracy, search functionality, size and growth, and integrations.
Updates and Accuracy
One important thing to mention about Amply is that it's not clear whether their tools pull from their own database. Amply used to pull from HEPdata's database of matching gift programs, which meant Amply had to rely on how frequently HEPdata updated its information. Now it's unclear where they collect their information from.
Because of this, we ranked Double the Donation on top of Amply in terms of updates and accuracy, as Double the Donation automatically scans its information and updates its entries on a regular basis, and we know they use their own database.
Search Functionality
When comparing the use of both Double the Donation and Amply's tools, we looked at more than just the user friendliness. We also looked at search functionality. When donors use Amply's search tool, type in the name of their company, and press "enter," it brings up a list of subsidiaries and variations that include the search term. Donors must then choose the correct entry. 
However, not all of the variations appear when a donor performs their search, which means they may miss their actual company and believe it's not listed in the database. 
Double the Donation, on the other hand, uses a different type of search functionality. When donors type the name of their company into the search tool, the database auto completes the search as they type, suggesting company names and pulling up appropriate information in real time. It even guesses searcher intent and can pull up the correct results, even if the company name is spelled incorrectly. This ensures that donors will have a more accurate search result and find their company if it's listed.
Size and Growth
Between Double the Donation and Amply, we also compared the size of the two matching gift tools and how much growth they have demonstrated in recent years.
Amply is a relatively small matching gift provider and, according to LinkedIn employment data, hasn't shown much, if any, growth for several years. However, Double the Donation is being used by many of the biggest nonprofits and universities, offers a large support team, and has shown significant growth over the years.
This brings Double the Donation out ahead of Amply in terms of size and growth.
Integrations
The last category we evaluated was integrations. As a nonprofit, being able to integrate your fundraising software (e.g., donation forms and CRMs) with your matching gift software can make a huge difference in your level of efficiency. Plus, it can bring in even more completed match requests!
When we looked at the number of integrations each platform offered, Double the Donation came out ahead with more than 50 integrations. Meanwhile, Amply offers only two or three integrations that we were able to find. Many platforms that used to use Amply have also switched over to integrate with Double the Donation's 360MatchPro instead.
4. HEPdata, Amply, and Double the Donation Rankings
Overall, our favorite matching gift database, Double the Donation, came out ahead in terms of many factors and categories. These include comprehensiveness, user friendliness, search functionality, and updates.
Our final rankings are below: 
Double the Donation

HEPdata

Amply
Based on our review of Double the Donation, it's a great choice for nonprofits of all sizes. Users can easily search for their company's name in the database, find the correct employer, and view straightforward information that helps familiarize them with their matching gift program. From there, users are directed straight to the forms they need to submit a matching gift request.
Though HEPdata also offers an extensive database, their entries are not updated as frequently and include more broken links and outdated company information. Amply is the smallest matching gift database of the three options, offering very few integrations, and it's not clear where they get their information from.
---
We hope these reviews of HEPdata, Amply, and Double the Donation have helped you narrow down your search! If you're looking for even more information on matching gift databases, we recommend:

https://www.crowd101.com/wp-content/uploads/2020/10/Matching-Gift-Database-Reviews-Feature.jpg
315
780
Crowd101
https://www.crowd101.com/wp-content/uploads/2020/09/Crowd101-logo.svg
Crowd101
2020-11-02 10:58:01
2021-03-15 19:26:30
Review of HEPdata, Amply, and Double the Donation