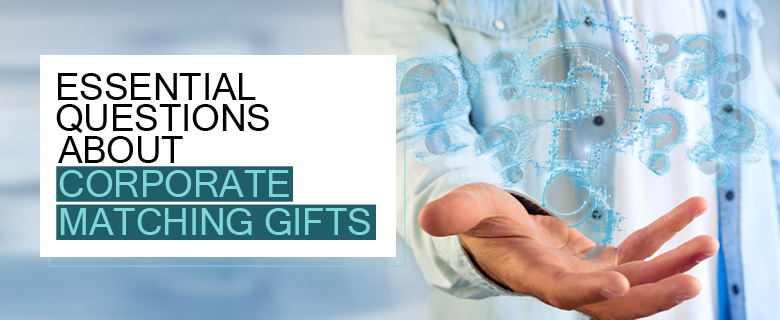 13 Essential Questions About Corporate Matching Gifts
Are you curious about matching gifts? If you work for a nonprofit organization, it's very possible that matching gifts have been mentioned across your fundraising team. But does your staff actually invest time in securing them?
The answer is probably no.
That's where we come in! We've put together this comprehensive guide to help you learn more about matching gifts—from the basics and beyond!
We're going to cover 13 essential questions you should be asking to make the most of this awesome fundraising opportunity:
After you're done reading, you should be in a better position to start raising more revenue with matching gifts. Without further ado, let's get these questions answered!

1. What are Corporate Matching Gifts?
At its most basic definition, corporate matching gifts are donations made to a nonprofit by a company to match an employee's donation.
On a wider scale, though, there's a lot more to it than that. Matching gift programs vary from company to company, so it's important to keep the following in mind: nonprofit eligibility and guidelines.
Which Nonprofits are Eligible for Corporate Matching Gifts?
Nonprofit eligibility depends on each company's matching gift program. Most nonprofits and public educational institutions are eligible to receive matching gifts. However, companies have specific guidelines about which nonprofits they will match gifts for, so it is important for your donors to understand this.
The following types of nonprofits are typically eligible for corporate matching gifts:
Educational institutions,

such as universities, colleges, and K-12 schools.

Arts and cultural organizations,

such as museums, zoos, theaters, or orchestras.

Community organizations, such as animal shelters, homeless shelters, and child welfare programs.
Environmental organizations,

such as conservation efforts, national parks, or wildlife preservation programs.

Health and human services,

such as hospitals, substance abuse programs, or community health centers.
Additionally, many companies only match donations to specific sectors. For example, an environmental business may only match donations to environmental nonprofits. In terms of organizations that are not eligible, religious organizations are most commonly excluded. Many employers don't match donations directly made to houses of worship but will match donations made to places affiliated with houses of worship, such as food banks or homeless shelters.
Again, it all comes back to the company's matching gift program guidelines. Looking for a way to make it easy for your donors to find their company's guidelines? Jump to our software recommendations below!
What are the Guidelines for Corporate Matching Gifts?
Apart from eligible nonprofits, there are also specific guidelines companies set up before donors can successfully request a gift match. These include matching gift ratios, employee eligibility, gift amounts, and deadlines.
Match Ratio
The match ratio is the amount a company will give in relation to their employee's donation. A 1:1 ratio means if a donor gives $25, then their employer gives another $25. Companies set their own ratios anywhere between .5:1 to 4:1, meaning that a $25 donation could be eligible for a match between $12.50 and $100!
Employee Eligibility 
Match ratios also vary from employee to employee. A part-time salesperson might be eligible for a .5:1 match ratio, while the CEO of the same company is eligible for a 2:1 match, meaning their employer will donate twice as much as they did to the nonprofits they support. Retired employees are sometimes eligible, too.
What if two spouses donate to the same nonprofit and are both eligible for corporate matching gifts? In most cases, both spouses can still submit a match request to each of their employers, which means their donation will effectively be tripled! 
If both spouses work for the same company, however, the fine print gets even finer. Most likely, the company will either provide a double match (e.g., 2:1 instead of 1:1), double their match limit, or provide the couple with the same benefit an individual employee gets. 
That being said, be sure to encourage donors to ask their spouse if their company offers a matching gift program in your donation acknowledgment letters, as well!
Gift Amounts 
Corporate matching gift programs also usually have specific minimums and maximums. If the minimum qualifying donation is $25, a $15 donation from a match-eligible donor will not be matched because the donation doesn't qualify. On the other hand, if a company's maximum is set at $500, and a donor gives $1,000, the donation will be matched up to the maximum qualifying amount. The nonprofit has just turned a $1,000 donation into $1,500!
Program Deadlines 
It's also important for donors to know when their match requests need to be submitted by. These deadlines vary by company and are often scheduled around the end of the calendar year or tax season.
Here are some examples of how deadlines may be structured:
A set number of months.

A company may specify that donations are eligible for a company match up to 3 months, 6 months, or 12 months after the initial donation.

End of the calendar year. Employees must submit their match request to their employer within the calendar year of the initial donation.
End of the year with a grace period.

Employees must submit their match request to their employer by a month or two into the year following the year their donation was made. These grace periods may go through the end of January, February, or March, but rarely go later.
Keeping these guidelines at the forefront of your donors' minds is pretty important. But you might still be wondering why matching gifts are important at all. Well, read on to find out!

2. Why are Corporate Matching Gifts Important?
Corporate matching gifts are important because they are essentially free money for your organization! Who doesn't want that? 
But of course, as with every good thing, there is work involved. And this unfortunately means a lot of organizations aren't able to devote enough time to building their matching gift revenue.
In fact, an estimated $4-$7 billion in matching gift funds goes unclaimed each year. That's a lot of money left on the table!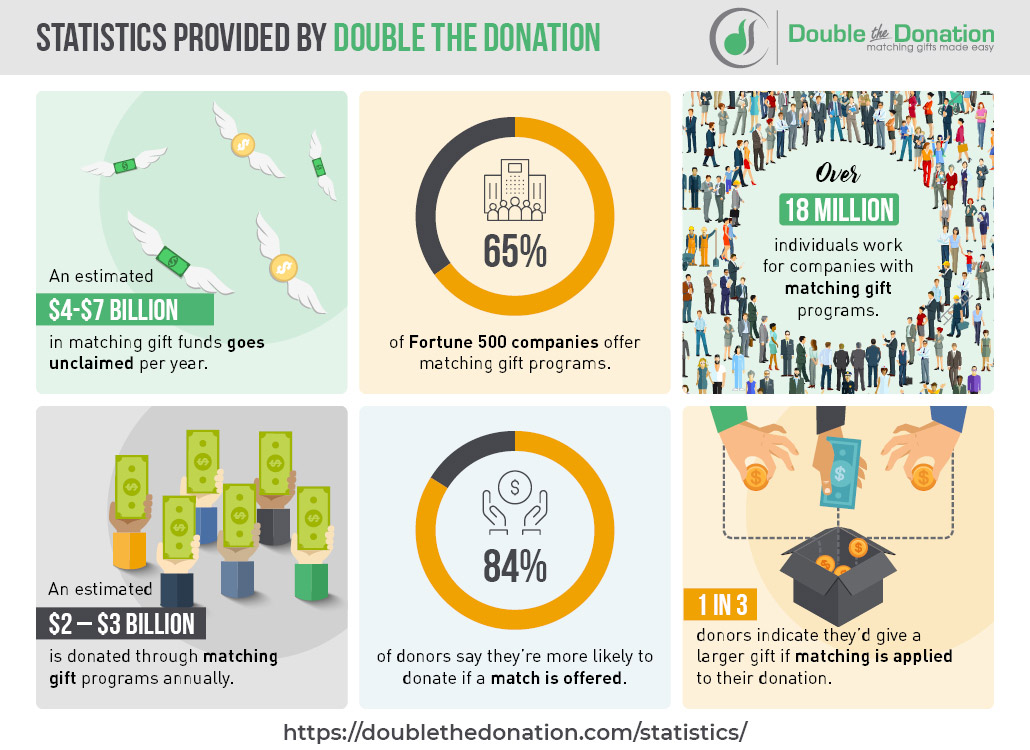 How Matching Gifts Improve Donor Retention
Donor retention is important because when you keep donors coming back, your organization can continue building meaningful relationships with them. After all, a donor who keeps giving to your nonprofit is more likely to get involved, be it through volunteering, serving on a board, or in other ways.
Matching gifts can help boost your donor retention rate. When you demonstrate to your supporters that you're maximizing their donations, they'll be more likely to support your nonprofit long-term. Informing donors about matching gifts also helps keep your organization at the forefront of their minds, whether this is during the donation process or as a follow-up.
Here are some top ways to use matching gifts to increase donor retention:
Send a matching gift appeal

right after the donation.

Update (and thank) donors

when their company's matching donation comes in.

Use your organization's giving statistics to demonstrate the

impact matching gifts are making.
Other Benefits for Nonprofits
There are even more ways nonprofits can benefit significantly from matching gifts. These include:
Boosted fundraising revenue.

Matching gifts turn one donation into two

without

asking donors to reach back into their wallets! This can significantly increase your nonprofit's revenue.

Increased gift amounts.

According to statistics,

1 in 3 donors will give a larger gift if they know a match will be applied

. That means more money all around!

More frequent donations.

Donors will be inspired to give more often if they know their donations will be matched. Nonprofits can build on new and existing relationships with donors by promoting matching gifts.
Matching gifts come with a lot of benefits, but not just for nonprofits. In addition to helping organizations, matching gifts are also important to companies and donors. For example:
Benefits for Companies
Companies can also benefit from matching gifts. Here are a few key ways these programs can give companies a boost:
Corporate social responsibility. Matching gift programs offer an easy way for companies to take part in corporate social responsibility (CSR). 
Invested employees. When a company takes part in philanthropic programs, their employees will be more likely to get involved, and this strengthens their employee engagement.
Reputation.

By setting up CSR programs like matching gifts, companies create a positive reputation for themselves in the public eye by promoting a philanthropic mission.

Taxes. The IRS notes that donations to eligible 501(c)(3) nonprofits are tax-deductible. This applies to both employees and employers.

Since matching gifts are a form of donation,

companies can deduct the matches they make from their reported income. This means they will not have to pay taxes on the donated money.

Read more about taxes and donations!
Benefits for Donors
Donors also benefit largely from matching gifts. For example, they can:
Increase the impact of their donations.

That much is obvious! Their donation can go twice as far. 

Stronger connections.

Donors can create stronger connections with the missions they care about.

More trust with their employer.

Donors are more likely to build trust with their employer because not only do they feel good about donating, but they're proud of their company for donating, too.

Additional tax benefits. Donations are tax-deductible for employees, too! But it's important to understand the specifics. Essentially, an employee can only take deductions on the charitable contribution they actually made. This means if they donate $200 to a nonprofit and their employer matches it at a 1:1 ratio, the employee can only deduct $200, rather than the full $400 after the match.
Obviously, there are plenty of benefits to go around when it comes to matching gifts! So where do these corporate matching gifts come from? Let's find out in the next section.

3. Who Offers Corporate Matching Gifts?
There are a lot of corporate matching gift programs out in the world. In fact, 65% of Fortune 500 companies offer matching gift programs.
Pro Tip: Looking for some of the top companies that match donations? Check out this list!
Here's a snippet of just some of the awesome matching gift programs out there. These five companies offer generous match amounts for a variety of employee types:
Top Matching Gift Company: Apple
Apple offers a very generous matching gift program, matching donations to most eligible nonprofits. Here's the breakdown:
Nonprofit eligibility:

They give to all kinds of nonprofits

Match ratio:

1:1

Employee eligibility:

All full-time and part-time employees are eligible for a 1:1 match, but retired employees are not eligible

Gift amounts:

Minimum of $1 and maximum of $10,000

Deadline:

Within 1 month of the donation date
Learn more about Apple's matching gift program!
Top Matching Gift Company: Google
Google also has a pretty generous matching gift program, offering multiple programs and giving to most nonprofit organizations. Here's how it works:
Nonprofit eligibility:

They give to most nonprofits

Match ratio:

1:1

Employee eligibility:

All full-time and part-time employees are eligible for a 1:1 match, but retired employees are not eligible

Gift amounts:

Minimum of $50 and maximum of $10,000

Deadline:

By January 31 of the year following the donation date
Learn more about Google's matching gift program!
Top Matching Gift Company: GE
General Electric created the first matching gift program. Ever. In 1954, GE launched its GE Foundation's Corporate Alumni Program. They matched employees' donations at a 1:1 ratio because they wanted to build a culture of charitable giving.
The GE program is still thriving to this day, and they have raised more than $1.3 billion to date. 
Let's break down the specifics of the GE program:
Nonprofit eligibility:

They give to all kinds of nonprofits

Match ratio:

1:1

Employee eligibility:

All part-time, full-time, and retired employees are eligible 

Gift amounts:

Minimum of $25 and maximum of $5,000

Deadline:

By April 15 of the year following the donation date
Learn more about GE's matching gift program!
Top Matching Gift Company: IBM
IBM is a great example of a company with more narrow specifications regarding which nonprofits they will match donations for.
Here's the breakdown:
Nonprofit eligibility:

They give to educational institutions, hospitals and other healthcare institutions, and cultural and environmental organizations

Match ratio:

Current employees are eligible for 1:1 matches, while retired employees are eligible for .5:1 matches

Employee eligibility:

All part-time, full-time, and retired employees are eligible.

Gift amounts:

Minimum of $25 and maximum of $5,000 per institution per donor (for a total of $10,000 per year)

Deadline:

Within 1 year of the donation date
Learn more about IBM's matching gift program!
Top Matching Gift Company: BP
BP also has a great matching gift program. The company will match the straightforward donations made by their employees, as well as all of the funds raised by an employee in a peer-to-peer fundraising campaign.
Here's how it works:
Nonprofit eligibility:

They give to STEM educational institutions, economic development organizations, environmental organizations, and select other nonprofits

Match ratio:

1:1

Employee eligibility:

All full-time and part-time employees are eligible for a 1:1 match, but retired employees are not eligible

Gift amounts:

Minimum of $25 and maximum of $5,000

Deadline:

Employees should login for more details
Learn more about BP's matching gift program!
These are just a few of the available matching gift programs out there. Luckily, you don't have to keep track of all the companies that match donations because there are software solutions that will do it for you. Jump to that section now!

4. How Do Nonprofits and Educational Institutions Collect Matching Gifts?
Even though the specifications of matching gift programs differ company to company, the process for matching gifts is the same across the board. Here's a step-by-step breakdown of how the matching gift process works:
A donation is made to a nonprofit.

This first step is obvious, but there can't be a matching gift without an initial gift to match!

The donor submits a matching gift request.

After making the initial donation, the donor must submit a matching gift request to their employer for review. This is to make sure the nonprofit is eligible and the minimum/maximum has been met.

The company reviews the donation.

Once a company reviews the donation and finds that it's match eligible, they will reach out to the nonprofit to confirm the original donation matches the request.

The company matches the donation.

The nonprofit or educational institution receives the check for the matching donation.

The only part of this process that varies is how the donor submits their matching gift request. Some companies have a form in their online portal, and others have downloadable PDF forms. Still, some require donors to reach out to their employers to seek more information.
Pro Tip: Matching gift software like Double the Donation provides donors with exactly the forms they need or leads them to the page in their employer's portal where they can complete their matching gift request!
5. How Can Nonprofits Market Matching Gifts?
Corporate matching gift information is often included in employee benefit packages, but employees rarely know the specifics of their matching gift programs, or even that they're eligible!
The biggest hurdle to increasing your matching gift revenue is lack of awareness. 
To be clear, the answer to maximizing matching gifts is marketing. Plain and simple.
So what are the best ways to market matching gifts?
Donation Pages
Your donors are obviously passionate about your mission. Including matching gifts as part of the donation process can help donors immediately double their impact Embed a search tool into your donation form so donors can look up their company's matching gift information right then and there!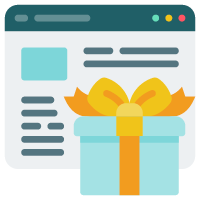 Dedicated Matching Gift Pages
This is a page on your website designed to explain to donors what matching gift programs are and encourage them to check with their employers about potential matching gift programs. This page is also a great place to embed a search tool for donors to look up their employers' matching gift programs on the spot.
Confirmation Screens
Just as it's important to market matching gifts during the donation process, it's essential to showcase them after, too. After all, the sooner a matching gift request is submitted, the better. Be sure to include matching gift details on the donation confirmation screen to encourage your donors to check their eligibility!
Website Navigation
Make it easy for your website's visitors to access matching gift information. By inserting a direct link to your matching gift page in your website's navigation, you'll seamlessly direct donors to the information they need.
Social Media
With Facebook, Instagram, Twitter, and LinkedIn, the world is more connected than ever. Use your social media accounts to spread the word about matching gifts and encourage donors to check their match eligibility. You can even schedule these posts in advance so you don't have to worry about it!
Shine a spotlight on donors and companies that have successfully submitted matching gifts. This encourages the spotlighted donor to go through the process again, and also inspires new donors to claim that spotlight for themselves by getting their donations matched!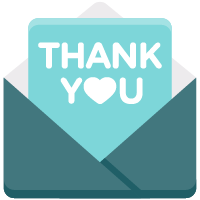 Acknowledgment Emails
Email is a quick and easy way to show your appreciation after a donor has given to your cause. Be sure to use acknowledgment emails that are personalized to each donor and branded to your organization…while also offering information on matching gifts! The matching gift appeal shouldn't be a large component of your thank-you message, but it works as a quick reminder that your donor's gift may be match eligible.
Newsletters
If your nonprofit sends out regular newsletters, it's a good practice to dedicate a section to matching gifts. Your newsletter already serves as a way to keep supporters informed about what's happening at your organization, so why not keep them informed about this awesome and easy giving opportunity? Chances are, your supporters don't know much about matching gifts, so educating them via your newsletter is a great step!
General Emails
When sending out general emails to your donors, you should always include something about matching gifts. It can be something as simple as a quick reminder for donors to check their eligibility status written in your email signature. Keep matching gifts at the forefront of their minds!
Direct Mail
People can sniff out an automated message from a mile away. This is why direct mailings can be a more  personalized addition to your donor outreach. You don't have to handwrite every single thank-you letter or postcard, but signing your name at the bottom of the letter can have a huge impact, especially for donors who prefer direct mail to email.
You can also include a paper insert in your mailings that promotes matching gifts. Whether you're sending out a donation acknowledgment letter or a fundraising appeal, a dedicated insert can lead to an even higher response rate for your matching gifts!
However, coordinating direct mail efforts on your own can be a bit of a hassle—which is why we suggest working with a direct mail platform like GivingMail to simplify the process from start to finish. Plus, the right fundraising partner can even help you save money that you would otherwise have spent on staff time and materials required for a DIY approach.
Giving Season Outreach
Many donors have a tendency to give at the end of the year. This is due to a few reasons, such as more awareness around how much they can afford to give and general holiday cheer! What does this mean for your nonprofit? Well, it means you should be promoting matching gifts as part of your year-end giving campaigns!
As you craft your year-end giving appeals, be sure to mention matching gifts in your outreach. This encourages individuals to donate and reminds them that their gifts can potentially have double the impact.
Giving Tuesday is an excellent time to be promoting matching gifts, as well. Giving Tuesday occurs the Tuesday after Thanksgiving and serves as an international day of charitable giving at the beginning of the holiday season. If your organization takes part in Giving Tuesday, be sure to market matching gifts to make your donations go twice as far!
Looking for even more ways to market matching gifts? Check out these strategies from Double the Donation!

6. What are Examples of Organizations that Benefit from Corporate Matching Gifts?
Now that you know how you can market matching gifts to your supporters, let's see some examples in action! These organizations are doing a fantastic job promoting matching gifts on their websites so their supporters can easily access the information they need.
Los Altos Community Foundation
Los Altos Community Foundation encourages community building by leading and empowering residents and organizations. The organization provides grants, community-building programs, and donor-advised funds, all while addressing community issues.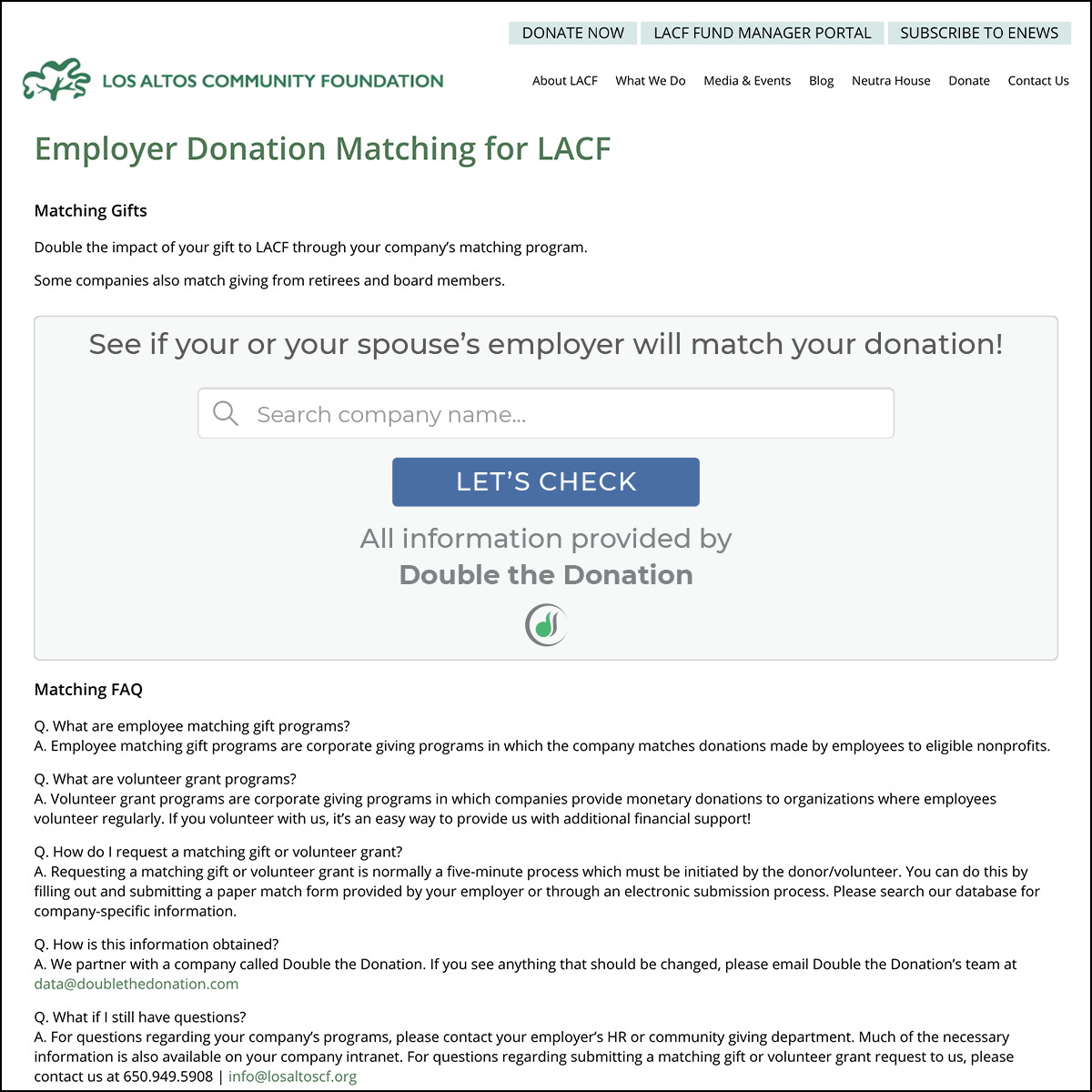 Los Altos Community Foundation features a page on their website with a search tool to allow donors to search for their employer's matching gift information. This page is easily accessible from their navigation menu.
ASPCA
The American Society for the Prevention of Cruelty to Animals (ASPCA) is one of the largest humane societies in the world, and was the first one established in North America.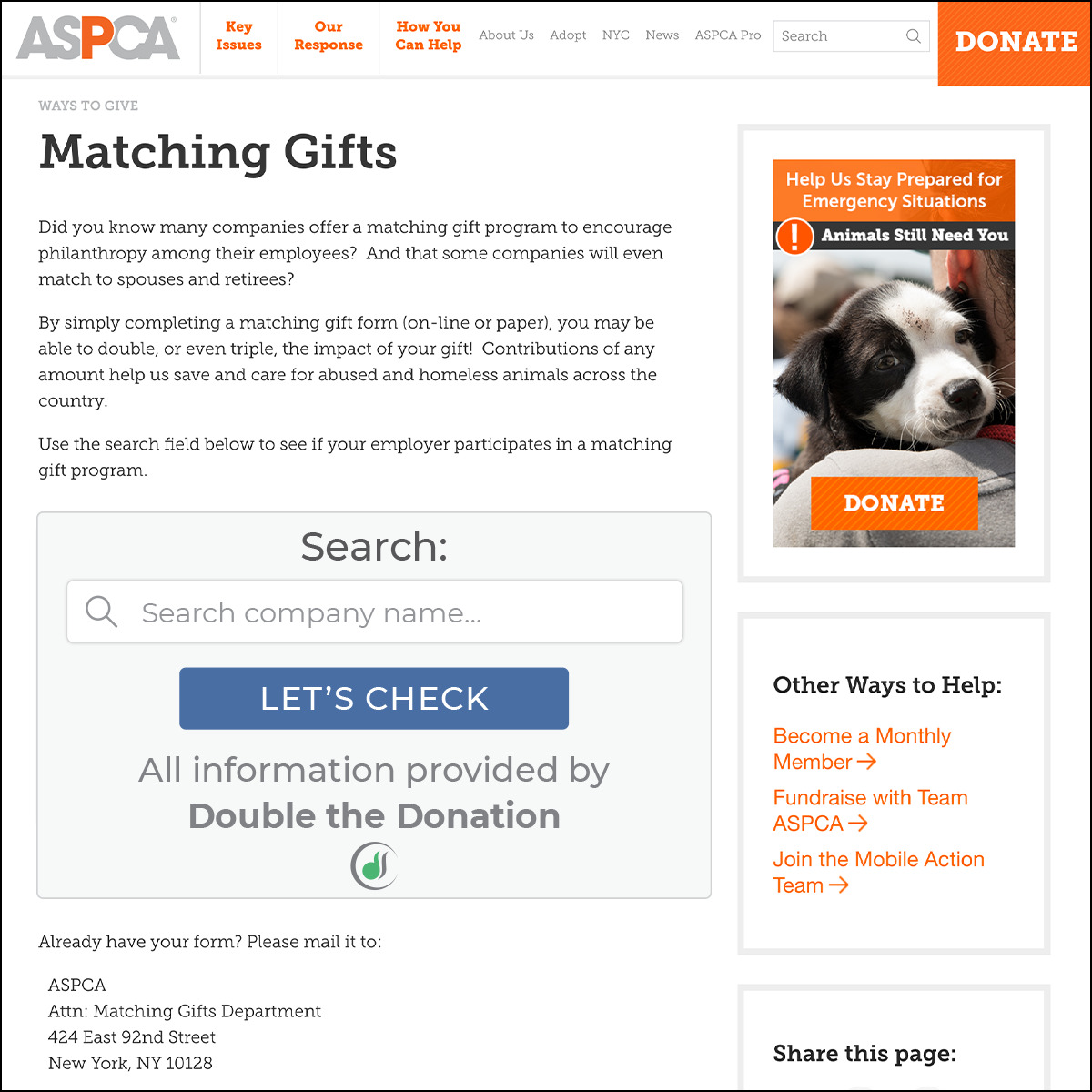 The ASPCA directs donors to matching gift information on their "Ways to Give" page. Once there, donors can view the search tool and type in their employer's information to determine whether they're eligible for matching gifts.
THIRTEEN
THIRTEEN is a cultural and educational institution that uses television and electronic media to put on programming with a specific purpose: to celebrate arts and culture, explore science and nature, and encourage everyone to enjoy learning.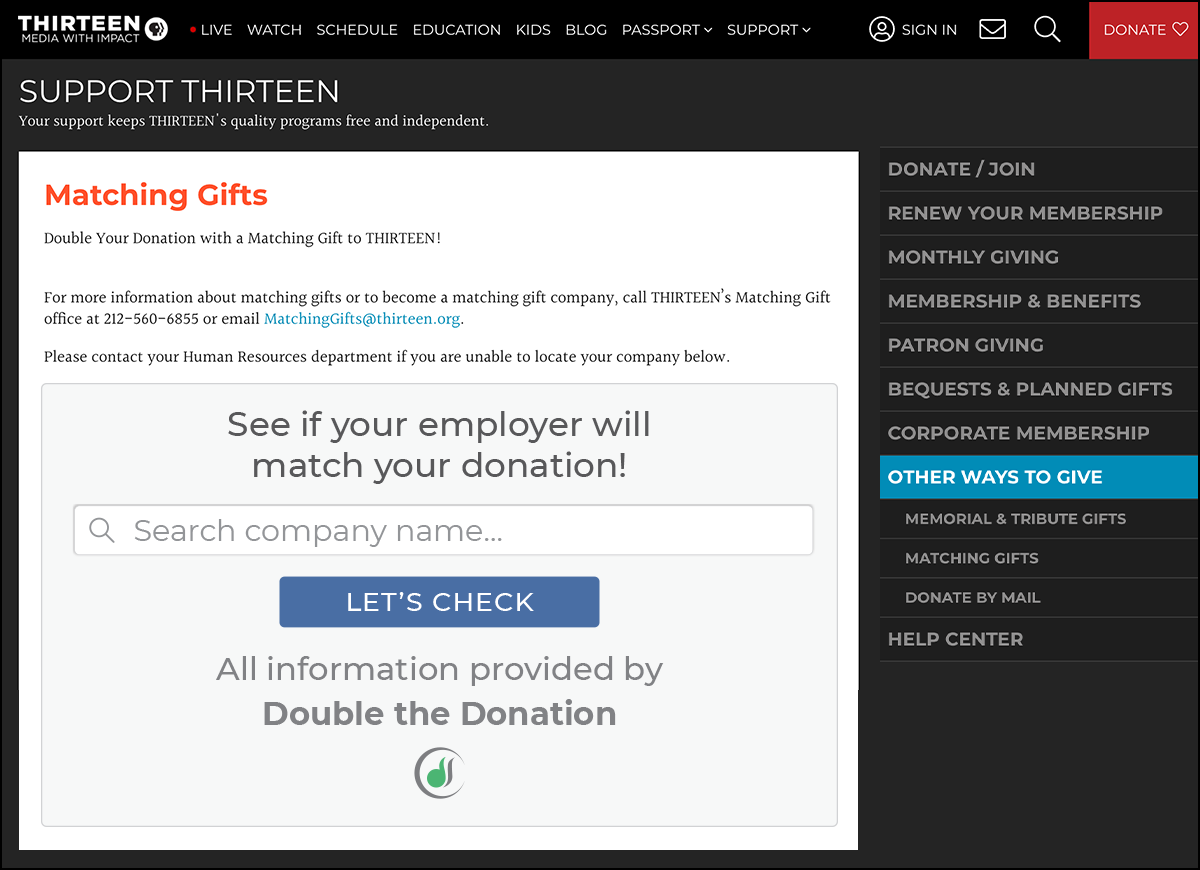 On THIRTEEN's donation page, they feature a prominent link sending donors to their matching gift information page. There, donors can use the search tool to determine whether their employer offers a matching gift program.
Girl Scouts of Greater Atlanta
Girl Scouts of Greater Atlanta serves around 36,000 girls and over 17,000 adult members in 34 counties in the Atlanta area. They encourage girls to build courage, confidence, and character to make the world a better place.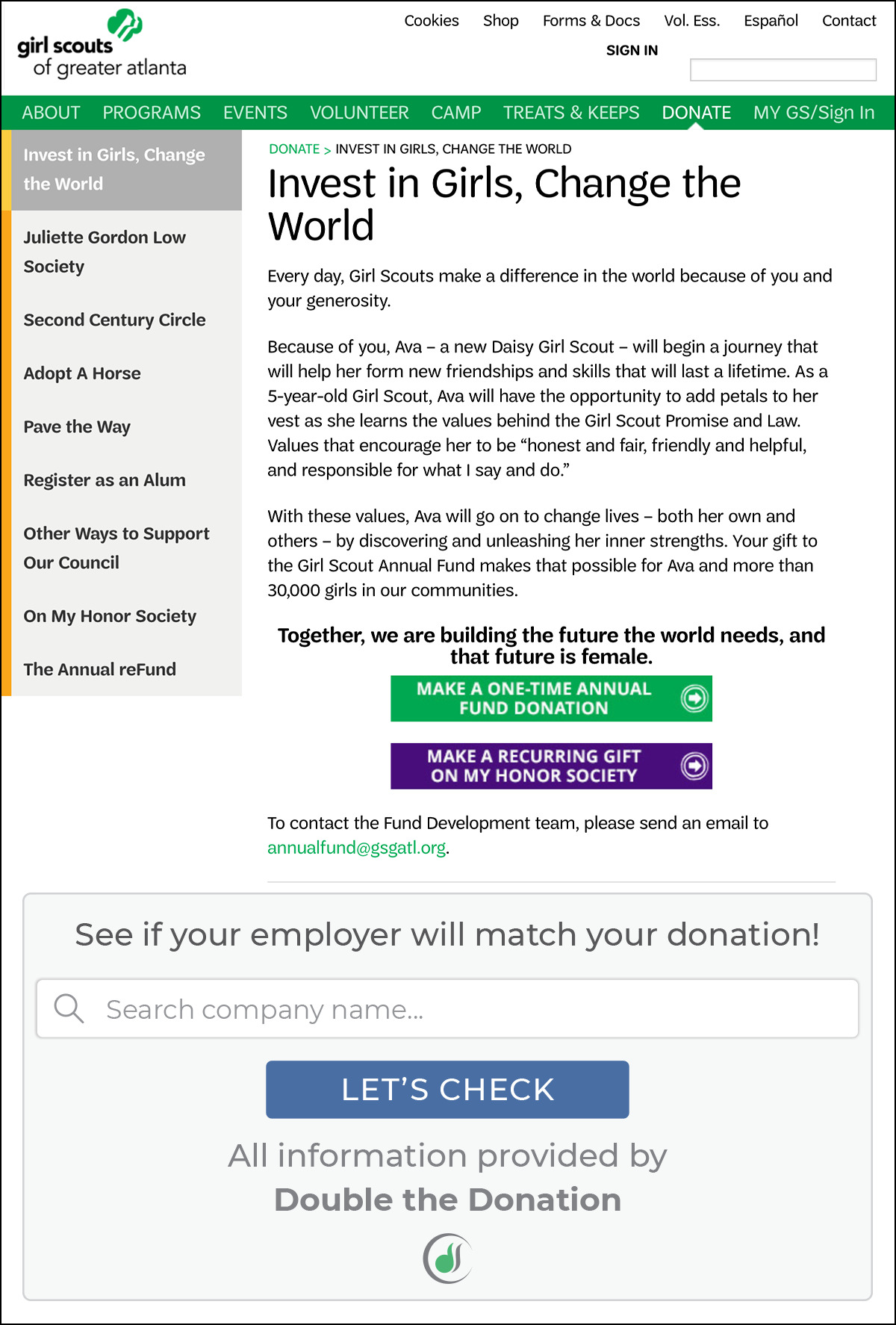 Girl Scouts of Greater Atlanta features a matching gift search tool right on their main donation page. This way, supporters who go to donate are immediately presented with an opportunity to determine their matching gift eligibility.
kidsPACK
kidsPACK is a nonprofit organization committed to improving the lives and opportunities of children. Their mission is to help make sure no child goes hungry.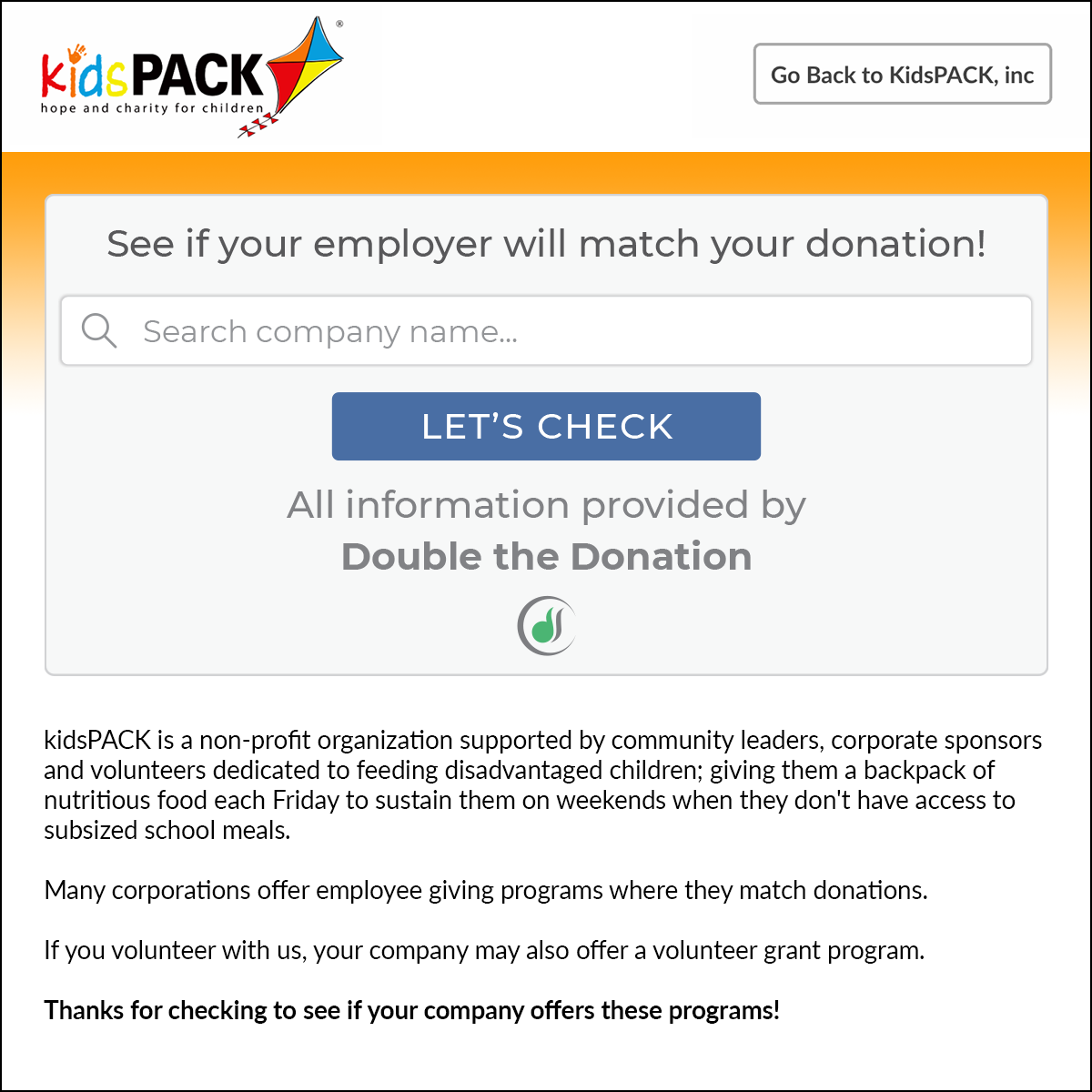 At the bottom of their main donation page, kidsPACK features a prominent link to corporate matching gift information. Once donors click on that, they're taken to the matching girl search tool and can view even more information about matching gifts below it.
These organizations do a great job of featuring matching gifts on their websites and providing donors with the information they need to request a corporate matching gift from their employers. From FAQs to prominent links in their navigation menus, donors will have no problem figuring out their matching gift eligibility!

7. How Do Matching Gifts Improve the Donor Journey?
We've already discussed how matching gifts benefit nonprofits, companies, and donors. Plus, we've seen effective marketing in action. But, we haven't dug deep into how matching gifts actually improve the donor journey.
What is the Donor Journey?
The donor journey is the process of turning potential supporters of your nonprofit into active and engaged donors. It's an essential part of your fundraising success because it helps you understand the individual donors who make up your supporter base.
These are the four main stages of the donor journey:
Awareness:

The donor discovers a problem they want to help solve.

Research:

The donor goes online to search for ways to help solve the problem, which includes researching nonprofits.

Decision:

The donor decides to donate to a nonprofit (aka, yours!).

Sharing:

The donor shares your cause with others.
This is the donor journey in a nutshell, but there's more to it than that! 
The donor journey is even more effective when you incorporate matching gifts. Not only does it give your donors additional ways to support your cause, but it can result in an increased gift size and more donations in general.
This means you have to take charge and promote matching gifts right at the start, otherwise there won't be a lot of motivation for your donors to get involved. Here's a breakdown of how matching gifts fit into each stage of the donor journey.
Matching Gifts in Stage 1: Awareness
As soon as a donor realizes there's a problem they want to help solve, they're already gaining more of an awareness. They might not have encountered your nonprofit just yet, but this is a great segway into promoting matching gifts. The more information you provide to prospective donors about matching gifts, the more likely they will be to support you.
Matching Gifts in Stage 2: Research
Now the real work begins! Prominently feature a dedicated matching gift page on your nonprofit's website. Make it easy to find, such as by placing a link front and center in your navigation. The more information you offer upfront, the more likely your donors will be to look up their eligibility for a match.
Matching Gifts in Stage 3: Decision
As soon as the donor decides to submit a donation to your nonprofit, they should be greeted with helpful resources to determine their matching gift eligibility, if they haven't already. This could include helpful overviews of matching gift programs or step-by-step instructions. Even updating the confirmation screen with matching gift information can have an impact!
Matching Gifts in Stage 4: Sharing
Donors will be more likely to share your cause with others if they have a good experience. This means your organization needs to ensure the matching gift process runs smoothly from start to finish. 
Part of the process is verifying their donation when their company reaches out. Be sure to have a set process in place so you can efficiently verify each donation for its match. This may mean familiarizing yourself with the various corporate giving platforms that companies use. Your dedicated matching gift page can include this information for your own staff, as well!
The donor journey is essential and should not be overlooked. If you want to engage your donors and encourage them to submit a request for matching gifts, be sure to optimize the entire experience.

8. How Does Matching Gift Software Help Nonprofits?
It's obviously important to raise awareness around matching gifts. We've seen examples of companies that offer matching gift programs, and we've looked at some awesome organizations that market matching gifts to their supporters.
But how can your organization specifically target matching gifts as a great fundraising opportunity?
Investing in matching gift software, specifically software that pulls from an extensive matching gift database, is an effective way to go.
What is a Matching Gift Database?
A matching gift database houses information of thousands of companies and their matching gift programs. This data includes links to matching gift request forms, minimum and maximum amounts, match ratios, employee and nonprofit eligibility, and more.
So how do you access a matching gift database? You can do this by investing in matching gift software! And we've got our top recommendation for you: Double the Donation.
How Double the Donation's Matching Gift Software Works
Organizations using Double the Donation can easily embed a search tool plugin right into their website. From there, donors can access the matching gift database by using the search tool and typing in their employer's name.
Then, donors can immediately submit their match requests using the instructions, forms, and guidelines found in the matching gift database!
Benefits of Double the Donation
Benefits of Double the Donation include:
User-friendliness.

What good is a database if your users don't understand how to use it? With Double the Donation, donors can easily search for their employers

and

understand the information presented to them.

Customizability. Though the search tool plugin looks great as is, you can also use advanced customization options to match your organization's branding if you want!
Comprehensiveness. Double the Donation's matching gift database is super comprehensive, listing more than 20,000 companies and subsidiaries.
More identified matching gift opportunities. 360MatchPro helps automatically determine a donor's matching gift eligibility via email domains and other provided information, which means more donors will successfully submit a match request.
More completed matches. Because 360MatchPro immediately directs donors to the necessary forms and guidelines after the donation is made, you'll drive more matches to completion than ever before, and boost your matching gift revenue as a result!
More time for top opportunities. Since 360MatchPro automates the matching gift process for every single donor, you can focus less on small dollar-value matches and instead focus your team's efforts on your highest-value opportunities.
360MatchPro by Double the Donation can track your donors' matching gift submission process to completion. The platform automatically scans the information your donors provide, such as their email domain or employer information, and then triggers customized emails to these donors based on their eligibility.
Depending on their eligibility (match eligible, undetermined, or likely ineligible), 360matchPro encourages the donors to take the next relevant steps to submit a match request. From there, you can easily track the submission process from start to finish.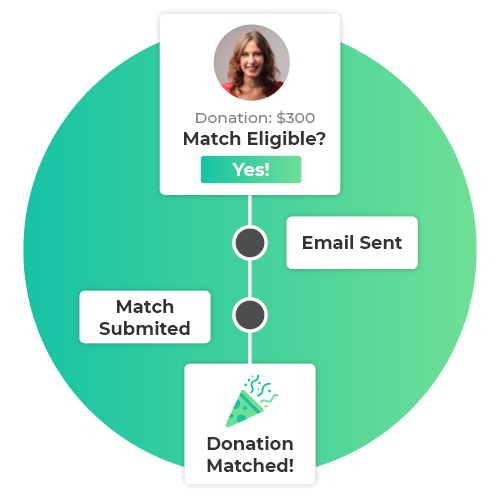 Learn more about 360MatchPro by Double the Donation!

Integrations with Matching Gift Software
When investing in matching gift software, you shouldn't just think about the software alone (or the suggested budget sizes). You also need to think about how it will work with the fundraising platforms you already use. That's why our top pick, 360MatchPro by Double the Donation, offers 50+ integrations with the leading fundraising platforms.
These integrations include:
Donation Tools
360MatchPro by Double the Donation integrates with a number of online donation tools, such as Blackbaud Luminate Online, iModules, and Fundraise Up. Once the integration is set up, the platform will give your donors multiple opportunities to provide employer details as they donate. Add the 360MatchPro company search tool to your form to make this easy. This seamless addition to the donation process will encourage more donors to check their match eligibility.
CRMs
360MatchPro also integrates with many leading CRMS, such as Blackbaud (Raiser's Edge NXT) and Salesforce. After the integration has been activated, new donation records within your CRM will automatically flow into 360MatchPro. Once there, the donors' information (such as employer details or email domains) will be captured so you can automatically follow up with them about matching gifts.
Peer-to-Peer Fundraising Platforms
360MatchPro integrates with top peer-to-peer fundraising platforms, including Classy, TeamRaiser, and DonorDrive. Once the integration is complete, the system will start identifying matching gift opportunities for every transaction that passes through your peer-to-peer fundraising platform. This means you won't miss out on valuable matching gift opportunities!
These native integrations make matching gifts a seamless part of your donor's experience. When donors give through a fundraising platform you already use, the information will flow straight into 360MatchPro, which will then trigger the necessary follow-up emails. All you have to do is enter your API keys to activate the integration.
Learn more about 360MatchPro's integrations!

9. How Do Matching Gifts Work with Fundraising Events?
We've covered a lot of basics around matching gifts and how they work in general. But what if we're not talking about typical donations that can be doubled or tripled? Believe it or not, but there's a wide variety of fundraising campaigns beyond individual donations that are eligible for matching gifts.
These include larger fundraising events, such as:
Runs

Walkathons

Ride events

And more!
These events involve participants who take part in a physical activity (walk, run, ride) for a certain distance and collect pledged donations that directly correspond to that distance. The farther a participant goes in the event, the more money they raise for your nonprofit!
So how do matching gifts factor into fundraising events?
It's pretty simple, actually! These corporate donations are called fundraising matches.
What is a Fundraising Match?
Fundraising matches are similar to matching gifts in that companies will match donations an employee makes to the nonprofit; however, these are in the form of fundraising events. When an employee takes part in a walkathon, run, or ride event, for example, their employer will match the funds they raised through sponsorships or other donations.
Fundraising matches may have a maximum per employee, just like regular matching gifts, but if your organization holds events like these on a regular basis, you could be missing out!
Don't delay in finding out more about the companies your event participants work for. Here are some examples of companies that offer fundraising matches:
State Street Corporation
State Street Corporation offers a CollectMore program where the company matches an employee's fulfilled fundraising pledges.
When combined with State Street Corporation's regular matching gift program (GiveMore), there's a maximum limit of $10,000 for matches.
Learn more about State Street Corporation's fundraising match program!
Penguin Random House
Penguin Random House offers a fundraising match program where the company matches up to $1,500 per employee per year for money raised by employees during fundraising events.
Eligible events include walkathons, bikeathons, and 5Ks, and the nonprofits must qualify and have 501(c)(3) tax-exempt status.
Learn more about Penguin Random House's fundraising match program!
Intuit
Intuit employees are eligible for fundraising matches if they participate in a fundraising activity, such as a walk, run, or ride. Intuit will match all of the money personally raised by the employee.
When combined with individual matching gifts, Intuit has a maximum of $5,000 in matching donations per employee each year.
Learn more about Intuit's fundraising match program!
Be sure to raise awareness around fundraising matches if your organization hosts these types of events!
Pro Tip: If you've made the investment in matching gift software, this can help you identify participants in your event who are eligible for a fundraising match. 
10. What are Other Types of Corporate Giving Programs?
Believe it or not, matching gifts and fundraising matches are not the only types of corporate giving programs out there. In fact, there are several! As an added bonus, here are a few other types of common corporate giving programs your organization can leverage:
Volunteer Grants
Also known as Dollars for Doers, volunteer grants are awarded to nonprofits by a company where employees regularly volunteer. In order to receive a volunteer grant for the nonprofit, the employee must meet certain threshold requirements, including a minimum amount of hours volunteered. This is a great opportunity for boosted revenue when your organization has a dedicated group of volunteers!
Pro Tip: Double the Donation's matching gift database also includes information on corporate volunteer grants!
Automatic Payroll Deductions
Automatic payroll deductions are one of the easiest workplace giving programs you can participate in. Employees arrange to have a portion of their paycheck regularly donated to a nonprofit. Companies typically limit the type of nonprofits that are eligible, but this is a great way for the nonprofit to receive recurring contributions.
In-Kind Donations
In-kind donations are another awesome way for companies to support nonprofits! Rather than donating money or volunteer time, a company will donate services or products to an organization. These can take the form of equipment for projects, tax services, or even supplies for an event.
Learn about even more corporate giving programs!

11. How Can Companies Manage Their Matching Gift Programs?
For companies that offer corporate matching gifts, managing their giving programs effectively can be a hassle. Just as nonprofits can benefit from matching gift software, companies that offer matching gift programs can also benefit from workplace giving technology.
Workplace giving software helps companies manage their matching gift programs, which makes it easier for their employees to participate.
After all, when companies focus on engaging their employees in their matching gift programs, the results benefit nonprofits tremendously. That's why a company's workplace giving strategies should always be on a nonprofit's radar. 
Using workplace giving tools, companies can:
Track employee donations.

Review and/or automatically approve matching gift requests, based on the company's guidelines.

View the overall impact employee donations are making through robust reporting tools.
Companies that leverage workplace giving software put themselves in a position to make the most of the matching gift programs they've already

put so much resources and effort into. The more streamlined their tracking and approval processes are, the more nonprofits will receive in funding.
12. How Can My Company Start a Matching Gift Program?
If your company wants to start developing your matching gift program, congratulations! This can be a complex process, but you can follow FundraisingIP's basic steps to implement your matching gift program:
Set minimum and maximum donation amounts

Choose a matching gift ratio

Determine which employees and causes can qualify

Determine a submission request timeframe and deadline

Establish which virtual tools you'll use for submission

Advertise your program to employees

Join Double the Donation's corporate database
Once you've followed these steps, your company will be on track for making a big impact both externally and internally by fulfilling your employees and giving back to the community.
13. Where Can I Learn More About Corporate Matching Gifts?
We hope you've learned a ton about corporate matching gifts today! If you're interested in exploring even more, check out some of our favorite resources below!

https://www.crowd101.com/wp-content/uploads/2020/08/Corporate-Matching-Gifts-Feature.png
320
780
Crowd101
https://www.crowd101.com/wp-content/uploads/2020/09/Crowd101-logo.svg
Crowd101
2020-09-01 09:30:35
2023-09-27 23:35:56
13 Essential Questions About Corporate Matching Gifts