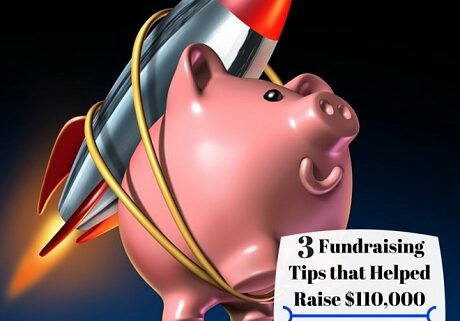 These fundraising tips helped three non-profits raise more than $110,000 in less than a year. Build them into your non-profit campaign for your own fundraising success!
While social cause fundraising accounts for nearly 30% of the $10 billion+ crowdfunding market, the failure rate on non-profit campaigns is extremely high. Crowdfunding on sites like GoFundMe has taken fundraising to the masses but a lot of people struggle with making their campaign personal in the impersonal crowd. Possibly worse than not meeting your funding goal for the project is the rejection you feel when no one supports the campaign.
That's why researching other crowdfunding and fundraising campaigns is so important. It's one of the first steps in my Step-by-Step Crowdfunding process and can offer up some great fundraising tips on what has worked for other non-profits.
I regularly scan crowdfunding websites for fundraising ideas and crowdfunding tips to share on the blog. Looking through the Charity category on GoFundMe uncovered three great fundraising tips that have helped three campaigns raise more than $110,000 and I think they can help you make your fundraising project a success as well.
Fundraising Tips #1: Get Certified to Get More Money
The first campaign I came across was the Visual Snow project by Jen Ambrose. Jen shares her story about this rare neurological disease from when she first started showing symptoms at the age of six. The disease is rare and not well known so just getting the word out to the crowd is a good start to raising awareness.
But Jen's campaign also offers some great fundraising tips that have helped her raise $61,952 from 468 people in 11 months. It's one of the highest amounts I've seen raised on GoFundMe and from a huge crowd of people.
Go through the process of getting certified as a non-profit organization. The campaign is for the Eye on Vision Foundation and one of the few on the site that is an actual certified charity. That goes a long way to giving donors the confidence that you will be using their funds for good. We detailed five steps to get your Charity501c3 form 1023 approval in an earlier post.
It's really not as hard as you may think to get your 501 non-profit status, check out the link above and the IRS offers an application process questionnaire.
Videos are a given for rewards-based crowdfunding but too often neglected in non-profit crowdfunding. The Visual Snow campaign posts two excellent videos, one with a personal and emotional appeal and another to describe the condition.
Fundraising Tips #2: Partner with Other Organizations
One of the most difficult things about fundraising is getting the word out and raising your campaign to that level of legitimacy it needs to meet your funding goal. The Amanda Hansen Foundation has raised $34,815 from 169 people in six months, partly through its partnership with Lowe's Home Improvement. The foundation was created after Amanda Hansen's tragic death from carbon monoxide poisoning at the age of sixteen and is the impetus for Amanda's Law requiring homes to have CO2 detectors.
Partnering with a large organization has not only helped the campaign get the word out but also gets discounts on CO2 monitors and furnaces to donate. By partnering with an established organization, you immediately boost your community and can reach thousands of people. Partnerships also help give campaigns credibility by name recognition.
The campaign shares a really emotional story and makes the cause personal for all of us. Don't be afraid to open up through your fundraising campaign and share your feelings.
Can't find a local partner for your crowdfunding campaign? Check out these 19 ways to promote your fundraising campaign – all of them free!
Fundraising Tips #3: Make it Real by Asking for Real Things
Listing out a budget for your crowdfunding campaign is another obligatory step in rewards-based campaigns but not as common in fundraising projects. The Youth Pet Therapy/Dog Rescue campaign on GoFundMe does a great job of showing how listing out funding uses can help raise more money. The campaign for the Canine Connections Program helps pair at-risk youths with death-row dogs for learning and companionship. The fundraising campaign has raised $13,405 from 194 people in five months.
The campaign does a great job of describing how funds are used by listing out program components. You don't necessarily need to make an itemized budget of funding needs as in rewards-based crowdfunding, but people like to see how their money will make a difference. Not only does describing funding uses help build credibility, it is a great way to detail services and reach people on an emotional level.
Don't forget to promote your crowdfunding campaign across the different social media platforms. You need to be updating backers and potential supporters at least four times daily on Twitter, once on Facebook and LinkedIn, and regularly on other social networks.
For top social media tips, go through our expert guide.
The Youth Pet Therapy/Dog Rescue campaign also lists out a "stretch goal" with a description of building a Doggy Day Care and Boarding Facility in the future. Stretch goals are common in crowdfunding and really help to keep your community motivated after that initial donation. Goals for the future give people something to look forward to and a reason to keep supporting the campaign.
You'll need more than a few fundraising tips to make your non-profit crowdfunding campaign a success but these will get you on the right path. Check out one of our most popular posts, 33 Expert Tips to Boost Fundraising Ideas and Crowd Campaigns, for more ideas on non-profit success.
Save
Save
https://www.crowd101.com/wp-content/uploads/2015/06/easy-fundraising-tips-crowdfunding.jpg
535
460
Joseph Hogue
https://www.crowd101.com/wp-content/uploads/2020/09/Crowd101-logo.svg
Joseph Hogue
2016-07-25 09:17:30
2016-07-25 09:17:30
3 Fundraising Tips that Helped Raise $110,000 [ Case Study ]