How to Start a Corporate Giving Program: Steps for Companies
Corporate philanthropy is an ever-growing trend across just about every business industry. More and more companies are getting involved in order to better engage with their employees, elevate their brand reputations, and make an overall positive impact on the world around them. If that sounds like you, you might be interested in learning more about how to start a corporate giving program.
We're here to help! At Crowd101, we know all about corporate giving from the nonprofit and the business perspective. In this guide, we'll walk you through the key steps involved in launching such a program for your stakeholders.
This includes:
Let's start at the beginning—here's how your company can find out how to start a corporate giving program.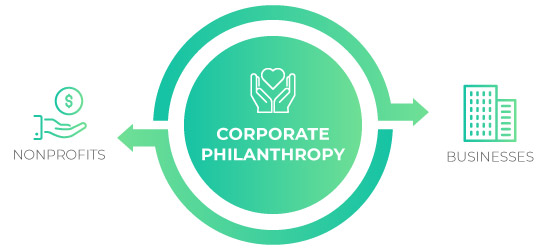 1. Choose which giving programs to develop.
Corporate giving programs can come in many forms. Some of the most advantageous types of corporate philanthropy programs are actually referred to as workplace giving. And that's what we'll primarily focus on with this resource.
The biggest indicator that a program falls under this umbrella is that the company's employees are actively involved in driving it forward. As a result, these offerings tend to see greater returns on investment in terms of team-wide engagement and corporate culture.
Here are a few examples to consider:
Matching employee donations
Paid volunteer time off
Dollars for doers grants
Charitable giving stipends
Payroll deductions
Disaster relief campaigns
Annual giving
Fundraising events
In-kind donation drives
As you explore potential giving strategies to prioritize, be sure to keep your team members in mind. You'll want to offer charitable offerings that align with their desires and preferences in order to maximize potential impact! Overall, matching gifts tend to be the most popular⁠—and often the most effective⁠—so this can be a great place to begin.

If your company is just diving into philanthropy, you may want to choose just one or two program options. Keep in mind that once your programming is alive and well, you can always go back and add new initiatives. But you don't want to bite off more than you can chew, to begin with.
2. Set your employee involvement guidelines.
Most companies that offer workplace philanthropy programs first establish a clear set of eligibility guidelines. These criteria determine which types of charitable support by employees qualify for the giving program in question.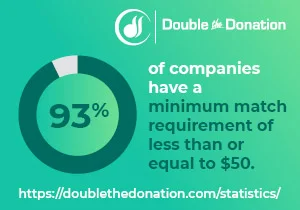 For example, companies that match employee donations typically establish:
Minimum and maximum corporate donation amounts
Matching gift ratios
Qualifying types of employees
Qualifying types of nonprofit missions
Submission deadlines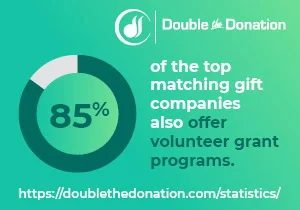 Similarly, employers that offer volunteer grants (or dollars for doers) might set these types of guidelines:
Minimum and maximum number of volunteer hours required
Volunteer hour to corporate donation ratio
Qualifying types of employees
Qualifying types of nonprofit missions
Submission deadlines
Once finalized, be sure to centralize your guidelines in easily accessible employee-facing corporate giving materials. This will empower team members to quickly determine that their nonprofit support qualifies for the program and take associated next steps accordingly.
Make sure to reach out to employees to let them know about your giving program and give them an opportunity to ask questions about the process. Doing so can help increase participation and demonstrate your commitment to giving back to your community, helping to improve employee engagement in your giving program and in the office overall.
3. Look into workplace giving management software.
As you explore the basics of how to start a corporate giving program for your company, one thing you don't want to overlook is the software to power it. Though this step is not required, it can aid significantly in streamlining the development and ongoing facilitation of philanthropic initiatives.
Here's how it helps:
Screens millions of qualifying nonprofit organizations to ensure funding goes to verifiable causes;
Automatically approves corporate giving requests based on pre-determined eligibility criteria to reduce the administrative workload;
Simplifies workplace giving participation for employees which drives increased program usage and benefits to all parties;
Tracks philanthropic efforts and calculates corporate impact to aid in communicating the purpose and results of such programs.
Now, of course, knowing you need software is one thing. Determining the right solution for your company and its needs can be another thing entirely. As you explore the possibilities, here are a few considerations to note:
There are the three biggest names in the sector⁠—Benevity, CyberGrants, and YourCause. You might see these providers crop up in your search, and many top matching gift companies utilize their services. While these are some of the most well-known platforms to consider, they're certainly not your only options.
In fact, more and more CSR solutions are being developed with a specific focus on smaller and mid-sized companies. Plus, many of these providers⁠—such as POINT, Millie, Selflessly, and Givinga⁠—are targeting innovation with breakthrough functionality and seamless integrations⁠. This might include streamlined auto-submission offerings (more on that below) as well as tighter integrations with nonprofit organizations.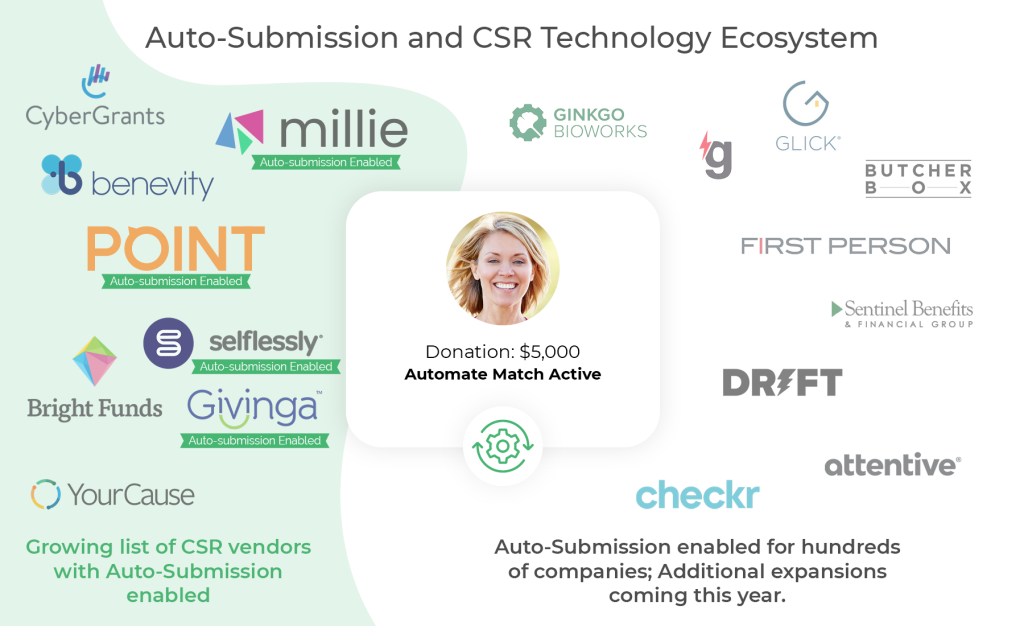 4. Establish your employees' submission process.
Once your employees have given to (or volunteered with) their favorite nonprofit causes, how should they go about requesting the associated corporate support? The answer to this question essentially outlines your company's workplace giving submission process. And offering a quick and easy process can go a long way toward increasing employee participation.
Regardless of the actual process you settle on, it will likely involve employees providing basic information about their philanthropic engagements. For example, most companies request some combination of the following details in order to process matching gifts:
Donor name and email address
Employee identification number
Recipient organization name
Nonprofit mailing address and tax ID number
Donation amount
Transaction date
Luckily, you have a few options for collecting and processing this information!
Paper forms: Although some companies still accept paper forms and PDFs, the vast majority of employers are moving away from this method. That's because it's typically more complicated for everyone involved. Not to mention, continuously developing technology continues to offer new and better ways to manage the process completely online.
Double the Donation's standard submission form: A step up from paper forms, but not quite as advanced as a dedicated online matching gift platform, is Double the Donation's standard match submission form. When a company indicates that they'll accept the standard form, their employees are able to partake in an automated electronic submission process. All the donor has to do is authorize Double the Donation to submit a match on their behalf, and the software fills in all of the required fields and sends the completed PDF to the employer's corporate giving program coordinator.
Online portals: If you've chosen to partner with a corporate giving software platform, they likely provide an online submission portal for employees. This is typically more streamlined and user-friendly than paper submissions, allowing team members to complete their requests with ease. All it usually involves is logging into the portal, providing the above-listed data points, and sometimes uploading a copy of the donation receipt.
Auto-submission: Taking online requests even further is corporate giving auto-submission. This significantly streamlined process, developed by Double the Donation partnering with groundbreaking CSR platforms, automates match requests behind the scenes. When a qualifying employee makes a donation to a nonprofit using Double the Donation's tools (fun fact: more than 75% of the nation's largest organizations do), they'll be encouraged to submit their request directly from the donation confirmation page. No redirects, additional logins, or redundant information is required!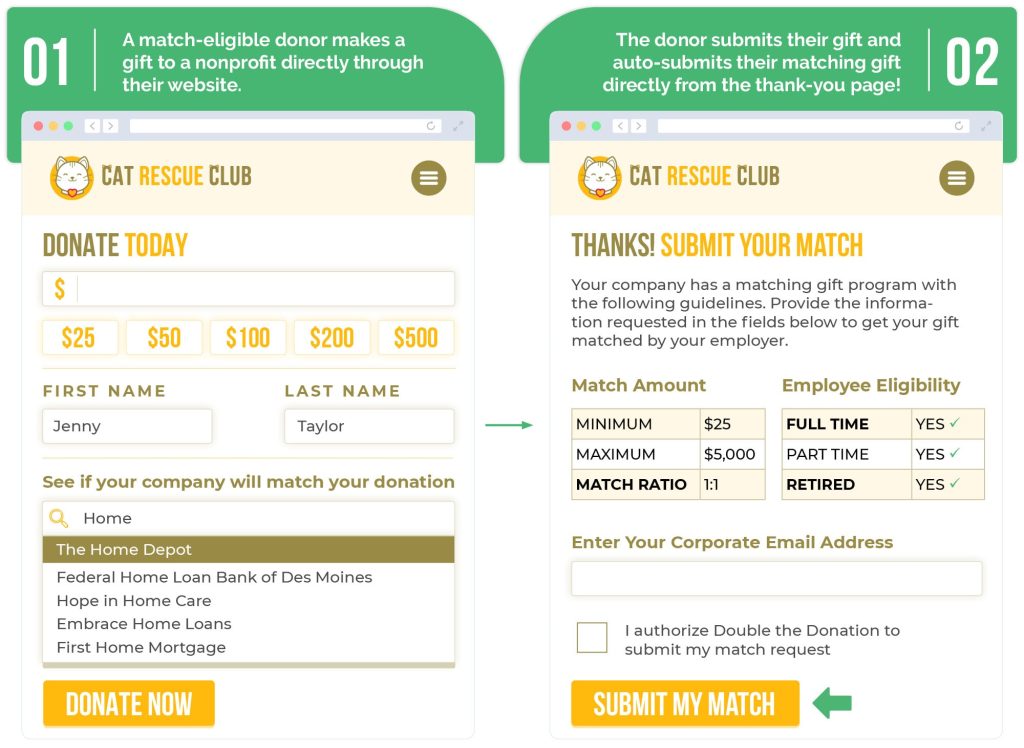 5. Promote and improve your program over time.
Once you've developed a strategy for your new workplace giving initiative, it's time to launch the program⁠—and begin promoting it to your staff. This is an essential step in the process, but it's one that is often overlooked.
In fact, according to corporate giving statistics, more than 78% of people who work for companies that match donations have no idea that they qualify⁠—or even that the programs exist in the first place. This awareness gap is one of the leading causes behind an estimated $4 to $7 billion in matching gift funds alone being left on the table each year.
To ensure maximal accessibility to workplace giving information and submission guidelines, be sure to add your newly developed program to Double the Donation's comprehensive company database. This empowers donor-facing software to inform employees and provide access to direct links to online forms and next steps from their favorite nonprofits' giving pages.
A few other impactful ways to incentivize employee participation include:
Integrating philanthropy into your overall company culture;
Leveraging gamification elements, such as prizes, leaderboards, goal trackers, and more;
Communicating nonprofit and community benefits of corporate giving participation;
Gathering feedback surrounding your corporate giving initiatives and taking these ideas into account.
Then, take additional steps to improve your corporate giving programs over time. As you begin to see positive returns on your philanthropic investments, you may decide to expand your budget to do even more. This might mean increasing your maximum donation amount, amplifying your match ratio, or even rolling out new giving programs altogether.

6. Add your program to Double the Donation's database.
After launching your corporate giving program, the final step to ensure long-term success involves adding your company to Double the Donation's database.
Double the Donation boasts the most comprehensive database of corporate giving information, containing details regarding tens of thousands of companies' matching gifts, volunteer grant programs, and more. Luckily, getting your company added to the compilation is a quick and easy step that can go a long way toward providing employees with access to up-to-date guidelines and request forms.
All you have to do is navigate to their website and fill out a simple form here.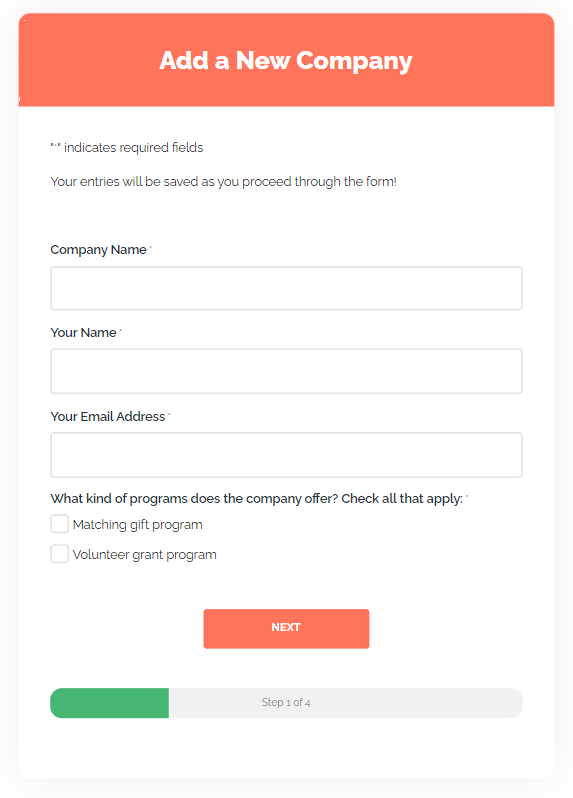 The page will prompt you to include details regarding your matching gift and/or volunteer grant program, such as program guidelines and submission processes.
Once added, employees who select your company during the initial donation experience will be provided with the information and encouraged to follow up to secure their matching gift.

7. Adapting your strategies over time.
There's no doubt that starting a matching gift program can be a huge undertaking, so it's important to maximize your return on time and money invested in the initiative. Moreover, as your company changes, your approach to matching gifts should as well. Here are some ways your company can gauge and improve your program's effectiveness:
Asking for employee feedback. Over time, your employees might express concern that your minimum gift amount is too high or that your ratio isn't optimal. Collect their feedback and respond to it so you know how you can encourage their participation.
Offer more appealing rewards. Similarly, you'll need to provide the best rewards possible to keep your employees interested in the program. Consider trying some new gift options and tiers to reward employees for participating and upholding your company's values.
Effectively market the program. The main reason why billions in matching gift revenue go unclaimed each year is that donors simply don't realize that their company has a program. If your employee base largely prefers a new form of communication than they did when the program started, ensure that your strategy aligns so you can spread the word as far as possible.
Evolving your program with your company and your competitors is what will help you get ahead and leverage the full potential of matching gifts. So, if you haven't started future-proofing your matching gift program yet, now is the time to get started!

8. Monitor giving trends.
The corporate giving landscape can change quickly with new causes, competitor programs, and employee expectations. That's why you need to stay ahead of the curve by monitoring relevant giving trends like:
Competitor giving programs. Keep tabs on companies that donate to nonprofits, so you can stay up-to-date with the most recent matching gift ratios in your industry. For instance, if a key competitor is offering a larger gift ratio or more volunteer opportunities, it might warrant a corporate giving strategy adjustment.
Up and coming nonprofits. Research new and emerging nonprofits that you can support to show that you are not only in touch with social needs but are also actively looking for opportunities to donate to charitable causes.
Local community engagement opportunities. Consider how your programs can help the nonprofits and people in your own backyard. If your employees volunteer at a local animal shelter, for instance, your company could look for ways to provide in-kind donation support.
Marketing opportunities. Marketing your corporate giving is key to attracting dedicated employees. So, in addition to enhancing your programs, think about ways you can spotlight your company's giving culture. For example, you could post about a recent volunteer event day on your LinkedIn or highlight your matching gift opportunities during the holiday season.
By keeping these opportunities in mind, your organization can stay ahead of corporate giving trends while drawing prospective customers and employees. If you're new to corporate giving, consider hosting educational opportunities to familiarize your staff and update your consumer base. Doing so can build excitement and support for your company's new giving initiatives.
---
Main Takeaway:
Corporate giving can produce big results. And now you understand how to start a corporate giving program⁠—and the key steps involved in doing so⁠. It's time to dive in!
In the end, everyone benefits. This includes your company and its bottom line, employees, a wide range of nonprofit causes, and even society overall. With the right tips, tricks, and tools, it's easier to get started than ever before.
Further Reading:
https://www.crowd101.com/wp-content/uploads/2023/01/Crowd101_How-to-Start-a-Corporate-Giving-Program-Steps-for-Companies_Feature-2.png
600
1530
Crowd101
https://www.crowd101.com/wp-content/uploads/2020/09/Crowd101-logo.svg
Crowd101
2023-01-10 17:00:04
2023-10-13 17:40:52
How to Start a Corporate Giving Program: Steps for Companies