Beyond Matching Gifts: 5 Workplace Giving Strategies
As your company looks for ways to boost employee engagement, maintain a positive image in society, and make a difference in the community around you, you've probably already started thinking about your workplace giving strategy.
Regardless of where you are in terms of workplace giving—just starting out, planning, or slowly growing your program—there are several things to keep in mind so that you can make the most of your efforts.
The biggest component? Increasing participation in your program.
In this article, we'll discuss some of the most effective workplace giving strategies you can implement to create and grow a strong giving program. The most important thing to remember is that workplace giving doesn't just come down to matching gifts—though matching gifts are one of the most prominent and effective programs out there. Still, there are many facets of employee giving programs that move beyond corporate matches. And they're all worth pursuing.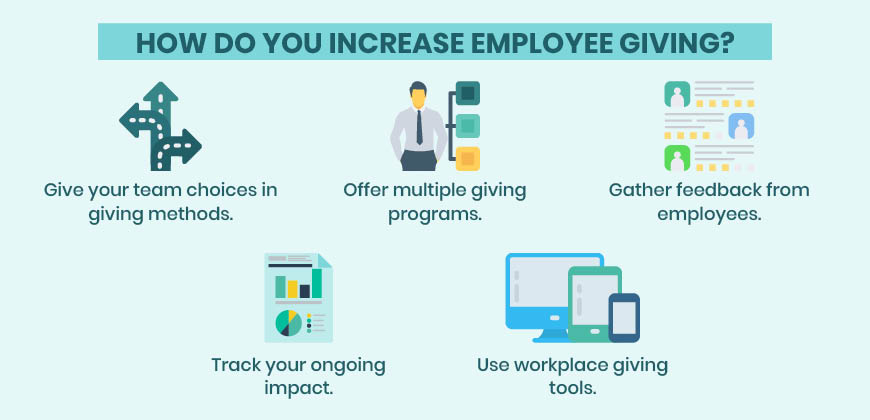 How do you increase employee giving?
Follow these five workplace giving strategies to make the most of your program. Let's dive in.

1. Give your team choices in giving methods.
When it comes to giving to nonprofit organizations, employees want to have options.
For example, some employees prefer to give through their workplace giving program, while others prefer to give directly to the nonprofit.
In order to meet both needs, give your team choices. Many successful workplace giving programs include methods like automatic payroll deductions, wherein employees deduct a portion of their paycheck to donate to a nonprofit of their choice on a recurring basis.
However, many other employees prefer to give directly on a nonprofit's website. Even if they're not giving directly through your workplace giving program, this is a great opportunity to bring in matching gifts. Offer a match for donations made directly on nonprofit websites, as well as for automatic payroll deductions. This way, you can ensure you meet all of your employees' needs and preferences.
This in turn will encourage more employees to participate in your workplace giving program, keep them engaged with your company, and make them happier overall.

2. Offer multiple giving programs.
As your company incorporates additional giving programs beyond matching gifts, consider the other types of giving that can directly benefit nonprofits.
Though this list isn't by any means exhaustive, here are some effective giving programs to consider:

Volunteer Programs
Corporate volunteerism is huge. Many companies encourage their employees to volunteer at local nonprofits by offering several easy ways to do so. This can include:
Paid time off to volunteer

Company-wide service days

Team volunteer opportunities
When companies make it easy for employees to volunteer by essentially paying them for taking a day off to volunteer, this encourages individuals and groups to take advantage of the opportunity. Likewise, days designated by the entire company to volunteer or offer skilled services, as well as team volunteer opportunities, encourage camaraderie and boost engagement.

Volunteer Grants
Volunteer grants are another program that you should consider as part of your workplace giving strategy. Essentially, companies whose employees volunteer at a nonprofit on a regular basis provide monetary grants to those nonprofits.
Volunteer grants are normally paid out in one of two ways:
A set rate per volunteer hour, with a possible minimum number of hours (e.g., $25 per hour once the volunteer has worked 10 hours with the organization)

A set amount once a threshold of hours has been reached (e.g., $500 for 20 hours)
Volunteer grants help nonprofits because they receive double the benefits: valuable time from skilled volunteers and money paid for those hours.

Pro Bono Service
Pro bono service includes in-kind donations and specialized services that employees can offer to nonprofits. When employees donate their expertise to nonprofits that may not otherwise be able to afford those skills, this, of course, helps those organizations. But it also helps employees feel a personal connection to the giving experience. 
Encouraging employees to offer pro bono services as part of a company-wide program is a great way to show employees that your company cares about helping the local community. This in turn can lead to longer tenures with your company and a great social impact overall.

Automatic Payroll Deductions
As mentioned above, automatic payroll deductions are an extremely popular form of workplace giving—and for good reason! Allowing employees who prefer to give directly through their company payroll is a great way for employees to give, especially if they can't give in larger amounts at a time.
Beyond the obvious tax benefits of giving through payroll, employees can also rest assured that their donations are going to reputable causes, as companies generally provide a pre-vetted list of nonprofits to choose from.

Disaster Relief
When disaster strikes, it's important that companies can respond quickly and efficiently. Disaster relief campaigns are an essential program to consider as part of your workplace giving strategy.
Companies should have an easy and streamlined process for collecting donations and rallying their employees around unfortunate events. The more organized your strategy is for running a disaster relief program, the more you'll be able to help nonprofits responding to the event.

Annual Giving Campaigns
Many companies run annual giving campaigns during the fall. The holidays especially are a great time to engage employees in company-wide giving campaigns. This can include days of service (like on #GivingTuesday), pro bono services, or even temporary increases on your maximum match limits.
Employees tend to feel more charitable around the year-end giving season, so this is a great opportunity to leverage that spirit and make the most of your workplace giving strategy.

Fundraising Events 
Boost employee engagement by encouraging them to participate in fundraising events, such as charity walks or runs and galas. This is a great way to make participation fun and benefit nonprofit organizations at the same time.
If your company offers a fundraising match (similar to matching gifts, but for the funds raised by participating in a fundraising walk, ride, or run), you'll give even more to the nonprofits you're supporting.
These are just some of the many giving options your company can consider when it comes to developing your workplace giving strategy. Choose the ones that most align with your company's values and vision, and encourage employees to participate. The more you diversify your giving programs, the more opportunities there will be for everyone at your company to get involved.

3. Gather feedback from employees.
Of course, there's one big part of your workplace giving strategy that you shouldn't overlook: your employees.
Your employees make up the backbone of your workplace giving programs. After all, they're the ones who help you get out what you invested in the program in the first place.
That's why gathering feedback from your employees about your workplace giving strategies is essential. Not only will it help you run your program more effectively, but it will also ensure you're meeting the needs and preferences of those who take part in it.
Here are some key ways you can collect feedback: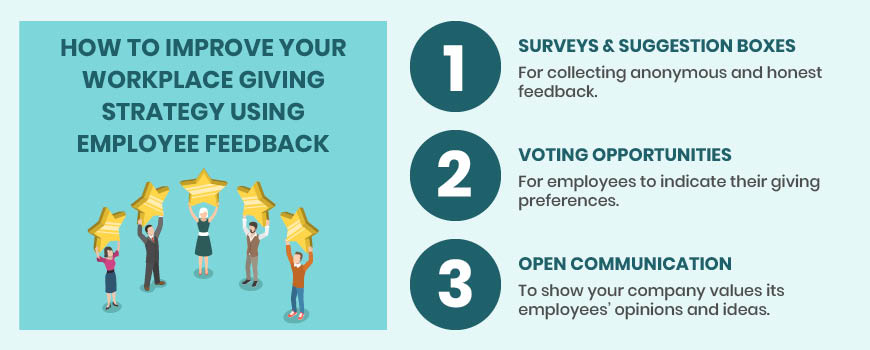 Anonymously:

Allow employees to offer their feedback anonymously through a suggestion box or a survey. That way, employees will feel more comfortable providing their honest feedback about ways to improve your program.

By voting:

Give employees the opportunity to indicate their preferences when it comes to the organizations or causes they want to support through your giving programs. You can even offer voting on the

types

of giving programs they want you to offer.

Through open communication:

Encourage open communication with your employees about your workplace giving strategy. Listen to employees if they're telling you they want to be able to give directly to nonprofits, and still have their donations matched. Show them that you value their opinions, preferences, and ideas.
Your workplace giving strategy will prove much more successful if you show your employees that you care about building a program that meets their needs and constantly take strides to improve it. Create a culture of collecting ongoing feedback so you always know where you can grow.

4. Track your ongoing impact.
In order to understand how much of an impact your workplace giving strategy has had within your community and inside your company, it's vital that you have a streamlined process for tracking your efforts.
There are many components of your workplace giving strategy that you'll want to track, including:
Employee donations

Matching gift requests

Employee participation rates

How much you've raised to date

Volunteer hours
Keeping track of your programs will not only help you finetune your workplace giving strategy, but also give you an idea of how many employees are participating, what you can do to encourage employees to take part, and how much of an impact your company has had in its giving initiatives. This last piece is particularly great for presenting to company stakeholders and the public.
If you're looking for a straightforward and efficient way to track your ongoing impact, there's one type of solution that can help you meet all of these goals: workplace giving tools.

5. Use workplace giving tools.
Companies everywhere have turned to workplace giving technology to run their programs. Workplace giving tools essentially help companies manage their giving, tracking, and reporting all from one platform.
Using workplace giving solutions, your company can manage tasks like:
Reviewing/approving employee matching gift requests—even automatically

Tracking employee volunteer hours

Creating and organizing volunteer events

Reviewing and approving volunteer grant requests

Setting up automatic payroll deductions

Creating and managing giving campaigns
Using solutions with the above features will help keep your workplace giving strategy in check and provide you with the data and insights you need to share with the greater community.
Understanding the impact of your giving programs and the effect it's had on your employees will show you exactly how much you've benefited from the programs you've built up.
Additional Resources
If you're looking for more information about workplace giving and the best practices that come with it, we've handpicked some of our top resources below:

https://www.crowd101.com/wp-content/uploads/2021/05/Workplace-Giving-Strategies-Feature.jpg
300
870
Crowd101
https://www.crowd101.com/wp-content/uploads/2020/09/Crowd101-logo.svg
Crowd101
2021-06-03 16:09:05
2021-06-03 16:09:05
Beyond Matching Gifts: 5 Workplace Giving Strategies