Incorporating Matching Gifts into Your Donation Form
As your organization looks for additional ways to raise revenue, there might be one prime opportunity you're not tapping into: matching gifts.
We've written about matching gifts before—and for good reason. When you incorporate matching gifts into your fundraising strategy, you can significantly boost your revenue. Don't believe us? Check out these statistics.
That aside, there's a specific part of your fundraising strategy that we're going to focus on in this particular article—your donation form.
Your online donation form is the spot where supporters are most engaged with your organization and most likely to donate to your cause. That's why incorporating matching gifts into your donation form is crucial. It's also why we're going to walk you through the ways you can do this successfully.
Let's get started.
1. The Matching Gift Process
Before we jump into the specifics of matching gifts and donation forms, let's go over a basic rundown of what matching gifts are and how they work.
What are Matching Gifts?
Matching gifts are a form of corporate philanthropy in which companies match donations their employees make to eligible nonprofits, including educational institutions, arts and cultural organizations, health and human services, and more. Matching gifts are essentially free donations that your organization gets for the cost of soliciting one!
How Matching Gifts Work
In general, the matching gift process works like this:
A donor gives to a nonprofit.

The donor requests a matching gift through their employer.

The employer verifies the donation with the nonprofit.

The employer matches the donation.
It's a pretty straightforward scenario, but many company guidelines can be confusing or vague, which means a lot of donors don't apply for a match. Most don't even know they're eligible. 
That's the point we want to make: including matching gift information on your donation form is incredibly important. We'll dig more into how you can do this in a bit.
Guidelines for Matching Gifts
Most companies have set rules and guidelines around their matching gift process. In a nutshell, these are the main questions you want to keep in mind:
Is my organization eligible?

In order to receive a matching donation from a company, your organization must meet certain requirements (like organization type or size). The most common exclusion pertains to religious organizations, but you'll want to be sure your organization falls under the company's predetermined list regardless.

Is my donor eligible?

Even if a donor works for a

matching gift company

, their employment status might prevent them from requesting a match. Make sure your donors know which employment types their company matches (full-time, part-time, retired, etc.). 

Is the amount eligible?

Companies also typically specify the minimum and maximum donation amounts they'll match. Minimum amounts tend to be around $25, and maximum amounts can be $1,000 or more.

What's the match ratio?

In addition to minimum and maximum amounts, companies also have a set match ratio that dictates whether the donation will be matched dollar for dollar or something else. Though most companies match at a 1:1 ratio, these ratios range from .5:1 to 4:1.
These guidelines might seem like a lot to keep track of, but if you play your cards right, you'll be able to educate your donors about the process a lot more easily than you think. It all comes down to your donation form.

2. How to Incorporate Matching Gifts into Your Donation Form
Like we said before, your donation form is the place where donors are at the top of their engagement. They're serious about giving to your nonprofit, and they'll be most receptive to the information you provide there.
With this in mind, here are some key ways you can incorporate matching gifts into your donation process:
Feature Matching Gifts on Your Donation Form
The #1 most effective way to raise matching gift awareness? Feature matching gifts right on your donation form.
There are a couple of ways to do this. The first is pretty simple:
Prominently feature text on your donation form that says something like, "Does your employer match donations?" Then, include a link to an informational matching gift page on your nonprofit's website.
This option accomplishes a few things. It alerts your donors to the fact that their gift might be match eligible and offers them a way to find out more about this additional giving opportunity. From there, they can learn more about matching gifts from your organization and submit a matching gift request to their employer, if eligible.
The one caveat to this option? Your donors still need to do a lot of the work. Even if your organization effectively explains matching gifts and that they might be eligible, donors will still need to look into their company's guidelines on their own, which could delay or even stop the process altogether. Additionally, this requires donors to click away from your donation page, which means they might not come back.
That's where we offer a second option for you to consider:
Use matching gift software that allows donors to look up their company's specific guidelines right on your organization's donation page.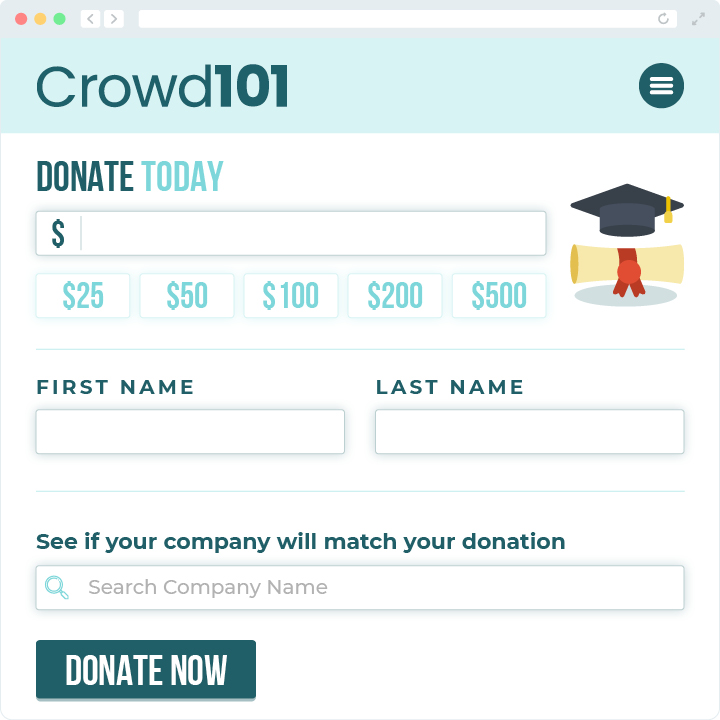 Matching gift databases house information on thousands of companies with matching gift programs, and matching gift software can give you direct access to this info. Typically, the software offers an embeddable search tool that you can put right on your donation form (or anywhere on your website) that allows donors to search for their company name. After that, the company's guidelines and matching gift policies will populate right then and there!
Interested in learning more about matching gift software (and our suggested providers)? Jump to that section now.
Immediately Encourage Donors to Submit a Match Request
Regardless of how you structure your donation form, one big step you can take to drive in more match requests is to encourage donors to submit theirs right away.
Both during and following the donation process, you'll want to continue promoting matching gifts to your supporters. After they've made a donation, your confirmation screen is a great place to insert a matching gift search tool or feature text that encourages them to look up their eligibility.
Your thank-you and confirmation emails are another solid place. Here's an example of an email that encourages donors to look into matching gifts: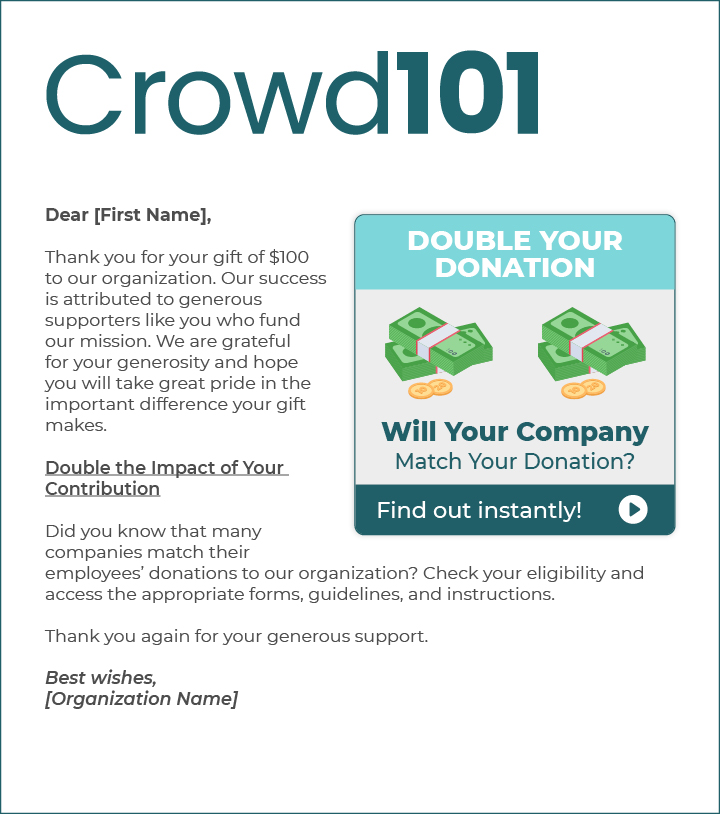 As the image describes:
Thank you for your gift of $100 to our organization. Our success is attributed to generous supporters like you who fund our mission. We are grateful for your generosity and hope you will take great pride in the important difference your gift makes.

Double the Impact of Your Contribution

Did you know that many companies match their employees' donations to our organization? Check your eligibility and access the appropriate forms, guidelines, and instructions.
This email first thanks the donor for their gift, then alerts them to the fact that their company might be able to make their donation go further. It then includes a prominent link that directs the donor to more information and encourages them to take that next step.
Include Links to Matching Gift Forms
Matching gift software does more than tell your donors whether they're eligible for matching gifts and what the guidelines are. The right solution takes the entire process one step further and links your donors to the forms they need to make the actual request.
Wherever you place a search tool on your website, whether it's on your donation form, confirmation page, or even a dedicated matching gifts page, sending donors directly to the forms they need will boost the number of completed requests.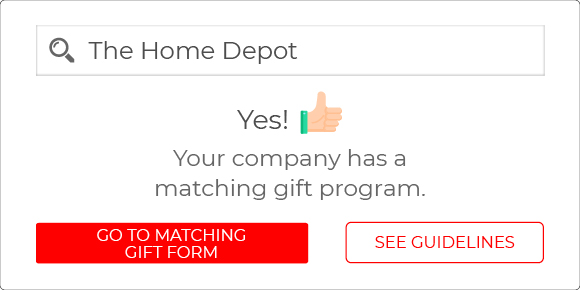 But when it comes to the matching gift forms your supporters need to fill out, there are a few more caveats to take note of. First, while each company has a different form, many of them will still use a similar process. The most common differentiator? Paper and electronic matching gift forms.
Paper Matching Gift Forms
Paper matching gift forms are not as common these days, but it's still important to understand how they work in case your donors need to submit one.
Paper matching gift forms typically require these components:
Employee identification numbers

Personal information

Donation amount

The recipient organization's name

The recipient organization's type (cultural, educational, etc.)

Donation date
Once the form is filled out, it will be sent according to the company's preference (mailed, faxed, etc.). Matching gift companies use the information on these forms to review the donation and ensure that their guidelines (donation amounts, organization type, etc.) have been met. From there, they'll verify the donation with your nonprofit and complete the match.
Electronic Matching Gift Forms
Nowadays, electronic matching gift forms are much more frequently used. When donors submit their form, they'll generally follow these steps:
Access the electronic matching gift form online (on the company's website or a third-party-website).

Find the organization's name on a list of 501(c)(3) organizations.

Submit information about their donation, such as the amount and the date.

Click submit!
Once the electronic submission has been sent, the company will review it and notify the organization about the request. At this point, your nonprofit must verify the original donation so the match can go through. From there, the company will submit its matching donation.
Electronic vs. Paper Matching Gift Forms
While it's still important to understand paper matching gift forms and answer any questions about them from your donors, most companies are now using electronic matching gift forms. 
With electronic forms, the entire confirmation process is streamlined and encourages more donors to take part.
Electronic forms also work well with matching gift software. As we mentioned before, after a donor has searched for their company name in your search tool, there will be a link that sends them directly to the login page for their company's form. It doesn't get easier than that!

3. Using a Matching Gift Database
Leveraging matching gift software is obviously a great way to incorporate matching gifts into your donation form and provide donors with the information they need.
But how do you decide which software to use?
Here at Crowd101, we've done the work for you! You can read how we compared various matching gift software solutions here, but to give you an overview, below is the solution we recommend.
Our Favorite Matching Gift Database: Double the Donation
If you're looking for a comprehensive matching gift database to help you incorporate matching gifts into your donation process, we highly recommend Double the Donation.
360MatchPro by Double the Donation is a matching gifts automation platform that essentially takes care of the matching gift process for you. When a donor fills out your donation form and submits it, the platform scans their information (including employer information, email domains, etc.) and determines their eligibility for a matching gift. 
Depending on the donor's eligibility, the platform will then trigger an email that tells the donor what they should do next. Using 360MatchPro, your organization won't miss out on as much matching gift revenue because each match-eligible donor will automatically be notified that they can submit a match request. The emails will then direct them to—you guessed it—their company's matching gift forms!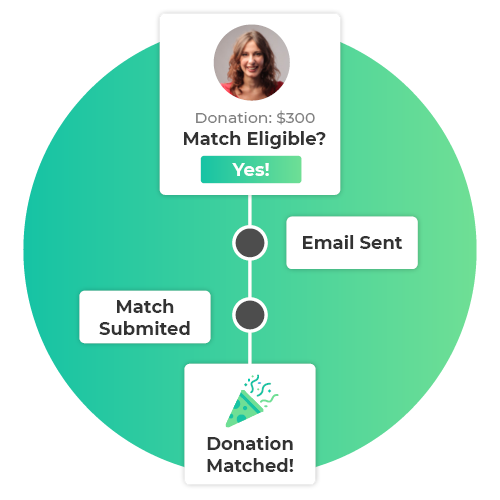 Matching gift databases do more than offer information about matching gift programs. They also make it super easy for your donors to look up their eligibility, access the forms they need, and make their requests.
Matching Gift Software from the Company Side
While most nonprofits that focus on matching gifts during the donation process are zeroing in on their donors, there's another huge part of the equation that should be mentioned: the companies themselves.
Many companies all over the world use software to manage their workplace giving programs. What does this part have to do with nonprofits? Charitable organizations should pay attention to workplace giving strategies because they are the ones who benefit when companies put an emphasis on their matching gift programs. After all, the more employees participate, the more nonprofits will raise.
But it's not just about participation. It's also about making the matching gift process as easy as possible for donors so they continue to stay engaged with their company's giving programs—and raise even more over time.
Here's how matching gift software for companies can make the match submission process simpler and more effective. Once an employee donates to an organization, the company can:
View and track the employee's donation.

View the matching gift request as soon as the employee submits it.

Automatically review and/or approve the matching gift request based on the company's guidelines.

Track the company's overall workplace giving impact.
Remember when we were talking about electronic matching gifts forms? Matching gift vendors for companies use electronic forms to make all the above possible. With a streamlined system in place for companies and donors, previously unclaimed matching gift revenue will start building up for organizations everywhere.
Hopefully by now you have a better idea of how to incorporate matching gifts into your donation form and process. Continue the good your organization does, and start raising more today!
Additional Matching Gift Resources
Want to learn more about matching gifts? Here are some of our best resources from Crowd101:

https://www.crowd101.com/wp-content/uploads/2021/02/Matching-Gifts-and-Donation-Forms-Feature.jpg
300
870
Crowd101
https://www.crowd101.com/wp-content/uploads/2020/09/Crowd101-logo.svg
Crowd101
2021-02-26 19:28:36
2021-10-06 18:51:57
Incorporating Matching Gifts into Your Donation Form