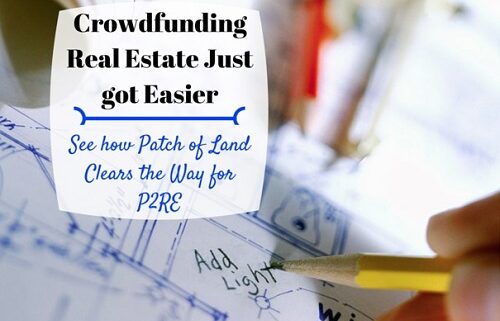 Real Estate Crowdfunding Just Got Easier with Patch of Land
Jason Fritton of Patch of Land shares his insight on real estate finance and how the company is opening up the market for real estate crowdfunding through its peer network of investors.
My first real job was as a commercial real estate agent just after getting out of the Marine Corps. Besides being on the commercial side as an agent and analyst, I've rehabbed and rented residential real estate since 2002.
Beyond great returns, I've always loved the pride of ownership and feeling you get from developing real estate assets.
That's why I was so excited to get an interview with Jason Fritton, co-founder and CEO of Patch of Land. Patch of Land is a peer-to-peer real estate crowdfunding platform bringing borrowers and lenders together through its online system.
Real estate crowdfunding investments has really taken off over the last few years as banks, still shell-shocked from the 2008 crisis, have yet to return to the market. The need for real estate finance is so pervasive that a lot of developers I know are even talking about setting up their own crowdfunding platform to fund deals directly, something I talked about in my Crowdfunding 2015 predictions.
[linkad]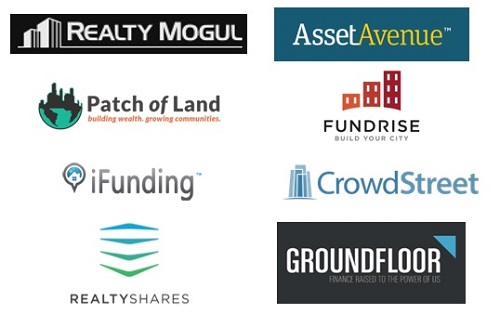 The great thing about sites like Patch of Land is that they aggregate deals from hundreds of developers to give investors a real choice and needed diversification in investments.
Jason originally conceptualized Patch of Land in early 2011 as a means to help rescue parts of Chicago devastated by the real estate crash. He has been involved with crowdfunding legislation since the beginning and worked with Congress to advocate for the crowdfunding exemptions that were written into the 2012 JOBS Act.
Thank you for talking to us about real estate crowdfunding.
Jason: Thank you, always glad to talk about what we are seeing and where Patch of Land is going in the future.
What does Patch of Land do to open the market for real estate crowdfunding?
Patch of Land provides a transparent, online, national entry point into a huge market that has traditionally been very opaque, fragmented and hyper-local. Most traditional banks are not responsive to these types of opportunities or simply don't participate at all in certain products and asset classes.
Through Patch of Land's marketplace, we are able to work with successful real estate developers and coordinate with thousands of investors across the country. This provides a level of redundancy for capital and a surety of close that previously didn't exist in this industry.
Scale and diversification is really where real estate crowdfunding platforms are benefitting the market for real estate finance. Even accredited investors in real estate are often locally-focused because that is all they know. It leaves them seriously at risk to regional economic problems because often their primary income source is tied to the local economy as well as their real estate investments. With real estate crowdfunding, investors get the opportunity to learn about other markets and make incremental investments in a wider range of properties.
New rules around real estate crowdfunding have opened up the opportunity to all investors. You can now invest in different property types and across the country, giving your real estate portfolio instant diversification. Management expenses are lower than for REIT investing and you have a direct ownership in the real estate property.
Click for more information about investing on RealtyShares and real estate crowdfunding.
What markets are available for investing and for real estate crowdfunding?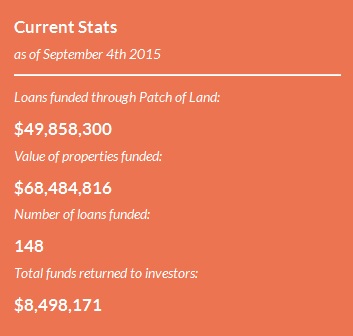 Currently, Patch of Land is active in 23 states across the U.S. By the end of 2015, we plan to be in 30 states. Our goal for 2016 is to be actively investing in 45-50 states.
The Patch of Land platform has been primarily used for residential projects with 58% of loans to single-family followed by 37% to multi-family residential and 4% of projects in the commercial property space.
I think this really speaks to the problems of financing large-scale residential real estate after the housing bubble burst. Commercial real estate funding has picked up along with the economy but residential developers are still having a really tough time.
Take me through the process for an investor and for a developer in real estate crowdfunding
Developers can visit the Patch of Land website, fill out an initial application in less than 5 minutes and receive an initial offer within approximately 24 hours. They're able to upload supporting documents directly to Patch of Land and we then provide a set date for closing. Funds are wired into escrow and the loan is managed in a standard yet automated way. We work to keep the application, approval and servicing aspects very streamlined and easy.
On the investor side, they can check out the Patch of Land site and browse available opportunities. We provide a customized prospectus and due diligence documents for each property. If investors choose to participate, they can fund in as little as two minutes and sign documents digitally from the comfort of their home or office. Their investments can be tracked and managed through their personal dashboards on our portal.
A popular trend in managing real estate investments for individual investors is through a real estate investment club, sharing the analysis work among a group of experts. By gathering the different players like accountants, analysts, lawyers and contractors online or in-person, you can share the responsibilities while everyone gets the return.
What percentage of developer submissions are accepted? Is there an average profile for deal size and an annual percentage rate in real estate crowdfunding?
While we are proud of the fact that we fund only quality opportunities, at the moment we have an artificially low approval rate. This is because Patch of Land is being flooded with opportunities every day and our funding capabilities haven't caught up with the available deal flow yet.
As we continue to bring on powerful institutional partners and further grow our peer-to-peer network, our ability to fund a higher volume of submissions will increase each month.
Again, this reflects the overwhelming demand for real estate crowdfunding. It's interesting that the situation is reversed on the personal loan side, where a wave of investor demand is making it sometimes difficult to find available loans that meet investment criteria.
I think some of this is due to the allowance of non-accredited investors in peer loans whereas only accredited investors are currently able to fund real estate crowdfunding and peer networks. Still, investors are quickly coming to understand the opportunities available in real estate crowdfunding and Patch of Land's cumulative loans funded has surged 594% from $7.18 billion in just the last year to September.
What have returns been like for investors in real estate crowdfunding?
Patch of Land has been averaging 12% for annualized blended returns to our investors. We haven't had any losses to date and we're very proud of that.
Can non-accredited investors now invest under the new title IV of the JOBS Act? If not, might they be able to invest in the future?
Title IV creates a regulatory vehicle called Reg A+, which is essentially a "mini-IPO." This mechanism is brand new and isn't widely used yet, but it has great promise. We expect to see traction on this front within the next six months, as platforms learn how to fully utilize it while still remaining compliant. At that point non-accredited investors will have a greater opportunity to invest.
Money to crowdfunding projects and campaigns has been doubling nearly every year since the launch of Indiegogo in 2008 and Kickstarter in 2009. During those early days, crowdfunding was more of a novelty but has grown to a legitimate source of small business funding and now a growing asset class for investors.
When non-accredited investors are allowed to enter the market, watch out because that is when crowdfunding is really going to take off!
Are investors directly investing in individual projects, with some type of recourse, or is investment through a fund?
Currently with Patch of Land, investors fund single projects individually, which allows for a great deal of transparency and portfolio customization. As we grow, we will continue to evaluate a fund mechanism. Each offering on Patch of Land is secured through a lien on the underlying property and the vast majority include a personal guarantee from a professional developer.
I like that investors fund the projects directly and have a direct lien on the property. There are other real estate crowdfunding sites that invest in the projects and then create a common fund in which investors put their money. While each individual investor's return is based on the return to a specific project, they are exposed to risks in the fund as well. Allowing investors to invest directly into each project removes the extra layer of risk.
What are the challenges that would preclude inclusion of international real estate crowdfunding; i.e. regulatory, investor demand, etcetera? What's the potential for international real estate crowdfunding in the future?
There's a great deal of potential for international markets in the future. Patch of Land is aggressively reviewing the legal, regulatory and logistical challenges necessary to expand internationally. That being said, there's a high level of expertise necessary to move into real estate outside of the U.S. and we do not intend to launch projects in markets where we are not yet experts.
International real estate crowdfunding will happen but it's probably years or even a decade in the future. There is so much demand from U.S. projects that platforms just don't need to look overseas for campaigns. The first international opportunities will likely come from the launch of a new platform that specializes in a specific market rather a domestic real estate crowdfunding platform branching out.
How might rising rates affect the real estate crowdfunding environment and your business over the next couple of years?
Patch of Land specializes in short term "value-add" loans secured by real estate. As rates fluctuate in the longer term, we have the ability to tailor our risk-adjusted pricing to the prevailing market rates. Most of our loans have durations that are 12 months or less.
What three risks should investors know about real estate crowdfunding?
All investors should understand that every investment has risks. While these opportunities are secured by hard assets, there is still a chance that they may lose some or all of their money (in a worst case scenario). We always recommend that investors do their own due diligence before participating. While Patch of Land underwrites, originates and curates its own offerings, investors should be aware that not all platforms have the same level of experience or successful track record in real estate.
Patch of Land also "pre-funds" all of our loans in order to ensure they close before they're brought to our investors, however, on some platforms there's a risk that an investor may commit funds only to find that the project doesn't fully fund and is cancelled. This causes some opportunity loss to affect investors overall performance.
What must every real estate crowdfunding campaign include to have a chance at success?
Crowdfunding real estate campaigns need to go beyond traditional due diligence. Not only do they need a strong plan with supporting information and documents, but you have to remember that crowdfunded campaigns are generally public and highly visible.
Online investors are highly visual. We recommend that all potential sponsors make sure they have strong visual assets. Pictures, diagrams, architectural sketches, videos, etc., all significantly increase the chance of a project getting funded from the crowd.
I want to thank Jason again for the interview and the look into the booming market for real estate crowdfunding. I think we're going to see growth continue for the space as more investors see the benefit to diversification and the returns available through crowdfunding real estate.
Save
Save
Save
https://www.crowd101.com/wp-content/uploads/2015/09/real-estate-crowdfunding-patch-of-land.jpg
554
500
Joseph Hogue
https://www.crowd101.com/wp-content/uploads/2020/09/Crowd101-logo.svg
Joseph Hogue
2015-09-07 08:45:08
2015-09-07 08:45:08
Real Estate Crowdfunding Just Got Easier with Patch of Land