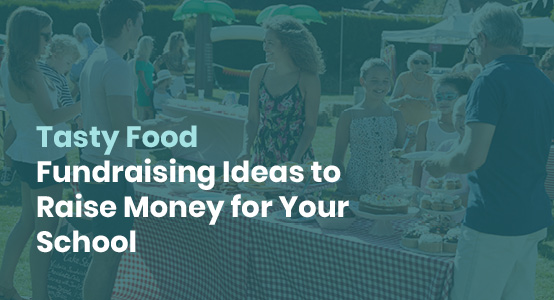 Tasty Food Fundraising Ideas to Raise Money for Schools
Engaging young kids in a school fundraiser requires creativity, and what's a better attention-getter than tasty snacks? When thinking through your fundraising options, choose a strategy that will get your students, their parents, and their social circles excited about raising money for your school.
Food fundraisers are a delicious way to start! We'll look at five tasty ideas to try for your next food fundraiser, then provide some tips for making your fundraiser a success. Here's what to expect:
5 effective food fundraiser ideas
What makes food fundraisers so successful?
How to get students involved in your food fundraiser
Consider what will appeal most to your supporters when choosing your food fundraising idea. It will be much easier to ask for their support when you're offering a food item that your audience members are actually interested in.
5 effective food fundraiser ideas
Food can make a fundraiser compelling, but some snacks are more popular than others. The following five crowd-pleasers are listed as some of ABC Fundraising's most popular school fundraisers:
Cookie dough
Cookies are a popular treat for many reasons. They're easy to make, fun to share, and can be great gifts, too. They might be an after-school snack, a contribution to a potluck, or a gift to a new neighbor. For this reason, the pool of potential buyers for cookie dough is large and could bring in a lot of revenue for your cause.
Popcorn
Popcorn can be a great seasonal snack and paired with similar fundraising events. For example, consider accompanying a popcorn fundraiser with a movie showing in your school's gym or at your annual fall festival. Plus, different flavors of popcorn can add great variety to your fundraiser.
Chips and Snacks
People don't need a reason to justify buying chips or snacks. This type of food is a great fundraiser because it's a daily food item that can easily be sold to practically anyone. If your students or parents know someone who wants to avoid a trip to the vending machine, like office employees during a long work day, they'll be able to sell lots of chips and snacks.
Candy
Like chips and snacks, candy fundraisers can replace a trip to a vending machine with a purchase that supports your school. Candy could even be sold in your school's front office to parents, students, or faculty throughout the day. Consider your staff's preferences when choosing candy items, since buying from this fundraiser could be an easy form of workplace giving.
To narrow down your snack choices, ask for input from parents and students. Since they'll be selling the products, they might know who their buyers are and what they'll like most. Also, if parents or students want to directly contribute, they can let you know what they'll be more likely to buy.
What makes food fundraisers so successful?
Out of all the fundraising ideas for schools that you could pursue, what makes food fundraisers stand out?
Besides the obvious benefits of food fundraisers, like an easy selling process and tasty products, they are also easy to market and maintain. These fundraisers can engage your community by making donations fun. Since donors get something in return for their support, they might feel like they're shopping rather than giving money away. This can be a great motivator since people could be more likely to buy when they know their purchase is supporting a good cause.
Additionally, you can connect with a larger audience outside of your school community when you're selling food. Since you can also sell food items online, you can more easily reach outside communities.
Lastly, to help your school raise even more, food fundraisers can easily be paired with other fundraising campaign ideas, such as a discount card fundraiser or merchandise fundraiser. You could even combine food fundraising with major events like your school's annual auction. According to OneCause's school auction guide, selling food and drinks at your auction can be an effective way to supplement your auction revenue.
How to get students involved in your food fundraiser
You've planned every detail of your fundraiser, but now you need to empower your students to participate. How?
Start by clearly explaining the fundraiser's purpose. Explain to your students why it's necessary, why you chose this type of fundraiser, what the end goal is, and how they can help. It's also important to provide clear instructions to the parents for how the fundraiser works since they'll most likely be involved in their child's participation.
You'll also want to give some basic tips to students and parents about how to execute the fundraiser. Explain how to go door-to-door to ask for donations and how parents can promote the fundraiser on social media. This will help you delegate your promotional and fundraising tasks to well-equipped volunteers.
---
You have plenty of tasty options when it comes to food fundraisers, and that alone might get your students interested in helping your cause. But this type of fundraiser can be more than just a method of raising money. Your students can learn the value of hard work and responsibility by taking part in a fundraiser that requires them to be active participants.
https://www.crowd101.com/wp-content/uploads/2023/02/Food-Fundraising-Ideas_Feature.jpg
300
554
Contributor
https://www.crowd101.com/wp-content/uploads/2020/09/Crowd101-logo.svg
Contributor
2023-02-27 22:11:24
2023-02-27 22:11:24
Tasty Food Fundraising Ideas to Raise Money for Schools