4 Virtual Fundraising Challenges (And How to Solve Them!)
Since Facebook fundraising emerged in 2015, nonprofits have raised billions of dollars through the platform. St. Jude's Children's Research Hospital has raised over $100 million on the platform, The ALS Association has raised $5 million+, March of Dimes has raised $6 million+… the list goes on. These organizations have cracked the code when it comes to maximizing their fundraising potential on Facebook.
Nonprofits such as these reach great heights due on Facebook for a few reasons. Of course, Facebook fundraisers have zero fees for nonprofit organizations, meaning that 100% of each donation goes directly to the nonprofit. However, what really leads these organizations to success is their ability to build meaningful connections with supporters through the social platform.
At GoodUnited, we work with growing, large, and enterprise-sized nonprofit organizations to raise their relationships with Facebook supporters. While doing so, working with 1 million delighted fundraisers and raising $500 million+ in donations, we've come across a few challenges that can set a nonprofit back.
Here are the biggest challenges that your organization might be facing with virtual fundraising, that can put a damper on your success:
If your organization is actively using Facebook to fundraise, but not seeing the results you'd like, this guide is for you. Let's dive in.

Supporters That Are Unaware of the Opportunity
While Facebook fundraising isn't new— and as a nonprofit, you're likely fairly familiar with receiving direct deposits from Facebook Payments or Network for Good, the two main payout methods for the channel— that doesn't mean that your supporters are quite as familiar with the opportunity.
There are a few barriers that arise when your supporters aren't well-educated about Facebook fundraising. For example:
They may not know that about this opportunity to support your organization to begin with— and therefore, won't even think to start a fundraiser.
They might not trust Facebook fundraising due to a lack of understanding about how it works on the back-end.
Because they're not professional fundraisers by trade, they may not have the skillset to solicit gifts and reach their goal amount.
Proactively educating your supporters about this opportunity and providing tips to be successful is key to setting a strong foundation for ongoing support. We recommend creating educational resources to share with your supporters, whether on your Facebook page, your website, or in other multichannel communications. In these resources, provide information about how:
To start a fundraiser, breaking out the steps from start to finish
Funds are used by your nonprofit to further your mission
Donors can access a donation receipt for tax purposes
Funds are transferred to your organization in a secure payout process
Beyond sharing a resource guide, another great way to promote online campaigns is by using targeted ads to spread the word about Facebook fundraising for your nonprofit even further. Using Facebook's ad targeting functionality, create targeted advertisements to reach those that have expressed an interest in your nonprofit on the platform.
In these ads, encourage potential supporters to start a fundraiser on your behalf. Consider taking this a step further by reaching out to users a few days before their birthday to encourage them to start a birthday fundraiser for your organization.

Participants That Don't Feel Appreciated or Seen
Consider the steps you'd take during a traditional peer-to-peer fundraising campaign. During those campaigns, you take concentrated efforts to thank each participant for fundraising on your behalf with the goal of securing ongoing support. It follows that you'd want to do the same with users that start Facebook fundraisers, as these are essentially social media-based peer-to-peer fundraisers.
Unfortunately, it's considerably more difficult to thank each user that creates a Facebook fundraiser. Users can create fundraisers whenever they want, and your nonprofit doesn't receive a notification indicating when they do.
Luckily, Facebook has created intuitive tools to help your nonprofit discover newly created fundraisers. According to this GoodUnited nonprofit guide to Facebook fundraisers, the "Sort & Filter" tool allows nonprofits to navigate to the "Fundraising" portion of their Facebook page and view the fundraisers that have been most recently created and not yet thanked personally.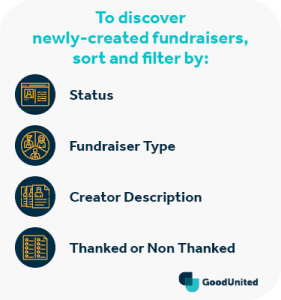 Once you have a view displaying newly created, unthanked fundraisers, you can comment on each with a personalized note of gratitude. Your organization should do this regularly to ensure that fundraisers are thanked quickly after they're created— after all, the sooner you can open the line of communication with a fundraiser, the better chance you have to influence their campaign for success.
Now, if you're a fairly large nonprofit that already has a strong presence on Facebook, manually discovering and thanking each fundraiser may not be feasible. Because thanking users is such a crucial step toward raising your Facebook fundraising relationships, consider partnering with a provider of social fundraising solutions (such as GoodUnited!) to automate some of these efforts.

Fundraisers That Are Left to Their Own Devices
Sending a personal thank-you note to each user that starts a fundraiser is step one. However, according to the donor retention experts at Bloomerang, retaining donors and fundraisers is accomplished through ongoing communication.
Luckily, you can use Facebook's own tools— Facebook Messenger and Groups— to stay connected with users for the duration of their campaigns and to provide encouragement, tips, and community. Let's explore each.
Encouragement
Even for the most experienced fundraisers, asking for money comes with a unique set of challenges. Users starting Facebook fundraisers aren't professional fundraisers and they're asking people they know and love to give. For anyone even remotely shy, this can be a huge mental hurdle!
Use Messenger to connect with users that start fundraisers on your behalf, and send regular encouragement to them. A quick note along the lines of "You're doing great, and the funds you raise are going to be instrumental to achieve [insert mission]" can go a long way. This type of one-on-one conversational messaging is key to building a strong foundation for ongoing support.
Tips
Did you know that 94% of Facebook fundraisers that don't raise their first gift within 24 hours, end without raising any gifts at all? This means that if a user makes the first gift to their fundraiser to kick things off, they're significantly more likely to reach their goal successfully.
Connect with users on Messenger to share tips such as this and slowly train your fundraisers to raise and surpass their goals. In these tips, mention making the first gift, sharing the fundraiser regularly with updates, and writing a description that shows the user's personal story or connection with your nonprofit.
Community
Nonprofits are increasingly using Facebook to conduct peer-to-peer fundraisers by integrating their primary P2P tool with the social network. This GoodUnited guide to virtual peer-to-peer fundraising discusses a few tips for success when doing so, including using Facebook Groups to facilitate community across your virtual fundraising participants.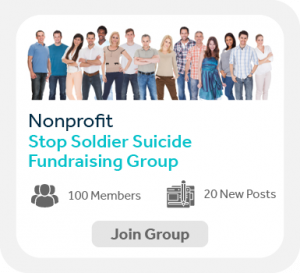 Simply add your P2P participants into one Facebook group to connect with one another. Remember to monitor these groups to ensure the conversations remain engaging and on-brand for your organization and specific fundraiser.

Underutilized Fundraising Data
Data is the key to understanding your donors and other supporters better, empowering you to create specialized fundraising and volunteer opportunities that will inspire them to engage with your organization over and over again. Unfortunately, data is also often a pain point for nonprofits using Facebook for fundraising, as the platform's privacy policies prevent the sharing of users' personal information readily.
There are two parts to this challenge: collecting Facebook fundraising data and using that data to improve your efforts on the platform and beyond. Let's examine both.
First, there are two main ways to collect data about those interacting with your nonprofit through Facebook fundraising (fundraisers and donors):
Speaking directly with participants, such as via Facebook Messenger. By asking questions and logging the answers in your CRM, you can understand the overall trends surrounding those starting fundraisers on your behalf. This includes their reasons for getting involved, their preferred method of contact, and other characteristics.
Downloading Facebook's Daily Transaction Report. This report is available in .CSV format and contains basic information about donation transactions on Facebook, such as the name of the donor, how and when they gave, and potentially their email address (if they opted in to share it).
This is another point where it's valuable to work with a Facebook fundraising managed services provider, as they can help you transform this data into an understandable format. When this data is put in a format that yields insights, you can do the following:
Follow up with donors after the fact. You should reach out to any donors that opt in to share their email address via the Daily Transaction Report with a personalized thank-you letter. Check out a few donor thank you letter templates from the team at Fundraising Letters to spur your imagination.
Understand your supporters' preferences. By asking fundraisers questions through Messenger, you can understand why they started fundraisers, which causes interest them the most, and how they would like to get involved in the future. You can then create opportunities that align with popular preferences.
Facebook's privacy policy doesn't need to be a barrier to improving your fundraising efforts on the platform and beyond. With a little communication and spreadsheet wizardry, you can glean valuable insights about your supporters on the platform.
---
Supporters that are unaware of Facebook fundraising, supporters that don't feel appreciated, fundraisers that are left to fundraise on their own with no assistance, and underutilized data— each of these challenges can prevent your organization from reaching great heights with your Facebook fundraising program.
Luckily, by taking an active role in Facebook fundraising, your organization can overcome these hurdles. By educating supporters about the opportunity, thanking each participant, keeping connected, and making the most of your data, you can better understand, inspire, and grow relationships with the next generation of social supporters. And remember, you can always contact a provider of Facebook fundraising managed services to build these relationships at scale. Good luck!
About the Author: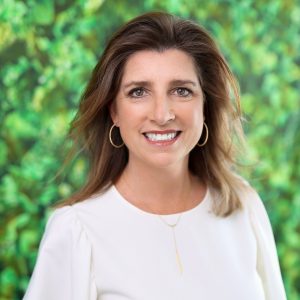 Maria Clark
Executive Vice President, Partnerships and Chief Evangelist
GoodUnited
Maria Clark is a nonprofit executive and technology evangelist with 30+ years of industry experience. Today she serves as Executive Vice President of Partnerships and Chief Evangelist for GoodUnited, the social fundraising solution. Maria is a champion of the new and has fearlessly led change management efforts throughout her career. 
 Previously, Maria spent 33 years at the American Cancer Society, a top #20 US nonprofit and the leading 
cancer research nonprofit with an annual $800+M budget, in roles spanning all aspects of nonprofit communication, operations and fundraising. Most recently, as Senior Vice President for Peer to Peer Development, Maria led strategy development, planning and implementation for name brand ACS events like Relay for Life, Making Strides Against Breast Cancer, a robust gala and golf portfolio and the Raise Your Way DIY platform, as well as championing new digital strategies that support community fundraising.
Maria lives with her husband Derek in Dallas, Texas, where she has a deep history with the nonprofit community. She serves on the Board of Directors for the Notre Dame School, a special needs Kindergarten through post high school in Dallas, and remains active in the Leadership Dallas Alumni Association. Maria is mom to two adult daughters, Devin and Corrie and her fur baby, Ozzy.
https://www.crowd101.com/wp-content/uploads/2021/03/GoodUnited_Crowd101_4-Virtual-Fundraising-Challenges-And-How-to-Solve-Them_Feature.png
300
765
Crowd101
https://www.crowd101.com/wp-content/uploads/2020/09/Crowd101-logo.svg
Crowd101
2021-03-30 18:03:24
2021-04-08 18:15:39
4 Virtual Fundraising Challenges (And How to Solve Them!)