8 Volunteer Grant Facts Your Organization Needs to Know
Volunteer grants are a popular form of corporate funding for nonprofit organizations. Specifically, these programs are a type of employee or workplace giving, where a company's employees play a key role in funneling corporate revenue toward the causes they care about.
In this case, an employee simply volunteers with a nonprofit and requests a subsequent grant from their employer on behalf of the organization. The company then reviews the request and supplies the nonprofit with the predetermined amount of funding based on the number of hours the employee had volunteered.
Talk about a win-win! But do you have a particular strategy in place to make the most of the opportunity?
As you craft your plan, it helps to have a solid foundation of knowledge pertaining to volunteer grants on which to build. Thus, we've compiled a list of the top volunteer grant facts your organization needs to know. This includes:
Sources: Nonprofits Source ⁠— Volunteering Statistics and Double the Donation ⁠— Corporate Giving Statistics
Let's dive in with the first volunteer grant fact your team should know!
1. 40% of Fortune 500 companies incorporate volunteer grant programs in their corporate giving strategy.
That means that a solid portion of the largest companies in the US⁠—which, in total, employ more than 28.2 million individuals⁠—participates in providing volunteer grants to the nonprofit causes their employees support!
Not to mention, hundreds of smaller and mid-sized companies have followed suit by offering volunteer grant programs as well.
Statistically, it's very likely that some of your existing volunteers and nonprofit supporters will already work for these companies, making themselves eligible to request volunteer grants for your cause.
2. 80% of companies with volunteer grant programs contribute between $8-$15 per volunteer hour.
Each company that provides a volunteer grant program is able to determine the amount that they're willing to contribute per hour an employee volunteers. The most common payout methods include a specific amount for every hour volunteered (e.g., $20 an hour) or a set grant total after an individual surpasses a certain threshold of hours (e.g., $500 after volunteering 25 hours with an organization).
Regardless of the differing amounts among participating companies, the average rate comes out to around $8 to $15 per hour⁠—which can certainly add up quickly. That's why volunteer grant programs are one of the most impactful ways to factor volunteerism into your overall fundraising strategy!
3. ExxonMobil, Verizon, Microsoft, Dell, Allstate, and more offer volunteer grants to employees.
And many more well-known corporations—and huge employers⁠—do as well! If you know your volunteers work for some of these companies, they might be your best bet to get started with your organization's volunteer grant strategy.
Looking for more companies with volunteer grant programs to explore? There are a bunch of additional list compilations available for free online⁠—including this one by Double the Donation!
4. Most 501(c)(3) nonprofits are eligible to receive volunteer grants from participating businesses.
Not all companies will provide volunteer grants to all nonprofit organizations⁠—the most common exclusions being houses of worship and other religiously affiliated organizations.
However, most registered 501(c)(3) organizations are eligible to receive this sort of funding. This typically includes K-12 schools, higher educational institutions, health and human services, arts and cultural organizations, civic and community organizations, environmental organizations, and more.
5. For many companies, the volunteer grant request process can be completed in less than 5 minutes.
This is especially true for businesses that utilize a CSR management platform to facilitate their volunteer grant programs.
For employees of these businesses, it can be as easy as logging into their workplace giving portal, providing details about the nonprofit they volunteer with (such as contact information, number of hours volunteered), and submitting their request for the company to review.
6. The majority of individuals who are eligible for volunteer grants may have never been informed about the programs.
Though tons of companies offer workplace giving programs that allow their employees to give and request corporate funding (including volunteer grants and matching gifts), a lot of these existing initiatives go completely under the radar for staff and nonprofits alike.
As a result, individuals may be eligible for volunteer grants from their employers and never know about it⁠—that is, until your team provides them with the information or shows them where to look.
7. Corporate giving software can help educate volunteers about the availability of employer grants.
We mentioned that awareness is a key roadblock to many nonprofits' volunteer grant success. So what you can you do to overcome that obstacle and better inform supporters about the general availability⁠—and their specific eligibility⁠—for volunteer grants?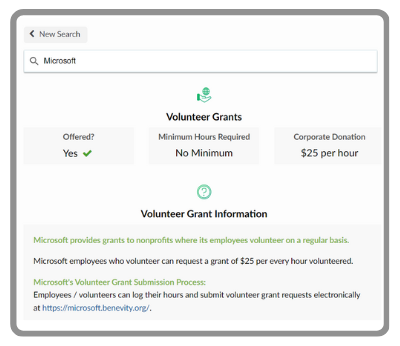 Perhaps you've heard of a matching gift database⁠, such as the leading tool from Double the Donation. What you maybe didn't know is that this type of resource can provide users with detailed information about corporate volunteer grants as well!
When you embed this database in your organization's volunteer forms, website pages, and more, you can encourage volunteers to conduct a quick search of their employer's name in your search tool.
From there, they'll be provided with specific information about the company's program options, qualifications, and next steps for submitting their requests.
8. Utilizing a volunteer management platform can help track volunteer hours for grant submissions.
One of the most essential pieces of information required in the volunteer grant request process is the number of hours an individual spends working with an organization. And for most companies, that number will need to be verified through some sort of time-tracking system.
Therefore, if you want to substantially increase your organization's volunteer grant success, it's important that you have the tools in place to collect and track each volunteer's time effectively⁠. For example, with an intuitive volunteer management platform. Software like this will enable volunteers to easily check in for shifts, self-submit hours, automatically track time, and more⁠—which allows for seamless reporting in volunteer grant submissions.
---
Main Takeaway:
Corporate volunteer grants are an impactful source of nonprofit funding⁠—and they're likely more prevalent than you might think.
If you have an established network of volunteers already supporting your nonprofit cause, encouraging them to look into volunteer grant availability through their employers is your essential next step.
Further Reading:
https://www.crowd101.com/wp-content/uploads/2022/06/Crowd101_Volunteer-Grant-Facts-Your-Organization-Needs-to-Know_Feature.jpg
300
760
Crowd101
https://www.crowd101.com/wp-content/uploads/2020/09/Crowd101-logo.svg
Crowd101
2022-07-06 15:43:29
2022-07-06 15:43:29
8 Volunteer Grant Facts Your Organization Needs to Know